Looking for the ultimate side dish for Thanksgiving?! Look no more! This smoked gruyere and pumpkin mac n cheese is just what the doctor ordered. It's smoky, savory, slightly sweet in just the right way, and utterly addicting. It is truly a next level mac n cheese dish that's not only impressive AF but it also pairs perfectly with all the other Thanksgiving fixins!
You can find me bathing in this rich, luscious mac n cheese because hey, it is THAT GOOD! And if you're not into pumpkin but you still want it to shine with autumnal glory, swap it out for some roasted butternut squash or candied sweet potato bits. I recommend using this recipe as your blank canvas so get creative with it! You want a bacon crust? DO IT! You want to add some honey baked ham to the recipe? DO IT! Oh, and if you do, please share it with me! I love watching you guys have fun and get creative with my recipes! THAT IS WHAT LIFE IS ALL ABOUT!
And best of all, if you'd like to see me make either of these recipes LIVE, you can tune into Sara Lee's Facebook page on Thursday, November 9th at 12pm EST to watch me make the grilled cheese at the bottom of this post OR you can follow along on the Food Network's page sometime Thursday (TBD) where I will be whipping up the mac n cheese recipe in little tiny baked pumpkins for all your Thanksgiving spread needs!
RECIPE: Smoked Gruyere & Pumpkin Mac n Cheese
I'm not sure what what I love most about this dish — The way the sweetness of the pumpkin and the honey plays against the salty, smoky nuttiness of the gruyere or just how down right creamy this mac n cheese is? And if you serve it up in some tiny little baked pumpkins, like I will be doing on the Food Network's Facebook Page, then it's even more hard to decide the best part about this perfect Thanksgiving side dish!
INGREDIENTS
1 lb pasta
2 tbsp salted butter
2 small shallots, finely diced
1 pinch salt
1 pinch red pepper flakes
3 sage leaves, chopped
1 tbsp all purpose flour
2.5 cups half

n

half
2.5 cups cheddar (divided)
1.5 cup Red Apple smoked gruyere (divided)
1 cup pumpkin puree
1/2 tsp salt
1 tbsp honey
INSTRUCTIONS
Cook pasta according to directions and set aside.
Meanwhile, melt 2 tbsp butter in a sauce pan and add diced shallots, salt, and red pepper flakes. Then, cook for a few minutes until fragrant and softened. Add sage leaves and cook for another two minutes. Add flour and whisk for 2 minutes until a roux forms. Once the flour cooks out, add half

n

half and whisk. After that, season to taste and then let the mixture cook and reduce for 5-10 minutes. Whisk in 2 cups cheddar, 1 cup smoked gruyere and all of the

pumpkin

puree. Add honey and once again, season to taste.
Add pasta, stir until evenly combined, and season with salt and pepper to taste.
Place mac n cheese mixture in a baking dish and sprinkle with the remaining 1/2 cup of cheddar and 1/2 cup of gruyere. Pop it under the broiler for a few minutes and serve!
**Or if you want to get extra fancy, grab some baby pumpkins, take the top off and remove the seeds. Drizzle with oil and salt and bake at 375 until tender. Add mac n cheese mixture to the tiny pumpkins, then add the remaining cheese on top and pop under the broiler for a few minutes until bubbly. **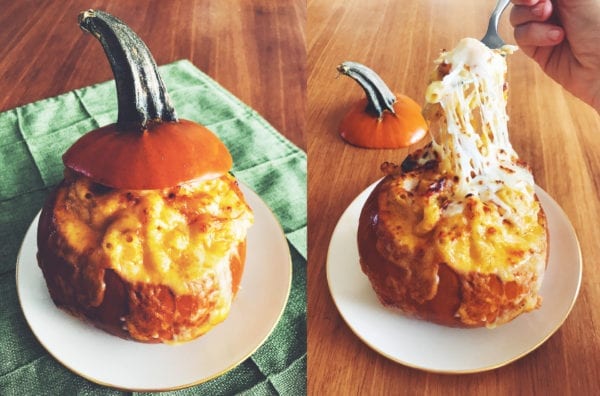 And best of all – if you've got leftovers – I've got the perfect recipe for you!
RECIPE: Bacon and Pumpkin Mac n Cheese Grilled Cheese
Add your leftover smoked gruyere and pumpkin mac n some bacon between two slices of golden wheat bread with creamy gouda cheese and crispy bacon for the ultimate way to repurpose your leftovers!
INGREDIENTS
2 slices of Sara Lee Artesano Golden Wheat Bread

3 slices gouda

1/4 cup

pumpkin

Mac

n

cheese (recipe above)

3 slices crispy bacon

2 pats salted butter, room temperature
INSTRUCTIONS
Place 1.5 slices of gouda onto 1 slices of Sara Lee Golden Wheat Artesano Bread. Add the m

ac

n

cheese

and place the bacon on top. Next, add the remaining 1.5 slices of gouda and the other piece of bread. Then, evenly smear the salted butter onto both exteriors of the sandwich and set aside.
Grill the sandwich in either a panini press or a cast iron skillet until the bread is golden brown and the gouda has melted and the

Mac

n

cheese

is warm throughout; about 5-10 minutes. Lastly, remove from heat and let sit for 1 minute before slicing in half.