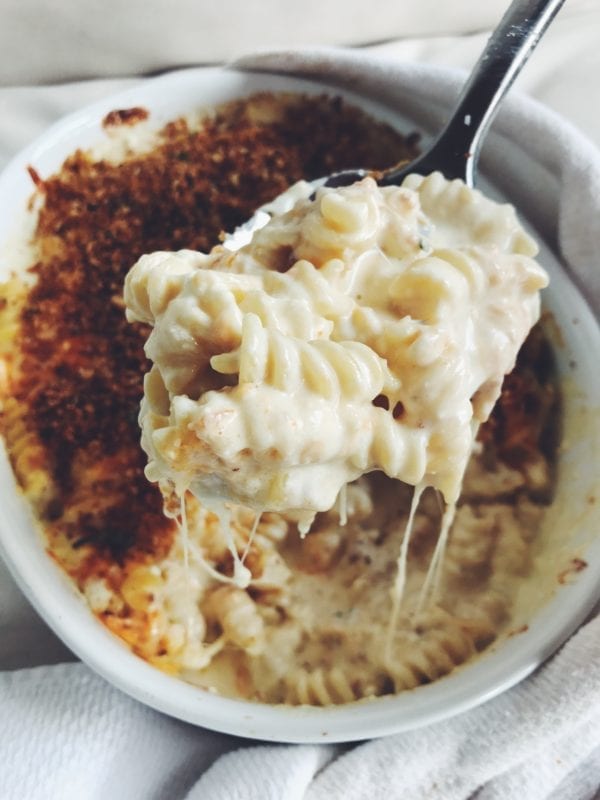 Whoop whoop! We just wrapped on my fourth episode of The Food Network's Facebook Live without cutting off my fingers or twirling my hair! Can you say success?!
So what did I make this week? My million dollar mac n cheese of course!! Loaded with some of my favorite lactose loves, these twisty little noodles are smothered in the most delicious cheese sauce made with gruyere, muenster, ricotta and burrata. Once the mac n cheese is bathing in opulence, it gets topped with cheddar cheese and broiled until it's golden and crisp. After that, fresh herbs, salty butter and panko bread crumbs get all toasty and then sprinkled on top. It is literally the definition of decadence.  
And even though most people are starting to work on their summer bodies, I'm working on my cheese game. So let's put all ambitions and self restraint aside and get into the good stuff! Oh, oh, and before we get to the recipe, I found this little mac n cheese cheat sheet on Pinterest that shares all sorts of delicious combinations that can make this recipe even more awesome!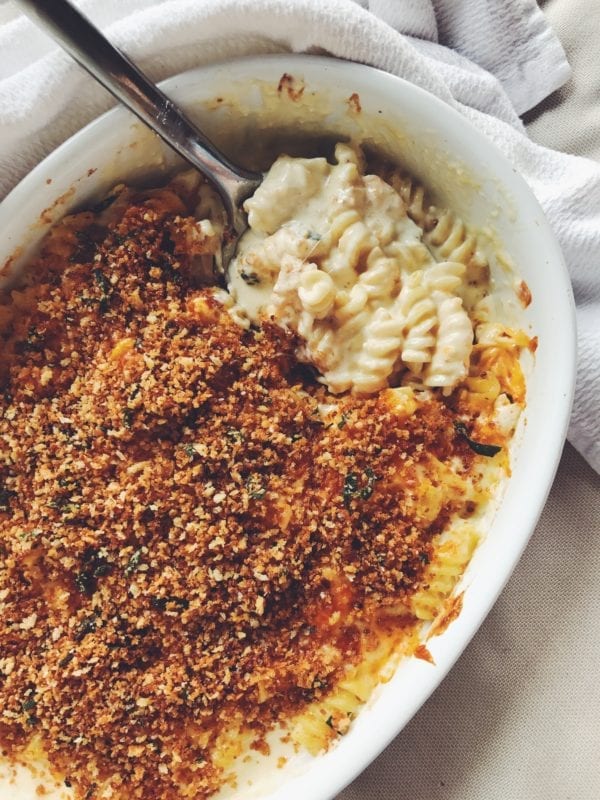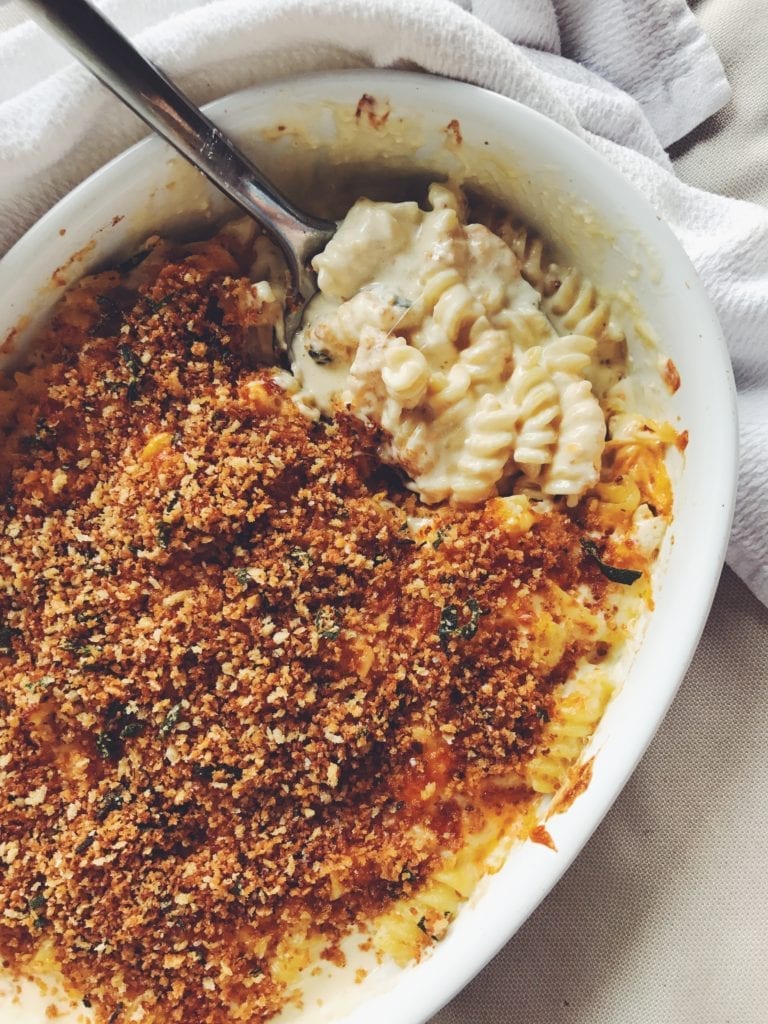 Million Dollar Mac n Cheese
FOR THE MAC N CHEESE
1 lb rigatoni
2 tbsp salted butter
2 tbsp shallots, chopped
1/4 tsp red pepper flakes
2 tbsp all purpose flour
3 cups heavy cream
1 cup gruyere, shredded
1 cup muenster, shredded
1/2 cup burrata (about 1 large ball or two small ones)
1/2 cup cheddar, shredded
1/2 cup fresh ricotta cheese
1 tsp hot sauce
salt
FOR THE TOASTED HERB BREADCRUMBS
1 tbsp salted butter
1 tsp sage, chopped
1/2 tsp rosemary, finely chopped
1/2 tsp thyme leaves, stem removed
1/3 cup panko
INSTRUCTIONS
FOR THE MAC N CHEESE
Prepare pasta according to the directions and strain once it's al dente.
In a large pot, add butter, chopped shallots, a pinch of salt and red pepper flakes and cook over medium heat for a few minutes until the shallots start to soften. Right before they begin to caramelize, add flour and whisk constantly until a roux forms. After a few minutes, the roux will start to darken and the taste of the flour will have cooked out. At this point, add heavy cream and whisk. Let the heavy cream cook for 5-10 minutes or until it begins to reduce and thicken. Add the muenster and whisk in a figure 8 motion. Then add the gruyere and keep stirring with the whisk until all the cheese has melted. Add the hot sauce and the ricotta. Salt to taste and remove from heat.
Turn your broiler to high. Meanwhile, add the pasta to a serving bowl and mix in the cheese sauce, little by little until the desired creaminess is reached.  Top the dish with grated cheddar and place under the broiler for a few minutes until the cheese has crisped up and is golden orange.
FOR THE TOASTED HERB BREAD CRUMBS
Melt butter in a small pan over medium-high heat and add chopped sage, thyme and rosemary. Cook for a few minutes until the herbs have softened and the smell is irresistible. Add in the panko and continuously stir until it is golden brown and toasty. Sprinkle toasted herb bread crumbs over broiled mac n cheese and serve!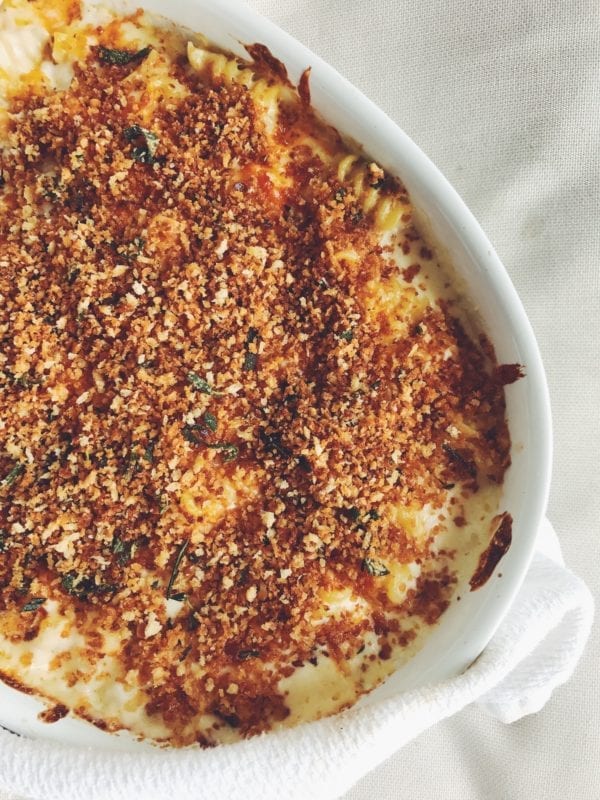 And don't forget – treat this recipe as the most luscious base to any sort of mac n cheese you can dream up. Whether you add in dried figs and fresh rosemary, or chorizo and grilled corn, this mac n cheese recipe won't let you down!
xoxo,
GCS