This Alpine Noodle Mac N Cheese with caramelized onions and crispy bacon is the perfect winter comfort food. Each noodle is coated in a creamy, luscious cheese sauce made with gruyere and white cheddar. The caramelized onions add a pop of sweetness while the bacon adds a nice meaty crunch. If this doesn't warm your soul, email me because we need to talk!
This is a sponsored conversation written by me on behalf of No Yolks. The opinions and text are all mine.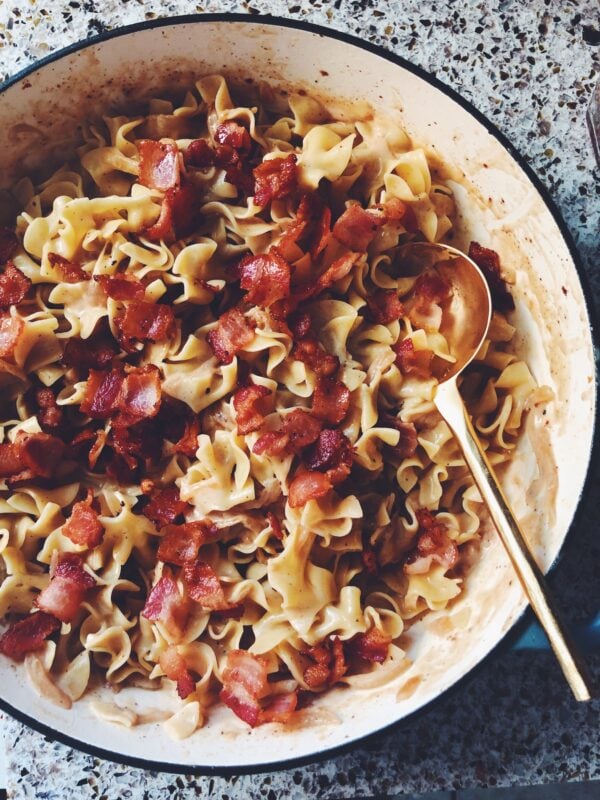 Alpine Noodle Mac N Cheese with Caramelized Onions and Crispy Bacon
This rich and decadent Alpine Noodle Mac N Cheese is inspired by our mini-moon in Deer Valley. After a full day of skiing, we'd head into the lodges to warm up. I, of course, would always use a day on the slopes as an excuse to carb up. And my dish of choice? Deer Valley's famous Alpine Style Noodle Mac N Cheese. Because hey, to me, there's nothing better than mac n cheese after a day of working my booty off.
So what makes these noods so perfectly naughty? The rich and creamy sauce is made with nutty gruyere and sharp white cheddar. The caramelized onions add a sweet undertone and the bacon adds the perfect crunch. The No Yolks Noodles soak up all the sauce yet still maintain a toothy mouthfeel that makes each spoonful orgasmic. It's the perfect combo of new and exotic flavors that leaves you yearning for more.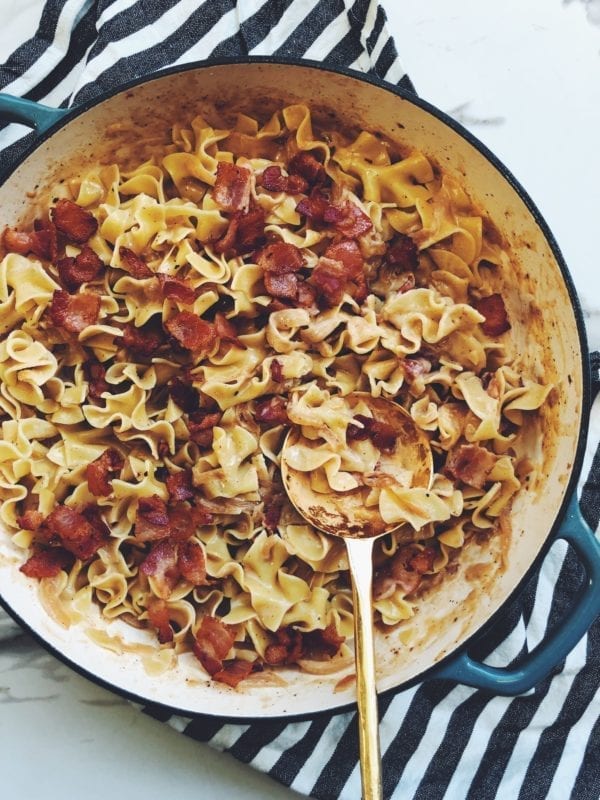 How to Make Noodle Mac n Cheese with No Yolks Noodles
Making a rich and creamy macaroni and cheese with No Yolks Noodles is super easy! For each 12 oz bag of No Yolks Noodles (I used the dumpling cut), you'll need 2 cups heavy cream and about 2 cups of meltable, shredded cheese.
To begin, start by creating your flavor-base. Either caramelize some onions or garlic in butter or bacon grease and add some salt and pepper.
Next, add the cream. Turn the heat to medium and once the cream starts to bubble along the sides of the pot, add the cheese and stir in a figure 8 motion until it's all melted.
Keep the heat low as you're melting the cheese. This will keep the sauce thick and creamy. If the heat's too high or the cream gets too hot, the sauce will separate and you'll end up with a grainy texture.
I should also mention that this no-fuss cheese sauce is totally transformable. As long as you have a good melting cheese like pepper jack, mozzarella, muenster or gouda, you can make a variation of this dish that's absolute perfection.
And if you feel like your cheese sauce could use some extra punch, you could try adding a few crumbles of blue cheese or a squirt of yellow mustard. Both of these ingredients will make the cheese sauce taste more cheesy.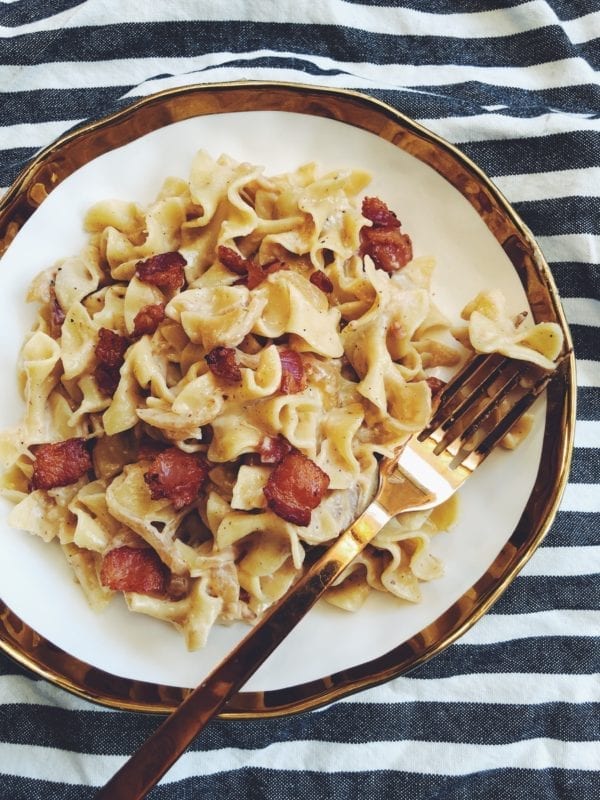 RECIPE: Alpine Noodle Mac N Cheese with Caramelized Onions and Crispy Bacon
Print Recipe
Alpine Style Noodle Mac n Cheese with Caramelized Onions and Crispy Bacon
This Alpine Noodle Mac N Cheese is loaded with crispy bacon and caramelized onions. The cheese sauce is made with gruyere and white cheddar which makes it decadently creamy!
Ingredients
1 12

Oz

Bag No Yolks Dumpling Noodles

10

slices

bacon

3

onions

sliced thin

2

cups

heavy cream

1

cup

white cheddar

grated

1

cup

gruyere

grated

Kosher Salt

Pepper
Instructions
Bring 1 large pot of water to a bowl. Then add 1 bag of No Yolks Noodles and cook until al dente, then strain. Set aside.

Meanwhile, slice bacon into tin strips and add to a large sauce pan. Fry the bacon over medium-low heat until the fat has rendered and the bacon is crispy. Remove the bacon but leave the bacon grease.

Add the sliced onions along with 2 pinches of red pepper flakes and 3 hefty pieces of kosher salt. Using a wooden spoon or spatula, stir the onions around, scraping up any bits of bacon that are stuck to the bottom of the bacon. Turn the heat up to medium, while stirring every so often, until the onions are caramelized.

Once the onions are caramelized, add the cream and bring to a low simmer. Turn down the heat to medium-low and add in the cheese, another pinch of salt, and some freshly cracked black pepper.

Stir mixture in a figure 8 until the cheese has melted. Immediately add the No Yolks noodles to the cheese mixture and stir until each noodle is coated. Add bacon on top and serve immediately.
If you like this Mac N Cheese, you might also like these recipes:
Sweet Tea Old Fashioned: Last week's cocktail was a smoked sweet tea old fashioned that warmed your soul. Like this mac n cheese, this cocktail was inspired by our mini-moon. Made with High West Whiskey and a Yaupon Tea simple syrup, this fancy drank will perfectly cleanse your palette after eating this rich Alpine Mac N Cheese. Oh, and you'll feel fancy AF. Guaranteed.
Bavarian Pretzel Grilled Cheese with Ham and Caramelized Onions: It's creamy, it's luscious, and it is rich AF. Marieke's gouda is nutty and sweet, the honey baked ham gives it a boost of umami awesomeness, the caramelized onions lend a deep earthy sweet note. And the Bavarian mustard adds texture and tang while the inside-out crisped-up pretzel adds a layer of creativity.
Twice Baked Stuffed Potatoes with Pancetta: Loving the richness of this Alpine Mac N Cheese? Then you'll love these, too! These twice baked cheesy stuffed potatoes with smoked gouda, pancetta and sage are ABSOLUTELY PERFECT! Best of all, these prep really well so you can make them ahead of time.
xoxo,
Kenz aka GCS