This past weekend my mama and I decided to have a mommy daughter day date at the Central Florida Zoo for the Sonny's Smokin' Showdown BBQ Competition. Over 40 different meat-loving teams from across the country came together to beat out the competition with the possibility of winning a $20,000 Grand Prize!
Of those 40 teams, there were over 150 competitors battling for a total of $68,000 and some serious bragging rights! These competitors came from all over the country to prove that they made the best chicken, brisket, ribs and pork, and/or a mystery meat! And we came to eat it all!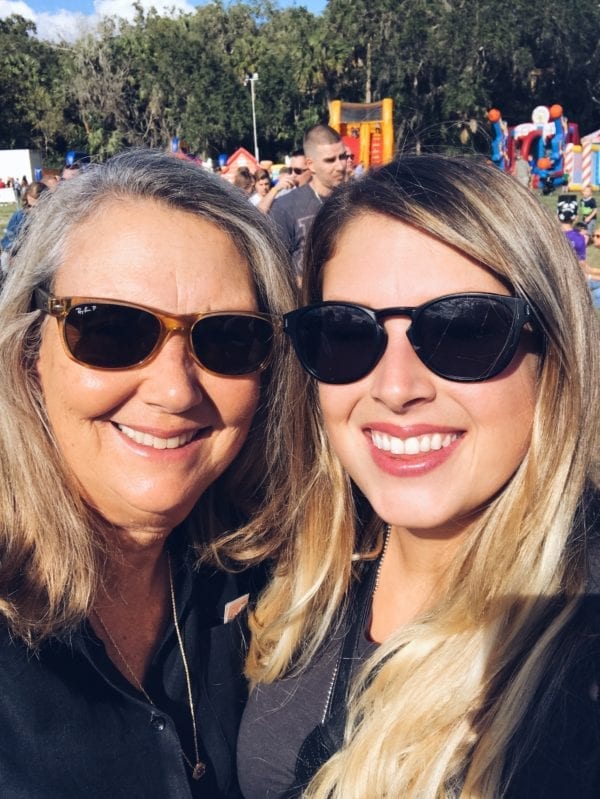 As soon as we walked up to the park entrance, we were greeted with the intoxicating smell of smoked meat wafting through the air. There was live country music playing, people dancing, and kids drinking out of sweet tea cups as big as their heads! But after our drive from New Smyrna, all we could think about was tasting some of the food because were starving! So first things first, like the food loving gals that we are, we headed straight to the Sonny's tent to indulge in their pit masters specialities.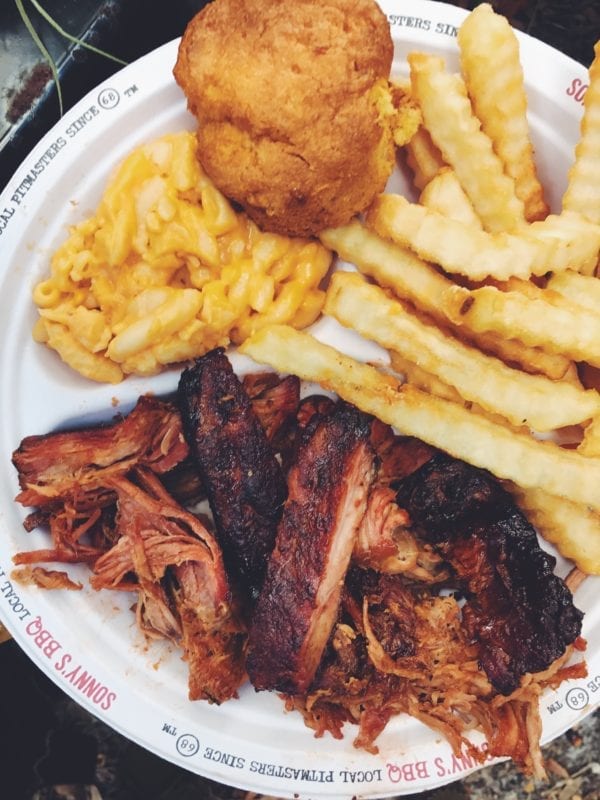 First, we got their BBQ sampler which came with tasty pulled pork, smoked ribs, mac n cheese, french fries and the sweetest, buttery cornbread that practically melted in your mouth! This platter could have fed the both of us, but we wanted to try everything so we went back for seconds.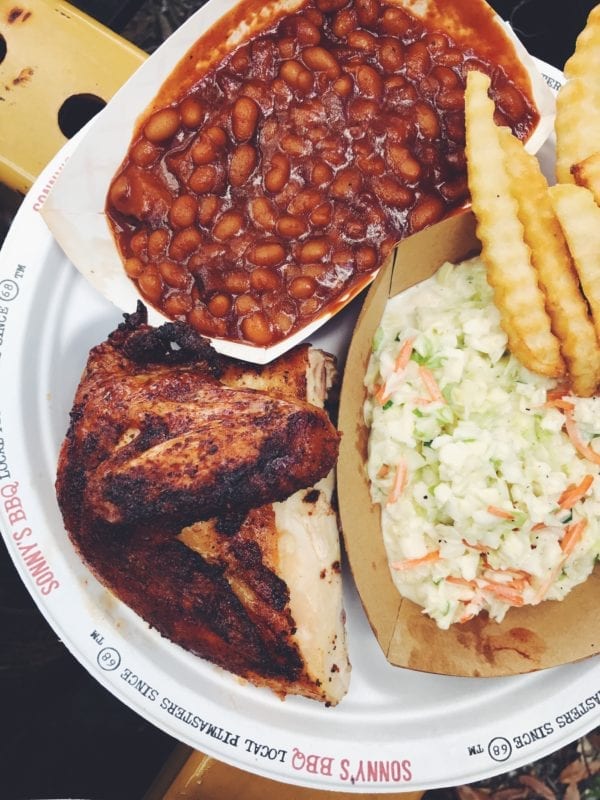 After that, we tried their smoked chicken plate which came with creamy coleslaw, sweet and smokey baked beans and super tender barbecued chicken. I love this classic barbecue combination. I especially love stealing a few of my mom's fries and dunking them in the baked beans. It's like a sweet brown sugar-y barbecue ketchup that is absolutely addicting!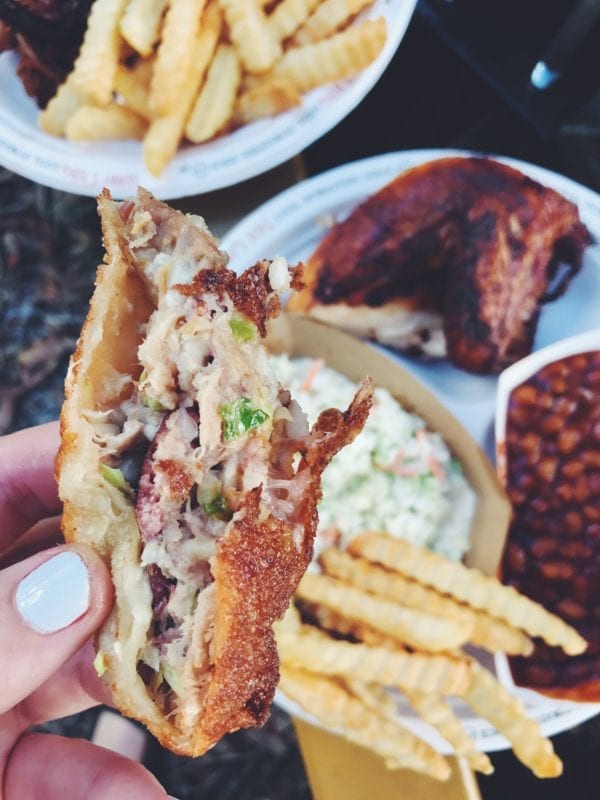 And lastly, we tried Sonny's Redneck Eggrolls which were super fun and ridiculously crispy! These deep fried egg roll wrappers were stuffed full of slow-smoked barbecue pulled pork, homemade coleslaw and a whole lot of creamy, spicy pepper jack cheese. This of course had my heart because I truly beleive that traditional American barbecue needs more cheese!
Oh, and we can't forget the yummy smokey ranch dipping sauce that came with it. I would have saved this sauce for the rest of the event if I wouldn't have looked like such a freak carrying it around with me everywhere.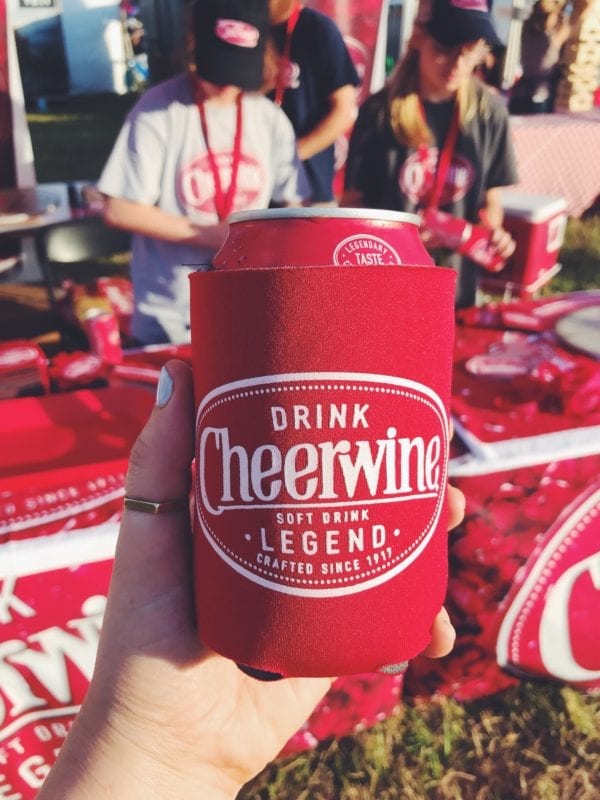 When we were finally stuffed to the brim from round one of our eating fest, we headed to the sponsor booths and kid areas where we played little games to win fun stuff from some of the sponsors. Unfortunately I didn't win anything from YETI (rats!) but I did win a free can of my favorite Southern soda - Cheerwine!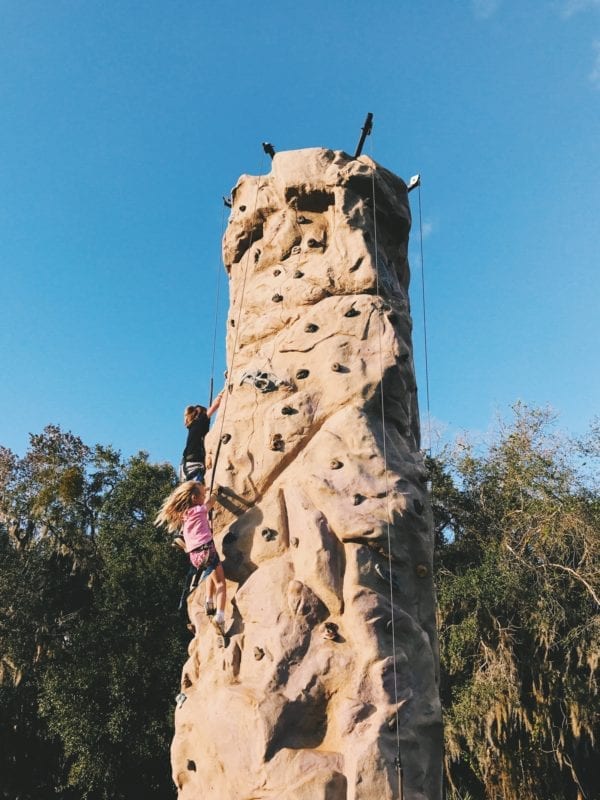 As I was hydrating with my Cheerwine, we watched some little kids climb the rock wall. How awesome is that? The little kids were super fearless and my mom and I both agreed to walk away because we were getting anxious on how high up they were. Like mother, like daughter, right?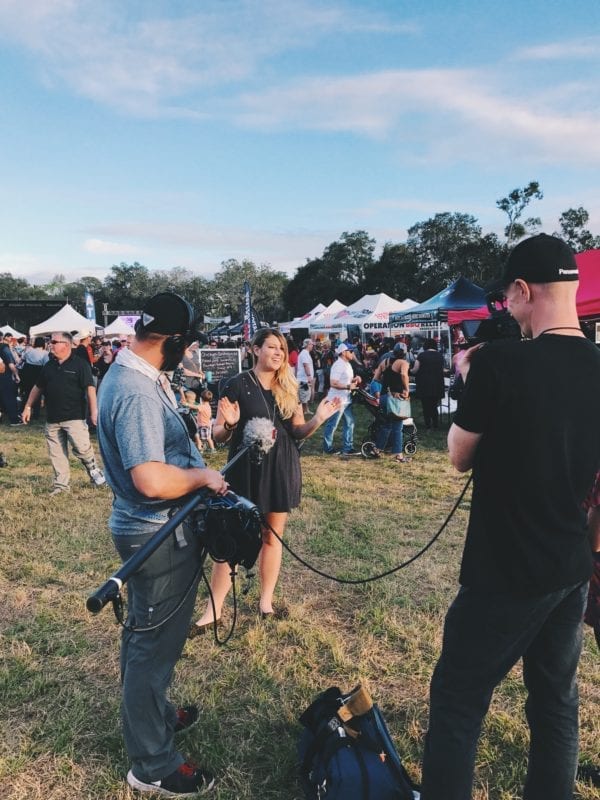 Then, we met up with Sonny's Media Team where I answered a few questions about the event. My favorite question was definitely "What type of meat would you marry, where would you go on your honeymoon and why?" I answered a pig (of course!) because pulled pork is life. I said we'd go to the Pig Island in the Bahamas so that we could go swimming together. I was very proud of myself for this answer. Haha.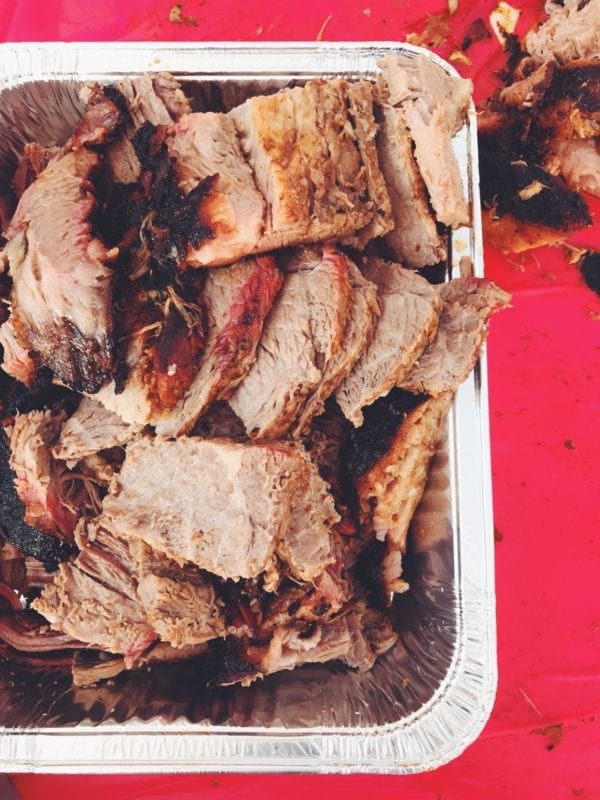 Once we got our appetites back and noticed that most of the crowd has headed to the stage to hear live music from Hayfire, Rockit Fly, Jill's Cashbox, and Frankie Ballard, we went straight in for round two of our eating fest. Because my mom is such a sweet talker baller, she got us backstage to Operation BBQ Relief's cooking area where we got to watch (and smell!) them cut up hundreds of pounds of brisket. Omgggggg, how good does this look??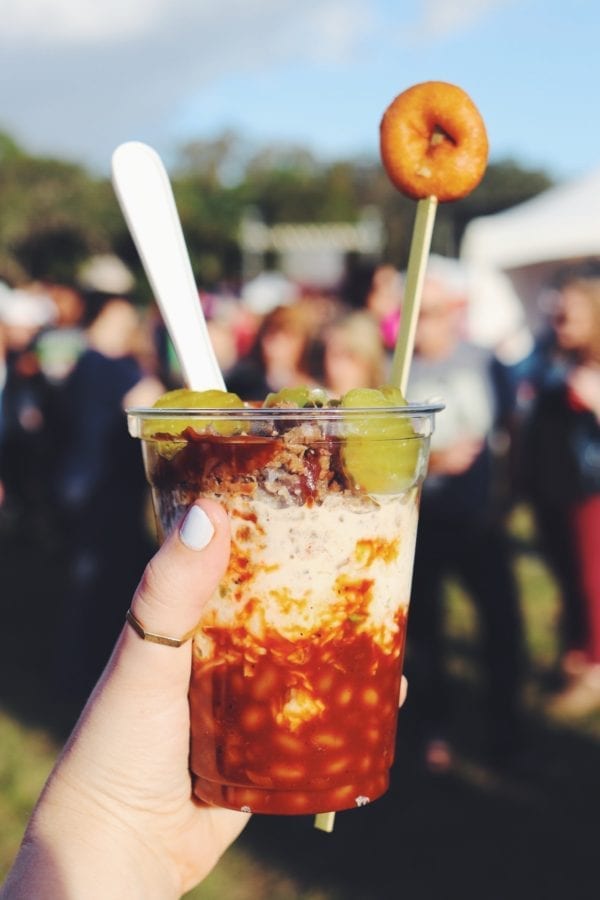 And lastly, we got our hands on one of these genius BBQ Sundae cups from FireHouse's BBQ. Layered with flavorful baked beans, tangy coleslaw, smoked barbecue pork and crisp dill pickles. This cup proved to be the easiest, cleanest, and most convenient way to eat barbecue while standing up. I will totally remember this next time I'm catering and need some inspiration.
You might also be asking yourself, what is that little circle thing that's hiding in the background? It's be a freshly fried mini donut that they were giving out between the barbecue booths. I was so excited because it was the cutest, most delicious thing I'd ever seen. I split it with my mama because I'm good like that.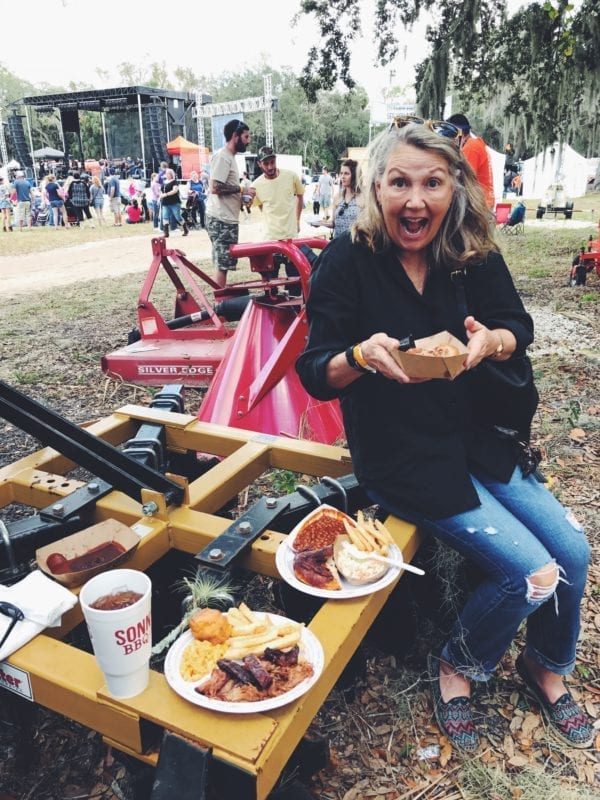 All in all, we had a super fun time at Sonny's Smokin' Showdown and can't wait for next year's event! If you're questioning whether you'd like to go or not, just look at my mom's face and you'll know how much you NEED to go! Just look at that smile and all that tasty food! Such a fun event full of meat, meat, meat, and more meat!
Big congrats to all the teams that won, and to those who didn't - we can't wait to see what you come up with next year!
xoxo,
GCS