This burrata caprese is the ultimate summer salad. Fresh tomatoes, creamy burrata cheese, fragrant basil, and sweet balsamic glaze make it irresistible. Plus, I've got a great cherry tomato hack to save you time!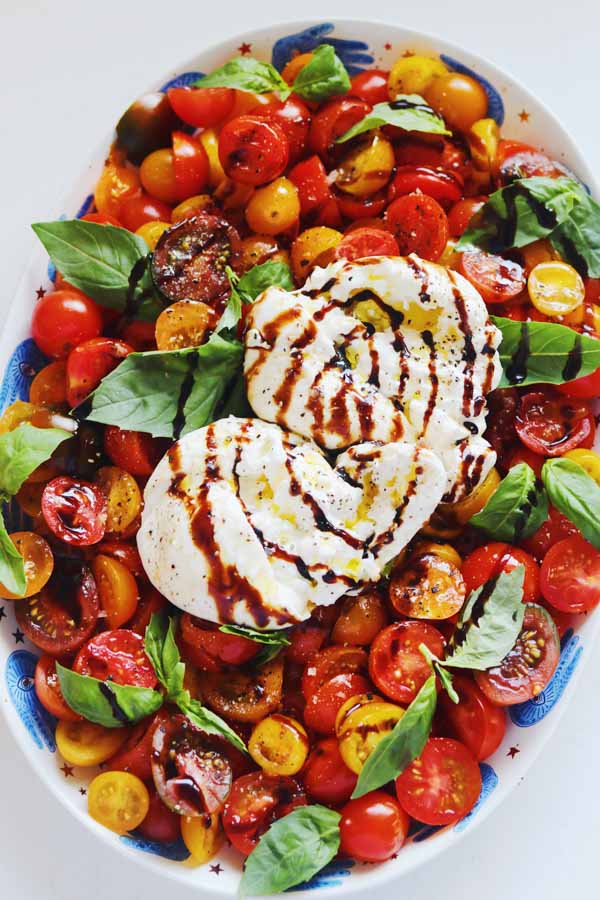 What is a caprese salad?
A caprese salad is a traditional Italian salad made with fresh buffalo mozzarella, thick slices of ripe tomatoes and basil leaves.
This salad is usually is finished with a drizzle of olive oil, some flaky salt and some fresh cracked pepper.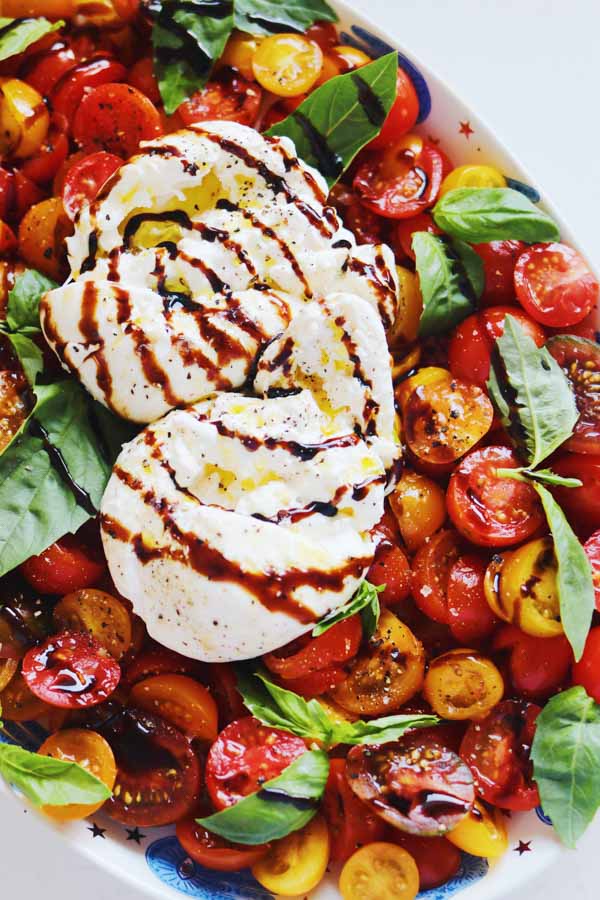 It is said that this salad first originated on the island of Capri. You might also notice that it has all of the colors of an Italian flag which is pretty cool, too!
Unlike the traditional recipe, my variation uses fresh burrata and a sweet, thick balsamic glaze thad adds extra flavor.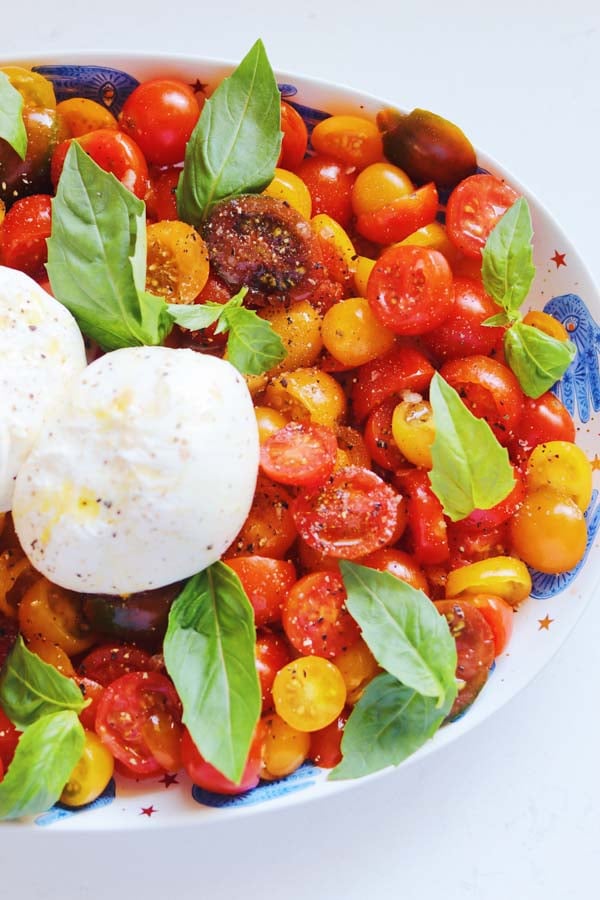 What is burrata?
Burrata is super similar to mozzarella.
They're both Italian cheeses made with fresh milk - either cows milk or water buffalo milk.
Unlike mozzarella, which has a homogenous texture, burrata has a more viscous center.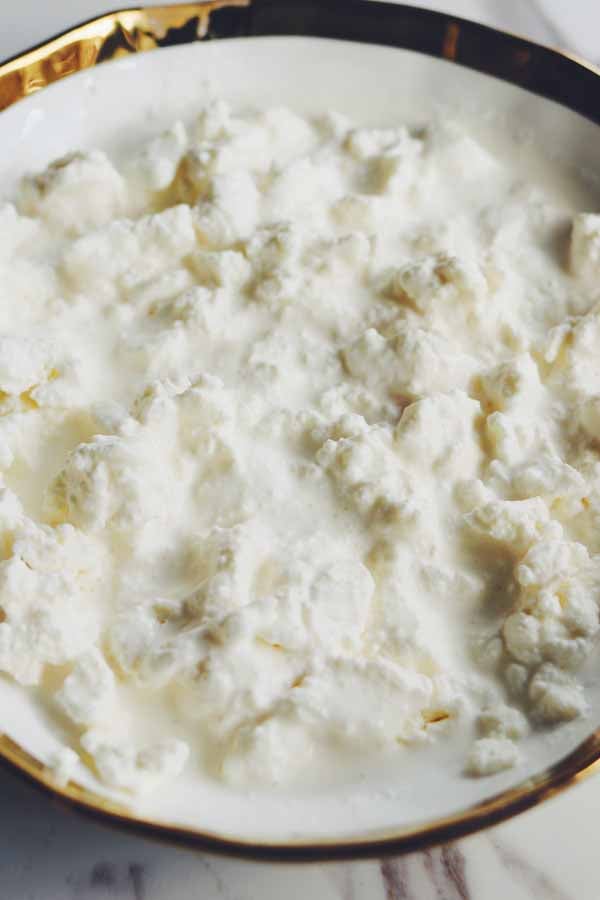 Once you open up a ball, you'll notice that it's got creamy mozzarella curds that essentially pour out of the mozzarella shell.
It's one of my favorite cheeses because of this!
Back when I first heard about it 10 years ago, you could only find burrata here in the states during the spring and summer.
But now you can find it pretty much year round at most grocery stores.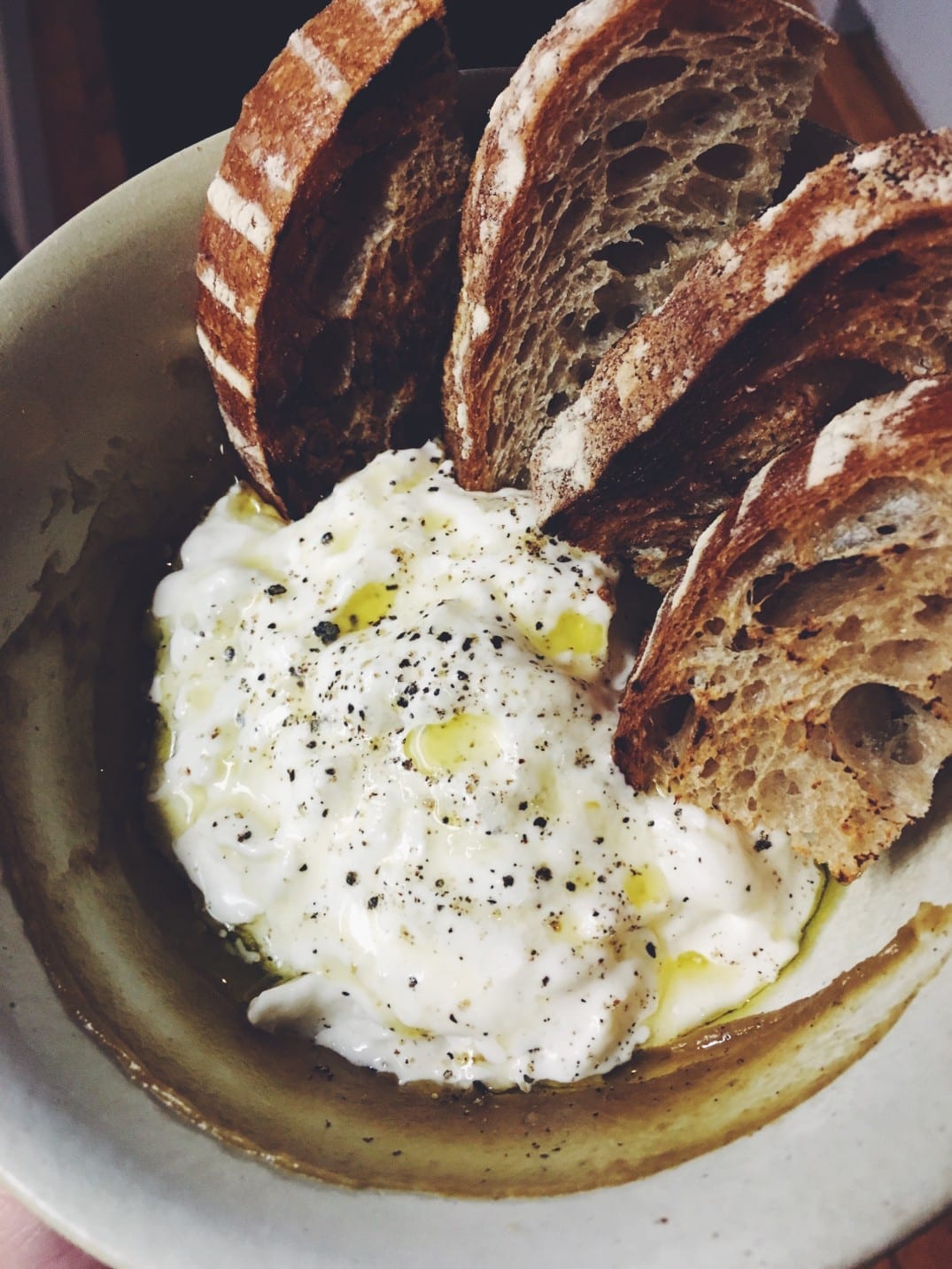 The cheesemongers told me it was because that's when the cows and buffalo were feeding off of the sweetest grasses - which in turned produced this amazingly delicious cheese.
If you can't find burrata near you, you can try to make the creamy center (stracciatella) by shredding fresh mozzarella and soaking it in heavy cream and some salt.
It's part of this gnocchi dish if you'd like to take a look!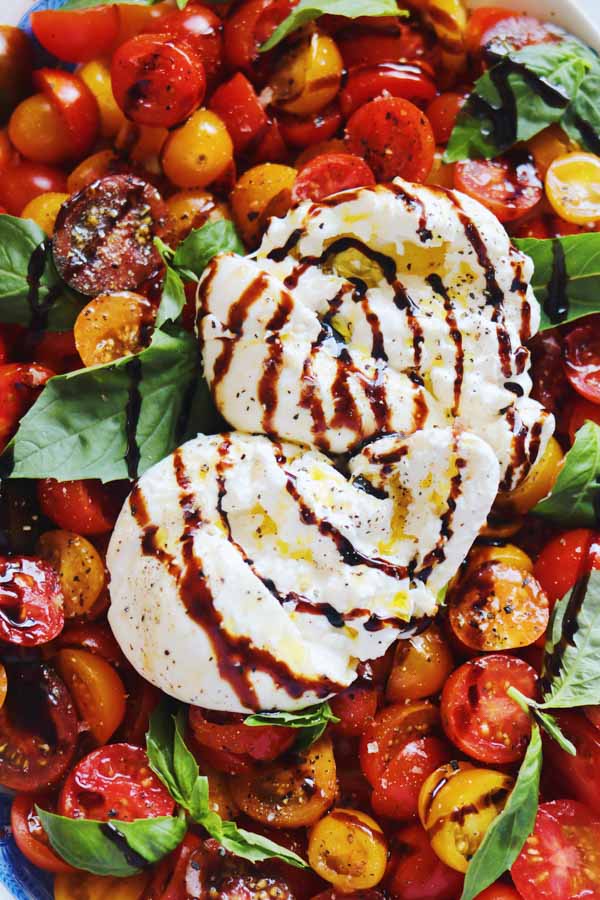 Ingredients and Substitutions
Burrata Cheese - if you don't have burrata, you can use fresh mozzarella. I also have a hack for making the inside of burrata (which is super similar to stracciatella) from a ball of fresh mozzarella and you can find that here!
Cherry Tomatoes - if you don't have cherry tomatoes, roma tomatoes, heirloom or regular beefsteak tomatoes work just fine!
Fresh Basil - There is no real substitute for fresh basil in my opinion!
Flaky Salt - Maldon Salt all the way since it provides texture. However you can use kosher salt if you don't have flaky.
Fresh Pepper - Regular pepper works just fine, too!
Olive Oil - I recommend using your best olive oil - one with fruity notes - to add flavor to this salad.
Balsamic Glaze - I like balsamic glaze over the regular balsamic vinegar because it sticks better, tastes sweeter and has a better visual appeal. Regular balsamic vinegar works fine but it isn't as pretty or as sweet!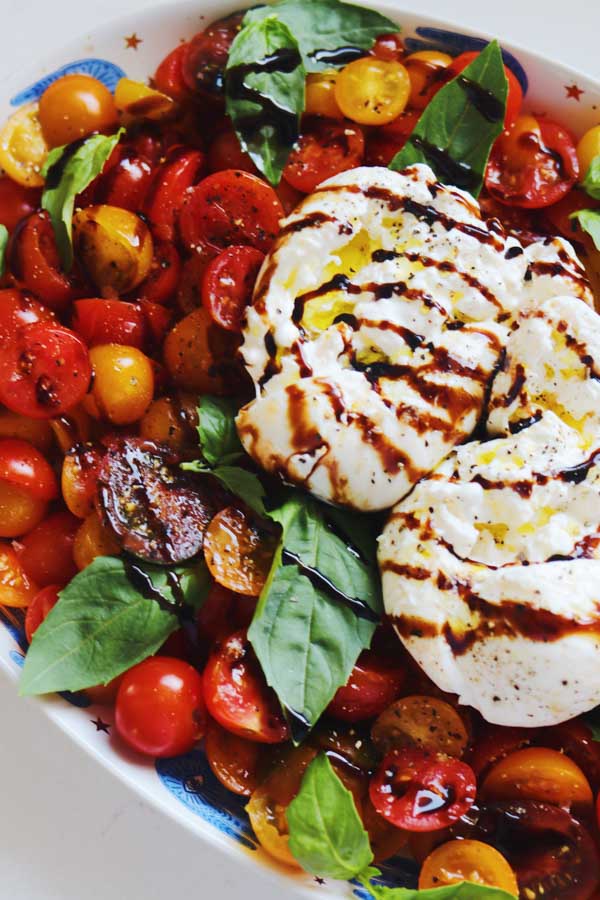 How to make a burrata caprese
Making a caprese is super easy - there is no cooking involved!
First, grab your platter and set it aside.
Wash and pat your cherry tomatoes dry. Cut them using my cherry tomato hack below or watch the video to see how I do it in under a minute.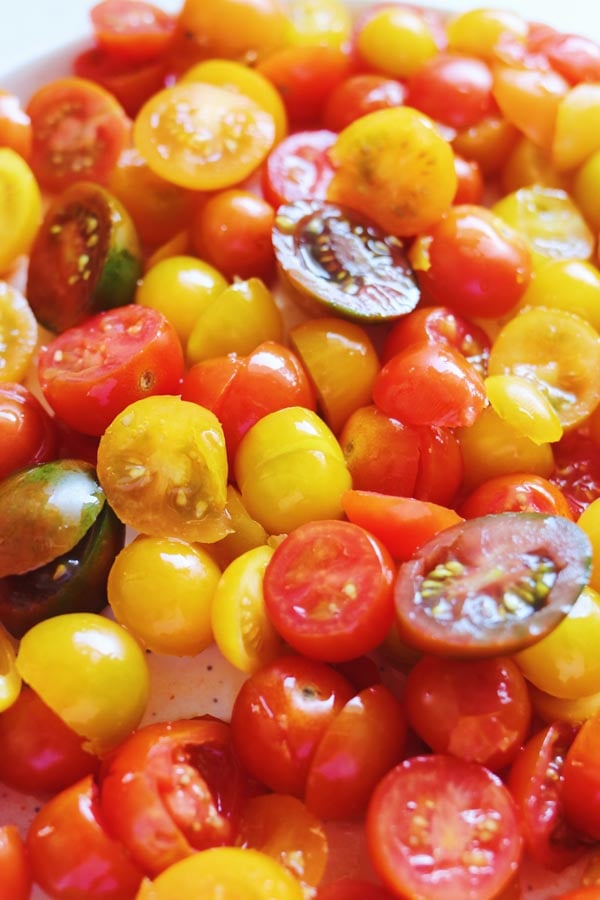 Once the tomatoes are cut, put them on the serving platter and create a little clearing in the middle for the burrata to go.
Place the burrata in the middle and use a knife to open it up and show off its creamy center.
Now sprinkle on the flaky salt and add a few cranks of fresh pepper over everything,
Now drizzle with olive oil and the balsamic glaze.
Finish with some fresh basil leaves and your'e done!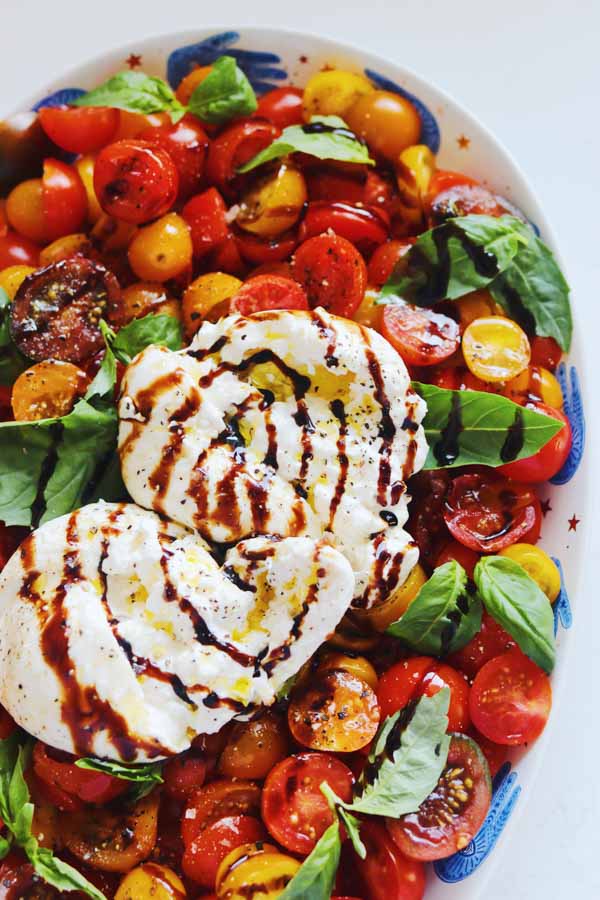 How to cut a lot of cherry tomatoes at once
Do you know about the hack to cut a ton of cherry tomatoes at once?
It's super easy!
Pour all of your washed and dried cherry tomatoes on a plate with a slight lip.
Then turn a matching plate upside down and put it on top - basically hugging the cherry tomatoes.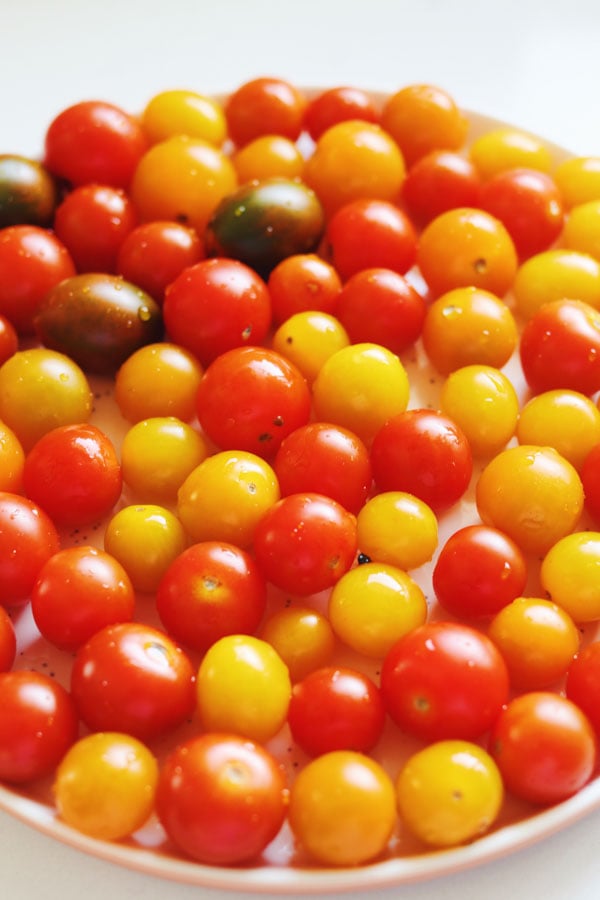 Now grab a large serrated knife and use the bottom plate to guide the blade back and forth.
Run the knife through all of the tomatoes then take the top plate off.
And in under a minute, you'll have cut all the tomatoes at once with ease!
You can refer to the video if you're more of a visual person!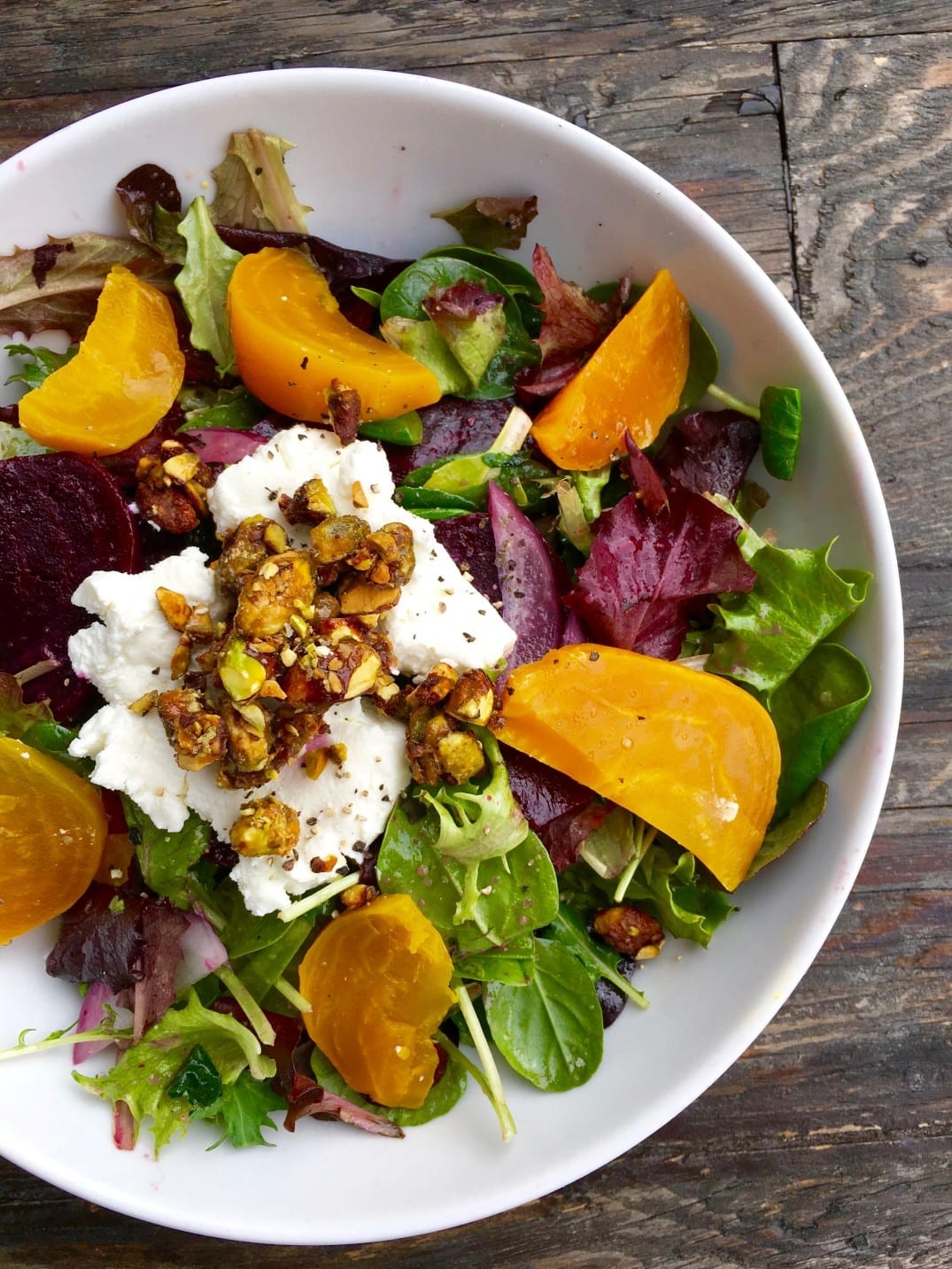 Want to add other ingredients?
If you'd like to add other ingredients, here are some of my favorites:
peaches
strawberries
watermelon
avocado
red onion
grilled chicken
grilled vegetables
fried eggplant
beets
toasted nuts
hot honey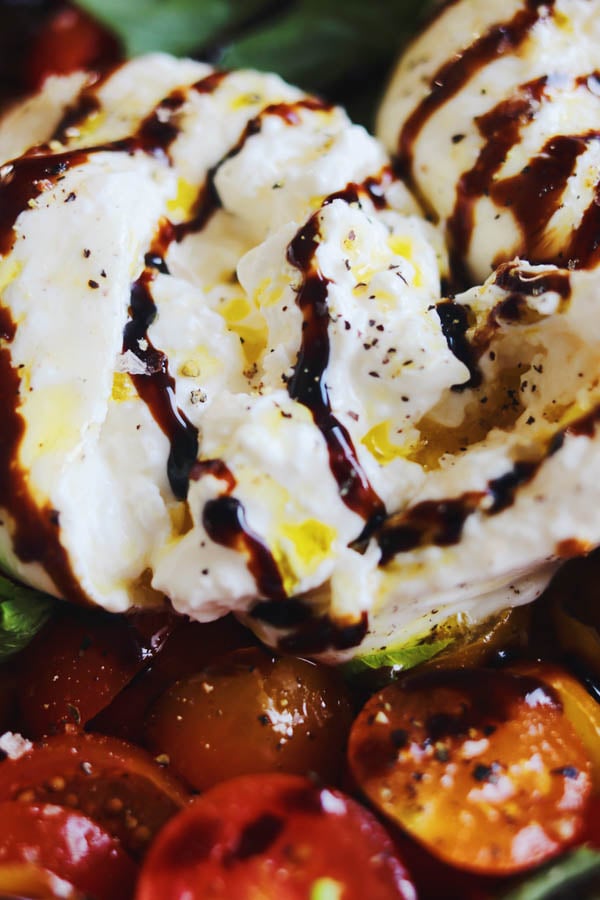 What to pair it with
A caprese goes well with pretty much any italian dish ever! Here's what I would pair it with for dinner. This risotto cacio e pepe, some chicken pomodoro, or this truffle oil pasta.
And if I was making it for lunch, I'd pair it with some chicken florentine soup, some pizza al taglio, or a turkey pesto sandwich.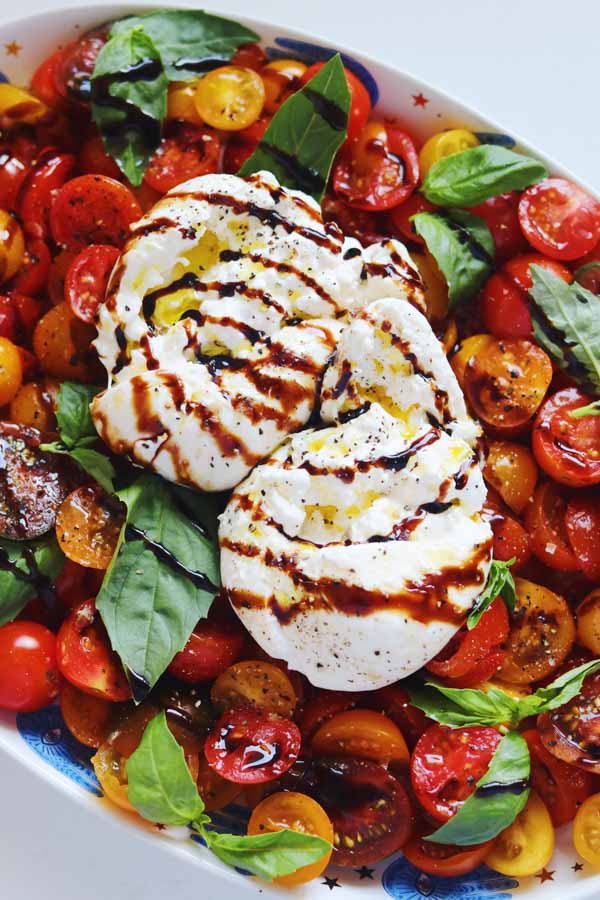 Save this recipe for later
Want to save this burrata caprese recipe for another time? I got you!
You can pin any image on this page or use the pretty ones I made below specifically for your Fall pinterest boards.
And if you don't already, feel free to follow me on pinterest, instagram, youtube, facebook, and tiktok for tasty inspiration shared daily!
And if pinterest isn't really your thing, you can always scroll down to the bottom of this post and print the printable recipe card.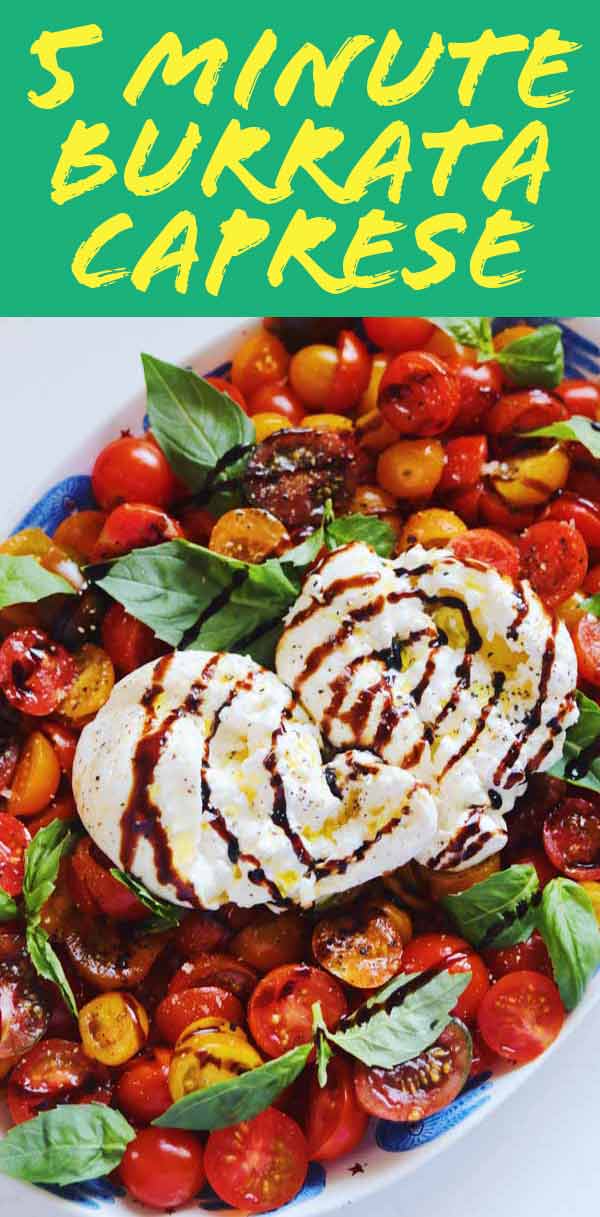 Video
Recipe
Recipe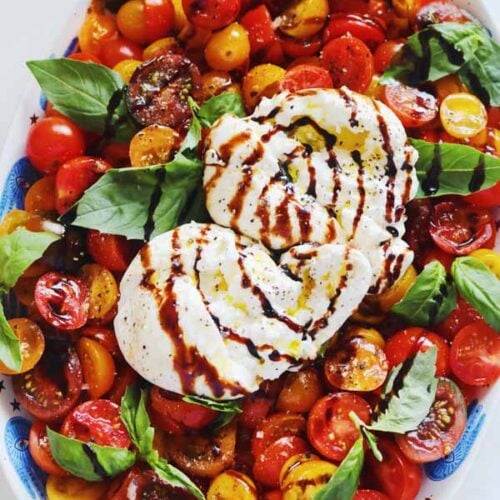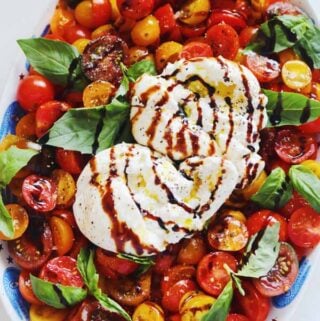 Burrata Caprese
This burrata caprese is the ultimate summer salad. Fresh tomatoes, creamy burrata cheese, fragrant basil, and sweet balsamic glaze make it irresistible. Plus, I've got a great cherry tomato hack to save you time!
Print
Pin
Ingredients
2

pints

heirloom cherry tomatoes

(20 oz )

2

balls

burrata

¼

cup

fresh basil leaves

2

tablespoon

good olive oil

1

tablespoon

balsamic glaze

2

pinches

flaky salt

fresh cracked pepper
Instructions
Wash and dry cherry tomatoes. Cut them in half using the cherry tomato cutting hack in the video (or paragraph!) above this recipe.

Place cut tomatoes on a platter and place the burrata in the middle.

Cut the burrata to expose the gooey center.

Sprinkle on the flaky salt, some fresh cracked pepper then drizzle on the olive oil and balsamic glaze.

Top with fresh basil and serve.
Notes
This recipe can be made up to a day in advance but it's so quick and easy to make that I recommend making it right before eating.