Once you make these air fryer potato wedges, you'll never make them any other way! They're crispy, crunchy, and super easy! Not only are they healthier this way, but they're way quicker to make, too!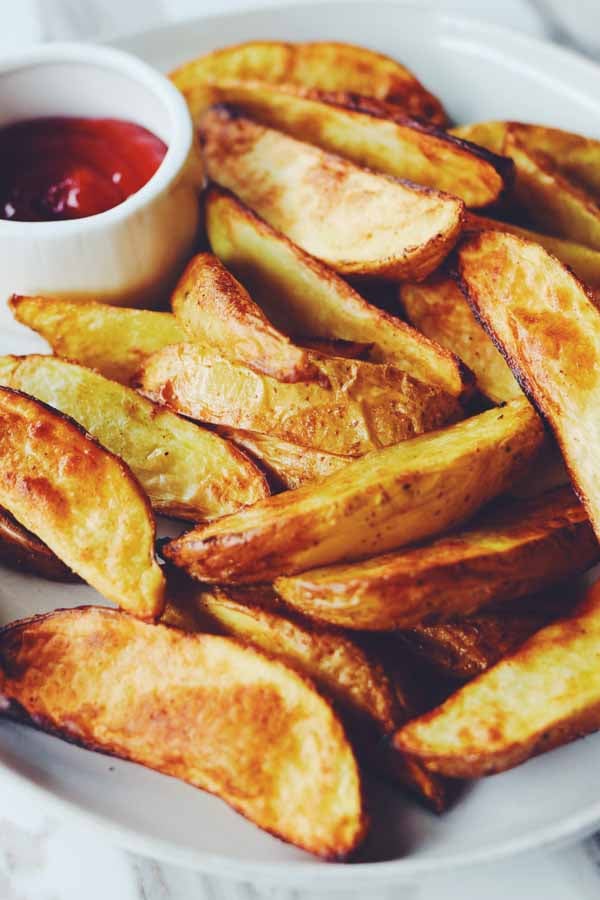 Jump to:
Ever since I got an air fryer, I've been obsessed!
I absolutely love how versatile it is and I recommend it to everyone! I'm not going to lie, I use it pretty much every single day. From heating up frozen goods to toasting buns, it makes my life so much easier.
Not only does it make fried dishes healthier but it also cuts cooking times in half! Not to mention, it keeps your house way cooler for baked items like this compared to using a regular oven. And there's no stinky grease smell in the air which is always a win!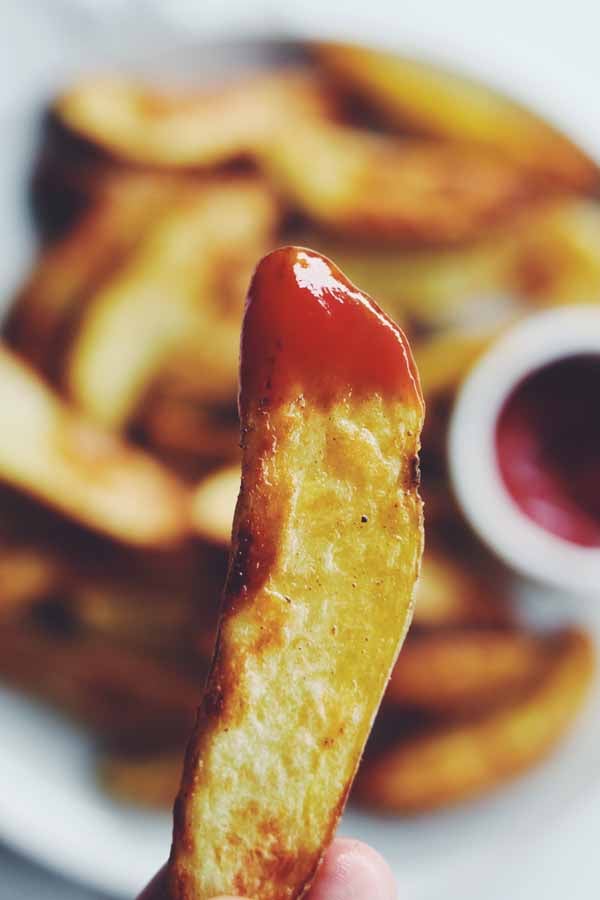 And no I'm not an air fryer spokesperson but one of these brands should definitely hire me because I could talk about it for hours!
If you'd like to learn more about why I chose this air fryer, you can check out this air fryer grilled cheese post which I talk ALLLLLLL about it. The good, the bad, and the million of options to consider when buying one!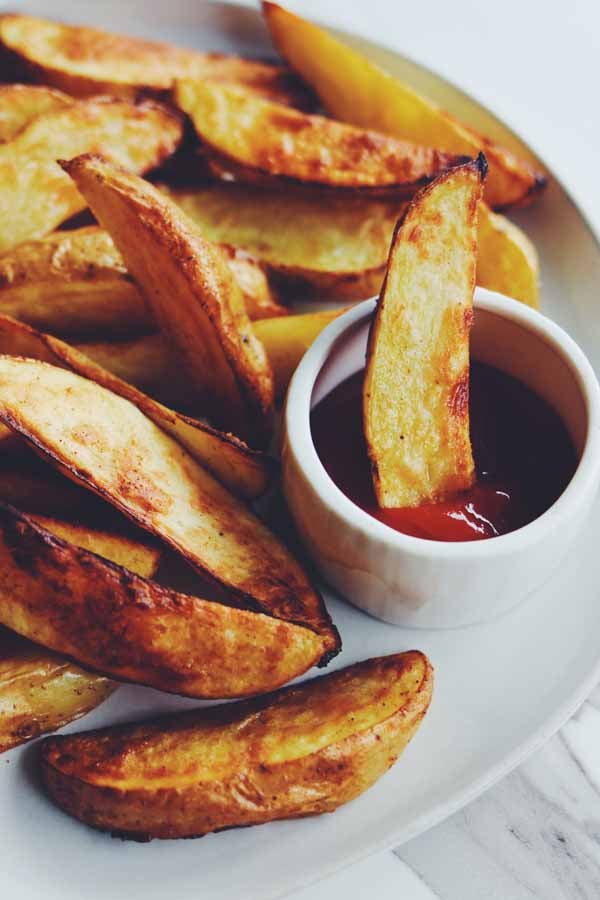 So let's talk about the recipe before we begin! It's a classic, everyday potato wedge recipe that can be completely modified.
All you need is some sort or large potato, seasoned salt, sugar, and oil. So simple and so good!
Confused by the sugar? Totally understandable! This is a restaurant trick that I like to use with my seasoning salt. Not only does it balance out the salt but it also helps lightly caramelize and crisp up the potato skin! It's a little trick that yields great results!
What You'll Need
yukon gold potatoes or russet potatoes, or another large variety
oil (such as olive oil, avocado, vegetable, peanut, etc)
seasoned salt
sugar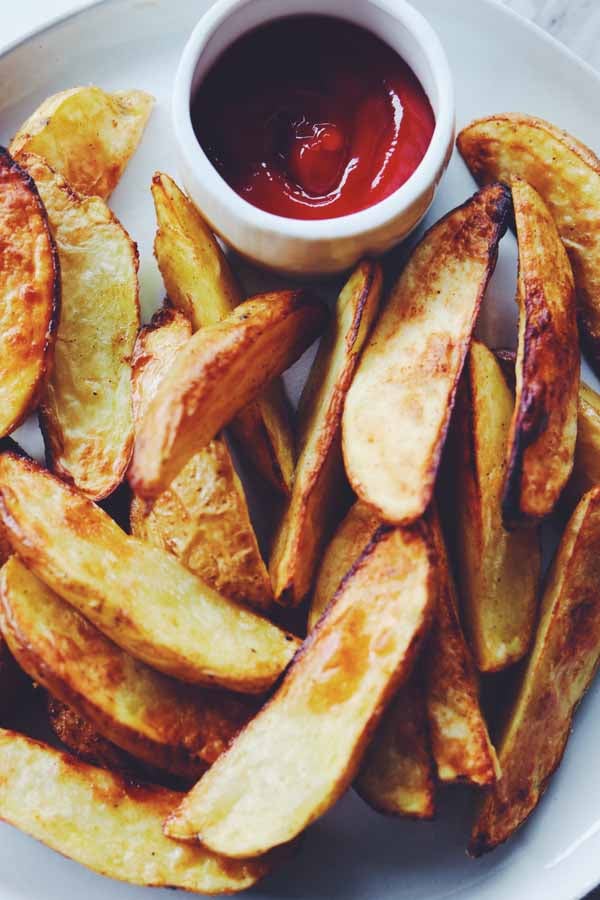 How to make these potato wedges in the air fryer
Making air fryer potato wedges is super easy!
If your air fryer requires a preheat, then be sure to start by doing that! The air fryer I use doesn't require one and I love, love, love it and highly recommend it.
So to start, simply toss potatoes with oil, seasoned salt and sugar and give it a good toss. To save dishes, I do it right in the air fryer basket.
Arrange the seasoned potato wedges in the basket, being sure that each one has as much surface area exposed as possible. If they're stacked on top of each other, they won't get as crispy as possible.
Turn the air fryer to 400F degrees and set the timer for 18 minutes.
As they're cooking, be sure to toss the potatoes halfway.
If they're not done at 18 minutes, put them in for 3 more minutes at a time just so you don't overcook them.
When they're done, pour them onto a platter and serve immediately.
How to cut into wedges
Cutting potatoes into wedges may sound tricky, but it's not!
To do so, first cut the potato in half length wise. Then cut each half in half lengthwise. Then each quarter in half lengthwise.
If you do it this way, each potato will yield 8 wedges.
This will create perfect wedges every time!
Other seasoning blends to try
This recipe is for your basic restaurant style potato wedges. If you'd like to get a little more creative, you can try any of these spice blends! Simply add these spices into the seasoned salt and sugar mixture.
Mexican: ½ tsp cumin
Italian: ½ tsp rosemary
French: ½ tsp herbs de Provence
Middle Easter: 1 tsp garam masala
What to pair them with
These air fryer potato wedges are perfect served alongside this air fryer grilled cheese, this rustic tortellini soup, and this strawberry goat cheese salad.
If you want more tasty side dishes, try these Japanese green beans, these air fryer asparagus, these roasted green beans and carrots, or these roasted brussel sprouts and asparagus.
And if you like this recipe, check out these air fryer breakfast potatoes!

Save this recipe for later
I love when you save my recipes for later which is why I created these pretty pinterest images for your boards!
And if you don't already, I'd really love it if you joined the 13000 others that follow me! Each day I share tasty recipes, home decor, fun DIY projects and more!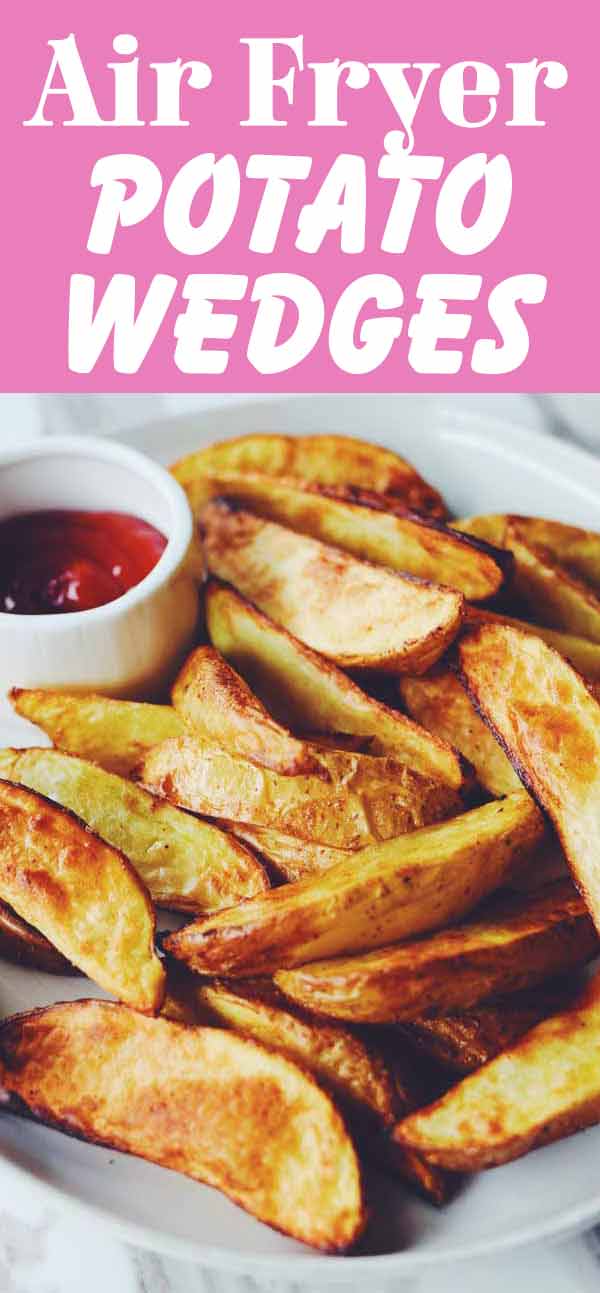 Recipe
Print Recipe
air fryer potato wedges
Once you make these air fryer potato wedges, you'll never make them any other way! They're crispy, crunchy, and super easy! Not only are they healthier this way, but they're way quicker to make, too!
Ingredients
3

large yukon gold potatoes

cut into wedges

2

tbsp

olive oil

1.5

seasoned salt

.5 tsp sugar
Instructions
Preheat your air fryer if needed.

Toss potatoes with olive oil, seasoned salt, and sugar. Arrange them in the air fryer basket - making sure that they have room for the air to circulate.

Set the air fryer for 400 F degrees for 18 minutes.

Press start and be sure to toss potatoes halfway through cooking to ensure crispy sides all over.

Remove from heat and serve immediately.