You'll never order out once you try my Creamy Jalapeno Ranch Dressing drizzled over this Homemade Pepperoni Pizza! Crispy pepperoni cups, melted mozzarella, and fresh tomato sauce come together over store bought pizza dough to create this insanely tasty pizza recipe. Serve it alongside my addicting jalapeno ranch for even more goodness!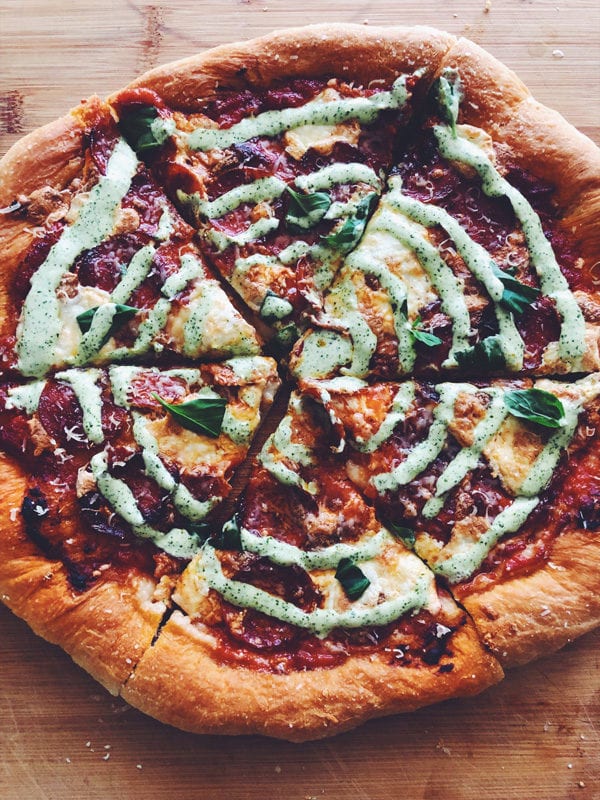 Pepperoni Pizza with Creamy Jalapeno Ranch Dressing
Don't get me wrong, I love going out for pizza… but I also love staying at home and indulging in my pajamas. This recipe is inspired by one of my favorite pizzas at Prima (one of the best restaurants in New Smyrna Beach!). There, they put fresh jalapeños on pepperoni and mozzarella pizza and it's insane!
Personally, I love spicy foods but for some reason, fresh jalapeños don't like me. My face burns, my mouth burns, i turn bright red. The sight is pretty pitiful. But since I love jalapeños, I wanted to prepare them in a way that didn't ruin me.
Hence the creamy jalapeno ranch sauce! This stuff is basically crack and you can use it on way more than this pizza. It's creamy, spicy, rich and tangy and it's perfectly delicious.
So Let's get to it, shall we?
How to make Pepperoni Pizza at home
Making Pepperoni Pizza at home is super easy! To begin, you can either make your dough from scratch or follow my trick below if you don't have time!
Once you've got your dough, you'll want to preheat your oven and pizza stone to 450F degrees. While it's heating, allow your pizza dough to get to room temperature.
When the oven and pizza stone have heated for about 30 minutes, it's time to begin shaping your dough.
Start by adding flour to a cutting board then place your dough on top and roll it out into a large circle. Now, remove your pizza stone from the oven and sprinkle it with flour or cornmeal to prevent sticking.
Add the shaped dough on top and then add sauce, cheese, and whatever toppings you'd like. Finish with a drizzle of olive oil and kosher salt then bake until the cheese is bubbly is the crust is crispy.
Notes: If you'd like a thicker crust, you'll probably want to do turn the heat down to 400F so the toppings don't burn before the crust is ready.
Oh, and you'll most definitely want to do as the Italians do and serve it with my favorite summer time drink – my mango campari float!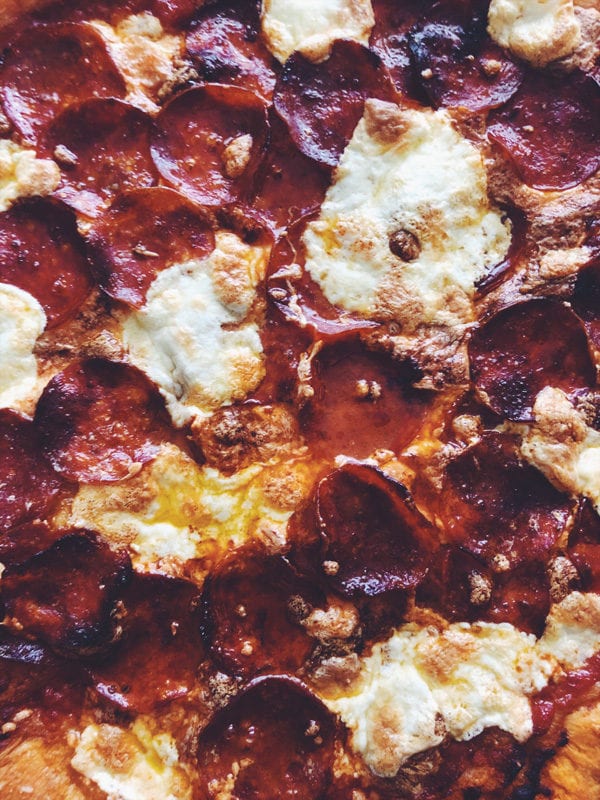 How to Roll Out Pizza Dough
Using your fingers or a floured rolling pin, start pushing the dough from the middle outward until it's about an inch thick.
Then, pick up your dough and move your hands around the rim of the dough, letting gravity help stretch it. You'll want to do this in a circular pattern so that the the dough becomes circular.
After that, you can either toss the dough like a professional, or continue to stretch it out with your hands until it reaches the desired size and shape.

Easy Pizza Dough Trick
Making pizza dough can be a tricky and time consuming process. And most of the time, I don't plan my dinners ahead of time so I'm never prepared. That's why I rely on this trick to create the best pizza on the fly.
Instead of making it yourself, stop by your favorite pizza shop and ask them for a ball of dough. They'll most likely sell you one for under $5 and it makes the entire process so much smoother. And if they say no, head to your local grocery store and grab one.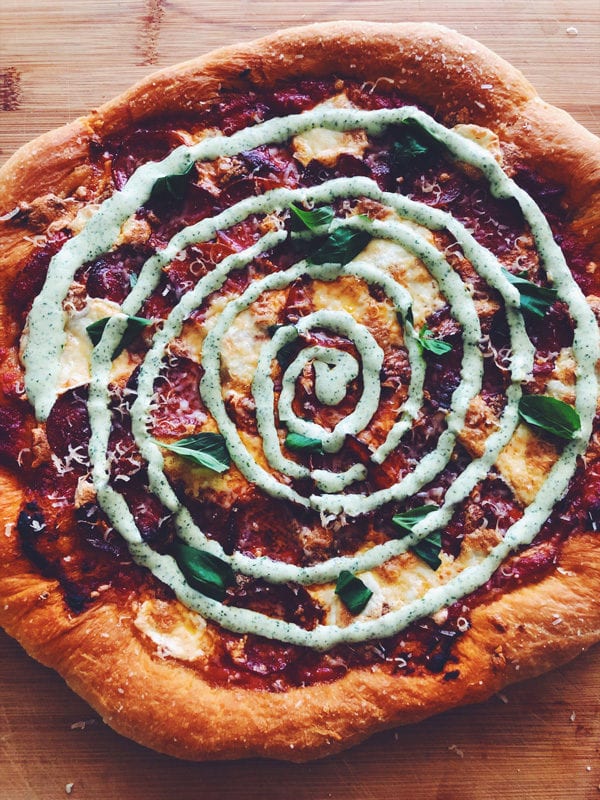 Creamy Jalapeno Ranch Dressing
I love dipping my pizza in ranch so I wanted to make something even more exciting! That's why I came up with this tasty creamy jalapeno ranch sauce.
Use your favorite store bought ranch and then blend it up with pickled jalapenos and cilantro. You can even add a little lime juce if you think it needs more zip.
You can use this creamy jalapeno ranch sauce on anything from my favorite citrus avocado kale salad to my cheesy jalapeno garlic bread!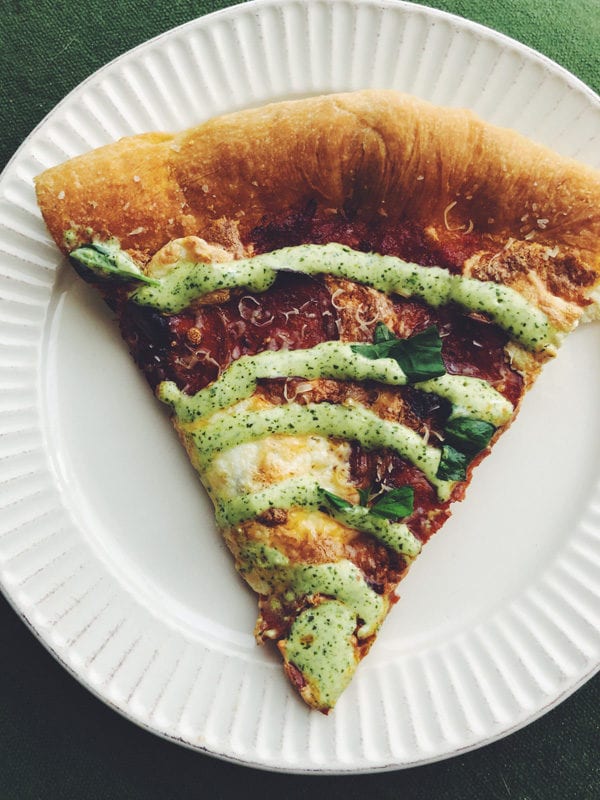 PEPPERONI PIZZA & JALAPENO RANCH RECIPE:
Print Recipe
Pepperoni Pizza with Creamy Jalapeno Ranch Dressing
My homemade pepperoni pizza with creamy jalapeno ranch dressing will rock your socks!
Ingredients
for the pepperoni pizza
1

ball of pizza dough

from your favorite pizza place or store

1/2

cup

of high quality tomato sauce

1

clove

garlic

minced

1

ball

fresh mozzarella

torn

1

cup

pepperonis

5

basil leaves

torn

olive oil and kosher salt

optional grated parmesan or asiago
for the creamy jalapeno ranch dressing
1

cup

ranch dressing

store bought

2

tbsp

pickled jalapenos

1/3

cup

lightly packed cilantro leaves
Instructions
Preheat oven and pizza stone to 450F. Roll out pizza dough into a circle. Remove the pizza stone from the oven then sprinkle with cornmeal or flour. Add the rolled out dough on top.

Brush the edges of the dough with olive oil and a sprinkle of salt. Add sauce and garlic to the dough and spread it evenly across. Add the torn mozzarella followed by the pepperonis evenly across the top.

Finish with a drizzle of olive oil before baking.

Bake for 15-20 minutes or until the cheese has melted, the pepperoni and crust are crispy, and the dough is cooked through.

Remove from the heat and let sit.
For the Jalapeno Ranch Dressing
Meanwhile, make the jalapeno ranch dressing. Add ranch, pickled jalapenos, and cilantro to a wide mouth jar and use an immersion blender to blend it all together.

Once the pizza has sat for a few minutes, add the torn basil leaves, some parmesan or asiago cheese and finish with a drizzle of jalapeno ranch before serving.
And if you'd like to save this recipe for later, pin them below!
xoxo,
Kenz aka GCS