This lemony Goat Cheese Chicken is served with Skillet Gnocchi, Kale, Artichokes & Sun Dried Tomatoes. It's the perfect one-pot hearty meal for nights when you can't decide what to make. Top it with fresh basil and lemon slices for added awesomeness.
Goat Cheese Chicken with Skillet Gnocchi, Kale, Artichokes & Sun Dried Tomatoes
Is it just me or do you feeling like you're constantly searching pinterest for easy chicken dinners? I don't know why, but i feel like I have such a hard time coming up with a tasty chicken dinner that doesn't require using 30 pots or pans. It's just downright frustrating, especially when you're just trying to get a good dinner on the table after a long day.
But ever since I came up with this one pot Goat Cheese Chicken with Skillet Gnocchi recipe, I've wanted to make it again and again! The chicken is topped with goat cheese, lemon and fresh basil. The skillet gnocchi add some carby goodness. And the whole thing is served over white wine braised kale with caramelized onions, garlic, artichoke hearts and sun dried tomatoes. It's simple yet totally fresh, filling, and packed full of flavor.
Best of all, you can make it in a single pot so you won't be spending more time cleaning than you do cooking. And, anyone can make it in about 30 minutes, no matter their skill level in the kitchen!
How to Make Skillet Gnocchi
Like most of you, I usually avoid store bought gnocchi at all costs. They're typically super dense and heavy and just pretty blah in general. But after seeing Rana's Skillet Gnocchi in the fresh pasta section at Publix, i became intrigued. Then I saw that they were BOGO so I decided to try it out. To my surprise, they are the best pre-made gnocchi I've ever tasted!
Oh, and to be clear – this is totally not sponsored in any way at all, I just really like them!
To prepare them, all you need to do is sauté them for a few minutes over medium heat. After a quick pan-fry in olive oil, the gnocchi will turn into these puffy little clouds of potato perfection. The outside is perfectly crisp and the inside will melt in your mouth. They are ready to eat in under 5 minutes. And to be perfectly frank, I would be happy eating big bowl of them for dinner!
They're also rad because they're super convenient for a one pot dinner like this one — since they require no boiling at all! I've also been seeing a ton of people say how good Trader Joe's cauliflower gnocchi are, so you could definitely try those, too!
Recipe: Goat Cheese Chicken with Skillet Gnocchi, Kale, Artichokes & Sun Dried Tomatoes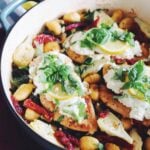 Print Recipe
Goat Cheese Chicken with Skillet Gnocchi, Kale, Artichokes & Sun Dried Tomatoes
This lemony Goat Cheese Chicken is served with Skillet Gnocchi, Kale, Artichokes & Sun Dried Tomatoes. It's the perfect one-pot hearty meal for nights where you can't decide what to make
Ingredients
4

tbsp

olive oil

divided

2

large chicken breasts

split down the middle

1/2

tsp

paprika

2

cups

skillet gnocchi

or you could use regular boiled gnocchi

1/2

cup

wine divided

1

large sweet onion

thinly sliced

5

garlic cloves

minced

4

cups

kale

roughly chopped

3

tbsp

sun dried tomatoes

thinly sliced

1

can halved artichokes

drained

1/2

cup

goat cheese

1

lemon

1

handful fresh basil

Salt and pepper
Instructions
Liberally season both sides of the chicken with salt, pepper and paprika. Meanwhile, heat a large cast iron skillet over medium-high heat. When it's hot, add 2 tbsp olive oil then carefully add the chicken. Cook until one side is golden and crispy, then flip, and repeat until the chicken cooked through. Remove chicken breasts and set aside in a large bowl.

Add another tbsp of olive oil and then add the skillet gnocchi and a pinch of salt. Cook for a few minutes until each gnocchi is golden brown. Remove from heat and place the cooked gnocchi into the bowl with the chicken.

Next turn the heat down to medium add the onion, a pinch of salt and 1/2 cup of white wine. Using a wooden spatula, scrape up the bits of the chicken and gnocchi that were stuck to the bottom of the pan. Stir and cook until onions are beginning to soften and brown.

Next add the garlic, kale, sun dried tomatoes, and another pinch of salt. Stir then add another 1/4 cup of white wine and cover the pot with a lid. When the kale is wilted and bright green, add the artichokes and stir one more time. Season with salt and pepper to taste.

Turn off the heat then turn on the broiler. Add the gnocchis back on top of the kale mixture, then place the chicken on top. Evenly distribute the goat cheese on top of each chicken breast.

Cut the lemon in half down the middle. Slice one of the halves into coins then place them on top of each goat cheese covered chicken breast. Place under the broiler for a few minutes until the goat cheese has softened then remove from heat.

Before serving, squeeze the juice from the remaining half of lemon all over the dish then top with fresh basil and serve!
Notes
You can find skillet gnocchi in the fresh pasta section of most grocery stores. If you can't, you can either swap it out for boiled gnocchi or use another ready-to-eat pasta such as 2 cups of bowtie, rigatoni or orzo. 
If you like this goat cheese chicken recipe with skillet gnocchi, you might also like one of these tasty recipes!
Broccoli Garlic Pasta with Parmesan and Red Pepper Flakes – It may just be that this recipe is going freakin' viral on pinterest right now, but I'm pretty sure you'll love it no matter what! Toss Curly mafalda pasta with broccoli, garlic, white wine, lemon, red pepper flakes, and plenty of parmesan. The results will be astounding. Just like this one, it can be made in 30 minutes!
Kale and White Bean Detox Soup – If you are like me and feel better when kale is a regular part of your diet, then get excited! This one pot spicy lemon kale and white bean soup is souper (get it? lol) easy to make and it's the perfect lunch for cold days. I say, eat this for lunch, so you can eat all the carbs for dinner!
Goat Cheese Grilled Cheese with Kale, Beets and Mushrooms – Not that a grilled cheese is healthy, but if it could be this would be it! Sauteed kale with mushrooms is paired with beet whipped goat cheese. The results not only look beautiful, but they taste pretty amazing, too!
xoxo,
MacKenzie Smith aka GCS