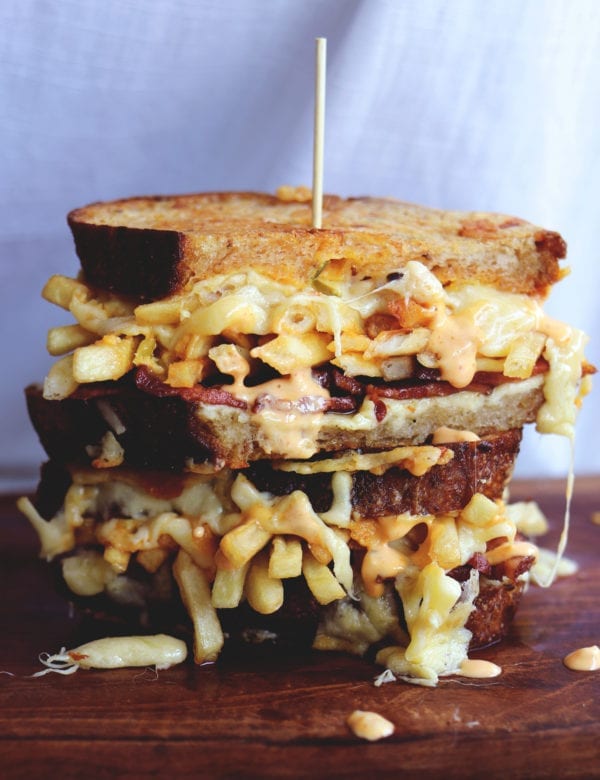 I could not be more excited to say goodbye to summer. Don't get me wrong, I freakin' love splashing around at the beach and tanning my bod, but the Florida recent heat and lack of rain has been utterly unbearable! I've found myself basically becoming a hermit to avoid the sweaty and gross effects of the sun's flaming hot rays.
I know that this feeling of summer fatigue will fade as soon as the thermometer drops below 60. And to be honest, "winter" down here only involves a hoodie and lined leggings at the most so it's never that bad. But as the days become shorter and as my body craves more vitamin D, I know I'll long for summer food once again. And I know you might be thinking "where are you going with this MacKenzie?" or "How is a loaded fry grilled cheese summer food?" - so let me explain.
To me California is allll about the traditional animal style fry binge at In n Out Burger. And California is basically forever-summer-land so in my mind, the two go hand in hand. And what's best about this summer-esque sandwich (beyond it tasting like cheesy bacon fry heaven) is that you can still eat it without having to worry about being in a bathing suit for the next 5 months. That's right. Winter body, time to ignite!
RECIPE: Animal Style Loaded French Fry Grilled Cheese with Westminster Non GMO Cheddar
So what's all in this delicious looking sandwich? Take a look!
INGREDIENTS
2 slices of sourdough bread
⅓ cup Westminster Non Gmo Aged Cheddar
1 small french fry from any fast food restaurant
4 slices of bacon, cooked
2 pats salted butter
1- 2 tbsp animal style sauce (recipe below) or you could use 1000 island dressing if you have some on hand
Now let's talk about the cheese because it's the most important part of this recipe. Westminster's Non GMO Aged Sharp Cheddar is the bomb. It's rich and creamy and melts like a GD dream. Beyond having all the components you could ever want in an aged cheddar, the family that makes it is pretty remarkable, too. The Barber Family is actually the oldest cheddar making family (and producer!) in the UK. Pretty impressive, right? Then when we take The Heler family into consideration, Westminster's cheese game gets even more baller. The Heler family, which runs the dairy farm on the English countryside, produces some of the best, non gmo, milk in the world. Together, they make the oh-so-amazing cheddar cheese in this sandwich and for that, I am eternally grateful.
**this post is sponsored by Westminster Cheese - opinions are my own**
So now that you have the background on their non gmo cheddar, let's put it to use!
Shred it up and place half of the cheese onto one slice of bread.
Now it's french fry time. If you're feeling courageous and don't mind smelling like fry grease, totes fry these up yourself. If you want to do it my way, pick up a small fry from a fast food joint and try not to eat them all on the way home. Next, carefully line them up like the picture below. It looks time consuming but this maybe took 12 seconds. Putting them on this way keeps the sandwich from getting too sloppy as it grills.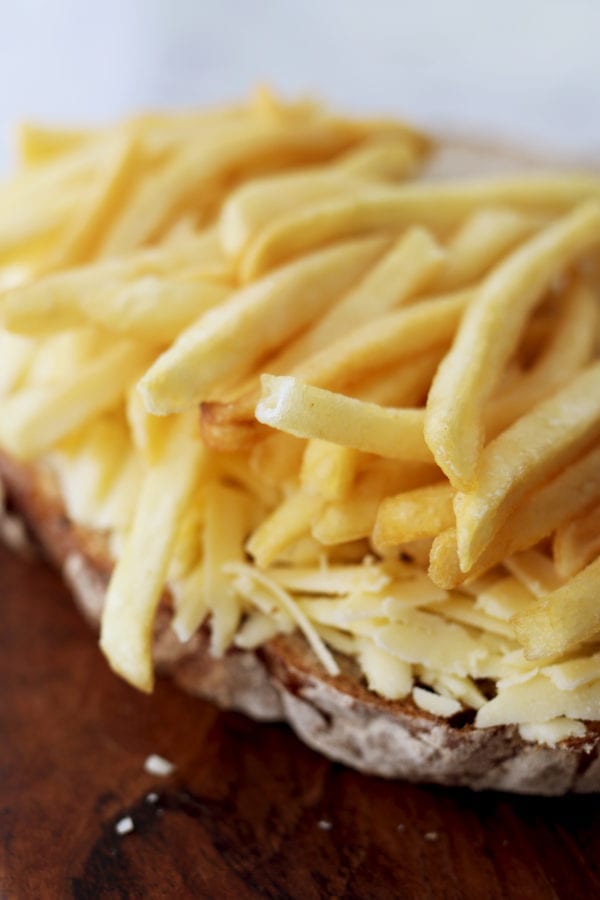 After that, it's time for the bacon! Add your cooked bacon on top and take a moment to appreciate the beauty of this grilled cheese.
After you've given yourself a moment with the bacon, add the remaining Wesminter Non GMO cheddar on top and take another moment. You deserve it.
Next, it's time for the sauce! Place all of the ingredients below in a bowl and mix it up! Season to taste!
ANIMAL STYLE SAUCE INGREDIENTS
1 cup mayo
⅓ cup ketchup
1 tbsp yellow mustard
2 tbsp sweet pickle relish
a few dashes worcestershire
splash white wine vinegar
a few pinches salt
1 pinch sugar
¼ tsp garlic powder
Then smear 1-2 tbsp of the sauce onto the remaining slice of bread and place it on top.
Lastly butter the exterior of the sandwich and place it either in a panini press or in a cast iron skillet. Cook it over medium heat, flipping every 4 minutes or so, until the cheese has melted and the crusts looks as beautiful as the sandwich below.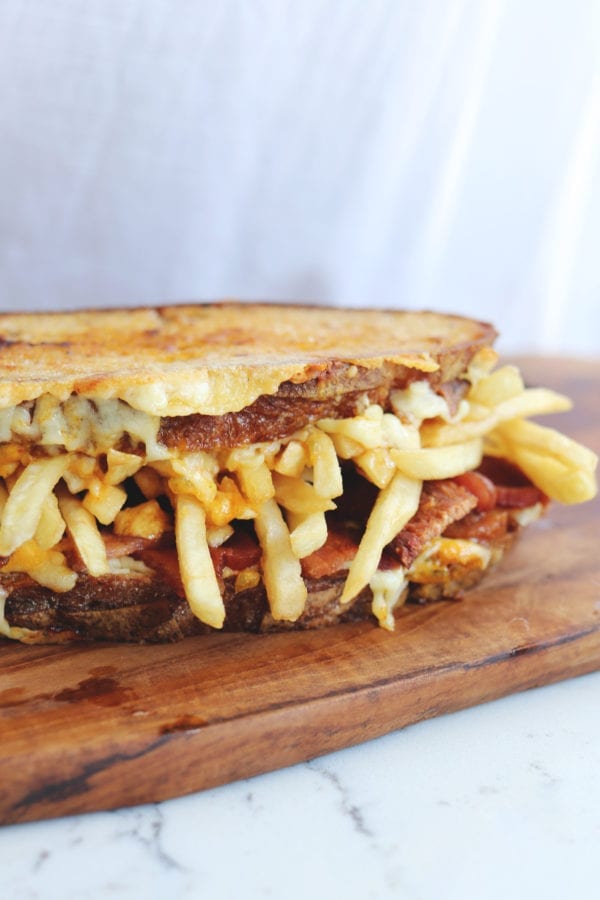 Finally let it rest for a few minutes before cutting into it so that the cheese can firm up a little. After that enjoy the heck out of it and serve with extra animal style sauce!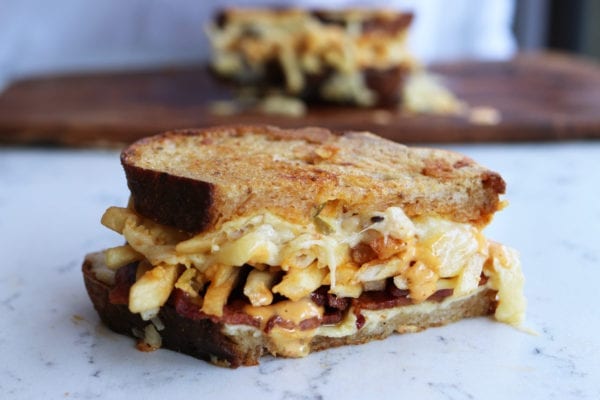 If you'd like information on where to buy the cheese, click [HERE]. And if you feel inspired to make the sandwich, snap a pic and tag me on instagram @grilledcheesesocial so I can share it! Have a cheesy day!
xoxo,
GCS