Ok, so yeah, still not cold here in Florida. Not even a little bit. But since all of the rest of you are suffering in mother nature's frigidness, I figured I'd make y'all a sweet and spicy Grilled Cheese to transport you tropical paradise. Sounds pretty good right? One bite of this sandwich that's loaded with mojo pork, mango habanero gouda, cilantro, refried black beans, butter and whtie bread, and you'll be whisked away to warmer times.
Say peace out to puffy coats and ugg boots (do people still wear uggs?), put on your swimsuit and turn up the cuban jazz. Your day is about to get so much more sunny and awesome.
Oh hey, look! We even made a little video so it's even easier for you to make this mystic sandwich!
Don't have time to watch the video?
You can either click [HERE] to get the exact recipe on my About.com Sandwich Expert Page or you can keep reading to get the general gist of things!
Ingredients
2 slices of white bread
2 tbsp refried beans
6 slices of mango habanero gouda (by Red Apple Cheese)
2 tbsp mojo pulled pork
a few sprigs of cilantro
salted butter
First things first, pile on some of the mango habanero gouda and top it with pulled pork.
Next, add a few cilantro leaves, the rest of the cheese and the top piece of bread. Make sure that the outside is covered in butter. Do this by either smearing room temp right on top, or like I did in the video and melt it onto the pan and brush it on top.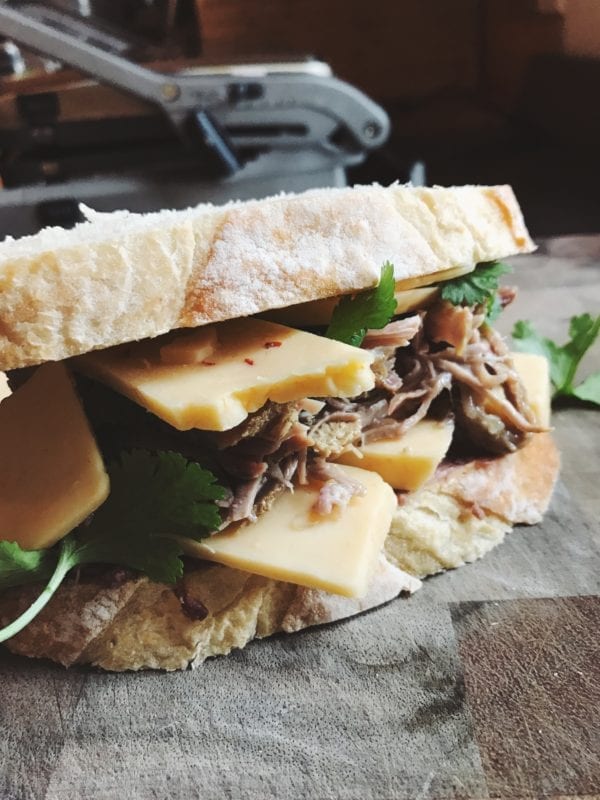 Let the grilled cheese cook for a few minutes on each side if you're using a frying pan or act like a grilled chz boss and invest in the Cuisinart Griddler Elite and get ready for your world to change. Seriously, my world has changed from this machine. It's amazing and you can detach the plates which makes cleaning about one thousand times easier than any press I've ever had before.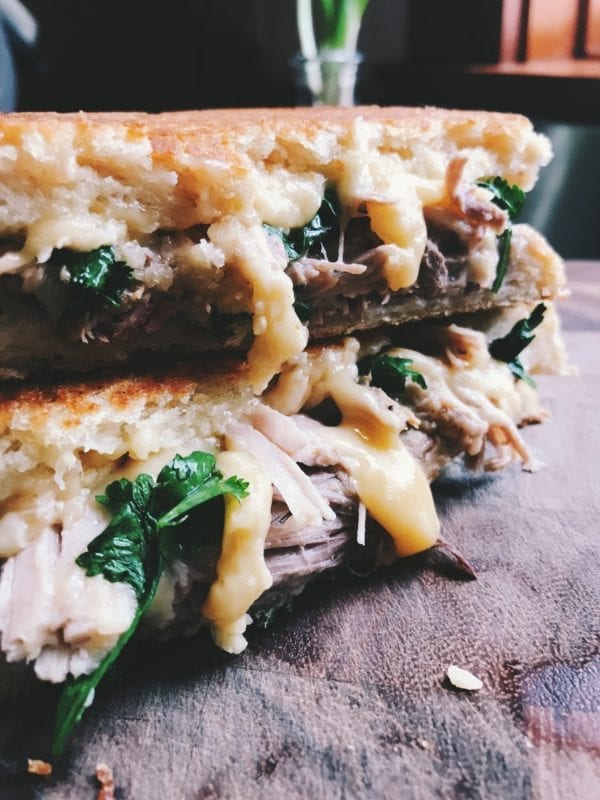 So yes, it's that simple! Making this tropical paradise grilled cheese probably won't help you acheive a summer body anytime soon, but it most definitely will transport you to better times.
xoxo,
GCS