Now that Poppy is just about 9 months old, we've really gotten into Baby Led Weaning! In this post, I share some of our favorite tips to making Poppy's food nutritious, keeping her clean, and teaching her new skills!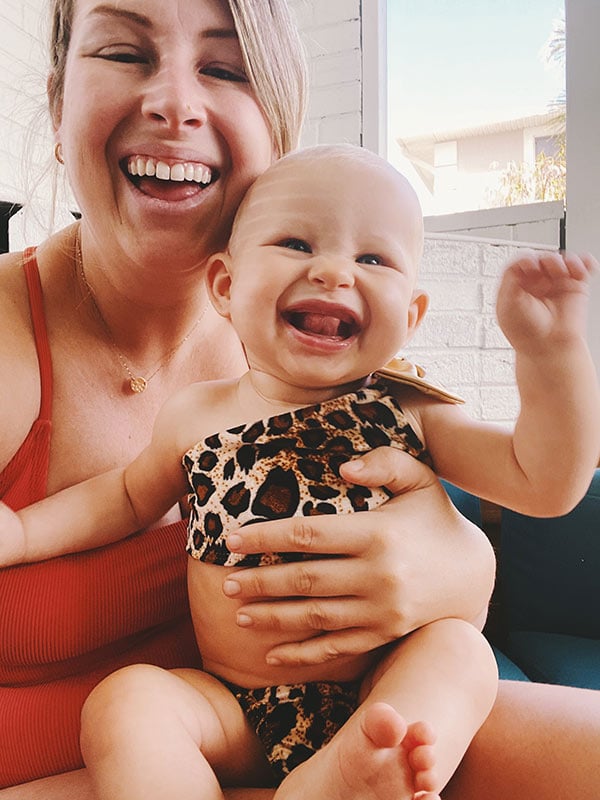 Our Baby Led Weaning Journey
Before Poppy got old enough to have things other than breast milk, I had never heard of Baby Led Weaning (aka BLW). But since I got so many recommendations on insta, I knew we had to try it out!
From my understanding, the idea behind it is to introduce babies to regular people food from the get-go. Not only does it help the baby learn to chew and enhance their fine motor skills but it also gets them used to new textures and flavors.
Within BLW, choking and coughing is totally normal because they're not used to the sensation of pieces of food going down their throat. Which honestly makes total sense in my mind but it still didn't help my fear of her choking and dying in front of my eyes.
As a chef, the food side of it sounded Ahhhhmazing! But as a mom, the whole letting her choke it out part sounded down right horrifying.
Day 1 of BLW was TERRIFYING! We started out with sweet potatoes. To serve them, I simply steamed it and mashed up with a fork and a little bit of breast milk. She instantly had fear in her eyes when she started to choke and cough on the unfamiliar texture. Without hesitation, both Jeremy and I decided that we are not hardcore enough to start off with BLW.
So we agreed to ease into it.
We decided to start off slow with purees. Our goal was to make them chunkier over time to get her used to texture. And of course, to avoid her choking and dying.
After about a month of purees and once we felt comfortable with her chowing down on them, I started to make her food a little thicker and with a little more texture. And by this, I just mean less time in the food processor so the food wasn't as broken down. Sure, she would cough sometimes but it was much less scary than her doing so at the very beginning.
After sweet potato, we introduced mashed avocado, banana, steamed pears, apples, yogurt with fruit stirred in and more soft foods. We did one food for 3 days at a time for about a month to make sure she didn't have any allergies.
Over time, she got more confident and so did we.
We also always made a point to have Poppy sit in her highchair while we ate. If she showed interest, we would give her teeny tiny bites that we felt she could swallow on her own.
Within the last month, she has started showing more interest in feeding herself so we decided to start really lean into BLW.
For inspiration and guidance, we started following accounts like @solidstarts and @babyledweanteam. This is where we learned about peeling a banana so she could hold it using the palmar grasp. It's also where we learned about rolling slippery foods in oats/hemp seeds/chia seeds, etc!
She'll be 9 months old this week and I'm so proud of how good she is at eating and feeding herself.
I actually just took a break and watched her eat spaghetti for the first time which was so funny! She LOVES it and was so focused while investigating this new food. It was so cool.
Some of her favorite foods right now are avocado slices rolled in oats, banana logs, kiwi, green beans, ground beef, scrambled eggs, asparagus, oranges, and berries.
Oh, also! Whenever we introduce a new food that needs to be cooked, I always cook it a little longer than necessary so it gets soft. She still has no teeth so it's important for her to be able to gum it down before swallowing!
Below you'll find some of our tutorials that I've been getting requests for.
TUTORIALS
How to make green eggs
To make green eggs, all you need is 2 eggs, a handful of spinach, some breast milk or formula (about 1-2 tsp) and some grassfed butter! To make the green eggs, add eggs, spinach, and milk to a food processor and blend for 1 minute. Then melt some grassfed butter in a nonstick pan over low heat and scramble the green eggs.
You can even cook the green eggs omelette style and use cookie cutters to cut out fun shapes for the kids to eat!
[embedyt] https://www.youtube.com/watch?v=nSfm5OpF2Cs[/embedyt]
What we use:
Mini Food Processor - I love this food processor because it's perfectly small and compact so I can leave it out all day everyday without it getting in the way. It's def not as good as a vitamix or something like that but it gets the baby food job done!
Avanchy Dining Set - I get so many compliments on this bamboo plate, bowl, and flatware set! They're sustainable and come with a suction cup for the bottom of the bowl so the babes can't rip it off... but I need to be truthful and say quite a few plates and bowls have been thrown across the room once she unlatches the suction!
Teaching baby to use a straw
I got soooo many requests to show a tutorial on how we taught Poppy to drink out of a straw so I wanted to share that here! My mom showed me how to do this and within a couple days, Poppy started preferring straws to bottles which is so much more convenient for us!
[embedyt] https://www.youtube.com/watch?v=qmmOHFFvCUM[/embedyt]
What you'll need:
reusable silicon drinking straws - I highly recommend using these thick silicon plastic straws because they're soft so baby won't cut their gums or poke their eye out. They're also one of her favorite things to chew on for teething and they're sustainable so double win!
Sippy Cups with Handle and Weighted Straw - We have 4 of these Munchkin Sippy Cups and highly recommend them! No matter which angle Poppy holds the cup at, the straw is weighted so it sucks up the water at the bottom. Plus, it never leaks or spills so I can throw it on my purse anytime we leave the house!
How to make a towel bib
Making a towel bib is another one of my mom's genius hacks! I had gotten so many cute bibs and everytime I used one, I was instantly frustrated! Let's be honest, when baby is learning how to eat, food goes EVERYWHERE! And unlike a tiny bib that only covers their chests, this one covers their whole body (like a poncho!) and you can use it to clean the area up afterward. Hell yes for sustainability!
[embedyt] https://www.youtube.com/watch?v=7-Er-Y884Wg[/embedyt]
What you'll need:
Old Towel - an old towel or dish rag will work perfectly! I like using towels that are either stained or have rips in them because it's a great way to repurpose and recycle.
Scissors - any sharp pair of scissors or shears will work!
Miscellaneous
To read more baby posts, check out my 3 month breastfeeding journey or my positive birth story!
Or if you'd like to see more of our favorite baby products, check out Poppy's registry guide!
If you liked any of these tips, or have another genius tip that you'd like to share, please leave it below in the comments!