Grandmas Corn Pudding is one of those Southern sides that's always a hit at Thanksgiving. It's a sweet and savory vegetarian corn dish that's rich, creamy, and delicious. This recipe calls for cheddar and pimentos but you can leave them out if you'd like. The base of this traditional recipe is still made exactly the same!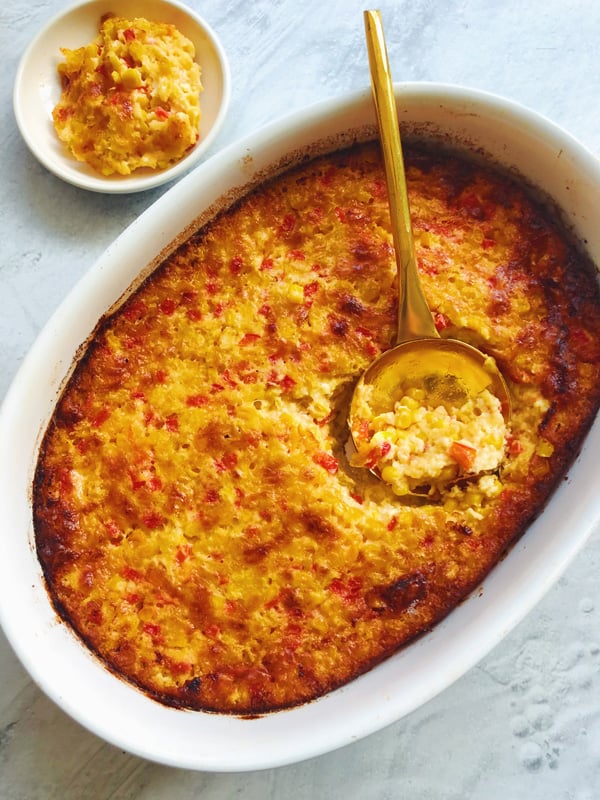 Grandmas Corn Pudding
My Meme used to make cheesy corn pudding all the time when I was growing up.
Her Southern version is made like a rich and creamy corn custard that's sweet, savory and extremely delicious!
The traditional version does not call for pimento cheese, but I think it adds so much flavor!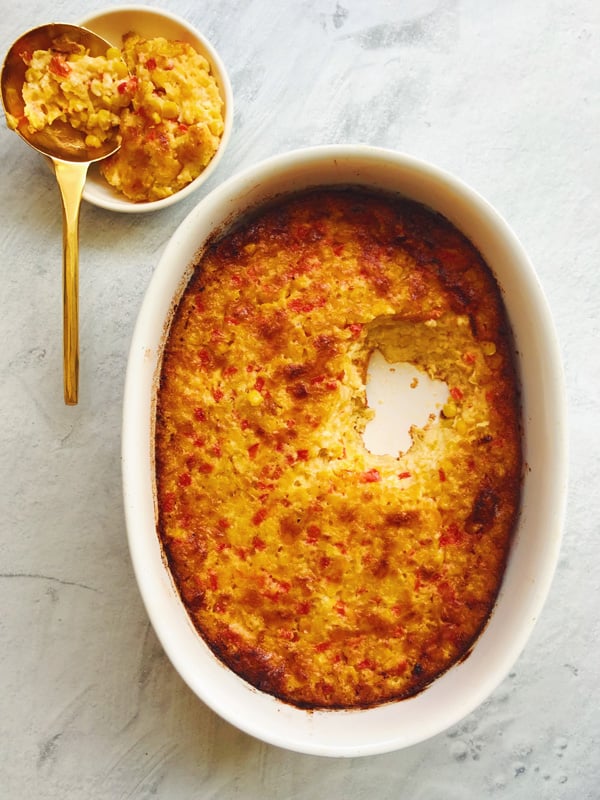 The saltiness from the sharp cheddar not only adds flavor but it creates a cheesy crust that's SO addicting.
And the pimentos add sweet and salty pops of flavor that balance out the entire dish.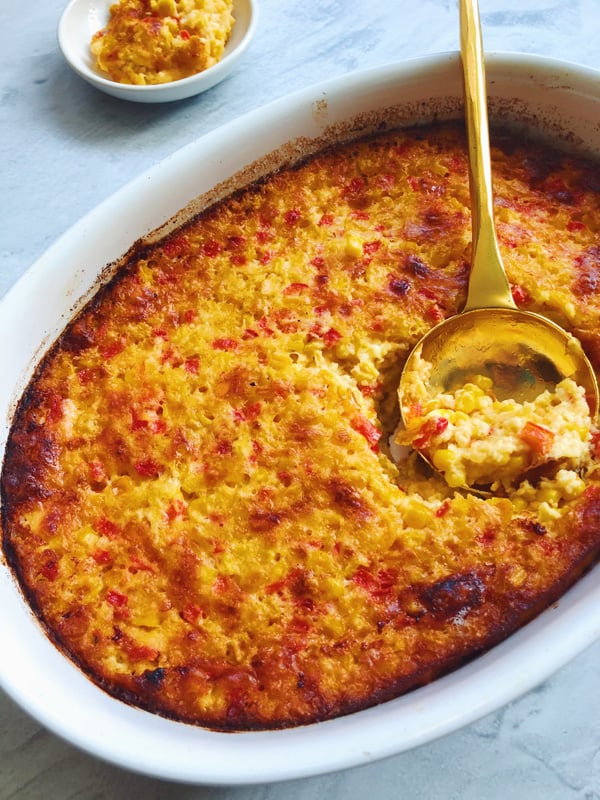 But if you're more of a purist and want the traditional recipe, I still have ya covered!
Simply just leave out the sharp cheddar and pimentos and make the recipe as is! It's still exactly the same whether you use those or not.
If you're making this for Thanksgiving and need some more tasty sides to go with it, I've got you!
Try your hand at my Jiffy Cornbread Dressing, or my MIL's Cheesy Green Bean Casserole.
I've got a Butternut Squash Mac and Cheese for the adventurist family. And I've got a perfectly traditional White Cheddar Mac and Cheese for the purists out there!
If you need appetizers, try these tasty Sausage Rolls, Bacon Wrapped Dates with Blue Cheese or my Meme's Dried Beef Cheese Ball!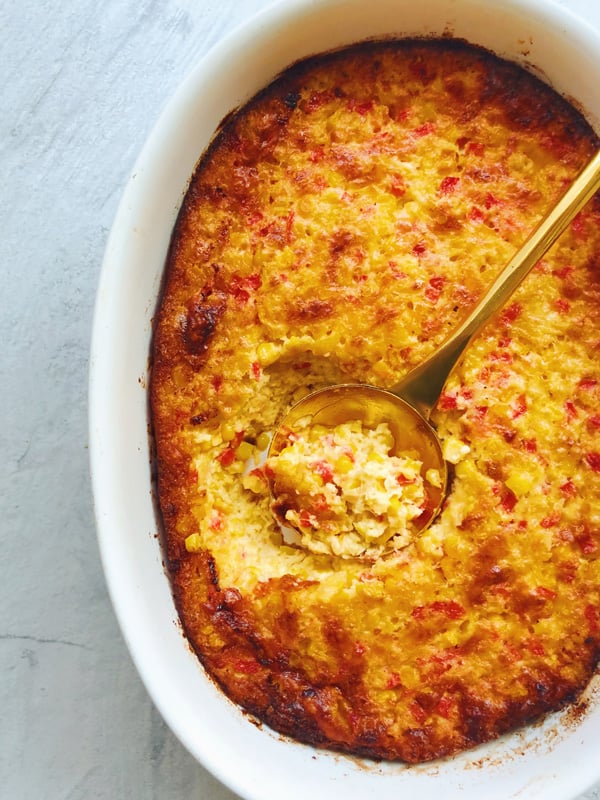 How to make Traditional Corn Pudding
Making traditional Grandmas Corn Pudding is super easy.
To begin, whisk together eggs, milk, cornstarch and sugar.
If you notice that the mixture is slightly clumpy from the cornstarch, don't worry. Try to whisk it as much as you can but know that the tiny clumps will cook out as the dish is in the oven.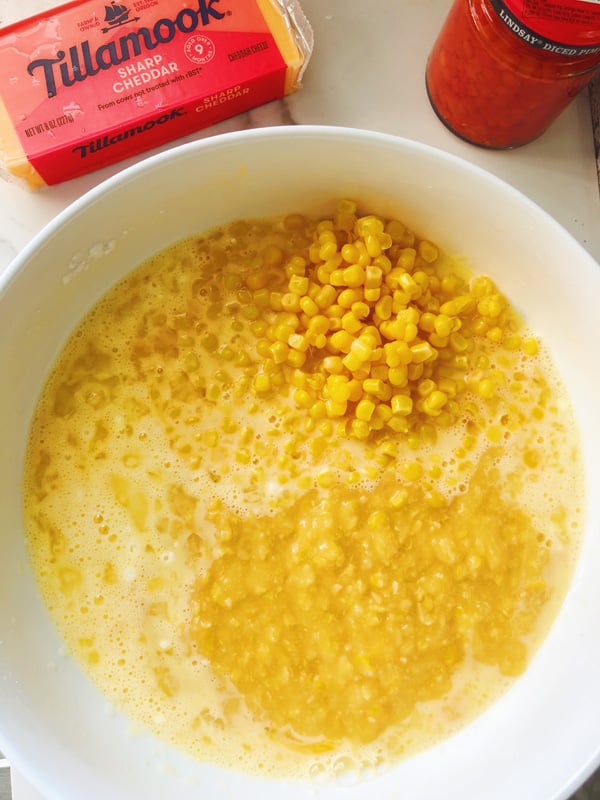 Next, add in a can of creamed corn, a can of drained regular corn, and melted salty butter.
Grease a medium sized flat baking dish with nonstick spray and pour the mixture in.
Place the baking dish in the oven for 50 minutes to 1 hour.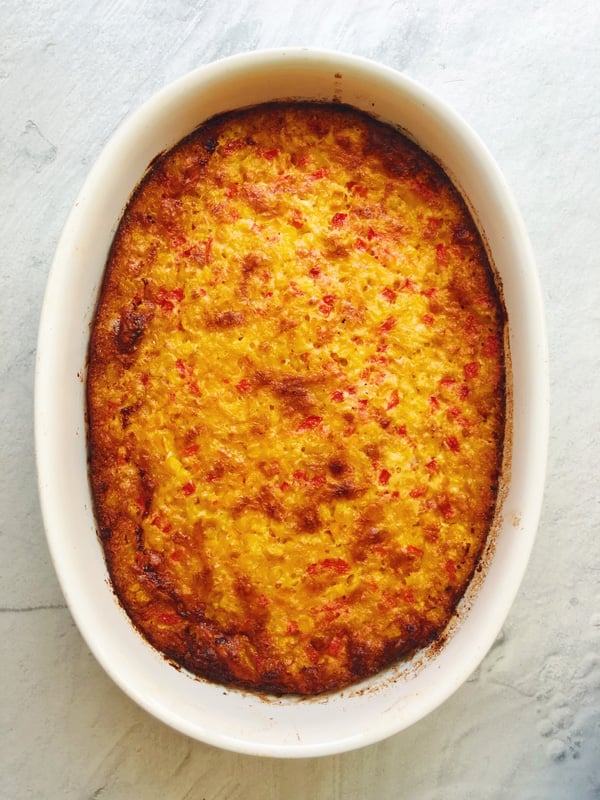 You'll know the corn pudding is done once the top is golden brown and the center doesn't jiggle.
Once it's done baking, remove from the oven and let rest for at least 15 minutes.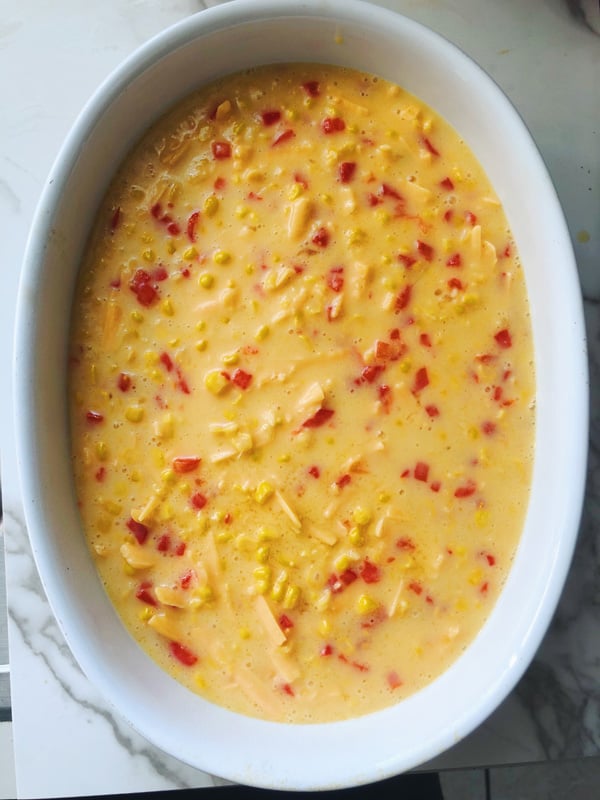 How to make it with Pimento Cheese
If you'd like to try my creative spin on traditional corn pudding, try adding pimentos and sharp cheddar!
The recipe is exactly the same except when it's time to add the cans of corn, just add 1.5 cups shredded sharp cheddar and a large jar of drained diced pimentos.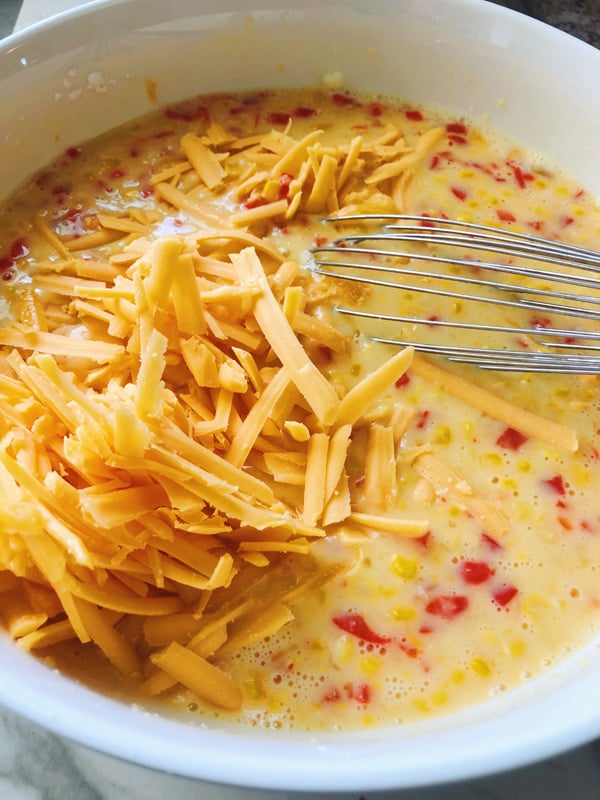 I like to use Tillamook's Sharp Cheddar because it melts beautifully and it's got so much flavor!
Mix it all together and place in the oven.
Bake as directed until the top is golden brown and the center doesn't jiggle.
Enjoy!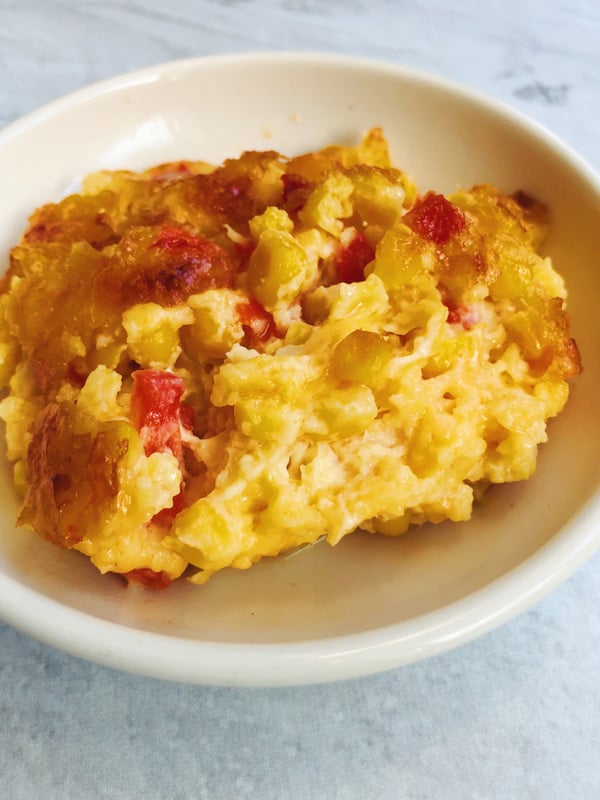 If you'd like to save these recipes for later, pin them below!



RECIPE:
Print Recipe
Grandmas Corn Pudding
Grandmas Corn Pudding is a classic Southern vegetable side dish that's perfect for the holidays. It's sweet, savory, and full of flavor! My variation adds pimentos and cheddar but you could leave them out and the recipe would still work perfectly!
Ingredients
5

Eggs

½

cup

Whole Milk

4

tbsp

Corn Starch

¼

cup

White Sugar

1

can

Whole Kernel Corn

drained

1

can

Creamed Corn

1

7 oz jar

diced pimentos

drained **OPTIONAL

1 ½

cups

sharp cheddar, grated

such as Tillamook **OPTIONAL

½

cup

Salted Melted Butter
Instructions
Preheat oven to 400F degrees.

Whisk together eggs, whole milk, cornstarch and sugar until the mixture is mostly smooth. Don't worry if there's slight clumps from the cornstarch - they'll cook out when it's in the oven.

Now add in the creamed corn, canned corn, pimentos, sharp cheddar, and butter until everything is combined.

Pour in a greased baking sheet and bake in the oven for 50 minutes to 1 hour.

The top should be golden brown and the center should not jiggle. Let rest for 15 minutes before serving.
Notes
If you'd like to make the traditional recipe, simply skip the pimentos and sharp cheddar and make the recipe as is. It's the exact same recipe and directions whether you use them or not!