This Florida Mule with raspberries and St. Augustine Gin is a beautifully light, crispy, and refreshing drink. Sweet muddled fresh raspberries, spicy ginger beer, and tart lime juice are combined with botanical St. Augustine Gin. It's garnished with aromatic mint leaves, fresh raspberries, and candied ginger which makes each drink feel like a tiny flower bouquet.
Florida Mule
Y'all, this Raspberry Gin Florida Mule might just one of my favorite drinks that my husband, Jeremy Johnston, makes! It's crisp, refreshing and slightly spicy. And best of all, it doesn't make my face turn red when I drink which is a freakin' miracle!
You might remember my obsession with cocktails topped with snack garnishes from this grilled cheese Bloody Marias a few years ago. And to be honest, that's partly why I love this drink so much! Not only do I feel like I'm sipping on a tiny baby bouquet, but the candied ginger gets me every time! It's the perfect palette cleanser that leaves each sip feeling like the very first. Oh, and it's pretty dang gorgeous as well!
I'm pretty sure that most of the ingredients are aphrodisiacs... which might be why Jeremy likes making it for me so much! hah! I know Valentine's Day is a few weeks away but I think you should def pin this recipe for later! It's the perfect sexy cocktail that will 100% spice up your night. Trust me on this one!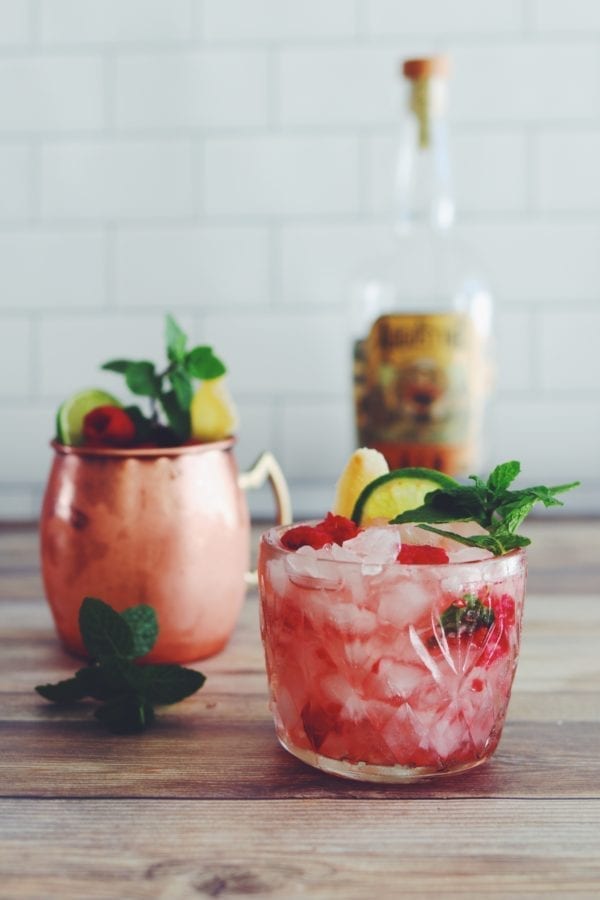 Florida Mule with St. Augustine Gin
We first had St. Augustine Gin while we were exploring St. Augustine a few years ago. After wandering around the city for a few hours and ended up at The Ice Plant for some dinner. This hip spot is probably one of St. Augustine's most popular restaurants and I chose it because of its great Southern cheese selection. As we were waiting for our table upstairs, we headed downstairs to check out the new distillery that had just opened up.
We were greeted by the super friendly owner who offered to give us a tour of his new business. After the walk-through, we were handed a few baby cocktails to test out their libations. He was making everything from bourbon and rum to gin and vodka in what once was an ice factory that supplied most of Florida.
Everything was pretty good, especially for a brand new distillery. But when we sipped their gin we were totally blown away! Not only was it super smooth and fragrant, but the botanicals were perfectly balanced with the hints of juniper that lingered on our tongue.
In my opinion, St. Augustine's Gin is their most notable product. Not only did it win it win the gold metal at the American Craft Spirit Association's Competition, but it is also now nationally known as one of America's best gins. If you haven't had it before, seek it out! I think it's best paired with ginger beer and I honestly can't get enough!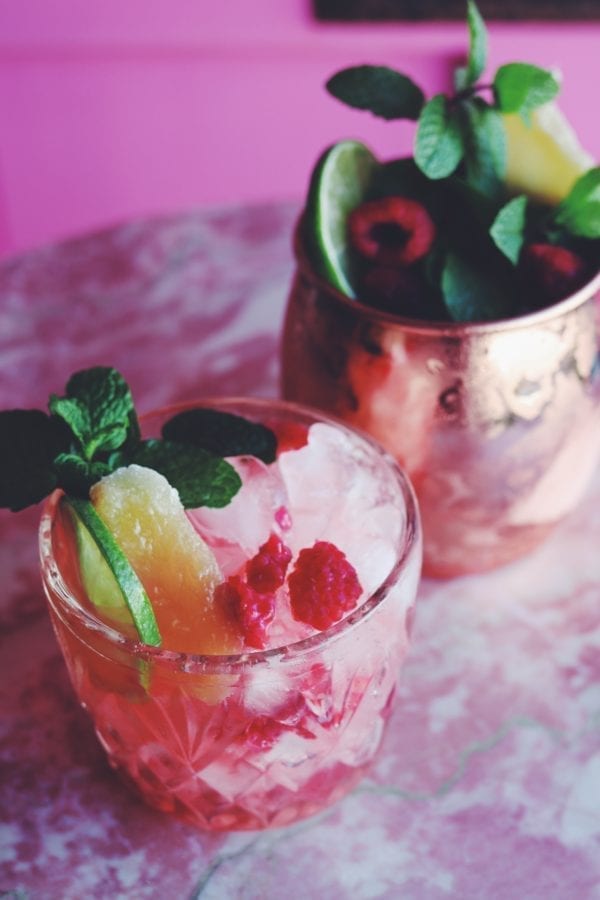 RECIPE: Florida Mule with Raspberries & Gin
Recipe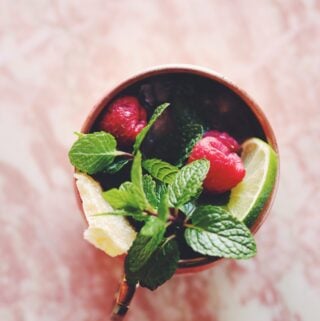 Raspberry Gin Florida Mule
This raspberry gin mule is a beautifully light, crispy, and refreshing drink.
Print
Pin
Ingredients
2

oz

St. Augustine Gin

2

oz

Ginger Beer

½

oz

Lime Juice

3

Raspberries

1

Mint Sprig

1

Lime Wheel

1

Candied Ginger
Instructions
Muddle a raspberry and lime juice in the bottom of a mule cup or cocktail glass. Then add the rest of the ingredients, stir, and add crushed ice on top. Garnish with two raspberries, a mint sprig, a lime wheel, and a piece of candied ginger.
If you're making this Raspberry Gin Florida Mule, you might want to pair it with one of these similar recipes:
Cinnamon Sugar Churro Rice Krispies Treats: If you're making this drink for a love one, why not pair it with a sweet treat! These cinnamon sugar coated churro rice krispies treats are the bomb! The combo works perfectly to show some Valentine's Day love!
Peach + Mozzarella Salad: Nothing says light and crispy quite like this combo! Fresh peaches, creamy mozzarella and fresh thai basil pairs perfectly with the ginger and raspberries from this cocktail. Add some gin, and well, you can't really ask for a better combination!
Caramelized Onion, Apple and Ham Grilled Cheese: This grilled cheese was made from a gift box from Mouth.com which makes it even more perfect for Valentine's Day! Not only could you load up with foodie presents for your lover, but you could also make them this tasty sandwich and cocktail! It's like a win win for everybody!
Monte Cristo Brie Grilled Cheese: Raspberries pair perfectly with brie! And when you add some of St. Augustine's fruity gin into the mix, you can bet your booty you're in for a good time! These little monte cristo sliders are not only cute AF but the tartness of the drink will cut right through the fattiness of the sandwich - leaving your palette clean and ready for the next bite!
Have lots of fun this weekend!!
xoxo,
Kenz aka GCS