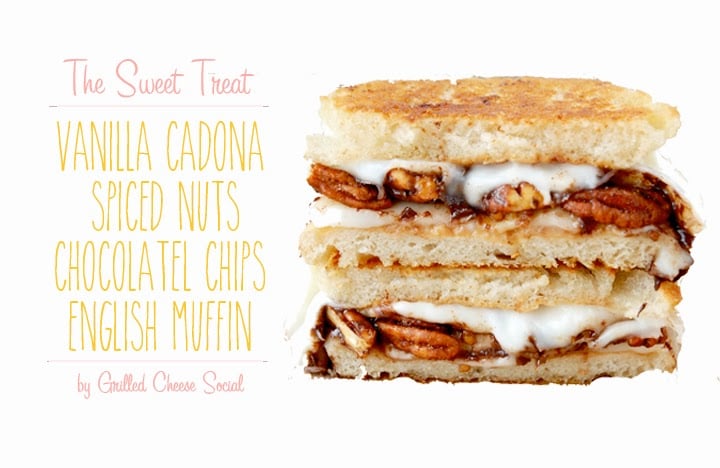 After I got back from that dreamy Californian vacay, I flew back to New York, "slept" a little bit, and then caught the first flight to Madison, WI for the 30th American Cheese Society Conference. My homies from Wisconsin Cheese invited me to spend the week in Madison to attend the most insane cheese freak conference in the country and I did… for five days. For 8 cheesy hours a day, I attended classes, met a ton of fromage friends, did an insane amount of tastings and gained about 25 pounds of fat happiness. #noregrets

The cheese conference was obviously the bomb and talking about it will probably only make you jealous, but I gotta say, Madison is such a cool city. Located on an isthmus, (Oh, you didn't pay attention in 6th grade geography, either? it's a small piece of land sandwiched between 2 large bodies of water), this college town/capital city has totally got it going on. My fav part? The food scene. It's totally insane. The week I got back, I found out that my buddies from Forequarter, who were nice enough to feed me and hang out with me everyday (lucky me, i know!), were mentioned as one of the Top 50 New Restaurants in the country from Bon Appetit. And sure, there's more cheese-makers and microbreweries than anywhere else in the country, but their farmers market is the sickest thing EVER! It wraps around the capital, is super cheap, mostly organic, and there's all these hot farmer boys that are more than willing to lett you handle you their carrots and zucchini. Hah. Just kidding, but seriously though, Midwestern boys are SO much different. I'll get back to you when I figure out what's up with that.
And because I'm obsessed with Wisconsin cheese and am eternally grateful to be sent on these kinds of adventures, I'm dedicating the next month and a half to the all the amazing Wisconsin-based cheese-makers. Not only will I be featuring cheeses from the Badger state, but I'll also be doing some awesome giveaways to help pump up the excitement so make sure to stay tuned! This first grilled cheese features a crazy vanilla cheese from Wisconsin's Carr Valley, spiced pecans from Milwaukee's Treat Bake Shop, and some semisweet chocolate chips on an English muffin.
Ingredients
– 4 thin slices of Carr Valley Vanilla Cardona Cheese
– 1 handful of Spiced Pecans from Treat Bake Shop
– 1 tbs Semisweet Chocolate Chips
– 1 English Muffin
First, cut your English muffin in half and flip it inside out – so that you're putting the cheese on the outer crust. Then lay on some of Sid Cook's finest Carr Valley Vanilla Cardona. You're probably all like "Vanilla Cardona, wtf is that?" Well I"ll tell ya. It kind of tastes like what would happen if you magically turned a super tasty cheesecake into a semi-firm, sliceable cheese. It's sweet, creamy, and has a hint of vanilla. When it melts, IT TASTES JUST LIKE CHEESECAKE. So you can think about this sandwich as a warm and gooey salted chocolate and spiced pecan cheesecake delight.
Here's what Sid Cook's peeps have to say about their cheese:
"
A delicious and unique sweet vanilla goat milk cheese with hints of caramel, coconut, and nutmeg. Has a unique mix of vanilla sugar on the rind and vanilla bean throughout. Took 1st Place at the 2011 U.S. Championship Cheese Contest and 3rd Place at the 2011 American Cheese Society Competition."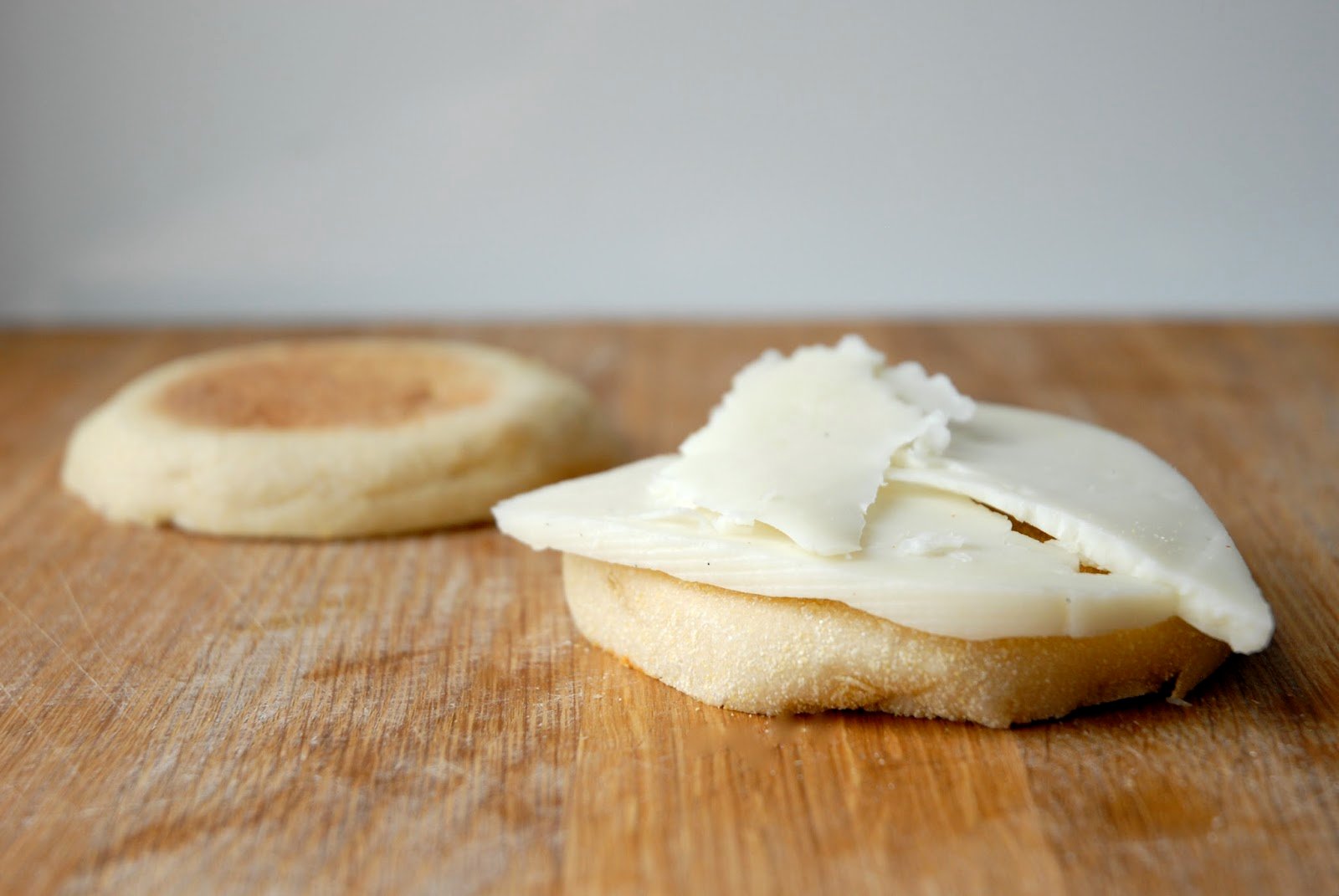 Then add some of the spiced pecans from Treat Bake Shop.
Did I mention that YOU CAN WIN A FREE JAR??
Each batch of these nuts are made by hand in small qualities and are sourced from family farms in Georgia. They are so, so good and are really interesting in this sandwich. The texture of these pecans gives a nice crunch to balance out the creaminess of it all, and the spices, which are a perfect balance of sweet, salty, and spicy, give an super amazing kick which really wakes up your palette. Pretty too, huh?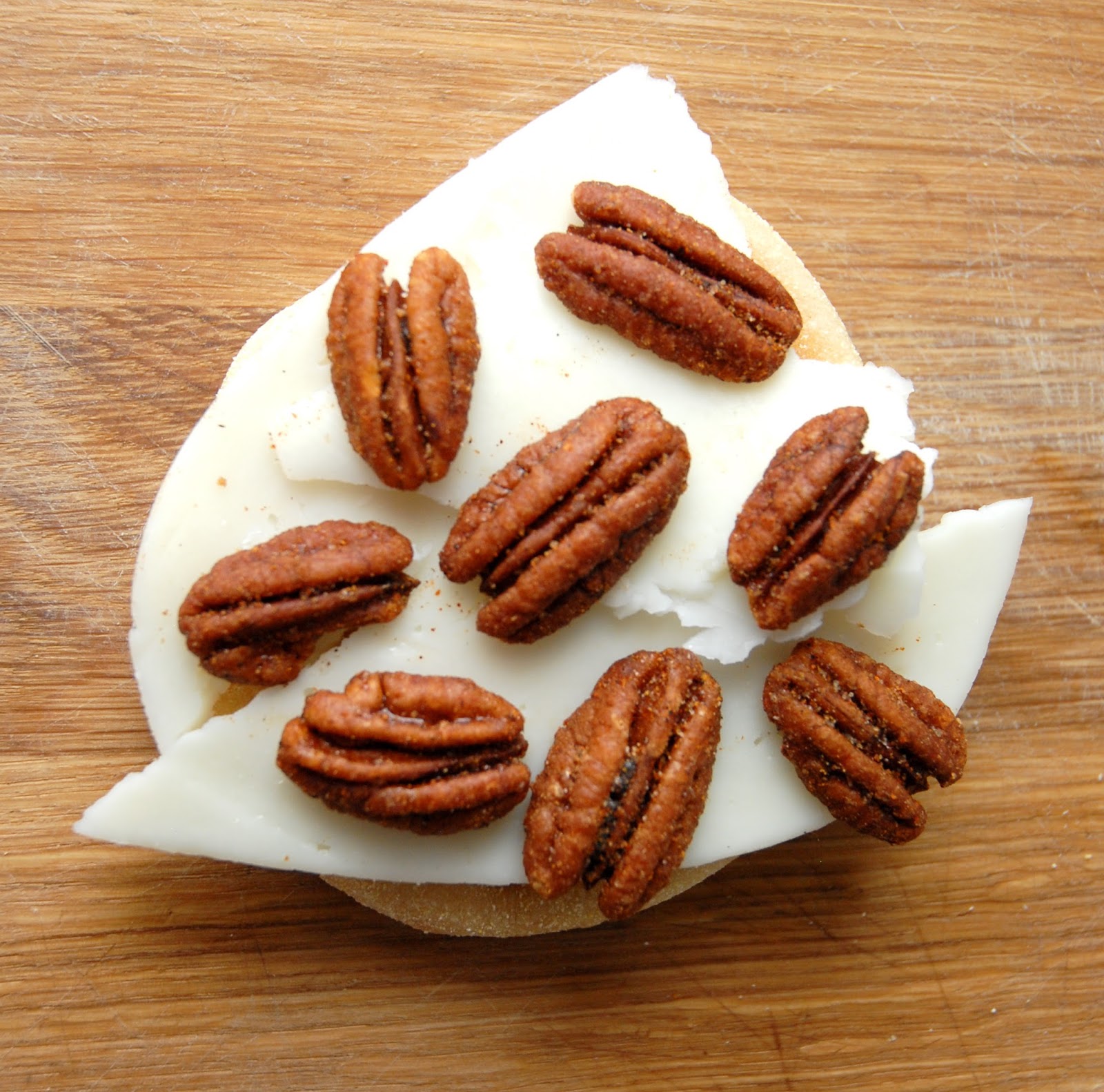 Then sprinkle on some semisweet chocolate chips to make the melty-ness factor of this sandwich get even more insane. I love dark chocolate, but you could totes switch it up and use some milk or white chocolate if you feel like it. NO RULES!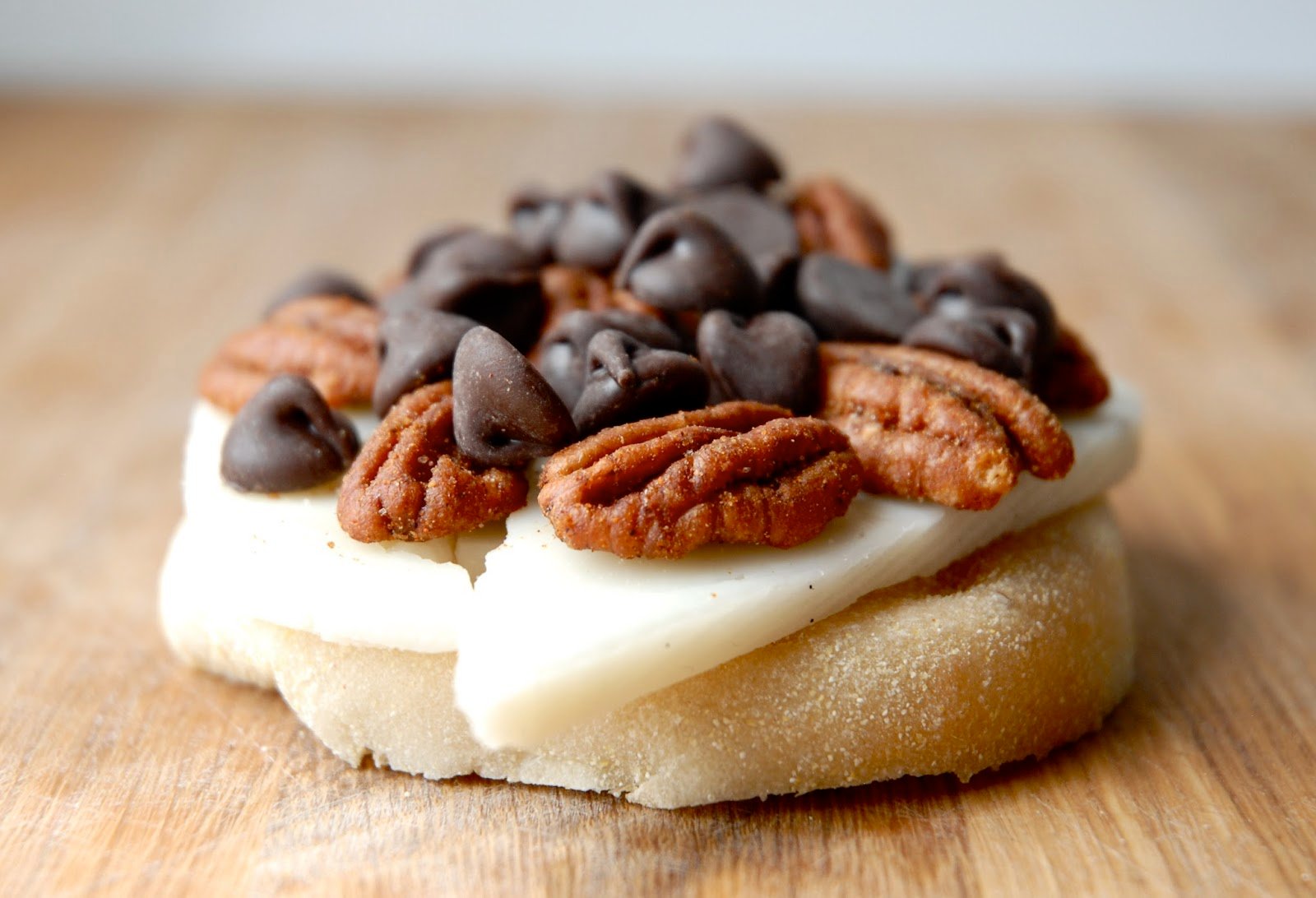 Now place the remaining cheese on top and plop the other side of the English muffin on – remember, inside out people. We want that crispiness to be on the bready side, not the crusty side.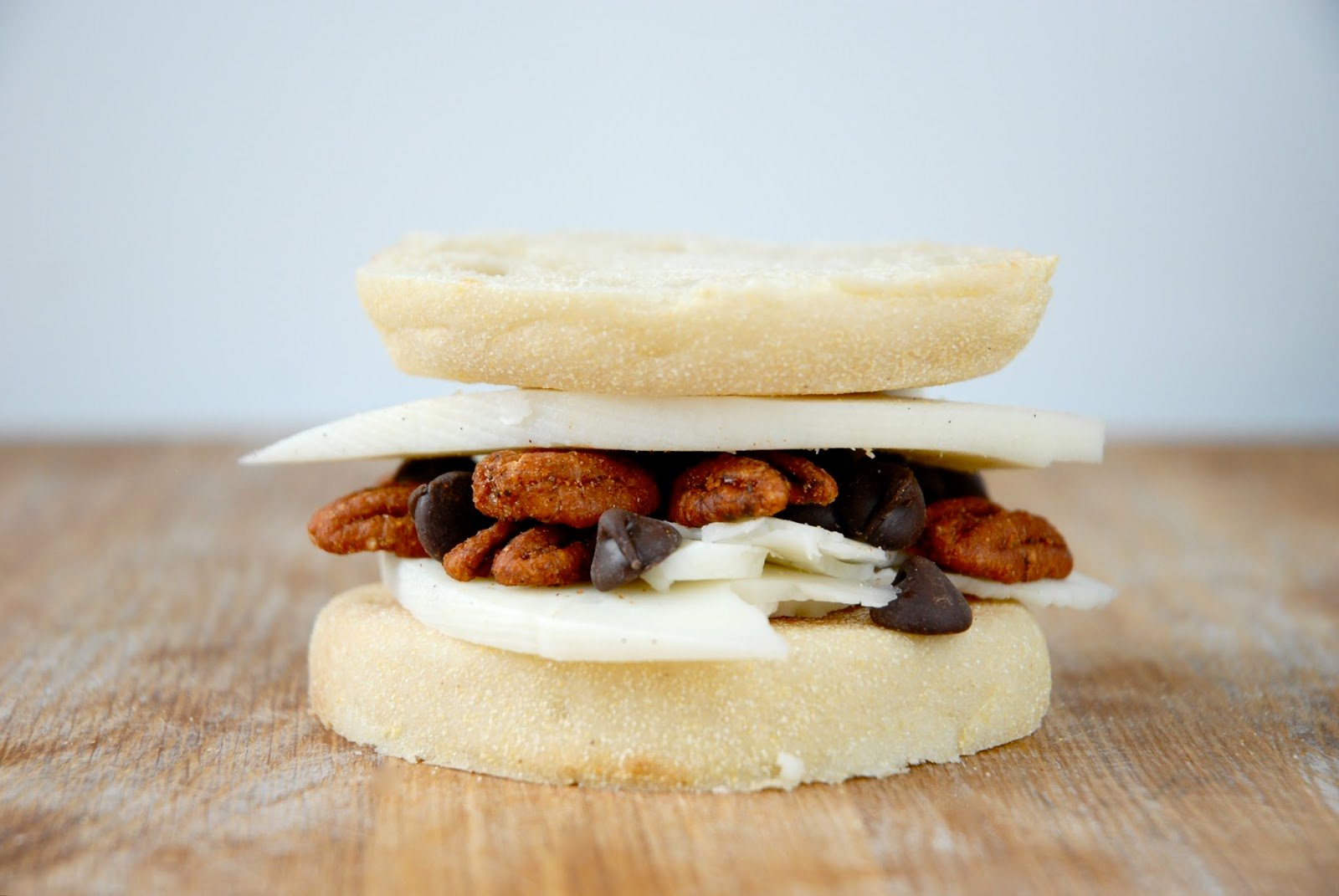 Butter both sides of the sandwich and place it in a pan. Then turn the heat to medium and let the ingredients work their magic. As they begin to melt, the crust will become this beautiful golden brown, at which point, you should butter the other side, flip, and repeat.
If the chocolate begins to melt out the sides, you should probably taste it because why not? It's super hot though so don't burn yourself.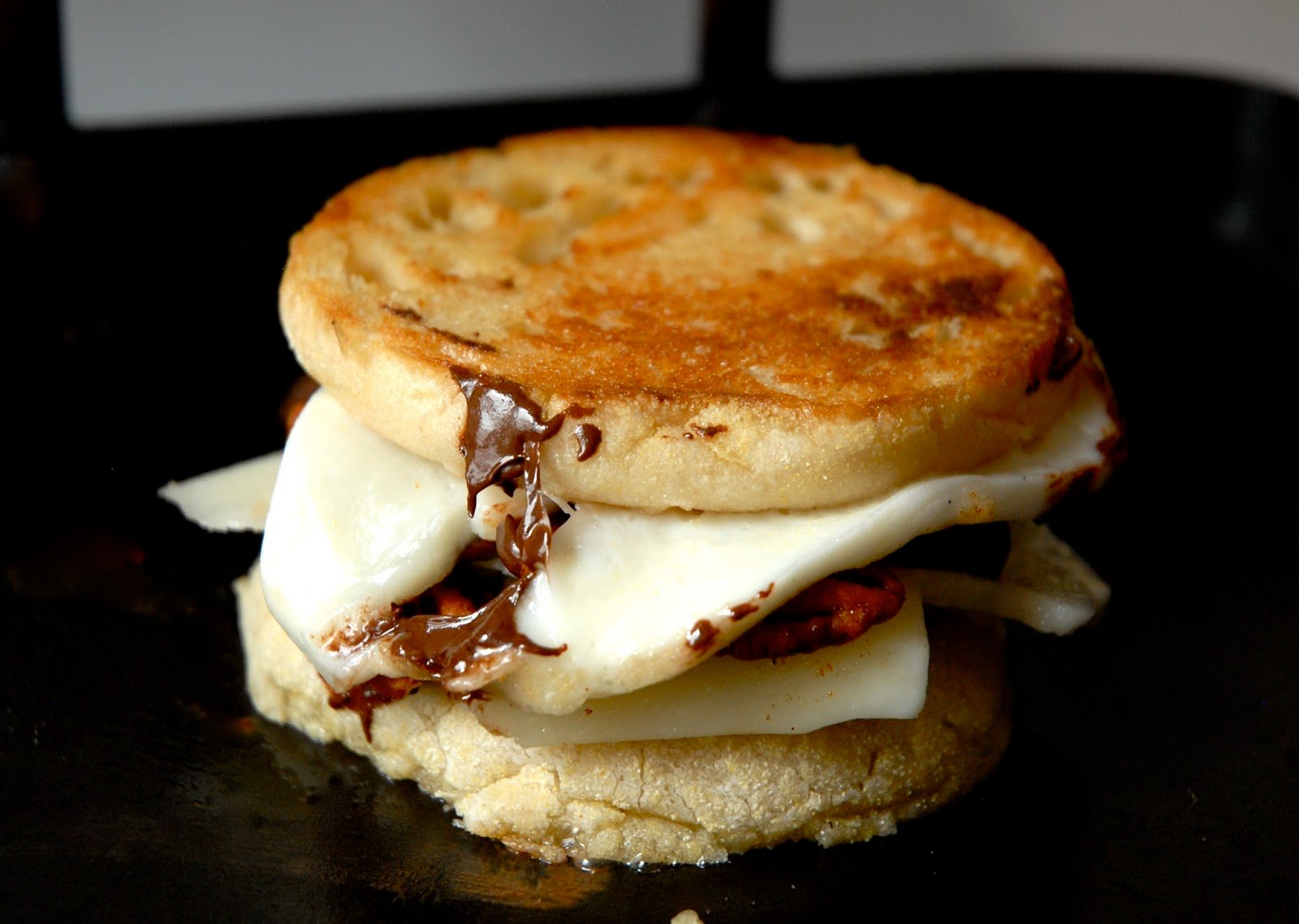 After it grills for a few minutes on each side, take it out of the pan and let it sit for a sec so the flavors can really develop. Once you can't wait any longer, slice it open and serve it up. You did great, kid.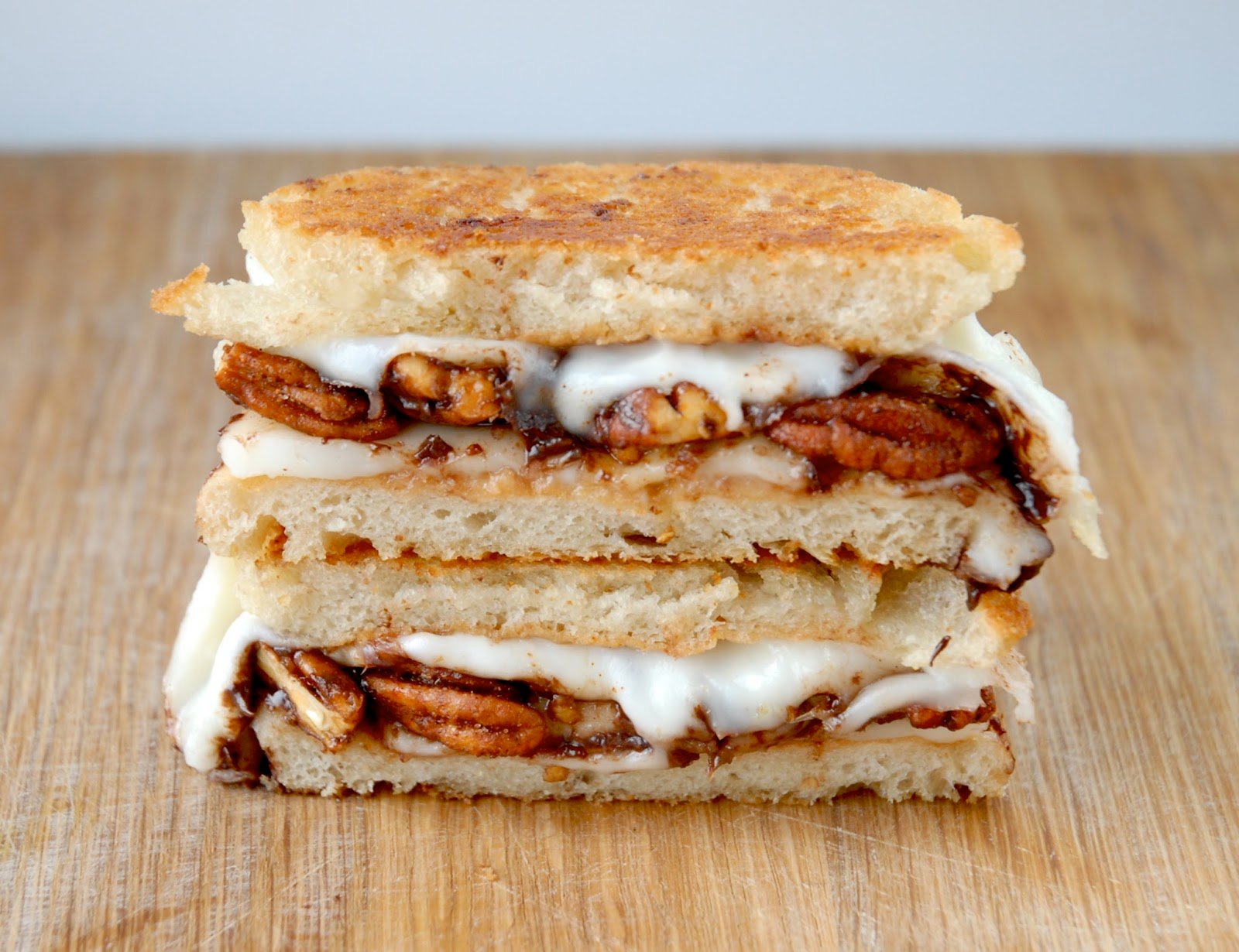 So that's it for this week but don't forget to 'like' Treat Bake Shop and enter the contest on FACEBOOK! Be sure to stay tuned for a ton of crazy new grilled cheese featuring all the cheese that I got in Wisconsin. I seriously brought back like 10 pounds worth plus a bunch of other crazy condiment type things that are going to blow your mind. SO YAY!
Ok, ENTER THE CONTEST BABES! I can't wait to give someone the pecan treats!
xoxo,
GCS