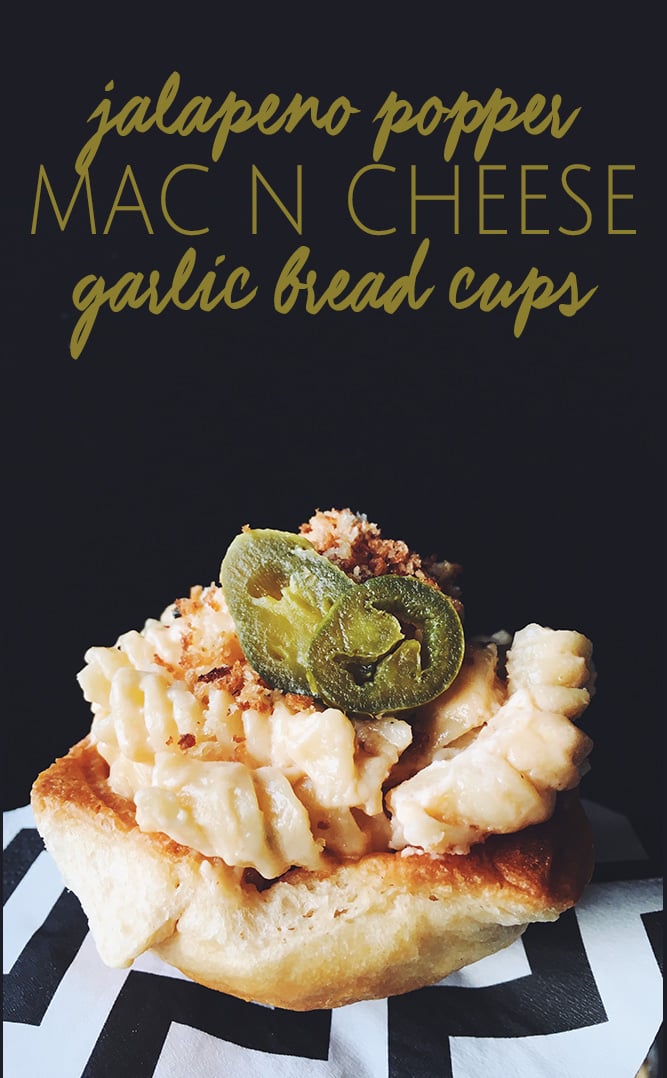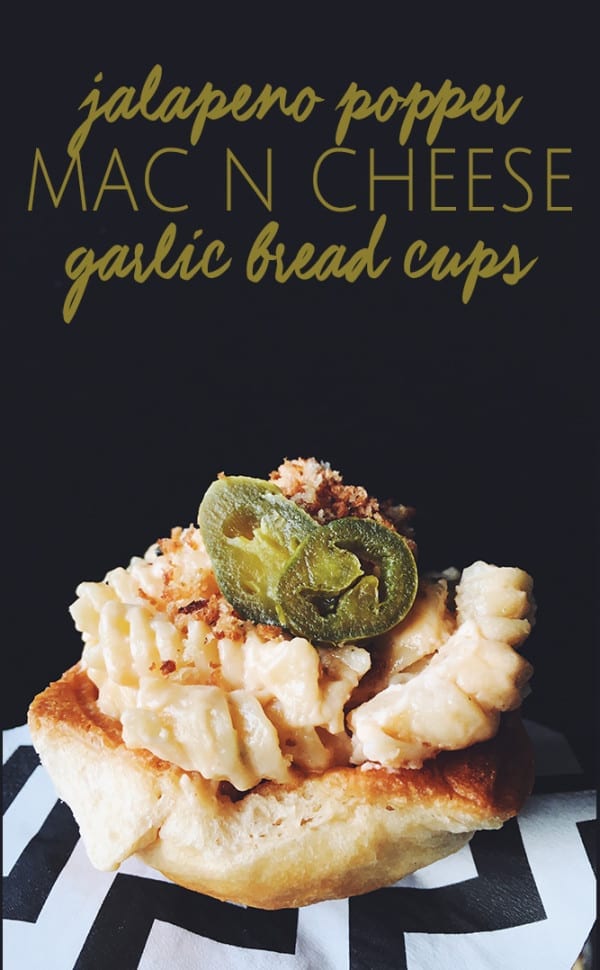 Ain't no party like a jalepeño popper mac and cheese party. Especially when you stuff spicy, creamy macaroni and cheese into a deliciously light and crispy garlic bread cup. I made these tasty little appetizers for Wisconsin Cheese's All Things Mac n Cheese blog so be sure to click [HERE] to see the original post.
INGREDIENTS
nonstick spray

2 tubes (8 ounce)

large crescent rolls

½ tablespoon + ½ teaspoon

garlic powder, divided

Salt and black pepper to taste

2 ½ tablespoons

butter, divided

1 cup

Panko bread crumbs

1 ½ tablespoons

flour

1 cup

heavy cream

2 cups

milk

8 ounces

Wisconsin cream cheese, cubed

2 cups (8 ounces)

Wisconsin cheddar cheese, shredded

½ tablespoon

yellow mustard

½ tablespoon

garlic powder

pinch

sugar

2 dashes

hot sauce to taste

2 tablespoons

pickled jalapeños, chopped

1 pound

rotini pasta, cooked al dente

2 tablespoons

pickled jalapeños, sliced for garnish
DIRECTIONS
Heat oven to 350°F. Flip muffin tin upside down and spray entire surface with nonstick spray.
Unroll crescent roll dough and sprinkle with ½ tablespoon garlic powder and pinch of salt. Mold seasoned crescent dough triangles around bottom of muffin tin, making sure each dome is covered with its own piece of dough. Bake about 23 minutes until golden brown. Remove from oven; let sit 10 minutes before gently removing crescent roll cups from muffin tin. Set aside.
Melt 1 tablespoon butter in large skillet over medium heat. Add bread crumbs and ½ teaspoon sea salt, stirring constantly until breadcrumbs are crisp and golden.
Melt remaining 1 ½ tablespoons butter in large sauté pan over medium heat. Whisk in flour to form roux. Cook until roux is fragrant and light brown.
Stir in cream and milk, little by little, until bubbles form around sides of pan and mixture begins to thicken. Add cream cheese and cheddar; stir until smooth. Add mustard, remaining ½ teaspoon garlic powder, sugar, hot sauce and chopped pickled jalapeños. Mix in pasta; cover and set aside.
Fill each crescent roll cup with scoop of jalapeño popper mac and cheese. Top with sprinkle of bread crumbs and a few slices of pickled jalapeños. Serve immediately.

Tip:

The trick to this edible serving ware? Simply flip a muffin tin upside down and mold your crescent dough around each dome; then bake, wait, pop-off and voila! A tasty edible way to serve your favorite food!