**This bright, colorful and better for you California Veggie Bowl with crispy rice, soft boiled egg and a quick and easy shallot lime vinaigrette is sponsored on behalf of Carrington Farms.All opinions and recipes are my own**

Back to lifeeeee, back to reality! Jeremy and I just got back from the most magical trip to LA. We had 7 breezy days of sunshine, delicious wholesome food, and well, let's be honest, there was plenty of that good ole California traffic, too! Each morning, we'd drive up and down PCH looking for a waves and we got super lucky. Because of the Southern summer swell and a hurricane in the Pacific ocean, there were head high waves which made Jeremy and I both super happy. He got to surf, I got to lay out and tan while watching him throw giant airs on his new Hayden Shapes board. It was the perfect way to wake up on vacation mode.
After a few hours of beach time, we'd both find ourselves starving. Luckily so many of our friends and followers gave us awesome restaurant recommendations (look out next week for our LA city guide!) so we had no problem finding the best food in each town. And believe me the food did not disappoint.
If you followed our adventure on instagram, you probably saw how beautiful each and every meal was. Every single plate we had was loaded with vibrant organic vegetables, clean protein, and of course, plenty of creative twists. LA chefs really know how to craft beautiful plates (that are also delicious AF) which left me feeling super inspired.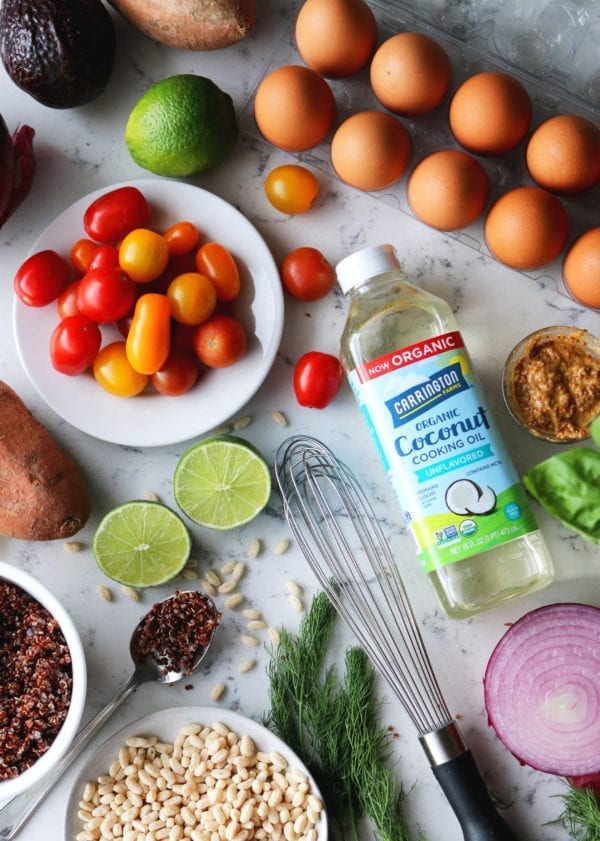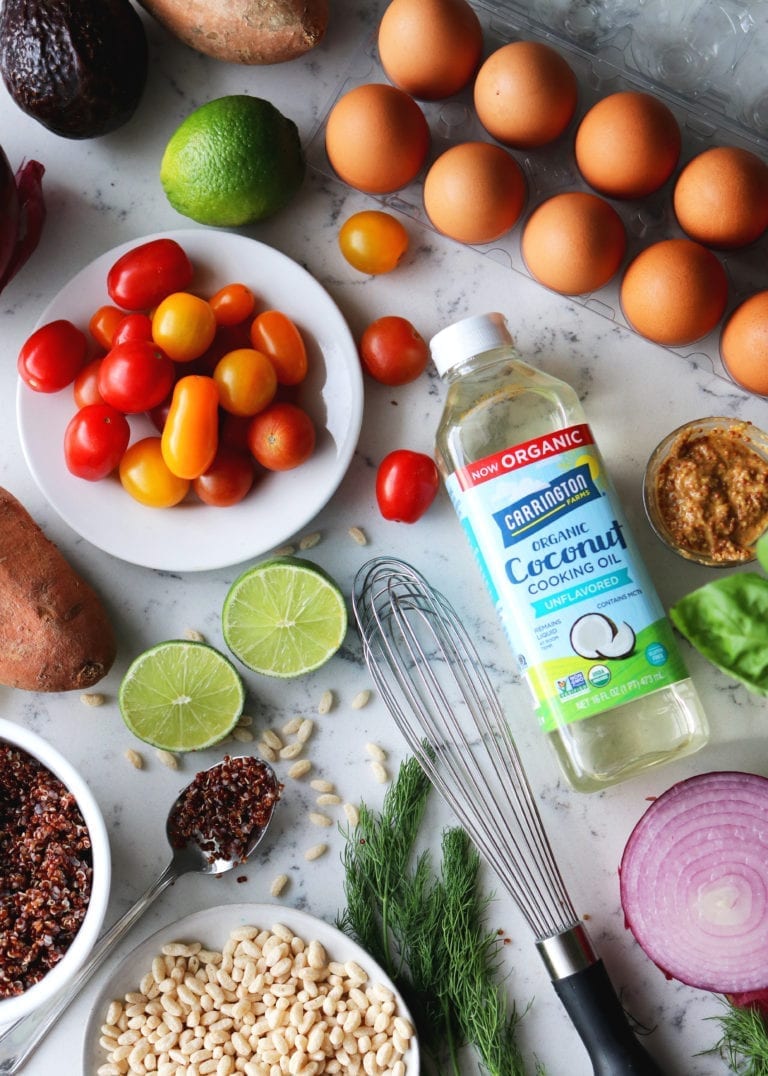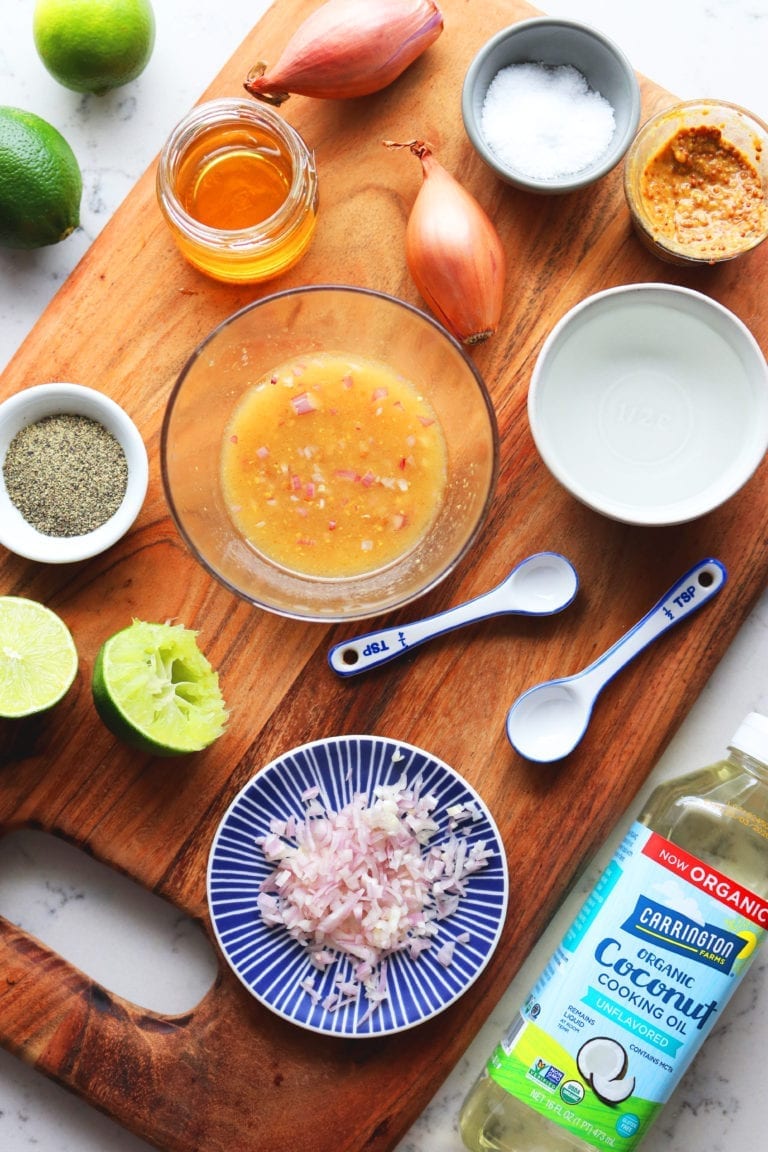 Another one of the things that I noticed while we were in Cali was the use of alternative oils. Instead of olive oil, we saw things roasted in coconut oil, salad dressings made with avocado oil, and the like. That's why I got so excited when Carrington Farms asked me to partner with them to feature their new Organic Unflavored Coconut Oil. Unlike other coconut oils, Carrington's is liquid so it won't seize up if it gets cold which makes it absolutely perfect for salad dressings like this one with lots of fresh lime juice and shallots. It's super simple to make but it tastes complex which is always a good thing.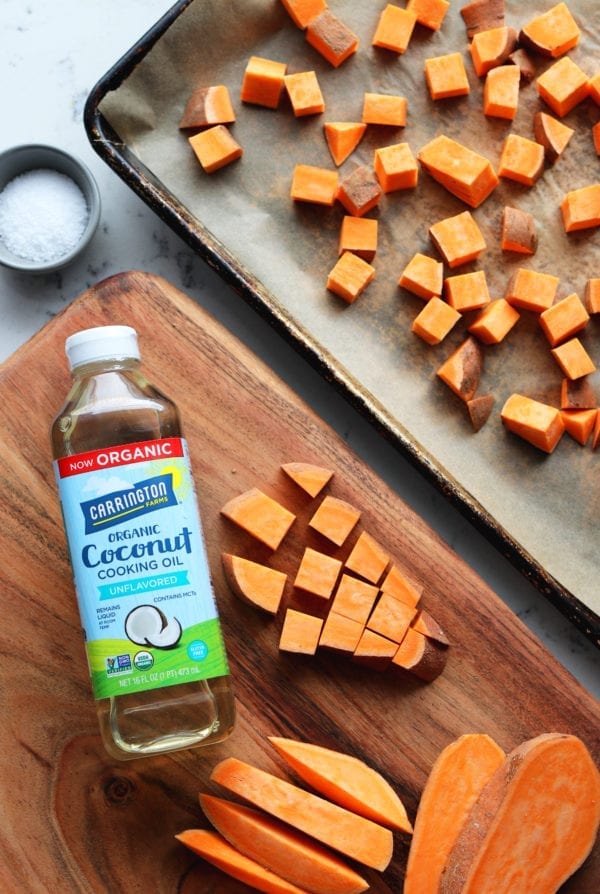 What I like best about Carringtons Farms' oil is its versatility. Because their new organic coconut oil is simple, clean and real, it's also absolutely perfect for cooking! The roasted sweet potatoes in this bowl are made using their coconut oil and they're out-of-control addicting. And although the coconut oil isn't sweet on its own, when you roast with it, I've found that it helps bring out the natural sweetness of any vegetables which is a win-win.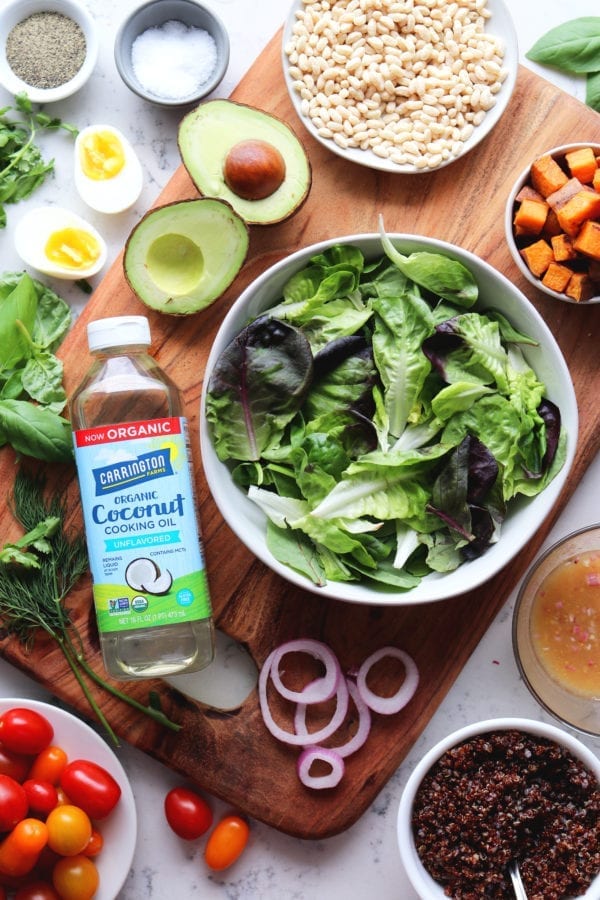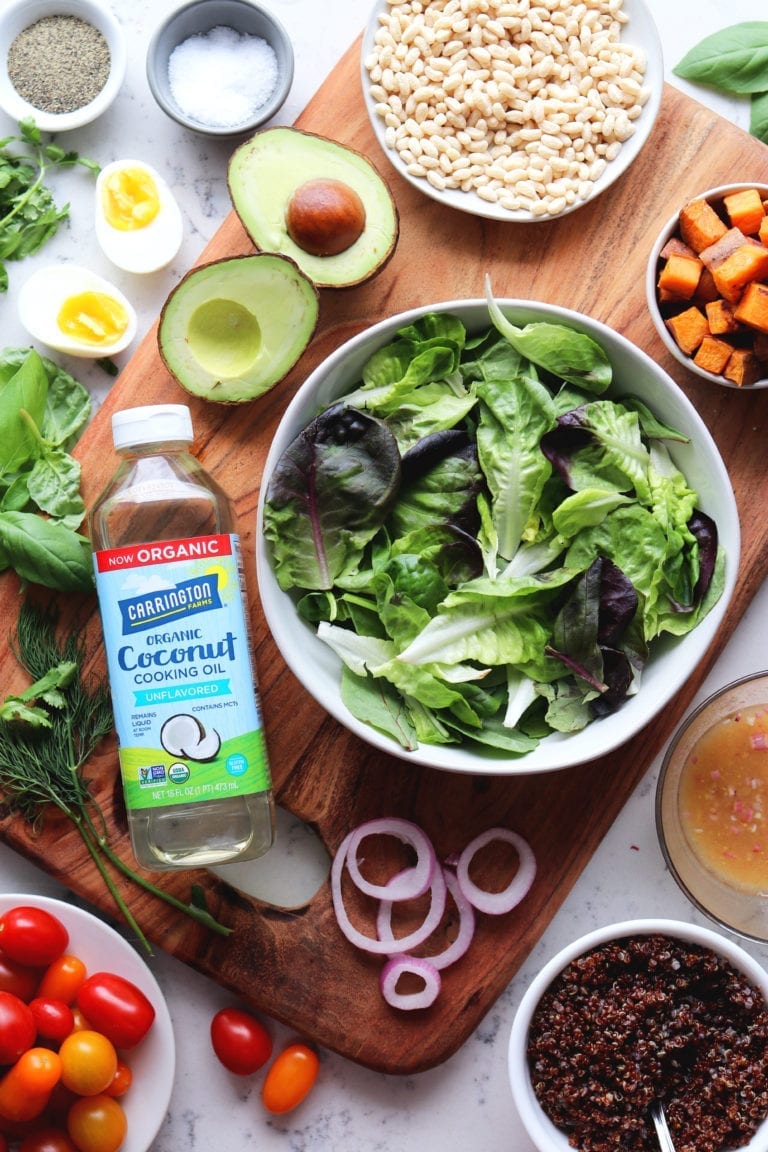 And so to bring a little of that luscious LA inspo back with us, I figured I'd create a super fresh bowl to keep the California vibes flowing. With this dish, I decided to keep it veggie-friendly with a soft boiled egg, but that doesn't mean you couldn't add other proteins like grilled chicken or steak. There's also tons of raw veggies and fresh herbs which make for a satisfying, fulfilling bowl both for the eyes and the tummy.
Oh, and you might have noticed the crispy rice. This was another trend that I fell in love with in LA. There was crispy rice on EVERYTHING which added this awesome guilt-free crunch factor so I had to incorporate it. I found the non-sweetened organic puffed rice next to the Carrington Farms products in the organic aisle so I felt like it was fate. Anyways, let's get to the recipe, shall we?

RECIPE: California Veggie Bowl with Crispy Rice, Soft Boiled Egg + Shallot Lime Vinaigrette
INGREDIENTS
FOR THE SALAD DRESSING
1 tbsp white wine vinegar
1 tbsp lime juice
1 tbsp shallot, thinly diced
1 tsp grainy mustard
1 tsp high quality honey
Salt and pepper
FOR THE ROASTED SWEET POTATOES
1 sweet potato
2 pinches Salt
FOR THE CALIFORNIA BOWL
2 cups mixed greens
3 tbsp red quinoa, cooked
½ cup roasted sweet potato
3-5 small red onion rounds
¼ avocado
4 heirloom cherry tomatoes, halved
1 tbsp organic puffed rice
1 egg, boiled for 7 minutes
**fresh basil, cilantro, dill for garnish**
INSTRUCTIONS
FOR THE SALAD DRESSING
Whisk together all ingredients and season with salt and pepper. Set aside
FOR THE ROASTED SWEET POTATOES
Preheat the oven to 400 degrees.
Dice sweet potato into small squares and toss with coconut oil and 2 pinches of salt.
FOR THE CALIFORNIA BOWL
Add mixed greens to a medium sized bowl and top with quinoa. Arrange the sweet potato, red onion, avocado, tomatoes and puffed rice around the bowl and place the 7 minute egg in the middle. Serve with salad dressing on the side.