There's a reason the croque-monsiuer is known as one of the most recognized sandwiches of modern times. It's crispy and creamy, sweet and savory and of course, utterly irresistible. Whether you enjoy it during a long, endless-mimosa filled brunch or as a quick snack on the run, the croque-monsiuer is absolutely delightful in any situation.
If you're unfamiliar with this babe of a sandwich, let me fill you in on what you're missing. Similar to an American grilled cheese or a British toasty, this upgraded ham and cheese sandwich oozes with melted gruyere, creamy bechamel sauce, and sliced ham. It's grilled in salty butter like a typical grilled cheese but then, to our delight, the top of the sandwich is lathered with creamy bechamel sauce. After that, even more cheese is piled on and the whole thing is popped into the oven and broiled until crispy, melted cheesy perfection is reached. And although it's most popular in French cafes, the croque-monsieur (or madame if topped with an egg) making it at home is surprisingly easy.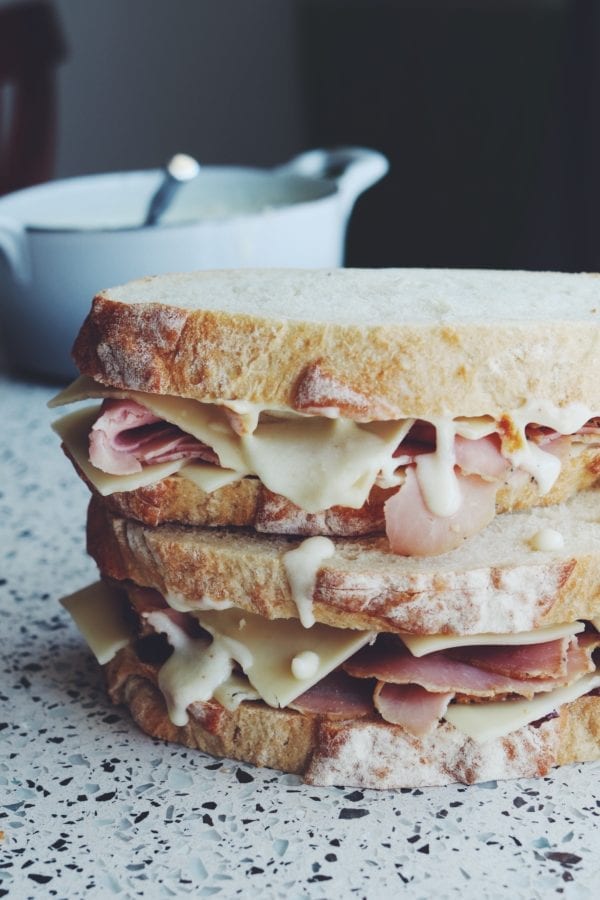 And as you know, I always like to switch things up a little bit so I've partnered with my friends at Valley Fig Growers to bring you this tasty baby made with California Figs. Unlike your the traditional variation, this sandwich adds 3 totally delicious Wisconsin cheeses and pairs it with a super easy homemade port fig jam that you will be absolutely obsessed with.
And here's some fun fig facts for all of you that like nerding out on food knowledge like me! Did you know that fig trees don't have blossoms on their limbs? Instead, the flower actually grows inside the fruit which gives the amazing seedy texture to the figs that we all love so much. ISN'T THAT JUST PERFECT and CUTE?!
So yes, back to the recipe - Impress your friends by cutting it into tiny squares and serve it as an appetizer or if you're like me and crave it on the reg, pair it with citrus dressed greens for a "balanced" meal. To me, the greatest thing about this sandwich is that it's both perfect first thing in the morning while also being a midnight meal lifesaver after a night on the town. Not kidding when I say that this sandwich will make you a better person. Trust me, it totally will.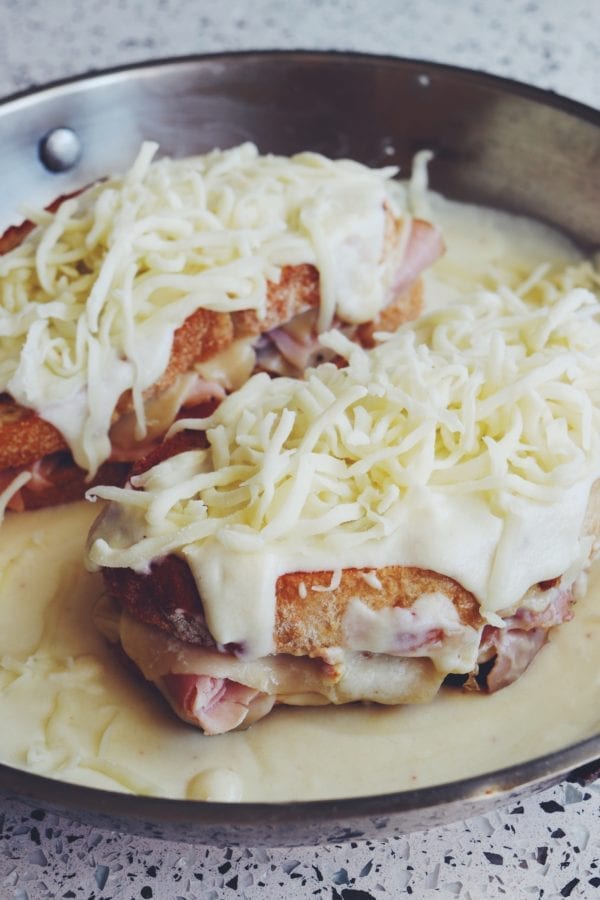 RECIPE: Croque Monsieur with Fig Port Jam
INGREDIENTS
--for the Port Fig Jam--
--for the Croque-Monsieur--
4 slices hearty white bread
2 tablespoon fig + port jam
½ lb thinly sliced ham
3 slices white cheddar
3 slices swiss cheese
½ cup shredded grand cru (american gruyere)
2 pats salted butter
**optional - 2 sage leaves for color**
INSTRUCTIONS
--for the Port Fig Jam--
Add all ingredients to a pot and boil for 15 minutes or until the figs have absorbed the liquid. Remove from heat and use an immersion blender to blend the jam smooth.
**If it's too thick, add water until desired consistency is reached. Bring back to a boil and season with more sugar to taste.
--for the Croque-Monsiuer--
Begin by smearing two slices of bread with 1 tablespoon of the fig + port jam each. Add 1 tablespoon of the bechamel to each of the other 2 slices of bread. Add 1.5 slices of swiss on top of each of the fig + port jam smeared slices and add 1.5 slices of white cheddar to each of the bechamel topped slices. Evenly divide the ham and place each half on top of the swiss cheese and place the white cheddar topped pieces on top.
Heat a pan to medium and butter the exterior of both sandwiches. Grill for a few minutes until both sides are golden brown. Remove from heat and turn on broiler. Place both sandwiches back in the pan and top with the remaining bechamel sauce. Sprinkle the shredded gruyere on top and place it under the broiler until bubbly and golden. Remove from heat and serve immediately.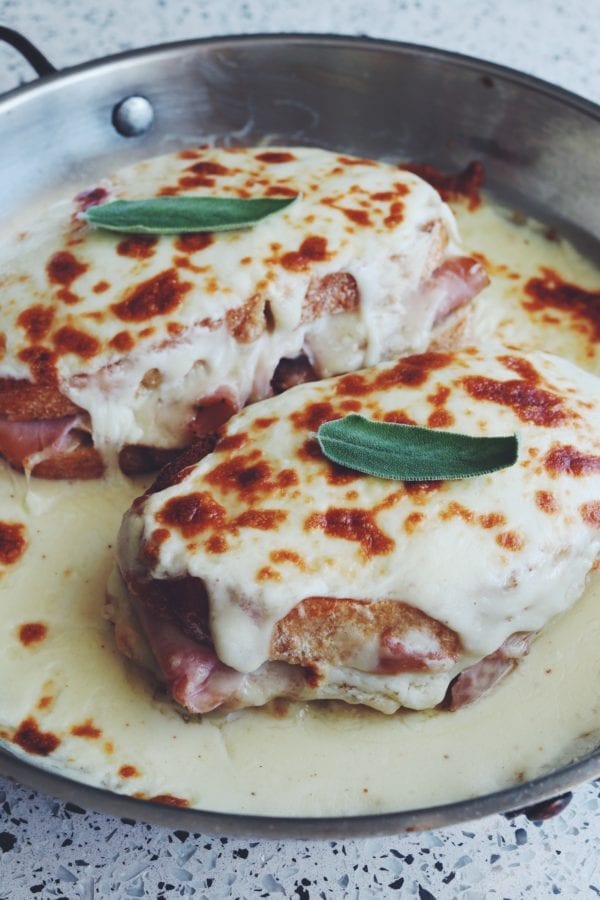 **this is a sponsored post partnering with Valley Fig Growers - all opinions are my own**