You might've noticed that I've been on a little bit of a blog hiatus, but don't worry… Yo' bish is back! You see, I took a little vacay because a lot of awesome shit happened and I wanted to just live life off the computer for a lil bit. I turned 31, my boyfriend turned 31, and most importantly, WE GOT A BRAND NEW NOODLY LITTLE BBY DACHSHUND PUPPY! All of this celebrating and puppy-obsessing had me a little off course but whatever, that's the beauty of a blog, right? You get to run it on YOUR OWN TERMS!
So what has been going on in my life? Well….. The boyfriend and I just happened to be born 5 days apart. And no, I'm not slightly cougar-ing, he is definitely 5 days older than me. To celebrate, I threw him a big tiki party and made a bunch of tasty asian-ish food. There were little banh mi sliders stabbed with bby umbrellas, larb gai lettuce wraps, pho deviled eggs, curry chicken and sweet potato empanadas, and some other random stuff that I forgot about already. I also got him a piñata and stuffed it full of candy and bby bottles of booze because that's what you do when you're old, right?
And of course, there was a tiki bar area with all the fixins that I hit it a little too hard. I never drink anymore since I have to get up at like 5 everyday for breakfast at BDI so I was hurting worse than a puppy tooth in the foot. Luckily I had our new puppy, Elote, to snuggle with and help me feel better. I even started an instagram for him because i'm fuggin' obsessed with him!
And this is so crazy, as I'm writing this, Real Simple magazine just regrammed one of his pictures! He's famous!! Ahhh. I'm dying. Also, one more thing before I talk about this recipe. Look at this cute little carrier that Jerm bought Elo yesterday!! It has a bowtie right where his head goes and it literally makes me scream with excitement every time he gets in it. I know, I need to chill. The obsession is getting a little scary.
Ok, so let's get to the recipe that I'm supposed to be writing about – TACO BELL'S CRUNCH WRAP SUPREME! As an kid (ok, as an adult, too) Taco Bell was always my favorite of the fast food stops. Now that I'm an old girl, I feel like shit whenever I eat there but I still crave the oh-so-mighty crunch wrap! By switching up some of the ingredients and making it with stuff I had at home, I was finally able to chow down on one of these bad boys without regretting it. It's super easy to make and it's even more fun to mix it up and get creative with it.
So let's get to it!
DIY CRUNCH WRAP SUPREME TIME!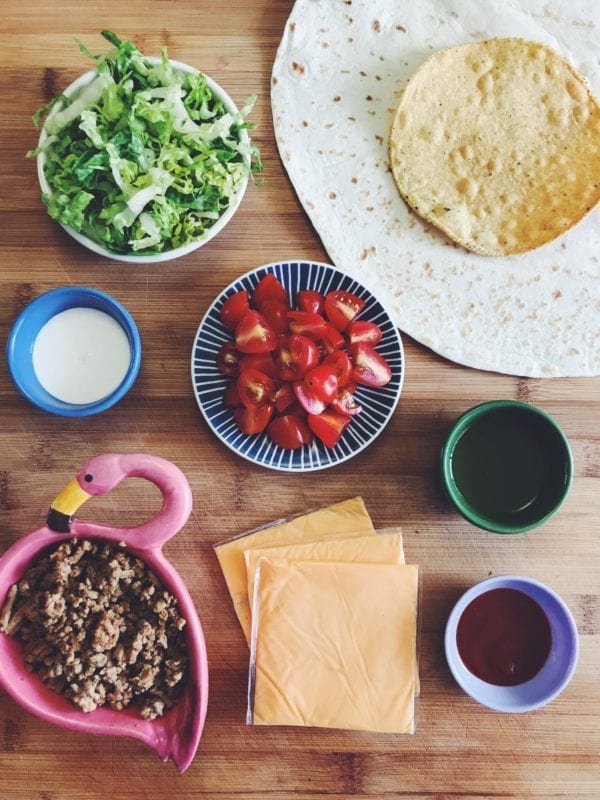 Want the exact recipe without all my mumbo-jumbo?
CLICK HERE TO GET IT ON THE SPRUCE!
(also, this version makes 1, and the version over there makes 4!)
INGREDIENTS
1 extra large flour tortilla
3 slices of american cheese (trust me)
1 tbsp sriracha
1/4 lb taco seasoned grassfed ground beef
1 tostada
1 tbsp sour cream
1/4 cup chopped cherry tomatoes
1/4 cup shredded iceberg lettuce
1 tbsp avocado oil
So now that you've got everything. Let's get to the first step. Begin by placing the three american cheese slices in the middle of the flour tortilla and drizzle it with sriracha. If you're all like "ew yuck american cheese", just trust me! The way it melts into the sriracha turns it into the quickest, most delicious nacho cheese sauce you will ever not-have-to-make.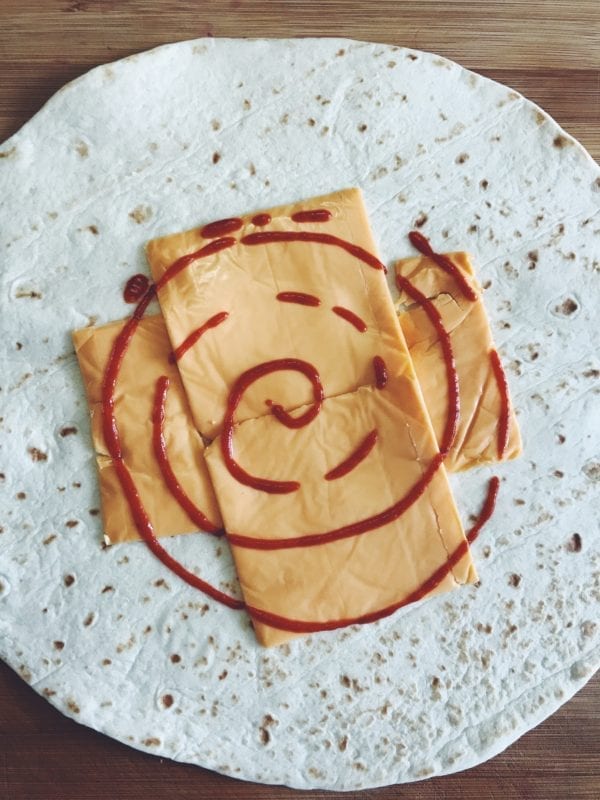 After that, it's time for the BEEF! I used grassfed ground beef because not only do I think it tastes better but it consciously makes me feel better, too. I seasoned it up with some taco seasoning and then poured it right on top.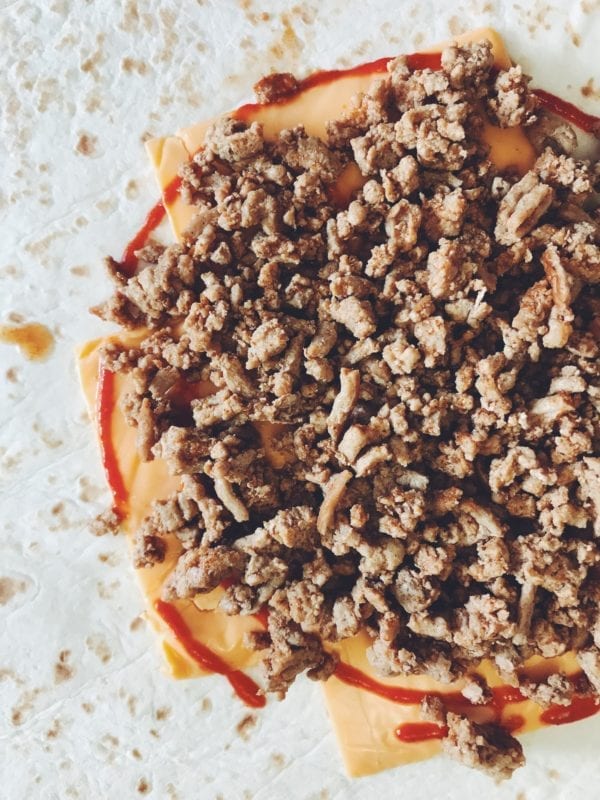 Now that the meat is on, it's time to add the best part – the irresistibly crunchy center! An easy way to avoid having to fry your own tortillas for this part is to simply buy some tostadas, look for one that is relatively flat, and just place it right in the middle! Voila! Crunch wrap supreme hack numero uno. De nada.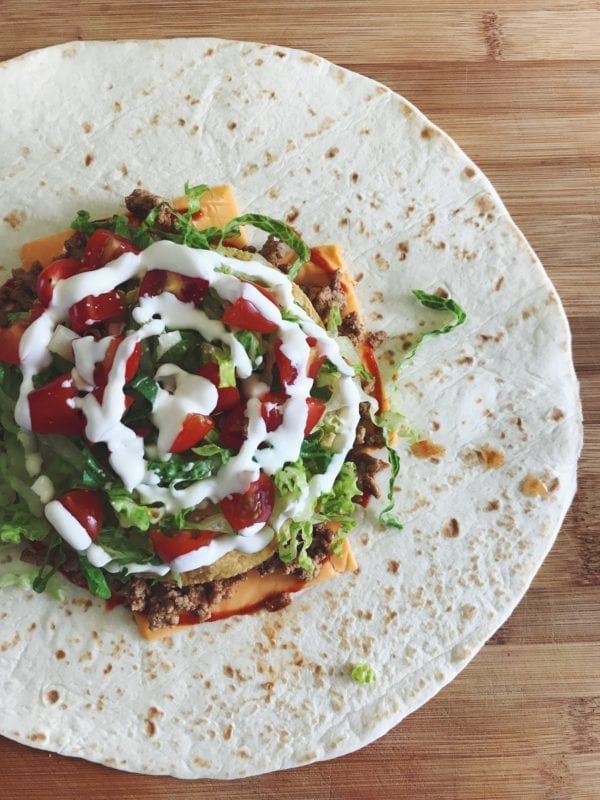 Next, it's time for the healthy-ish part. Add shredded iceberg lettuce, chopped cherry tomatoes and a drizzle of sour cream. Pat yourself on the back for this little salad part that your'e about to get down on.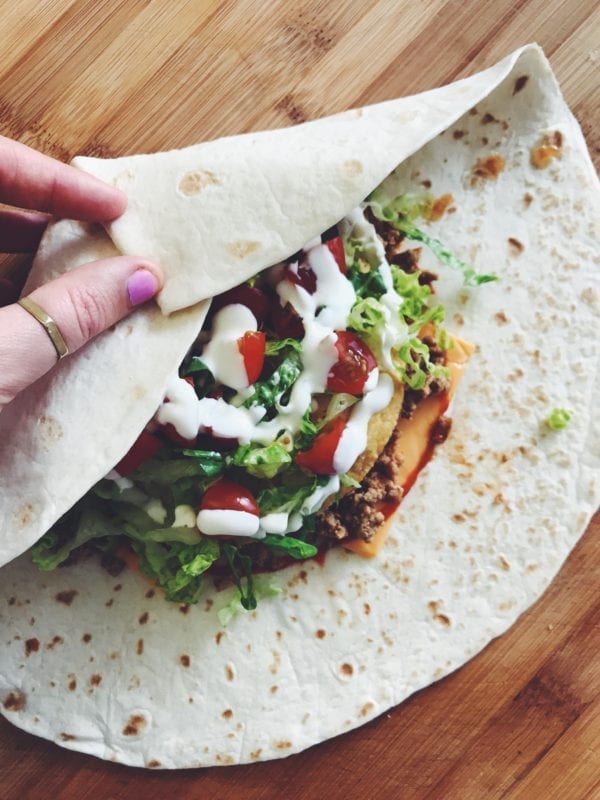 Now that all the ingredients are loaded up, it's time to fold this bad boy. Begin by simply pulling one side in, holding it flat, and then folding around the rest of the tortilla until it's all sealed. It's sort of like the same method you would use if you were making a galette.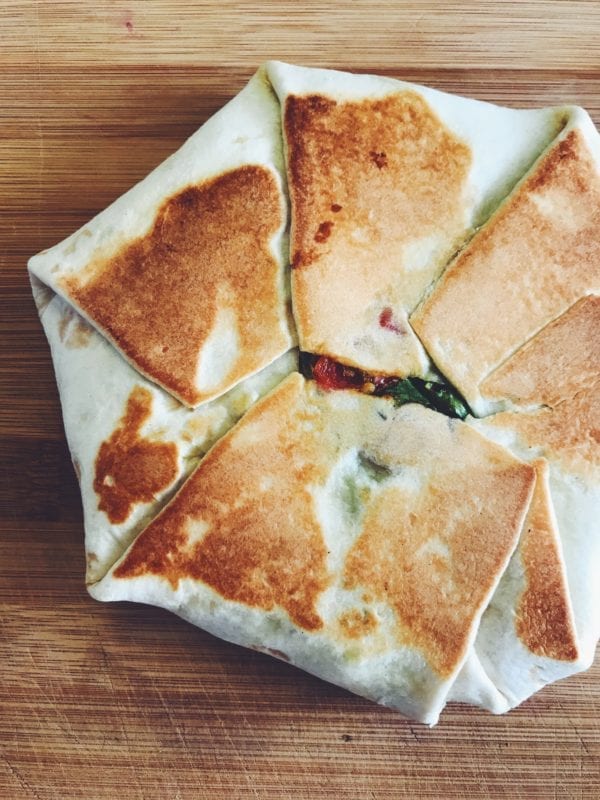 To cook it, either drizzle half the oil onto a panini press (or cast iron skillet) and place the folded side down. Cook over medium heat until the exterior of the crunch wrap is golden and crunchy. The american cheese melts pretty fast so you shouldn't have to worry about cooking it too long. Besides, you don't want that lettuce to get too soggy!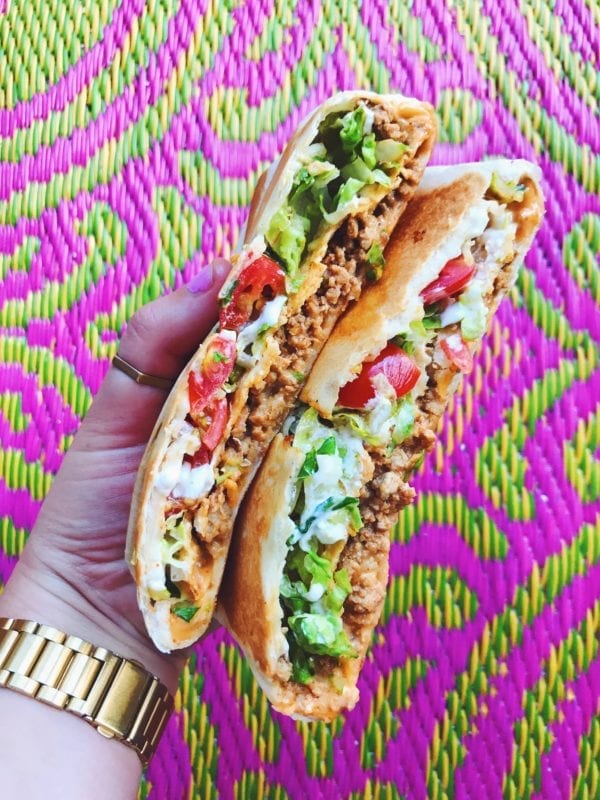 After it's all cooked, remove it from the heat and dig in! You can even slice it in half if you're trying to be fancy. And if you're veg or are trying to stay away from red meat, switch it up and swap it out! I think some refried beans, scrambled eggs or seared halloumi cheese would be soooo dope on this. Even seared tofu or fried fish would work wonderfully!
And now that I'm back to bloggin' keep an eye out for my next recipe collection which includes 15 tasty versions of tramezzini, aka little italian finger sandwiches!
xoxo
<3 GCS