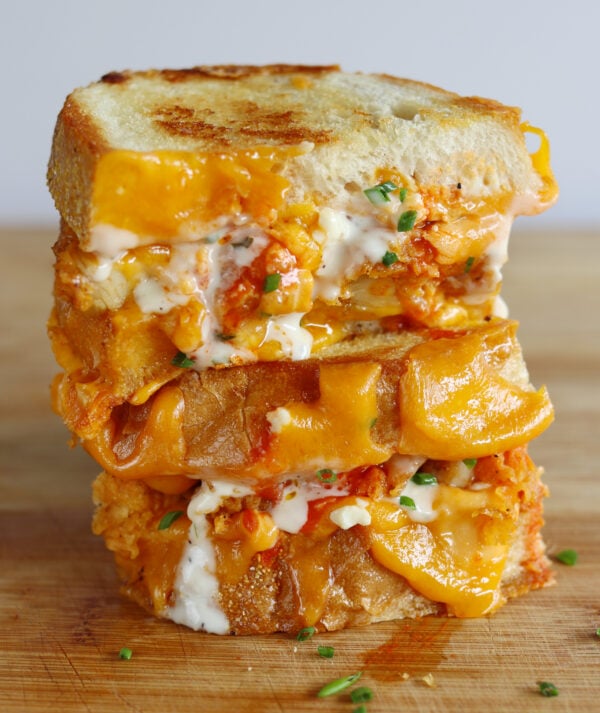 When you look at this buffalo chicken grilled cheese sandwich, what does it say to you? Does it speak to your soul or does it just make you real hungry? Hopefully it is all of the above because I've got some exciting new news!
So you might have seen me posting all of my sandwich recipes on About.com for the last couple years. You see, I was their sandwich expert which meant that each month, I'd come up with a bunch of different sandwich recipes for their site, test them, photograph them and then upload 'em. Beyond coming up with recipes, I also did pop-ups all across the country for their ad agencies partners while also taking over their instagram and creating sandwich tours for each city we visited.
A few months ago, About.com went under a massive rebrand where we were officially renamed The Spruce. Considering that The Spruce is the 3rd largest food and home website on the interwebs, this is something that I'm super proud of. And yes, even though we rebranded, I'm still their sandwich expert and I'm still writing lots of tasty, over the top recipes for them… and even doing a few videos as well! If you'd like to check them out and give them a follow on facebook and all that kind of stuff, I would be eternally grateful!
Each month, I'll be sharing 4 new recipes over there and on my blog here. On my blog, you'll get the stories, the step-by-step recipes and all that mumbo jumbo that I think is silly and fun to talk about. Over there, you'll get the exact to-the-point-recipes with no dumb stories along with 1 page printables if you're into that sort of thing.  I will put the links right below the ingredient sections of each post so you can hop from one to the other as to not complicate things.
Also, did you know that I'm doing a cheese **GIVEAWAY** with Simply Artisan Reserve on my facebook?! Check it out HERE!
Ingredients
french bread, sliced thick
cheddar cheese
blue cheese (I used Simply Artisan Reserve)
boneless fried chicken tenders
buffalo sauce
ranch dressing
chives
salted butter
Want the exact recipe that you can print out? Grab it on my sandwich page from The Spruce [HERE].
So first things first, let's put this spicy babe together.
First thing you'll want to do is have your fried chicken ready. Either buy some at the store or make it yourself using a recipe like this. Chop the chicken into small chunks and set aside. Place a few slices of sharp cheddar onto one slice of bread and then add the chopped chicken nugs.
Why chop it up? Doing this helps the sandwich to heat evenly throughout so that the cheese can melt between each nugget, creating a cheesy glue that helps hold everything together. I know, I'm a genius. Tehe.
Next, it's time for the buffalo sauce! I shared how to make the homemade version over on The Spruce website that I was talking about so you can click there to see it or if you have some bottled variations on hand, you could use that, too. Just drizzle on a little buffalo sauce followed by some buttermilk ranch dressing.
Now it's time for the other cheese! Crumble up some Simply Artisan Reserve blue cheese and sprinkle it on top. If you don't like blue cheese, force yourself to eat more of it until you begin to like it. JK. If you don't like blue cheese, try swapping it out for something a little less stinky like a gorgonzola dolce. It really adds a nice tang to the sandwich so don't be scared! Stinky cheeses are the best kinds of cheeses.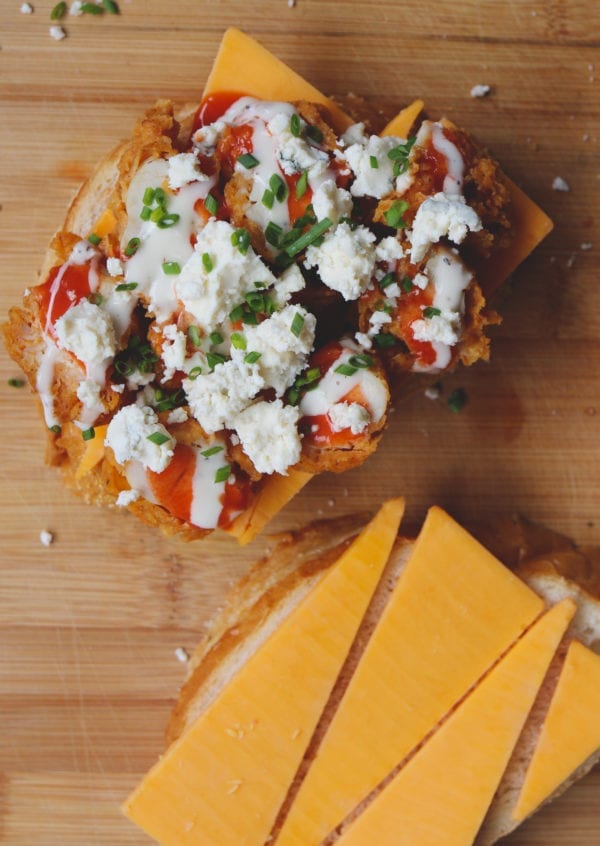 After that, add a sprinkle of chives and some more of that sharp cheddar. Lastly, top it with the remaining slice of bread and butter the whole sandwich.
Place the sandwich in a panini press or in a medium sized cast iron skillet and turn the heat to medium. Let the sandwich cook on each side, flipping if necessary, until both pieces of bread are crispy and golden and all the cheese has melted.
Let the sandwich sit for a minute or two until the cheese can thicken back up and then cut it down the middle and do your happy dance. Either plate it with some fresh celery, carrots and dipping sauces or do as I did and devour it in one minute while standing over the kitchen sink so you don't get your shirt dirty. Either one.
Don't forget to enter my giveaway on FACEBOOK!
xoxo,
GCS