This buffalo chicken grilled cheese is loaded spicy good. Crispy chopped chicken fingers, spicy buffalo sauce, melty cheddar, punchy blue cheese and ranch dressing make this sandwich irresistible!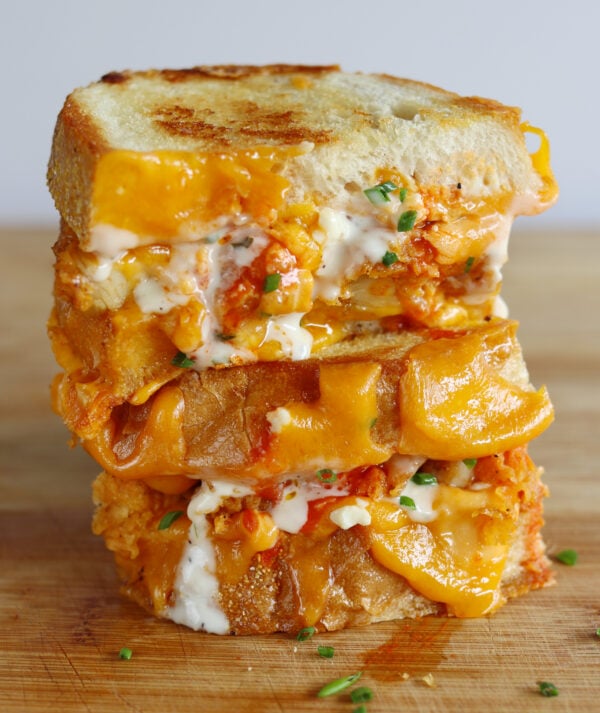 Buffalo Chicken Grilled Cheese
If you love speecy spicy crispy creamy things, then this sandwich has your name written all over it! Best of all, you don't even have to be at a sports bar or pretend to like the Super Bowl to enjoy it. Oh, and if you don't feel like making your own Buffalo sauce, don't sweat it—skip it and swap in the store-bought variety. Want to serve it with a bowl of blue cheese dressing? Do it! Ain't no shame in the grilled cheese game!
How to make a Buffalo Chicken Grilled Cheese Sandwich
First thing you'll want to do is have your fried chicken ready. Either buy some at the store or make it yourself using a recipe like this. Chop the chicken into small chunks and set aside. Place a few slices of sharp cheddar onto one slice of bread and then add the chopped chicken nugs.
Next, it's time for the buffalo sauce! I shared how to make the homemade version over on The Spruce website that I was talking about so you can click there to see it or if you have some bottled variations on hand, you could use that, too. Just drizzle on a little buffalo sauce followed by some buttermilk ranch dressing.
Now it's time for the other cheese! Crumble up some blue cheese and sprinkle it on top. If you don't like blue cheese, try swapping it out for something a little less stinky like a gorgonzola dolce. After that, add a sprinkle of chives and some more of that sharp cheddar. Lastly, top it with the remaining slice of bread and butter the whole sandwich.
Place the sandwich in a panini press or in a medium sized cast iron skillet and turn the heat to medium. Let the sandwich cook on each side, flipping if necessary, until both pieces of bread are crispy and golden and all the cheese has melted.
Let the sandwich sit for a minute or two until the cheese can thicken back up and then cut it down the middle and do your happy dance. Either plate it with some fresh celery, carrots and dipping sauces or do as I did and devour it in one minute while standing over the kitchen sink so you don't get your shirt dirty. Either one.
RECIPE: Buffalo Chicken Grilled Cheese
Print Recipe
Buffalo Chicken Grilled Cheese
If you love speecy spicy crispy creamy things, then this sandwich has your name written all over it!
Ingredients
—For the Buffalo Sauce—
½

cup

Frank's hot sauce

1

stick

unsalted butter

1

tablespoon

white vinegar

1

dash

cayenne pepper

1

dash

garlic powder

1

dash

celery salt

2

dashes

Worcestershire sauce

Salt
—For the Sandwich—
½

cup

fried chicken fingers

chopped

1

tablespoon

Buffalo sauce

plus extra for dipping

3

slices

sharp cheddar cheese

2

slices

French bread

thick cut

1

tablespoon

buttermilk ranch dressing

1

tablespoon

crumbled blue cheese

¼

teaspoon

chives

finely diced

2

pats

salted butter
Instructions
FOR THE SAUCE
Combine Frank's hot sauce, butter, vinegar, cayenne, garlic powder, celery salt and Worcestershire sauce in a medium-size pot. Turn the heat to medium and let the mixture simmer for 10 to 20 minutes or until the sauce is smooth. Season with salt to taste and remove from heat when the desired consistency is reached. Reserve about 2 tablespoons for this recipe and store the remaining sauce in an airtight container in the refrigerator.
FOR THE SANDWICH
Toss the chopped chicken fingers with Buffalo sauce and set aside. Place half the cheddar on 1 slice of bread and add the Buffalo sauce–doused chicken. Drizzle ranch dressing on top and add blue cheese and chives. Add the rest of the cheddar and place the remaining piece of bread on top. Butter the exterior of the sandwich.

Place the buttered sandwich in a medium-size cast-iron skillet or panini press and turn the heat to medium. Let the sandwich cook on each side, flipping if necessary, until the bread has crisped up and all the cheese has melted; about 5 to 7 minutes. Once the sandwich is done cooking, remove it from heat, let it sit for 1 minute, then slice. Serve immediately with an extra side of Buffalo sauce for dipping.
If you like this buffalo chicken grilled cheese recipe, you might like one of these blog posts, too!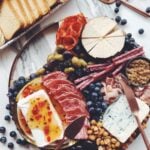 How to Build a Beautiful Yet Cheap Cheese Plate – Building a cheap cheese plate for under $30 is super easy and totally doable. It's a great way to entertain without spending a lot of money. And best of all, cheese and charcuterie pairs perfectly with wine and cheese. Below I'll build one out plus give you some helpful tips to make yours even cheaper.
Creamy Cheesy Broccoli Garlic Pasta – This simple yet delicious broccoli garlic pasta with parmesan, red pepper flakes and lemon is one of my go-to's. It's super flavorful and it doesn't really require a lot of ingredients. It's perfect for a quick and easy filling dinner! I used mafalda pasta because I love the shape but you could use whatever you have on hand!
Alpine Style Mac N Cheese with Bacon and Caramelized Onions – This Alpine Noodle Mac N Cheese with caramelized onions and crispy bacon is the perfect winter comfort food. Each noodle is coated in a creamy, luscious cheese sauce made with gruyere and white cheddar. The caramelized onions add a pop of sweetness while the bacon adds a nice meaty crunch. If this doesn't warm your soul, email me because we need to talk!
You might also like my brand new cook book!
xoxo,
GCS