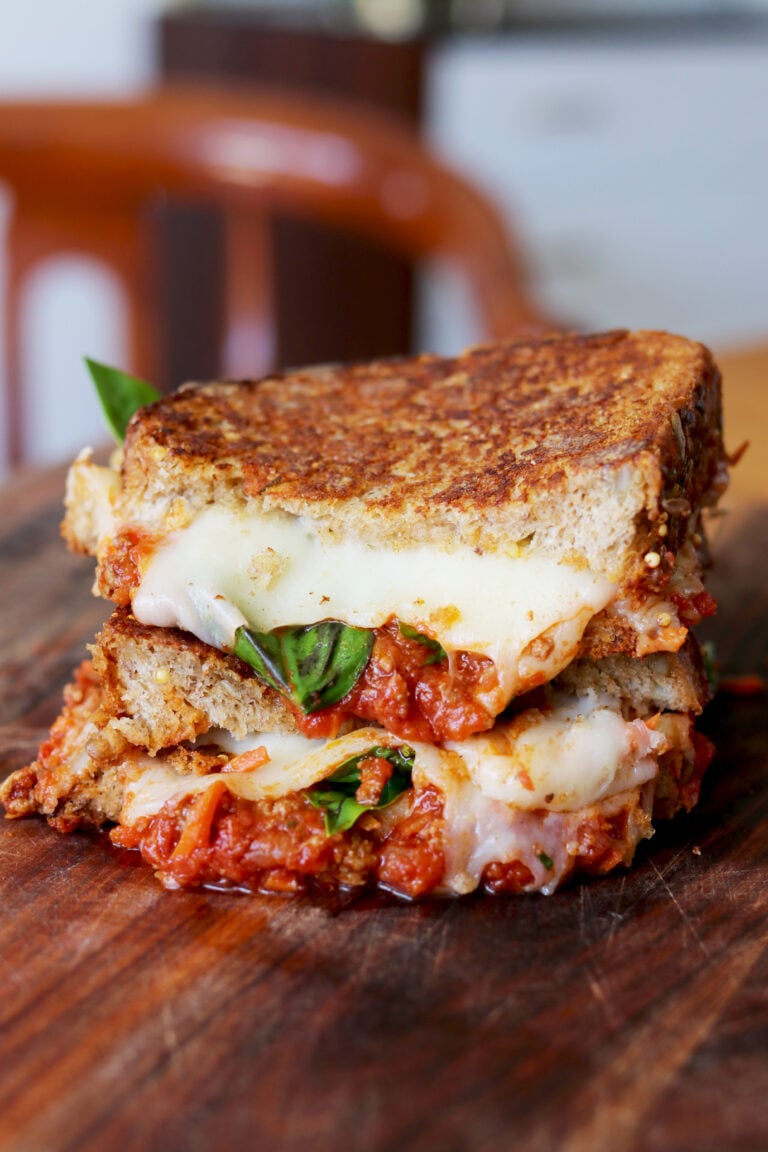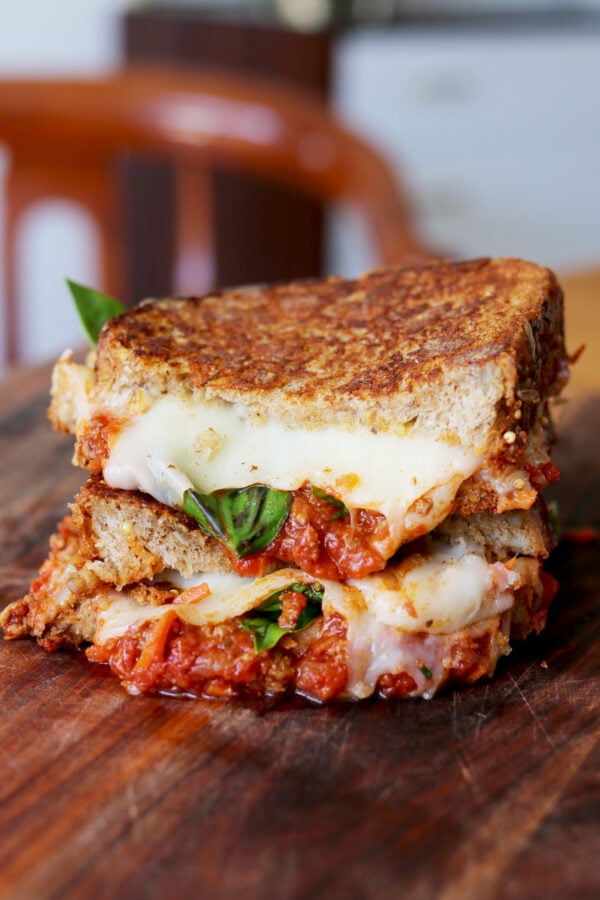 This time last year, Jerm and I were packing our bags for our first Europe trip together. Some of our NYC homies, Tina and Jared, were getting married in Greece so we joined them and 235 of their closest friends to celebrate their oh-so-awe-inspiring love. After a week of binge eating and drinking at the best wedding activities that have ever existed, we decided to take a little romantic detour on our the way home. We bought a sketchy super cheap ticket and headed to one of my all time fav cities, Rome, to do some more eatin' and drinkin'!
Jerm, who's full blown Italian and I, who am definitely not, felt in our natural habitat eating our way through this historic city. Normally I try to moderately limit my carb intake but considering I was logging about 20,000 steps a day on my fitbit, I found it to be perfectly acceptable to eat all pasta, pizza, cheese, aperol spritz, and wine for breakfast, lunch and dinner.
From heaping cheesy mounds of cacio e pepe at 10am to piping hot pizza studded with hot salame and zucchini at midnight, we ate it all, all the time. One of our favorite dishes was the ever so popular bucatini all'amatriciana. I dare you to try and say that 5 times fast. It was rich, spicy and bacon-y and the tomato sauce tasted like nothing you could even imagine. If I had to pick an adjective, I'd just have to say heaven. I know it's pretty basic and obvious to say it, but the food over there is just better. Like way, way better.
Even when we tried to take a break from eating to check out some of the historic touristy spots like the Vatican and the Colosseum, we were lured back. These places were loaded with too many people, it was way too loud, the weather was too hot and there were too many lines to keep our attention. So we decided "fuck it" let's just stick to what we love - eating, drinking and walking around aimlessly.
Now that almost a year has passed and since we haven't been out of the country in 2017 yet, I decided to make an Italian style grilled cheese to bring back some wanderlust memories. The recipe for this bolognese sauce was taught to me in Hamburg by my friend Ariane. And yes, it may sound a little Americanized (the ketchup part) but it is one of those dishes that I just can't get enough of. And when you let it sit overnight, the flavors not only enhance but it thickens up and almost turns into an Italian sloppy joe - which is just begging to be stuffed into a grilled cheese!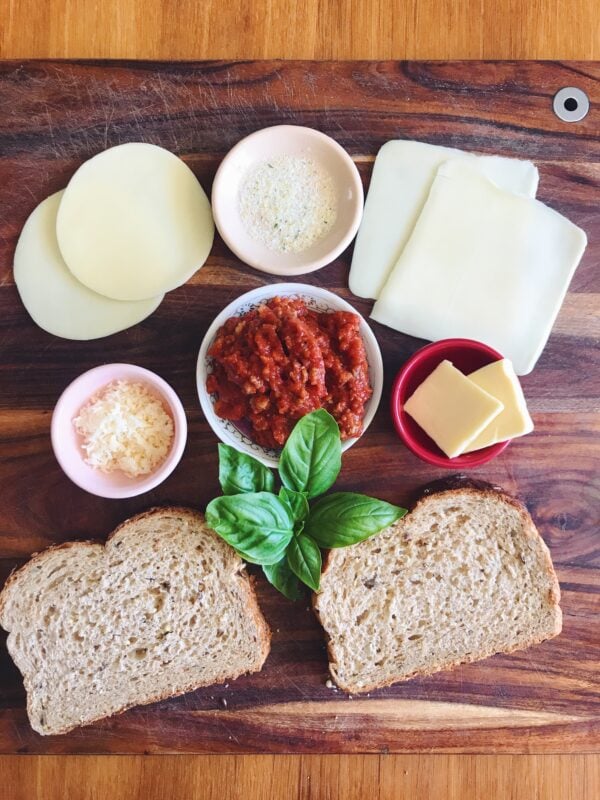 INGREDIENTS
--FOR THE GRILLED CHEESE--
2 slices thick cut grain bread
2 slices mozzarella
2 slices provolone
2.5 tablespoon bolognese sauce
a few basil leaves
1 tablespoon parmesan
¼ teaspoon garlic salt
2 pats salted butter
So before we begin, let's get dive into this bolognese recipe which you will need first.
--FOR THE BOLOGNESE SAUCE--
INGREDIENTS
2 tablespoon olive oil
½ cup carrots, finely diced
1 small onion, finely diced
¼ teaspoon red pepper flakes
¼ teaspoon oregano
4 cloves garlic, sliced thin
1 lb grass fed ground beef
1 26 oz box of chopped tomatoes, (I always use Pomi)
2 tablespoon tomato paste
2 tablespoon Heinz ketchup
3 tablespoon butter
½ cup parmesan
salt and pepper
INSTRUCTIONS
Begin by adding olive oil, carrots, onions, red pepper flakes, oregano and a pinch of salt to a heavy dutch oven. Turn the heat to medium and sauté until the onions and carrots are soft. Next add garlic and cook for a minute or two, being careful not to let it crisp up or brown. Add the ground beef on top and stir. Cook until the meat is browned and all the way cooked through.
Next, add your tomatoes to a blender or food processor and pulse it a few times until the tomatoes are roughly blended. Add those to the dutch oven and turn the heat to medium-high. Add tomato paste and ketchup and season to taste. If it's too sour, add a pinch of sugar. Place the lid on the pot, turn the heat to low and cook for at least 45 minutes up to 3 hours. After the sauce has reduced and thickened, add butter and parmesan and stir. Season to taste. If it's still too sour, a splash of heavy cream will help.
Either use some of this sauce or reserve a cup and place it in the fridge. After 24 hours, it will be thick and have the consistency of a sloppy joe - which is perfect for this recipe!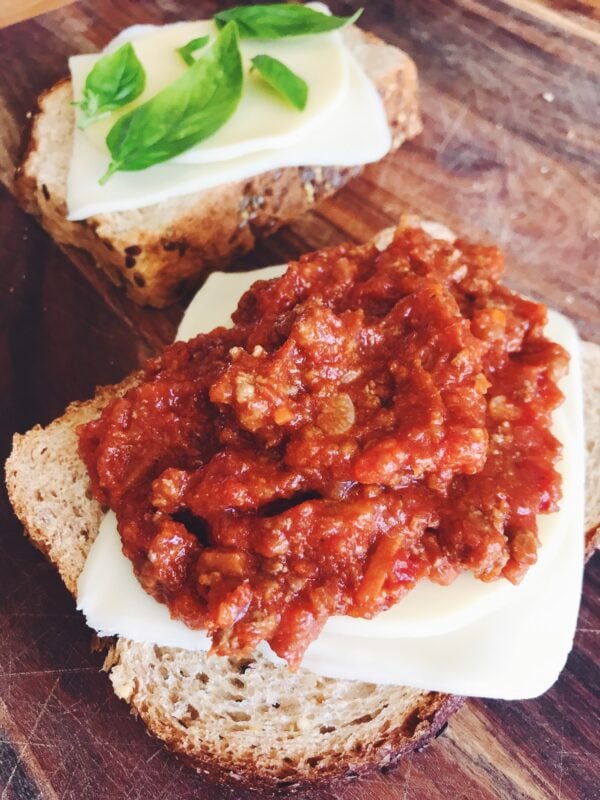 Once the bolognese has set for at least 24 hours, you'r ready to begin! Add one slice of provolone and one slice of mozz to a piece of bread. Top it with the bolognese sauce - being careful not to spoon too much. If it's overstuffed, it will ooze right out of this GC!
Next, add the basil on top and the remaining slice of mozz and provolone. Top it with the other piece of bread and congratulate yourself for building this beautiful monument of deliciousness.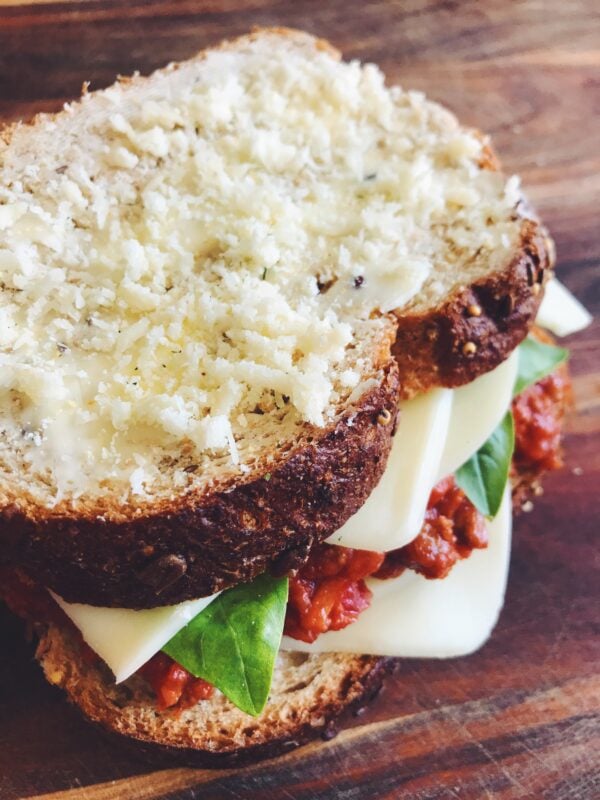 After that, butter the outside of the sandwich and sprinkle it with parmesan and garlic salt. Either heat a cast iron skillet or panini press to medium and add the grilled cheese. After a few minutes, the cheese will have melted, the bolognese will be hot, and the parmesan'd outside will result in a perfectly crispy nutty cheese crust that is out of control good! When it's all done, take it off the grill, let it rest for a minute, then cut it in half and enjoy!
This meaty grilled cheese packs all the goodness of my regular sloppy joe grilled cheese but adds an Italian twist. The provolone is sharp, the mozzarella is creamy, the bolognese sauce is rich and meaty, and the basil adds a nice pop of freshness. The garlic parmesan crust on the breads adds a perfect nutty crunch and also helps hold this whole sloppy sandwich together! Trust me on this one, you'll want to eat this ALL THE TIME!
xoxo,
GCS