A few weeks ago, Jerm and I went to NYC for some gluttonous adventures grilled cheese pop-ups and a city-wide sandwich tour for The Spruce Eats (formally known as about.com!). And even though I lived in NYC for most of my 20s and had eaten way too many sandwiches, I knew there were some new creations that had escaped my radar. So like any hungry gal with 34,000 foodie friends, I decided to reach out to my homies and ask they what their fav sandwiches of the big city were. We got dozens of straight up baller recommendations but since both Jerm and I are obsessed with Vietnamese food, we got super excited when we heard about this infamous pho sub in the East Village... That I somehow overlooked all those years.
So what did we do? We grabbed a coffee from Milk Bar, walked to the L and hopped on the Manhattan bound train. 5 minutes later, we got out at first ave and headed straight to Sunny and Annie's Deli in the East Village. From the outside, this unassuming cult classic on Ave A looks just like every other bodega on the block. There's colorful buckets of fresh flowers wrapped around the entrance, layers of chromatic fruit crates stacked high on top of each other, fifty beverage coolers lining the south side of the store, and on the north side, the most important part -- the deli.
Their quirky menu board has really stuck with me. Almost like something you'd see in a kindergarten classroom, each sandwich is handwritten on random mismatching sheets of construction paper which are all taped on top of the sandwich stations sneeze guard. Like I said, it's super unassuming. At first glance, the menu looked overwhelming because there are so many different options. We heard that we had to try the pho sandwich... but yeah, little did we know there were about 15 difference varieties of this oh-so-popular deli staple.
I started feeling my indecisiveness shoot through my brain like lightning. At this point, I'm pretty sure I blacked out and starred at the chips for 10 minutes. When I came to, Jerm had decided to ask the sandwich geniuses which one was the most popular of the pho sandwiches. 5 minutes later, we had the Pho #1 in our hands and we walked out the door with Jerm's $8 coconut water. I'm still mad at him about that purchase.
As we headed past Horseshoe Bar, we found a semi-clean stoop, plopped down, and opened the sandwich up. The aromatics blasted into the air like fireworks. I felt woozy and excited. Jerm's eyes glazed over with excitement. He grabbed half, we sandwich-cheers, and dug in.
It was everything I've ever wanted. The roast beef was piping hot and full of umami awesomeness while the sriracha and hoisin were perfectly sweet and spicy. The tomato was fresh and bright, the avocado was rich and creamy, and the red onions were sharp and spicy. The fresh sprouts added the perfect crunch and the combination of cilantro and basil were fresh and fragrant. It screamed perfection and I screamed that I had to share.
And since this regret has been with me ever since we finished the last bite, I decided that it was probably a good idea to try and replicate this tasty Vietnamese delight. So yeah, let's get on with the show!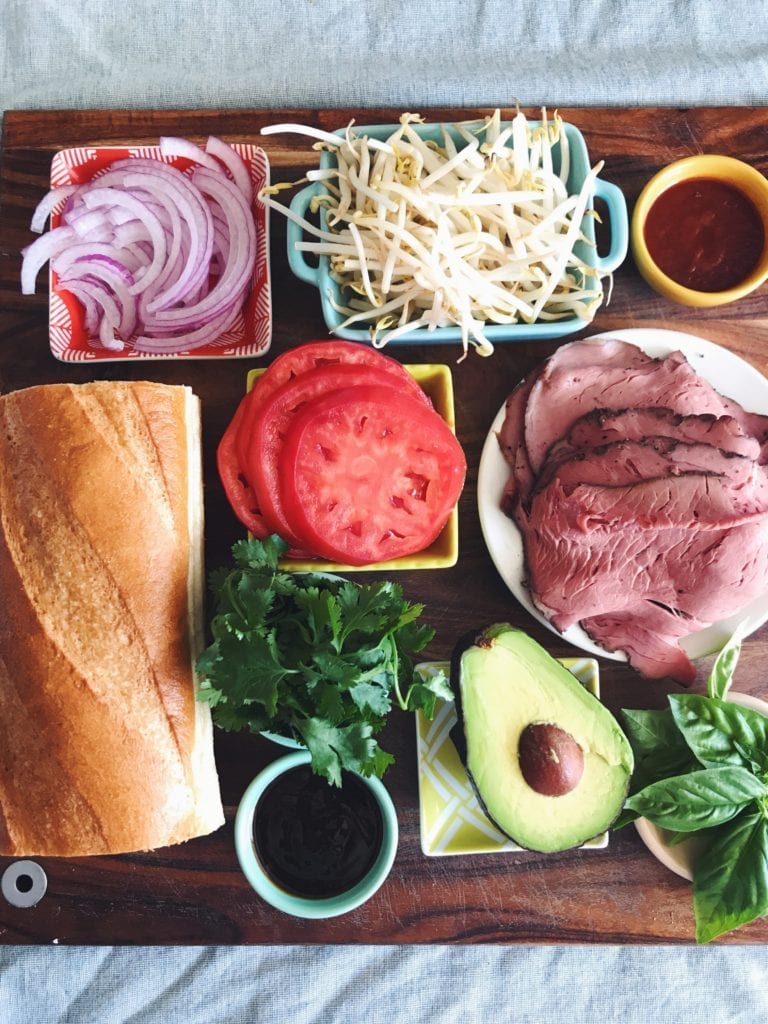 INGREDIENTS
1 8 inch french baguette
1 tablespoon sriracha
¼ small red onion, finely shaved
½ large beefsteak tomato, cut into ¼" thick slices
¼ cup bean sprouts
½ avocado, sliced
¼ cup fresh cilantro leaves
¼ cup fresh basil leaves
½ lb roast beef
3 tablespoon hoisin sauce
WANT THE STRAIGHT-TO-IT FULL RECIPE WITHOUT ALL MY JIBBER JABBER? Get the printable version from my Sandwich page on The Spruce Eats [HERE]! If you want to see the step-by-step photos, let's keep going!
First, grab yourself a sheet of parchment paper and place the bread right smack dab in the middle. Using a serrated knife, carefully slice the bread in half. Smear one side with sriracha and the other side with shaved red onion.
Next, add tomatoes on top of the sriracha and add the sprouts on top of the red onions. Why are we doing it in this order? Because I literally studied 300 pictures on google image search to see how they constructed this beast and we're doing it that way.
Add the cilantro and the basil on top of the sprouts and get ready to do the whole "pick your own adventure thing"
So here's where it gets tricky. When I first made this sandwich, I heated the whole thing at the end and served it hot -- just like the one we got it in NYC... But... they also serve it cold which is more-so what the picture above represents. And since my boyfriend Jerm is a genius, he came up with a way to make it even better when served hot - which worked like magic!
"Simply chop the roast beef before you put it on the sandwich it, add it to a medium-high heated nonstick pan and cook until the meat is browning and crispy. Stir in the hoisin sauce and then plop it on top of the sandwich."
And if you don't want it hot, skip this step and just plop on the roast beef and add the hoisin sauce on top.
Finally, take the parchment paper and carefully roll the sandwich up like a burrito, fold the outer sides underneath the sandwich and cut it in half. Take a moment to thank the people of Vietnam for creating this flavor combo. It is truly spiritual!!!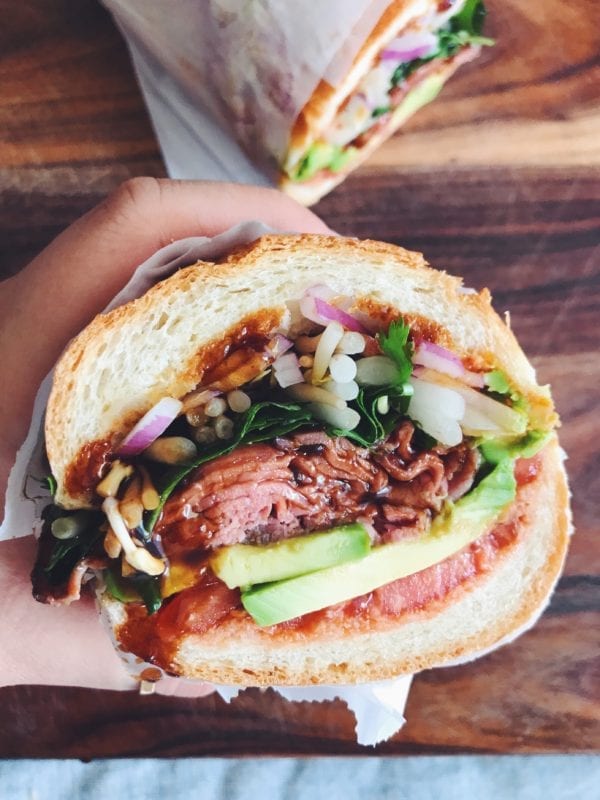 It looks pretty freakin' sexy huh? And guess what? It will even make you feel sexy. I think this sandwich might just be an aphrodisiac. Feel free to quote me on that.
So yes, until next week my friends -- stay cheesy!
xoxo,
GCS