For years my mom and I lived over 1,000 miles away from each other. And although we talked about 3 times a day, it was still a super long distance to be separated from my bestie. SheShe (her nickname) is not only my idol but she's also my biggest supporter, cheerleader, and all around best friend. These days, things are a little bit different. Not only do we live right next door to each other but we also work as a team at my family's bnb, Black Dolphin Inn.
We try our best to live our best life in tropical paradise every single day. It's pretty flippin' great. Most of our days are spent telling funny family stories to guests at the inn, testing new recipes, ridiculously singing every song like Trey Kennedy in the car, and grocery shopping all around NSB while laughing so hard that we almost choke and/or cry and/or pee our pants.
It wasn't always hugs, kisses and fun car rides though.
Growing up we had our differences just like most mother-daughter teams do.
You see, I was one of those teenage girls that had way too many hormones pumping through my body. To be quite honest, I was an absolute psychopath. My manic mannerisms were insanely tough to understand and deal with myself, so I could only imagine what it was like for my Mom to try and parent.
I was crazy. I would be totally ecstatic, hyper and goofy one minute and then the next I would be screaming at her for asking me how my day was. Why? Who knows. I blame hormones, selfishness, and immaturity. When I look back at it, I'm super embarrassed by how freakin' looney tunes I was. I'm beyond thankful that she didn't chop my head off for being such a nightmare.
But things changed as soon as I moved out and became a real "adult" (and by adult I mean college student).  As soon as I was on my own, I realized just how important and special my mama was… And I'm still trying to make up for lost time! I'm super lucky that I not only get to spend so much time with my mom but that I also have a second mama, Linda, who is my boyfriend Jeremy's mother. Linda is the most caring, sweet, funny, and hard working woman I know. She is also the fastest dish washer in all the land and if it weren't for her, we'd be cleaning dishes at Black Dolphin until midnight. You know you've got a good almost-mother-in-law when she comes in on her day off to help our fam's business! GAH WE LOVE HER!
So why am I talking about moms so much?! Because it's Mother's Day this weekend and I want all of you to make your mama something delicious to show her how much she means to you! To help out, I created this super easy DIY brunch spread that will make her feel oh-so-special! A lot of it can be made in advance so you can have fun with your madre and not have to worry about cooking all day.
And if you want to see me make it live, check me out on this week's Food Network Facebook Live!
So let's get to the recipes!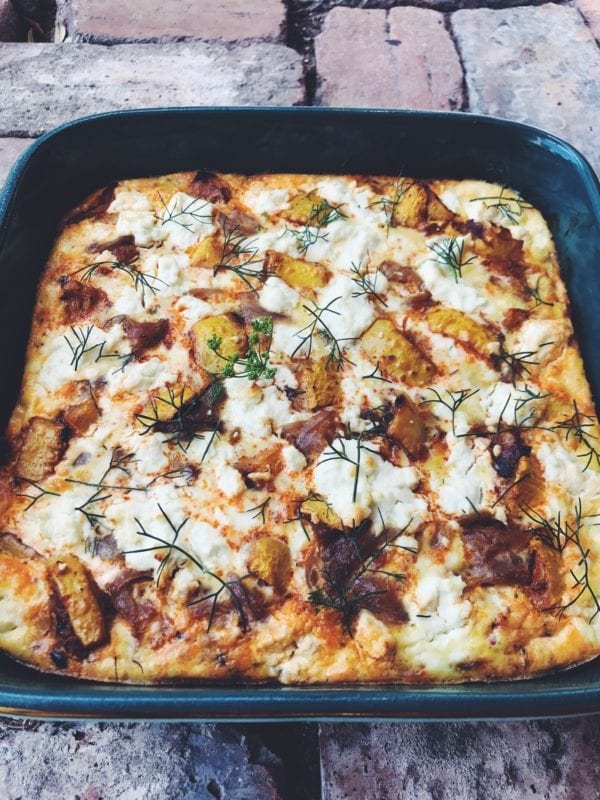 RECIPE: Summer Squash Frittata with Goat Cheese, Dill and Caramelized Onions (serves 6)
INGREDIENTS
3 summer squash, roughly chopped
2 tbsp olive oil
1/2 tsp garlic salt
1/2 tbsp paprika
1 pinch crushed red pepper flakes
1/4 tsp herbs de provence
8 large eggs
1/3 cup sour cream
1/2 cup goat cheese
1/3 cup caramelized onions
1/2 tbsp fresh dill
salt and pepper
nonstick spray
INSTRUCTIONS
Set your oven on broil. Toss chopped summer squash with olive oil, garlic salt, paprika, crushed red pepper flakes, and herbs de provence. Evenly distribute the seasoned squash on a large baking sheet and place on the middle rack. Let the squash broil for about 20-30 minutes or they're tender and golden brown. Remove from heat and set in a strainer to remove excess liquid. This step can be made a few days in advance.
Preheat oven to 350 degrees. Then, whisk together eggs, sour cream, salt and pepper until mixture is smooth and set aside. Spray the inside of your baking dish with nonstick spray and evenly add the cooked summer squash, the caramelized onions, and half the dill. Carefully pour the whisked egg mixture on top – just enough that the top of veggies are just barely covered – and sprinkle the goat cheese on top.
Next, bake for 35-45 minutes or until the sides of the frittata are lifted from the edges and the center is cooked through. Not sure if it's done? Carefully wiggle the middle of the frittata with a spoon and if it seems mushy, leave it in for longer. This isn't an exact science but just make sure the eggs are cooked through so no one gets sick on Mother's Day! When it's baked through, add the rest of the dill for a pretty presentation. This can be served at room temperature or hot out the oven.
RECIPE: Pimento Cheese Biscuit Sliders with Apple Butter Glazed Ham
INGREDIENTS
2 cups cheddar cheese, shredded
3 tbsp dukes mayo
2 tbsp cream cheese, at room temp
2 tbsp grated red onion
3 tbsp chopped pimentos with juice
1/4 tsp onion powder
1/4 tsp garlic powder
1 tsp hot sauce
3 slices spiral cut ham
2 tbsp apple butter
3 buttermilk biscuits, cut in half
1 tbsp salted butter
scallions, chopped into fine rings
INSTRUCTIONS
Begin by mixing up the pimento cheese. First, add cheddar, dukes mayo, cream cheese, red onion, pimentos, onion powder, garlic powder and hot sauce to a large bowl and mix it together until a nice, creamy consistency emerges. This can be made a few days in advance but keep in mind that the cheese will soak up some of the liquid so it might need to be loosened up a bit before serving.
Next, sear ham on both sides until it starts to get golden brown. Brush each side with a little bit of apple butter and sear one last time to basically glue it on. Then chop the seared apple butter glazed ham into little matchsticks and set aside.
Add salted butter to a cast iron or skillet heated to medium-high and brown the inside of the biscuits until they're crispy.
Arrange the toasted biscuit rounds on a plate and top with a heaping spoonful of pimento cheese, a smaller spoonful of the apple butter glazed hams, and a sprinkle of chopped scallions on top. These can also be served at room temp.