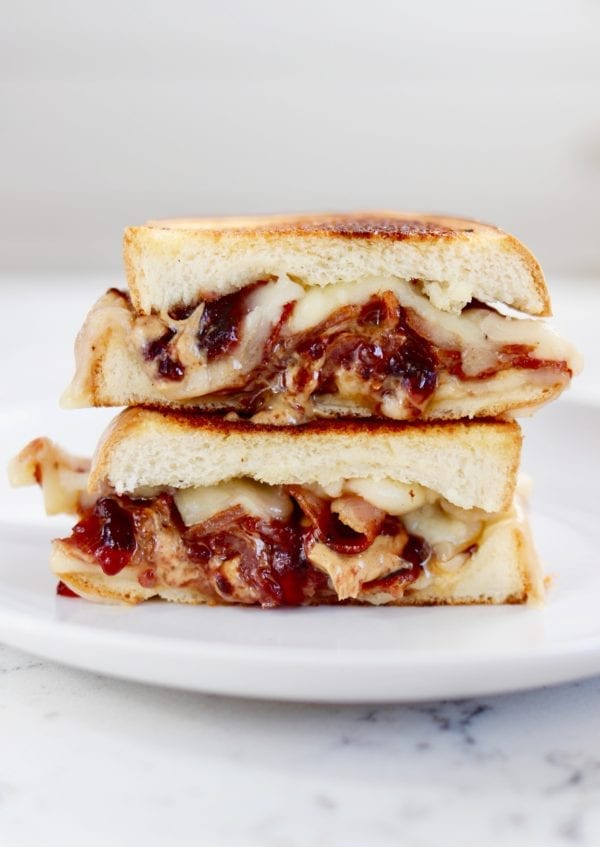 OMG Happy National Grilled Cheese Month everyone!!! To kick off my favorite month of the year, I wanted to share a new creation that will knock your socks off. WHAT IS IT YOU ASK? It's a mix-up of two American classics that almost mimic the awesome tastes of a cheese plate when transformed into a grilled cheese.
And if you didn't see on my insta this week, I've partnered with Sara Lee this month to bring back my psych style knowledge of statistics from my good ole' grad school days. You see, they ran a study to find out some cool stats about grilled cheese lovers... which is genius and I'm sort of mad that I didn't do that before. Anyways, I'll be sharing more stats as the month goes on but to begin, there are basically two sides to the GC equation. Those that identify as adventurists (us, obviously) and those that identify as traditionalists (just cheese and butter purists). 64% of us adventurist eaters said that we would like to try a mystery grilled cheese and would be so down to try a bunch of random ingredients like peanut butter, tuna, or sauerkraut or chutney.
Since I've been crafting up dreamy grilled cheese recipes for almost 7 years now, and have covered all of those items besides peanut butter -- see above -- I figured I bes' get my act together and give the people a peanut butter grilled cheese! So what the heck would work for a peanut butter grilled cheese? I got very spiritual and manifested a childhood classic mash up thing that is also sophisticated AF.
White cheddar paired with crispy bacon, blackberry jalapeno jam, honey roasted peanut butter and Artesano Bread with salty, full fat butter. It is my first peanut butter grilled cheese and it is surprisingly amazing. And if you really think about it in the sense of a cheese plate, the bacon works as charcuterie, the blackberry jalapeno jam as the marmalade-esque component, and the honey roasted peanut butter as the nut part. Pretty legit pairing, right?
So here's what you'll need: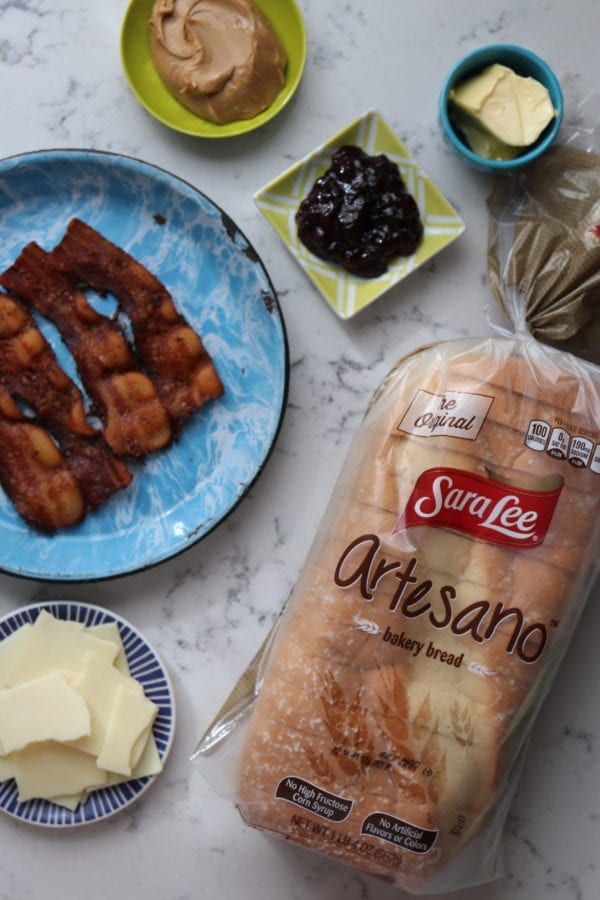 INGREDIENTS
2 slices Sara Lee Artesano Bread
2 slices bacon, cooked
1 tablespoon jalapeno blackberry jam
1 tablespoon creamy peanut butter
3 slices white cheddar
2 pats salted butter
So to skip all my BS and get to the recipe, just scroll on dow to the bottom and it'll be there waiting for ya!
If you want the step-by-steps, then lez go!
To begin, add a slice and a half of Wisconsin sharp white cheddar to a slice of fluffy Artesano bread by Sara Lee. Smear the jelly onto the cheese and then dollop the peanut butter on top. Lick those spoons and get ready to have your tastebuds blown.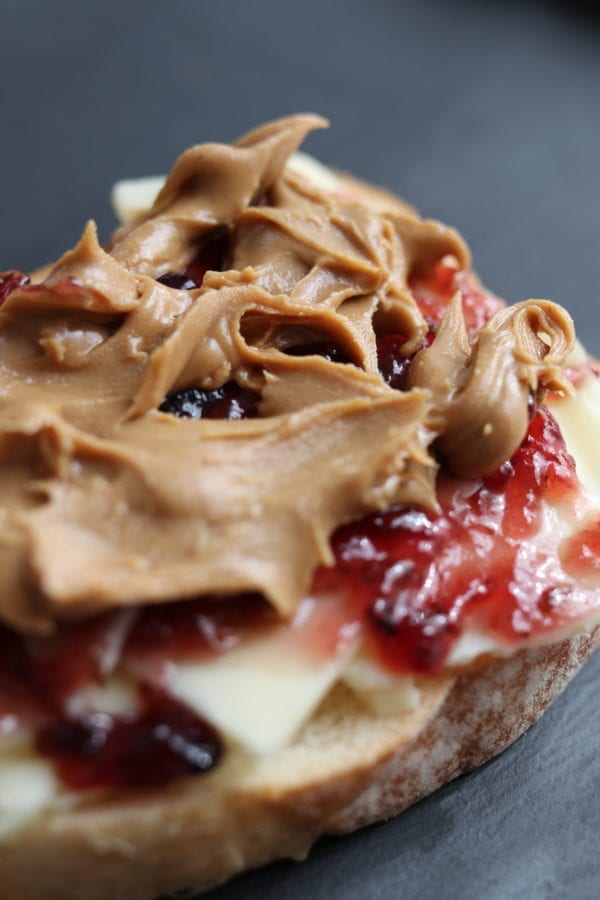 Next, add two slices of crispy bacon, And just to mention, the number of bacons slices is totally up to you my friend. If you want to add 50, go for it. In my personal opinion, two is the perfect ratio to let the rest of the sandwich shine.
Add the rest of the cheese, the top piece of bread and brush melted butter right on top. Add it to a medium-hot panini press or cast iron skillet and let that baby do its magic. When all the cheese has melted and the crust is crispy and golden brown, remove it from heat, and let that glorious sandwich bloom.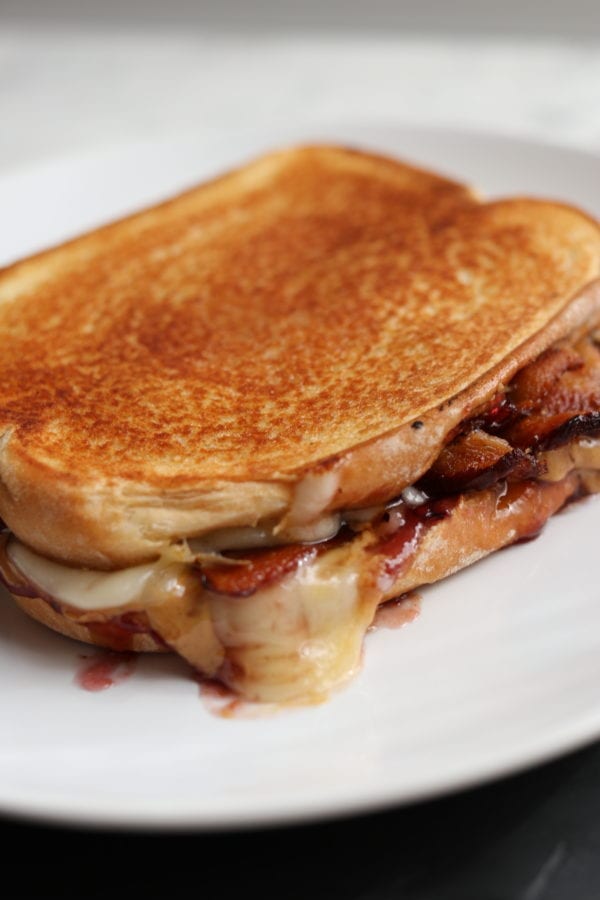 As it sits there, firming back up and transforming from a tasteless molten lava burn opportunity to a full flavored beautiful grilled cheese creation, think of some other weird stuff and DM me. I want to try more fun stuff all month long and get funky with it.
After a minute or two, slice the sandwich in half and bask in its glory. This is the peanut butter grilled cheese of your dreams. And here's the real recipe.
Peanut Butter, Bacon, Jalapeno Blackberry Jam + White Cheddar Grilled Cheese
INGREDIENTS
2 slices Sara Lee Artesano Bread

2 slices bacon, cooked

1 tablespoon jalapeno blackberry jam

1 tablespoon creamy peanut butter

3 slices white cheddar

2 pats salted butter
INSTRUCTIONS
Begin by placing half of the white cheddar onto one slice of Sara Lee Artesano Bread. Add jelly, peanut butter and bacon. Add the remaining cheese and place the other piece of Artesano bread on top. Smear 1 pat of butter onto each side of the bread and set sandwich aside.

Grill the sandwich in either a panini press or a cast iron skillet over medium heat until both sides of the bread are golden brown and the cheese has melted; about 5-10 minutes. Let rest for 30 seconds before serving.
Hope you all have an amazing week and get a chance to make this bad boy! Have fun!
xoxo,
GCS
**UPDATE: It has come to my attention that a food truck in Denver, Colorado has a remarkably similar sandwich that I was completely unfamiliar with at the time when I developed with this recipe. The sandwich from Hey PB&J features a similar cheese-plate style peanut butter and jelly sandwich (not a grilled cheese) using cream cheese, charred jalapenos, blackberry jam and bacon. Pretty similar, I know -- but what can I say? Great minds that make a lot of cheese plates think alike and since I don't want to cross any ethical boundaries, I'm putting this out there**