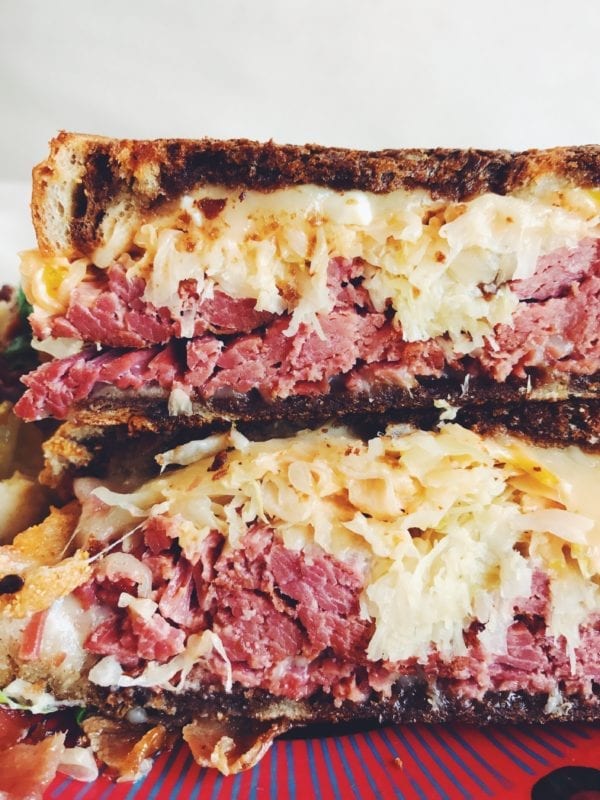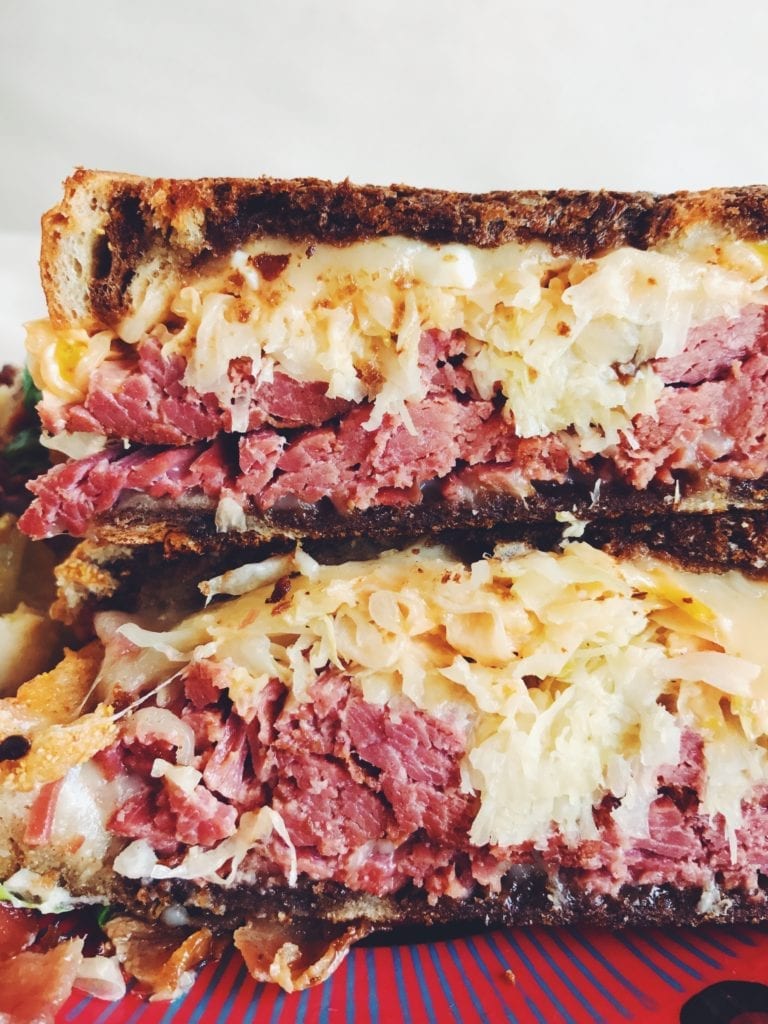 Today marked my 3rd segment of the Food Network's Facebook Live! I feel like these things keep getting easier and easier every time! THANK GrrrROD! I'm feeling more confident in front of the camera. I finally feel comfortable being my grue goofy self. And even that whole issue of not-touching-my-hair is forcing me to get extra creative with my hairstyles. A win, win, right?!
TBH, I am not one of those chicks that look good with their hair pulled back in a ballet bun nor do I look striking in a hairnet, but hey, what am i supposed to do? I was never a girly girl and I am still totally learning how to do my make up. However, there has been this one thing in my regiment that is a total game changer.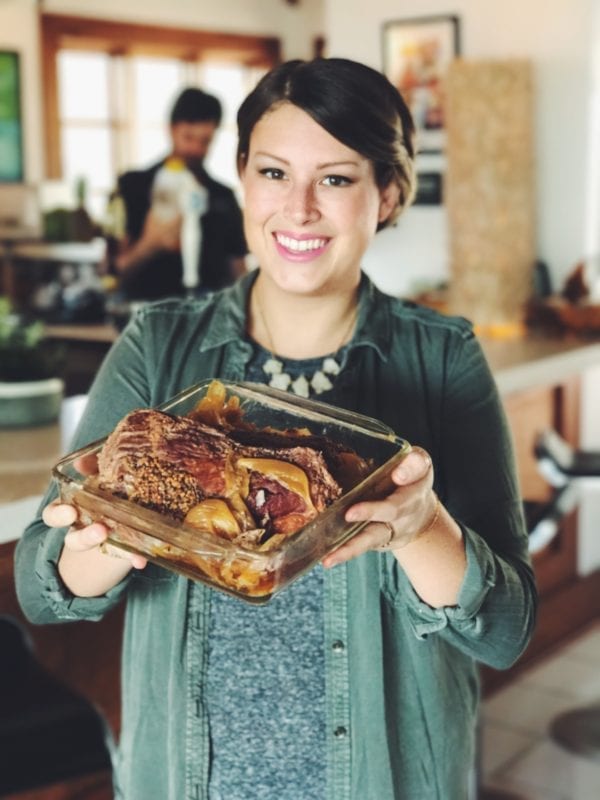 Let's give it up to the rebirth of my eyebrows.
You see those bad boys right there? I don't mean to brag, but yes, my eyebrows though not as pronounced in this picture as normal are sort of on fleek. It hasn't always been that way though. Growing up a blondie in FL, I was always super tan and had extremely light (almost invisible) eyebrows. The combo might sound good, but nah, it's not. B'lieve that.
My girlfriends used to call them Mako eyebrows which probably doesn't make any sense but let me explain. You see, my dog growing up was a red dachshund and he had these cute little eyebrows that blended into his red coat. They were there, but they weren't – know what I mean? Here's a pic for reference. Wah, wah. And remember that whole bleached out eyebrow thing? How the hell was that a fad? Ick.
BUT YES. Eyebrows! I don't know why it took me almost 30 years to realize that I should probably pencil them on, but I'm super happy that my old roommate, Kristine, showed me the light. Instead of looking incredibly surprised in almost every picture, my face is now sort of framed out and I look like a normal human. But enough about me, let's turn the focus on you!
If you haven't made a homemade reuben, I want you to ask yourself "why?". Like my whole eyebrow sitch, I don't want you to go a whole 30 years without doing something that's going to change your life!
ST. PATTY'S DAY CORNED BEEF REUBEN
INGREDIENTS
FOR THE CORNED BEEF
1 beef brisket (most are about 5 lbs)
1 gallon + 1 cup of water
1 cup salt
1 tbsp pink curing salt
1 cup brown sugar
1/3 cup pickling spices (halved)
2 tbsp mustard seeds
3 bay leaves
1 cinnamon stick, broken up
3 cloves of garlic, crushed
2 large onions, roughly chopped
1 hard apple cider
1 dark beer
FOR THE 1000 ISLAND
1/2 cup mayo
1 tbsp ketchup
1 tbsp sriracha (or another chili paste)
2 tbsp chow chow (or sweet pickle relish)
1 tsp yellow mustard
1/2 boiled egg, chopped
salt and pepper to taste
FOR THE SANDWICH
2 slices of thick marbled rye bread
4 slices Irish swiss cheese
1/4 lb shredded corned beef
2 tbsp sauerkraut, strained to remove excess liquid
2 tbsp 1000 island (served with more for dipping)
2 pats salted Irish butter
INSTRUCTIONS
FOR THE CORNED BEEF
Add water, salt, pink curing salt, sugar, half the pickling spices, mustard, bay leaves, cinnamon stick and garlic to a large pot and bring to a boil. Stir the mixture every so often until the the sugar and salt have dissolved. Let the liquid cool and then add it to a large enough container so that the beef brisket can submerged. Add brisket and seal. Let the brisket brine for at least 6 days, moving it around once every day, before cooking it.
Once the brisket has brined, rinse it off using cold water and place it (fat side up) in a slow cooker on top of the chopped onions. Add the rest of the pickling spices and an hard apple cider. If the brisket is not half way submerged, add as much beer as necessary. Turn the dial to high and cook overnight or at least 8 hours so that it is tender and pulls apart easily.
FOR THE 1000 ISLAND
Mix all ingredients in a small bowl and set aside. Let dressing sit for at least 30 minutes so the flavors can combine and get all delicious and stuff.
FOR THE SANDWICH
Turn panini press to medium-high or heat a cast iron skillet to medium. Meanwhile, build the sandwich. Place 2 slices of swiss cheese onto one slice of bread. Top with corned beef, strained sauerkraut, 1000 island, and the remaining two slices of cheese. Add the top piece of bread and set aside,
Once your press or skillet is heated, add half the butter and melt it in the center. Place your built sandwich on top and sort of move it around so it soaks up all the melted butter. Add the remaining butter to the top of your sandwich, spreading it out equally across the bread so that it can crisp up evenly. Let the sandwich cook for a few minutes, flipping if needed, so that the bread is crispy and all the cheese has melted. Remove from heat and serve immediately with an extra side of 1000 island.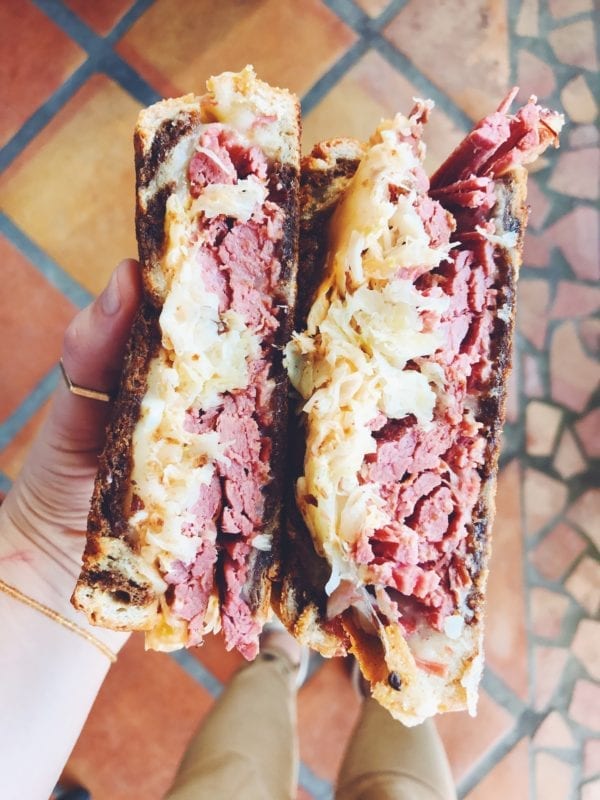 Thanks for watching this week!
xoxo,
GCS