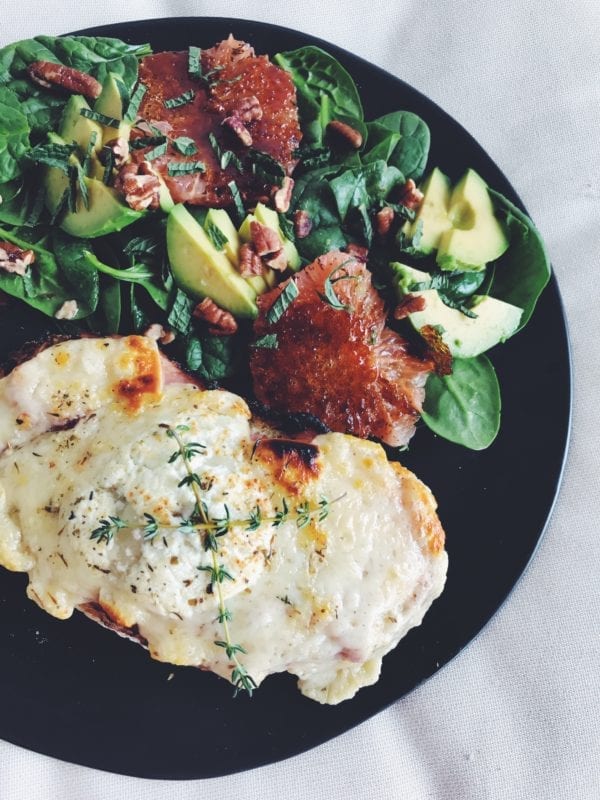 This morning I hosted The Food Network's Facebook Live and made a super cheesy tartine au fromage (fancy cheese toast) with an avocado and caramelized grapefruit salad! Not only was this the second time that I got to go live in front of way too many people, but it's also international women's day, my two year anniversary with Jeremy, and the first day of my period. All pretty great stuff, right?
With such an emotional mix of events happening, I don't even know what to write about so I'm just going to let the love and emotions flow.
I feel so freakin' privileged to have such strong, loving, compassionate and unforgivingly alpha women in my life. From my Mama, who's my bestest friend and number one supporter in the whole world, to my Meme, who taught me how to cook and not take any shit, and to my Grandma, who influenced me to move to New York and to break all the rules -- I LOVE YOU! To each one of these awesome women that've shaped who I am, I couldn't be more proud to share your DNA, your strength, and your positive energy.
I've also got to give it up to my lifelong girlfriends, new gal pals, my allstar co-workers, unofficial sisters, change makers, therapists, unofficial therapists, the food queens that I'm obsessed with and all the other babes that I don't even know. I thank you! I thank you for existing and for allowing me to be myself and to share my love of food with all of you! I thank you for working hard and busting down the patriarchy every dang day. When I look at my website statistics and see that my audience is 75% female, I feel proud. I feel supported. I feel loved. I truly thank you for believing in me and pushing me to keep going even when i feel like quitting.
[embedyt] http://www.youtube.com/watch?v=5AQqkZ3pkRs[/embedyt]
And even though it's women's day, I've also gotta thank the dudes.
To the men in my family, thank you for never, ever making me feel like I wasn't equal. To my dad, who taught me to be a writer and proper boss bitch and to my Poppy who taught me the importance hard work and set my relationship standards higher than average. To my Grandpa, who always believed in me and pushed me to over-achieve and of course to my lil brother, Taylor, who always laughed at my jokes and loved me even when I was a total hormonal psycho.
Without these men, I could never have formed an idea of the perfect partner. And luckily for me, that's where Jeremy fits in. I'm so fortunate that my boyfriend, soulmate, and an all around favorite human being in the world wants me to be everything that I can possibly be with total unconditional love, support and adoration. I thank him for putting up with my sass and silliness for two of the best years of my life and for being so genuine, real, inspirationally healthy and uncontrollably sexy.
And to the 25% of males who support me, I thank you, too. You are awesome and you mean so much to me!!!
As a human being, I feel so stinkin' lucky today. And even though I'm sort of cranky, my stomach is bloated, my face is broken out, and I can't stop being hangry, I'm feeling pretty dang great. Before I start to cry when I think of all the impactful women and non-women in my life, let's switch subjects and talk about the recipes because really, we should be expressing these things every day!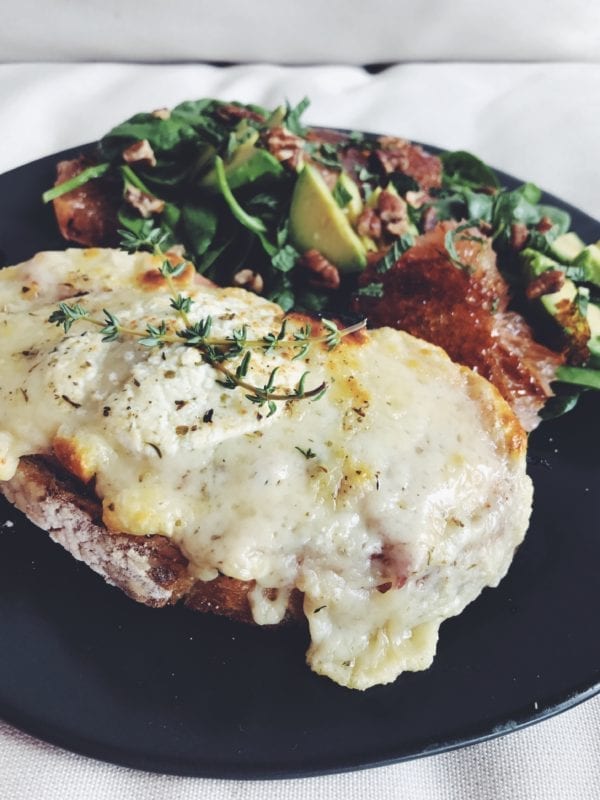 Tartine Au Fromage with Rosemary Ham and Stoneground Mustard
INGREDIENTS
1 slice thick french bread
1 tbsp stoneground mustard
4 slices rosemary ham
⅓ cup gruyere
1 tbsp goat cheese
2 pinches herbs de provence
INSTRUCTIONS
Turn on broiler to high. Smear stoneground mustard onto slice of bread. Top with rosemary ham and gruyere. Roll your goat cheese around in the palm of your hand until it is shaped like a disk. Place the goat cheese disk on top of the gruyere and hit it with a sprinkle of salt and herbs de provence.
Place the cheese covered bread onto a parchment paper lined baking sheet and place in the oven. Let it cook for about 5 minutes or until cheese is hot, bubbly, and gold. Remove from heat and serve immediately.
Avocado and Caramelized Grapefruit Salad
INGREDIENTS
1 handful fresh spinach
1 grapefruit, skin removed and cut into slices
½ cup light brown sugar
½ avocado, sliced
1 tbsp chopped walnuts
1 tsp chopped mint
a kitchen torch
INSTRUCTIONS
Lay grapefruit slices onto a baking sheet. Pat a little bit (about 2 tsp) of light brown sugar onto each round. Turn your kitchen torch to medium and carefully brulee the top of each round until the sugar bubbles are big and the sugar has darkened. Once each grapefruit slice is caramelized and the fruit has cooled a little, place the spinach onto a plate and top with avocado, caramelized grapefruit, walnuts and mint.
Thanks for watching and existing. You are everything.
xoxo,
GCS