Back when i was in college, i practically lived on pita fries from this greek spot called Pitaria right down the street from my dorm at Florida State University. My affinity for a high carb diet led me to basically become obsessed with these beautifully golden deep fried pita sticks that were tossed in herbs and spices and plunged into a creamy feta cheese dip. After my second winter of eating my weight in these, I realized that it probably wasn't a good idea to eat so much fried food. So instead of spending all of my time, money, and daily allotted calories at Pitaria, I decided to change the game and get my act a little healthier.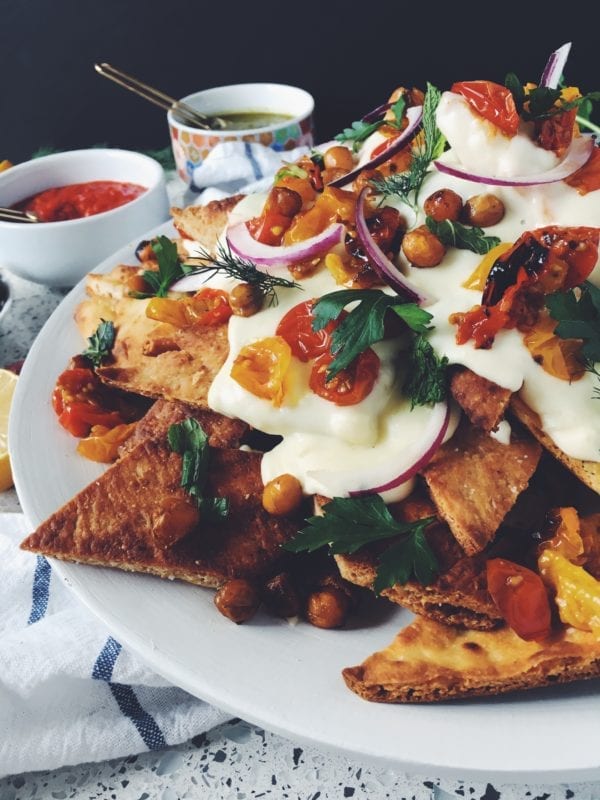 Instead of ex-ing it out cold turkey, I began to try and replicate this dish and home. I'd bake my pita to get that nice crispy crunch. It was ok, definitely not as good as the deep fried stuff, but the pita just fell short on flavor and I became disinterested. A few years later, I remember going to an Indian restaurant for the first time and taking my first bite of naan. All of these awesome taste memories started flooding my brain and my endorphins started overflowing. It was warm and moist yet also crispy, light and airy. It was also about 1000 times more flavorful than any pita I'd ever had and I fell in love. At that moment, I knew it. I'd say goodbye to pita and say #hellonaan!
Fast forward to 5 years later when I was living in NYC and I walked into my little 24 hour organic bodega on Bushwick Avenue only to find packaged naan right at my fingertips. Gone were the days of having to order takeout just to get delicious garlicy naan. Now I was able to get it at the grocery store, warm it up, and chow down on one of my favorite breads on the world. Even 5 years later, I still use it all the time on everything from pizzas like this one with spicy zucchini and fresh mozzarella to delicious sandwich wraps like this one which is stuffed with spiced lamb korma meatballs, yogurt sauce and mint chutney.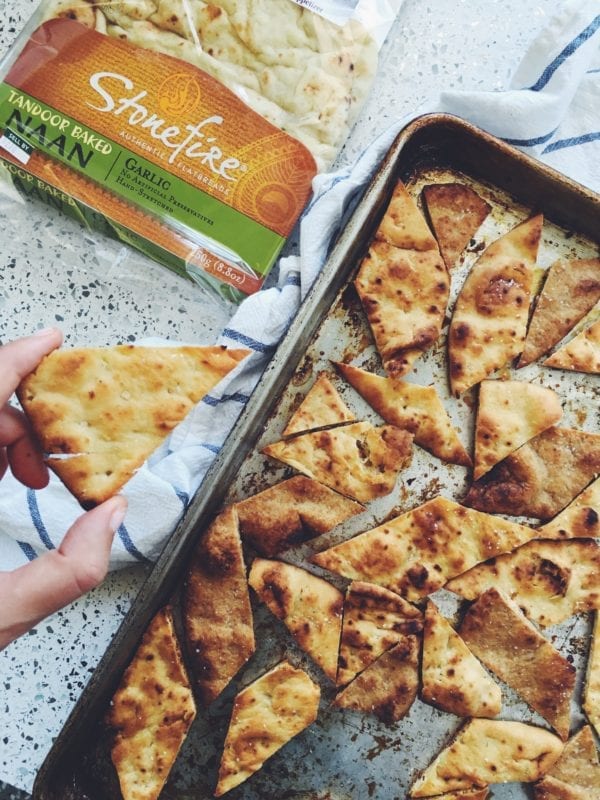 And this week, when I got approached by Stonefire Flatbreads to come up with some unique recipes, I said "heck yes, I would love to!". So I put on some sweats, headed to Publix, and skipped into the speciality bread section right next to PubSub counter. To my surprise, the lighting in publix was pretty gnarly for photos it was buy one get one, so I got two flavors – the Tandoor baked Garlic and the Whole Grain. There are even more awesome varieties like Ancient Grains, Mini, and Original. And unlike most of the flatbreads at the grocery store, Stonefire doesn't use any artificial preservatives which makes their flatbreads extra awesome and even more chow-down-able.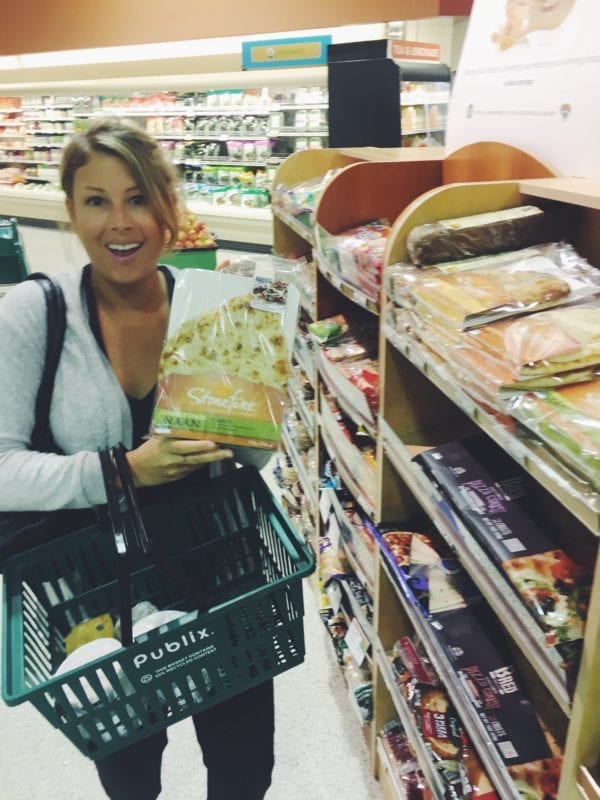 So when I was brainstorming a recipe, I wanted to create an updated tribute to my all time favorite college meal while also making something that's perfect for the cooler weather ahead of us. That's how these insanely delicious loaded naan nachos were born! Just bake until crisp and delicious, and top with a light and creamy feta cheese sauce, sweet roasted cherry tomatoes, crispy curried garbanzo beans, red onion, and tons of fresh herbs. They're like the adult version of pita fries mixed with upscale nachos and splashed with a little inspiration from our recent Greece trip. And best of all? These are super easy to make and can be done in about 30-40 minutes if you're starting from scratch. Loaded Naan Nachos are the perfect weeknight meal when you just want something comforting, flavorful, warm and toasty to nosh on.
Naan Nachos Topped with Creamy Feta Cheese Sauce, Roasted Tomatoes, Crispy Chick Peas + Herbs
---
INGREDIENTS
FOR THE TOPPINGS
2 cups halved cherry tomatoes
1 can of garbanzo beans, drained and dried
2 tbsp olive oil
1/8 tsp garlic powder
1/8 tsp herbs de provence
1/2 tsp brown sugar
1/2 tsp curry powder
FOR THE NAAN NACHOS
FOR THE FETA CHEESE SAUCE (recipe makes more leftovers)
1 tbsp salted butter
1 pinch salt
3 garlic cloves
1 pinch red pepper flakes
1 cup whole milk
6 oz feta
3 slices mozzarella cheese
FOR THE FINAL DISH
toasted pita (from above)
1/2 cup (or more!) creamy garlic feta cheese sauce (from above)
herbs de provence roasted tomatoes (from above)
curry roasted chick peas (from above)
fresh herbs (dill, parsley, mint)
1/4 small red onion, chopped
DIRECTIONS
FOR THE TOPPINGS
Preheat oven to 400 degrees. Toss tomatoes in half of the olive oil, half of the garlic powder, and all of the herbs de provence. Toss the garbanzo beans in the remaining olive oil, garlic powder, and and all the curry and brown sugar. Evenly place on a baking sheet and bake for 30-4o minutes until tomatoes burst and brown and the chick peas have crisped on the exterior. Remove from heat, leave the oven on 400 and set aside.
FOR THE NAAN NACHOS
Cut Stonefire Naan into 3″ nacho size bites, drizzle with olive oil and salt, toss, and lay on a baking sheet – making sure not to overlap. Pop in the 400 degree oven and cook until crispy; about 5-10 minutes. Remove and set aside.
FOR THE FETA CHEESE SAUCE
Meanwhile, add 1 tbsp of butter and chopped garlic to a sauce pan with a pinch of salt and a pinch of red pepper flakes. After a minute but before the garlic browns, add flour and stir for a minute or two until roux forms. Whisk in milk and once it starts to bubble on the sides, add feta and mozzarella cheese. Stir until mostly melted – the sauce will be a little chunky from some of the feta and that's ok.
FOR THE FINAL DISH
Assemble naan nachos on a platter. Drizzle with feta cheese sauce and top with roasted tomatoes, chick peas, fresh herbs such as dill, mint, and parsley and serve. Serve with olives, green and red harissa sauce if desired.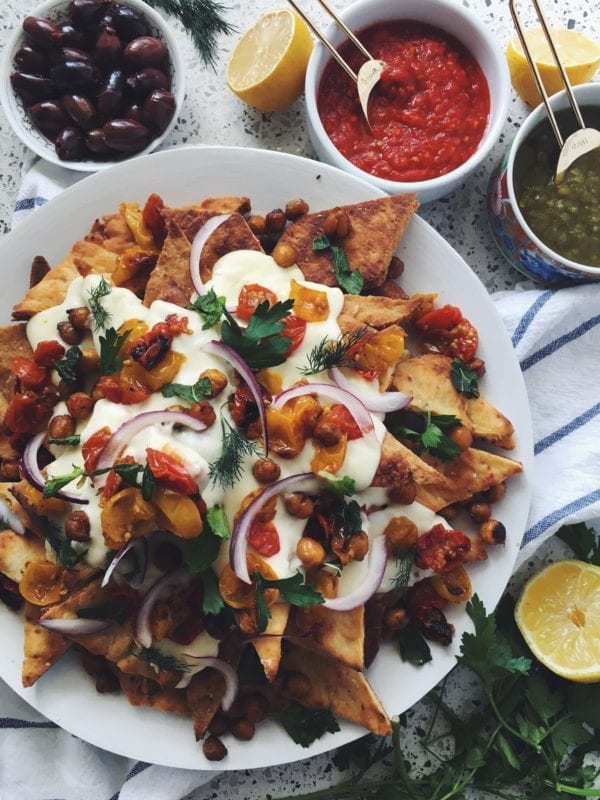 **This blog post was sponsored by Stonefire® Authentic Flatbreads but the opinions are all my own.**