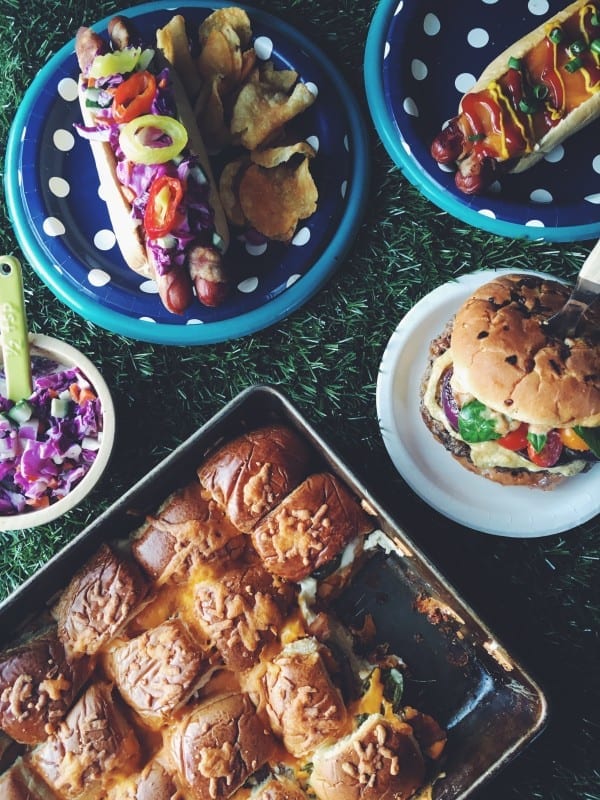 OMG IT'S TAILGATING SEASON! And like time and time again, the only part about it that I actually care about revolves around eating, drinking, and... umm more eating! This year I teamed up with bread superstars Cobblestone Baking Co. to bring you thee ultimate guide to make your tailgate parties awesome - Helping you create fancy restaurant quality sandwiches right in your own kitchen or tailgate!
And because I want you all to be fed very, very well, I've come up with a few game day options to get you in the spirit. Weather you're feeding a bunch of hungry football fans outside the stadium, keeping it real at the house with your loved ones, or want something quick and easy on the fly, we've got you covered!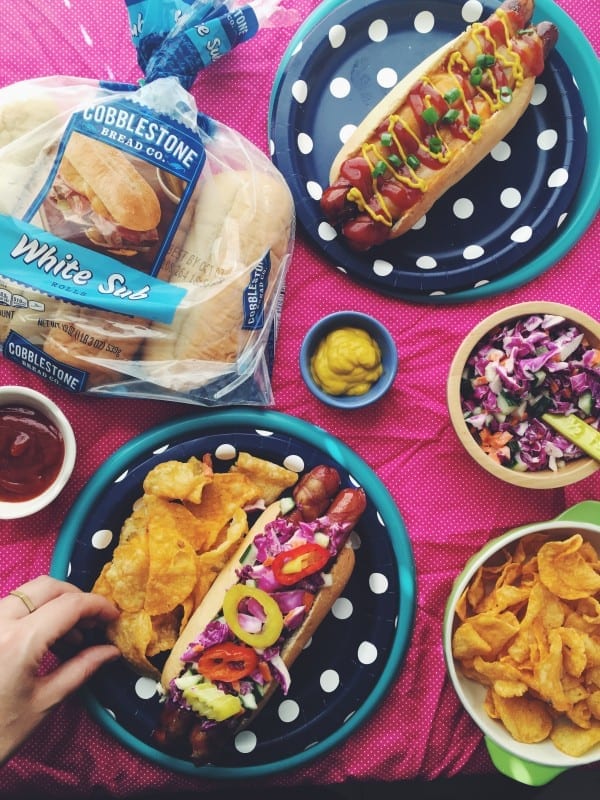 The first tailgating feast that I came up with is probably the most accessible. All it takes is CBC's White Sub Rolls, hot dogs, and a bunch of random whatever-you-want-style toppings. Now not only is this the perfect excuse to get creative, but it also it's also a great exercise for cleaning out the fridge while helping you save!
This colorful and delicious spread is inspired from my last 6 years in Brooklyn, where Asian fusion hotdogs were found at every rooftop party from Park Slope to Greenpoint. We do it big there, so a regular dog won't cut it... we need something supped up with a million crazy toppings! I recommend laying out a spread with some sort of asian slaw, sriracha, pickled cucumbers, kimchi, kewpie mayo, pickled radish, chopped peanuts and the like. Got some teriyaki sauce, pineapple, jalapenos or crushed up potato chips? Throw that on the table, too! Seriously, put whatever you've got out and watch as your friends customize their own CBC feast.
Enough of me blabbing though, here's a recipe for this Brooklyn classic: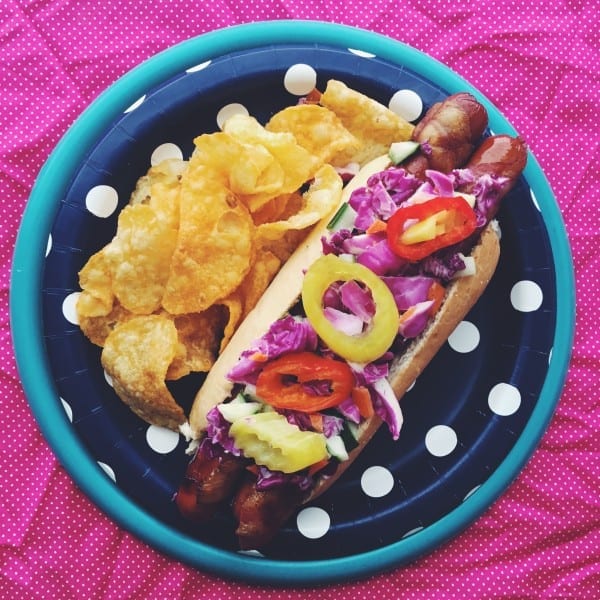 Bacon Wrapped Hot Dogs with Asian Slaw + Hot Peppers
2 hot dogs
2 pieces thick cut bacon
1 CBC Sub Roll, hollowed out
¼ cup red cabbage
1 tbsp chopped carrot
1 tbsp chopped cucumber
1.5 tbsp mayo
½ tbsp ricewine vinegar
2 splashes sesame oil
¼ tsp sugar
3 banana peppers
Wrap one bacon strip around each hot dog and secure with a toothpick. If you're grilling, then wet the toothpics so they don't burn, otherwise, bake the hotdogs at 350 until the bacon is crisped.
Meanwhile, make the coleslaw. In a small bowl, combine cabbage, carrot, cucumber, mayo, ricewine vinegar, sesame oil, and sugar and stir. Set aside
If you're like me and you prefer your buns toasted, then do it! Once your bun is toasted the add the two bacon wrapped hot dogs, a scoop of the coleslaw (eat what doesn't fit!) and top with banana peppers and serve.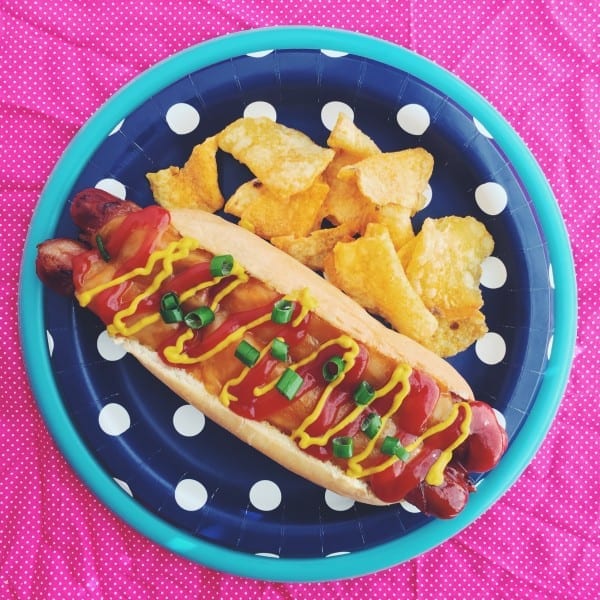 Not into Asian dogs? More of a purist? I see. Ok, well don't sweat. We got you.
Try this double down hotdog sandwich that's got melted colby jack cheese, ketchup, mustard, and scallions. It's super easy and I'm pretty much sure that every one of us human beings will dig this sandwich. If they're veg-heads, swap out the hotdogs for 3 scoops of mac n cheese and watch as hearts explode from their eyes while their brains flood with pure foodie bliss.
On the other hand, If you're like me and would rather stay home, doing nothing at all except laying on the couch with the puppies warming your feet, then I recommend making this beast of a sandwich. Blue cheese beer sauce, grilled red onion, heirloom tomatoes, fresh basil and a sweet n spicy mayo on CBC's onion kaiser rolls may look like something that you'd order in a restaurant, but nope! You can enjoy this right in the comfort of your own pajamas... or sexy jersey... or umm whatever floats your boat.
Click [HERE] to get the recipe for this Blue Cheese Beer Burger with Sweet and Spicy Mayo.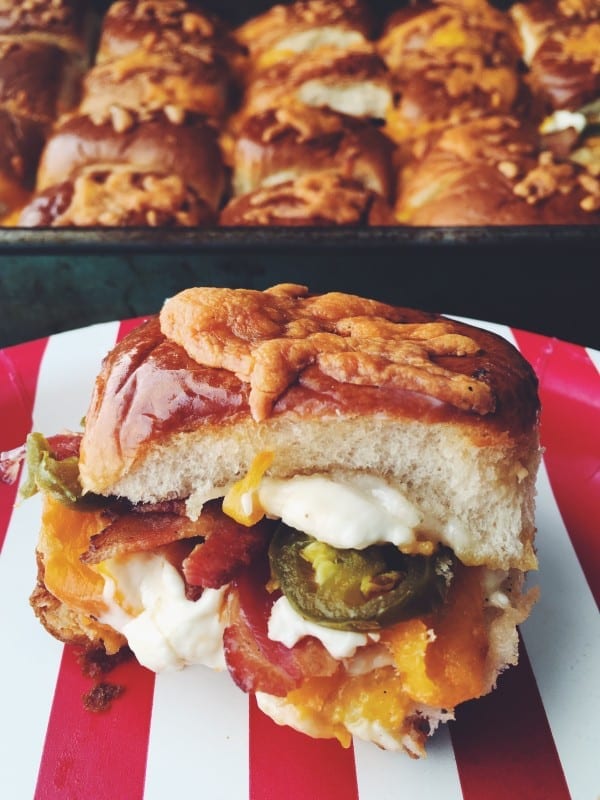 This last option is for all of us out there that are going to be too busy manning the bar can't be bothered to stay in the kitchen. This smokey bacon jalapeno poppper dip party bun bake is a one time thing that feeds for hours. All you have to do is prep it, bake it, and then sit back as everyone pats you on the back for making the best snack of all time. Word to the wise, these are very very addicting so you might want to make more than 1 pan full if you're cooking for people who don't know what it means to be full.
Click [HERE] to get the recipe for these Smokey Bacon Jalapeno Popper Dip Party Buns!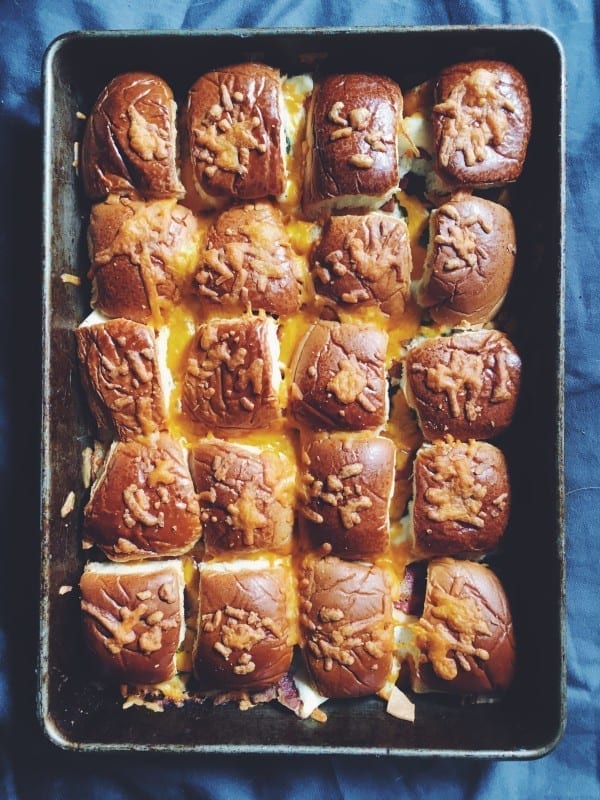 Hopefully we've got something for you and if we don't, leave a comment and we'll figure it out! Special thanks to CBC and happy tailgating everyone!
Compensation for this post was provided by Cobblestone Bread Co via AOL Media. The opinions expressed herein are those of the author and are not indicative of the opinions or positions of CBC or AOL.