To introduce myself, I figured I'd share some interesting facts about me! As a food blogger, it's easy to hide behind the lens. So I wanted to let you get to know me and understand why I do what I do through these fun and random facts about me!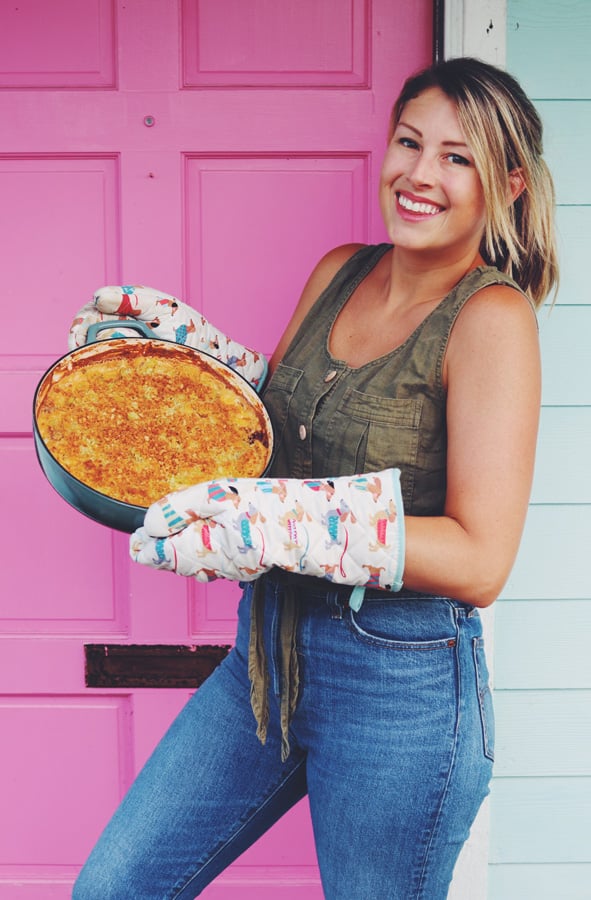 INTERESTING FACTS ABOUT ME
Surprise! MacKenzie isn't my first name. I have always gone by my middle name rather than my first. My legal name is actually Christian MacKenzie Smith.
I'm 33 and pregnant for the first time. We're having a baby girl due May 27th!
I met my husband on instagram. His name is Jeremy Johnston and he's a professional surfer/social media guru. He's a hunk! He's also 5 days older than me which is also a fun fact about me/him! lol.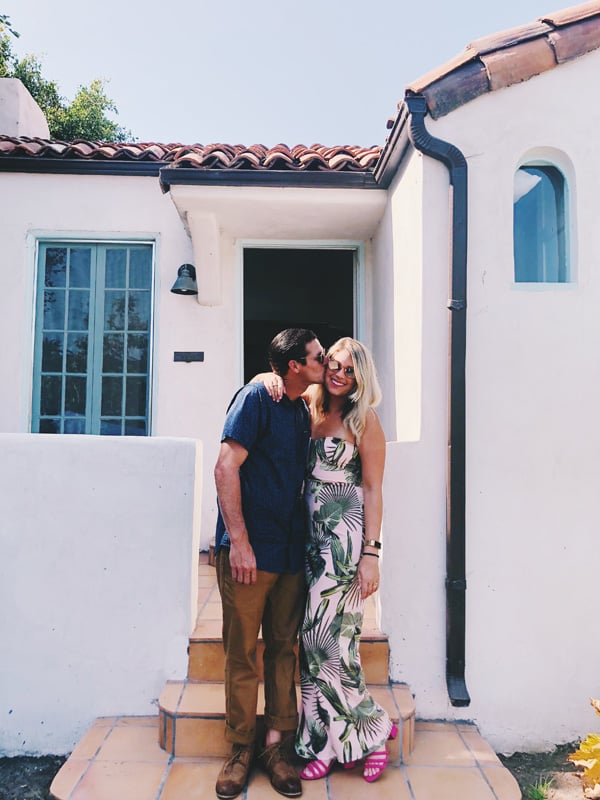 My Myers Briggs type is an ENFJ, I'm a Cancer, and I'm a self-identified eternal optimist. That being said, I cry at literally everything and smile at literally everything, too.
I have a masters degree in education and in science from Columbia University in Counseling Psychology. And although I truly love psychology, working in food makes me so much happier!
I went to FSU for my undergrad degree and majored in counseling psychology with a double minor in aging studies and art. I love old people!
We are Foster Failures. We got Elo as a 6 week old puppy out of a "dachshunds up for adoption" newspaper ad. Then a few months later, we were asked to foster Finn (our long haired doxie) for a weekend... and we decided to just adopt him within 1 hour.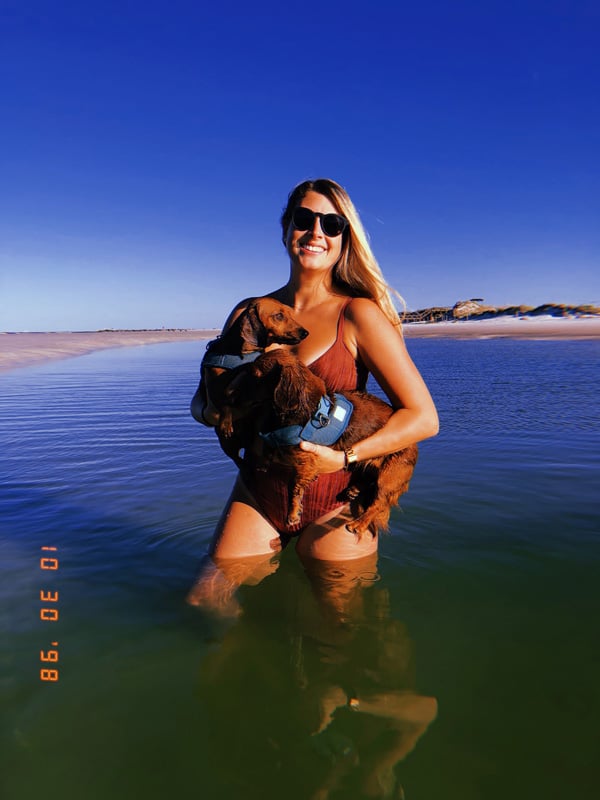 I was born on Captiva Island and grew up as a hotel brat. Similar to a military brat but instead of army bases, I lived at various hotels because my dad would take over failing properties and flip them.
I lost 30 lbs on weight watchers a few years ago and rely on it heavily after a big food-centric vacation.
#Throwback random fact! Punk rock music was my main obsession in middle school and high school. I've dyed my hair pink and purple multiple times in my life and I used to make my mom drive me to punk rock shows. She has sat through Bad Religion, NOFX, The Cramps and many more bands like that. She's the best mom ever!
My Uncle Bro is the reason that I cook. He was always the chef at my dad's hotels and was a true genius that taught me everything. He passed away 4 years ago unexpectedly which is why I moved back to Florida. I miss him everyday and dedicate everything I do to his memory!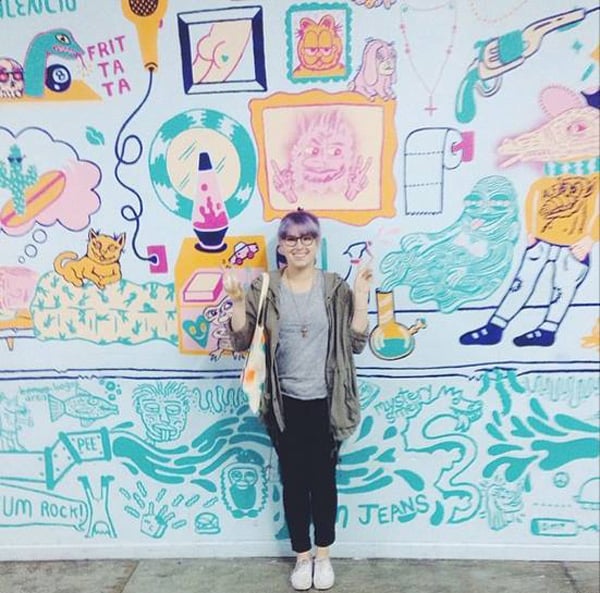 I started food blogging 10 years ago when I was in grad school in NYC. It's now my main source of income! Super rad because I started it to have some creativity in my life!
I have had dachshunds my whole life. Their little bodies and big personalities are the best!
Although I have only lived in New Smyrna for about 4 years, I lived all over! I was in Brooklyn 7 years, Tallahassee 4, Clearwater 8, Fort Myers 1, Sanibel 3, Captiva 6.
I think tattoos are so rad but I have zero because I'm afraid of needles.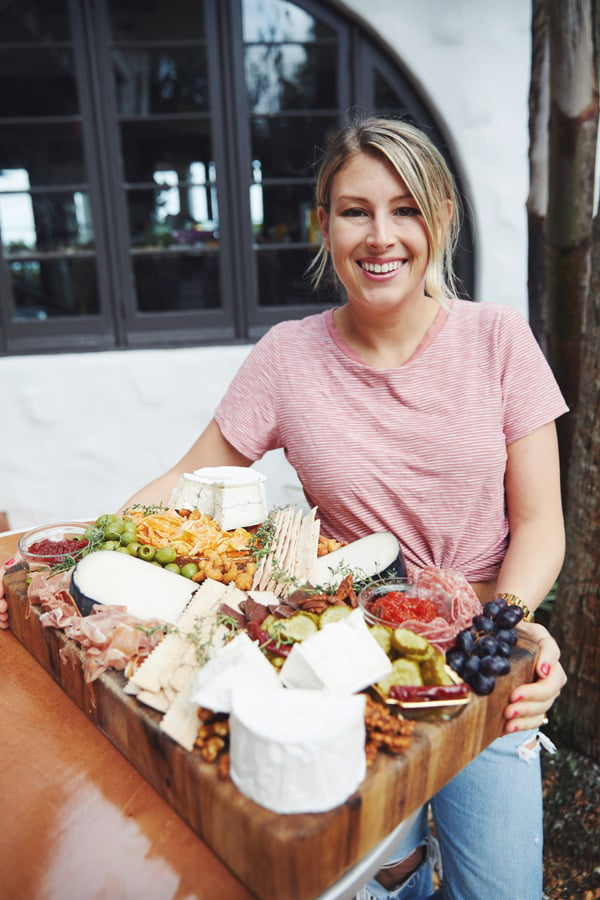 MORE RANDOM FACTS ABOUT ME
At 25, I started my own food styling and catering business in Williamsburg at ACME Studio. I've worked with tons of celebrities because of them and I'm eternally grateful for that.
I'm the executive chef at my family's bed and breakfast the Black Dolphin Inn in New Smyrna Beach. It's amazing and you should come visit!
I live across the street from my mom and dad which is a 2 minute walk to the beach.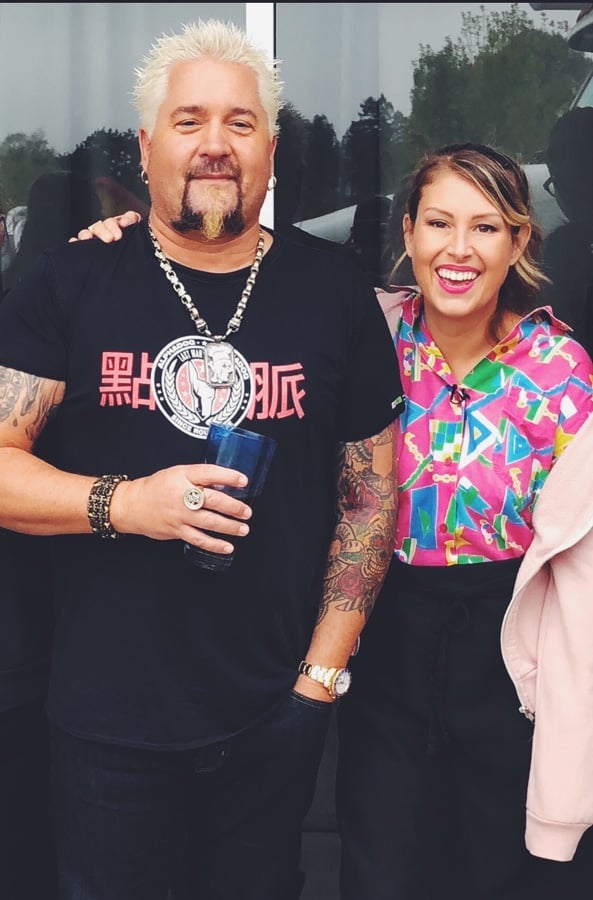 I've competed on Guy's Grocery Games on the Food Network 4 times! One of those times was an All Star Championship Tournament featuring top chefs from DDD GGG!
I'm super allergic to shellfish. I'm also allergic to cats but love them so so SO much!
If I could have one superpower it would be to be really good at singing. Because fun fact, I AM THE WORST.
My favorite food is cheese which is pretty obvious. As for my second favorite food, well that would have to be EVERY SINGLE VEGETABLE IN THE WORLD!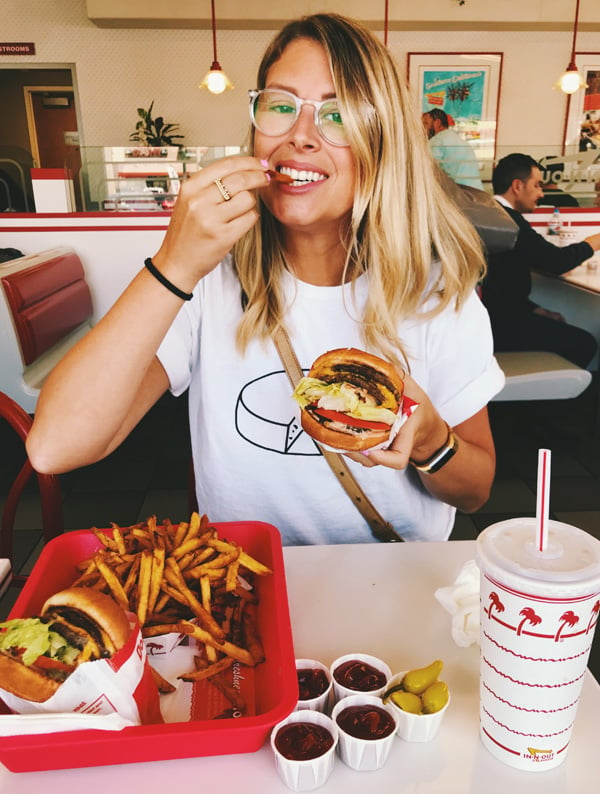 My first job out of high school was at the Fresh Market Grocery Store. Everyone would dare me to eat the stankiest cheeses and I would always do it.... secretly loving it the whole time!
I have done grilled cheese pop-ups all over the world. From California to New York, all the way to Germany and Spain.
I'm pretty much legally blind and am always wearing contacts. My glasses are beyond thick and I look like a bug because of them! As a kid, I even had to wear a patch because one of my eyes was lazy.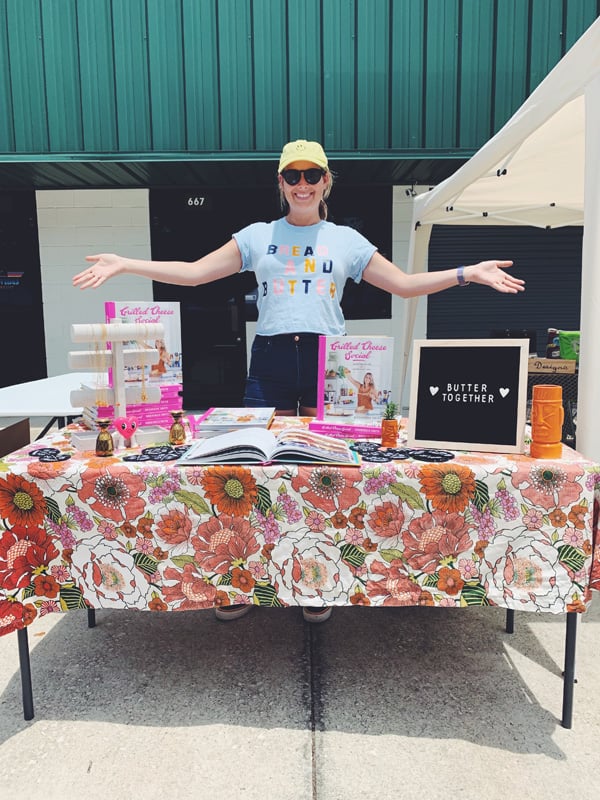 Writing my first cookbook has been one of the most fulfilling things in the entire world. Maybe not an interesting fact because ummm that's pretty obvious! lol.
I feel like I need to throw another random fact about me in here... I love trashy reality TV! Bravo is life!
If I wasn't working in food, I'd love to be an artist/designer.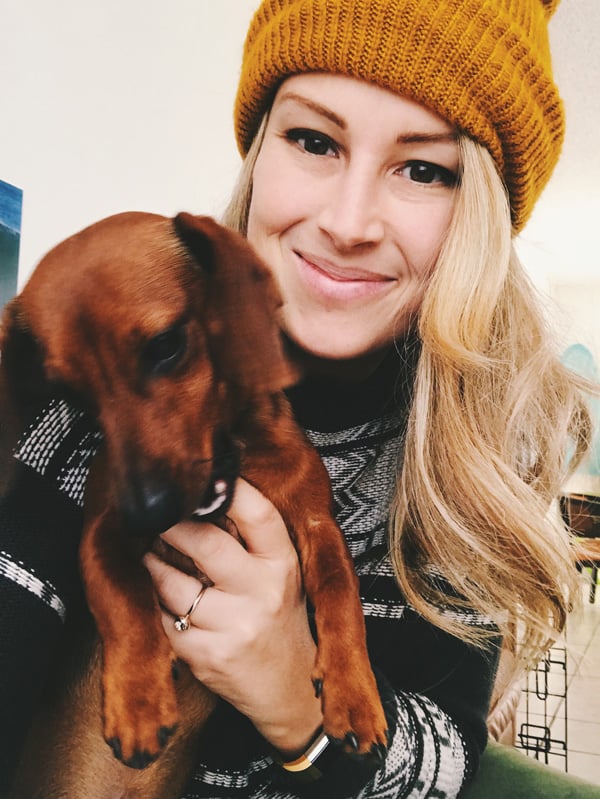 EVEN MORE FUN FACTS ABOUT ME
I grew up vegetarian by choice. When I was 21, I got drunk and ate my first corndog. Then had my first cheeseburger at Shake Shack when I moved to NYC. I dream about going back to veg-life but it's unrealistic for me.
Not sure if this would actually be considered an interesting fact about me, but I'm a workaholic. I thrive off of it which can be a good and bad thing.
I used to drink way too much. Now I have my medical marijuana card but have since quit because I'm pregnant. Needless to say, I'm a huge advocate for reforming marijuana laws. There is no reason for people with petty drug crimes to be in jail while some dispensaries look like a damn apple store.
As a kid, I hated sweets and literally had carved fruit baskets that my uncle would make me at my birthday parties. but as I get older, I love them more and more!
I have a bad habit of biting my nails and twirling my hair. Both things bother me to no end. Not a fun fact but a fact nonetheless!
Also, here's another random fact about me. I dream about cutting bangs every single day but Florida humidity is no good for my secretly curly hair.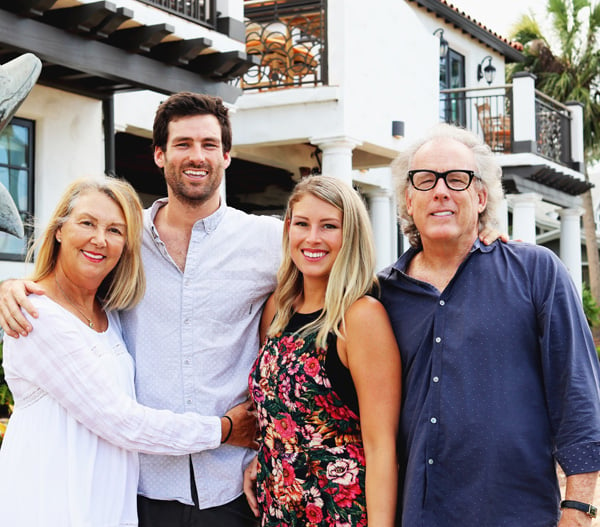 My mom is a cowboy country girl from Tallahassee. My dad is a 3rd generation hotelier from New York/New Jersey. They're completely opposite but have been married for 35 years!
My little brother is not so little. He is a year younger than me and is about a foot taller. He's engaged to my BFF and I'm very lucky for that.
I also have an adopted older brother from Nigeria. He came over as a foreign exchange student and is now a professor in North Carolina. He's the smartest, strongest, most hardworking person I know.
And last but not least for the interesting facts about me, I got attacked by a camel and broke my arm while I was in Morocco a few years ago. Oh, and it was a baby camel (of all things!) and I still have PTSD from it.
If you've got any questions, write them in the comments or DM me on instagram and I'll respond ASAP!