You can make this tasty raspberry and chocolate peanut butter grilled cheese in a breeze if you've got leftover Easter candy! Simply combine raspberry jam, chocolate peanut butter candy, brie, and mascarpone cheese between fluffy white bread then grill it up. It'll be a cheesy dreamy dessert grilled cheese that everyone will love!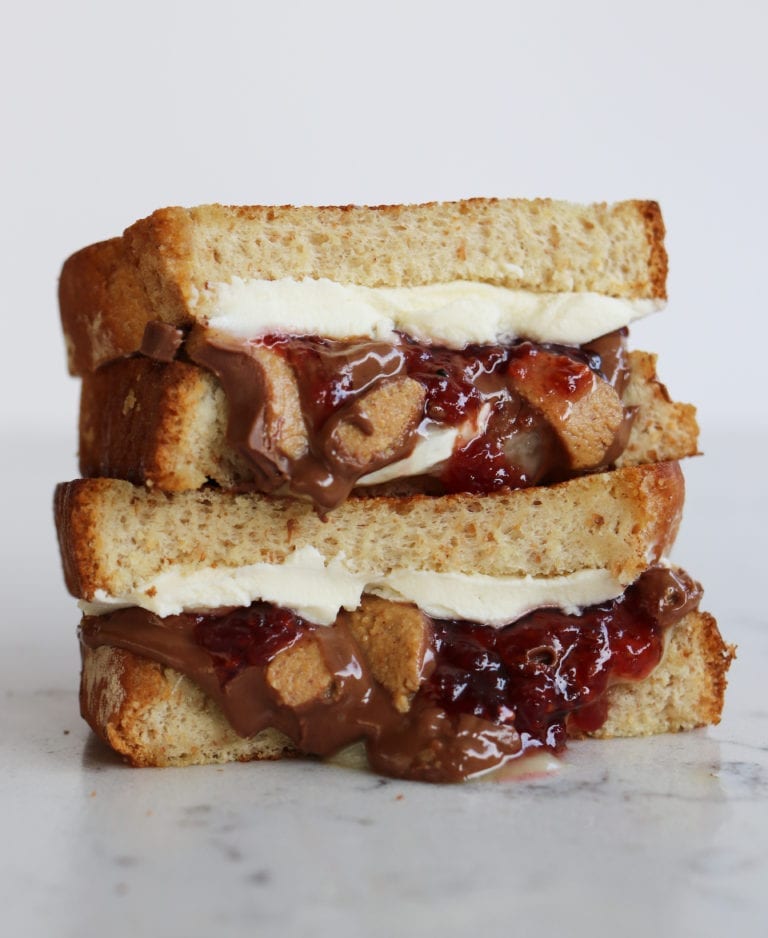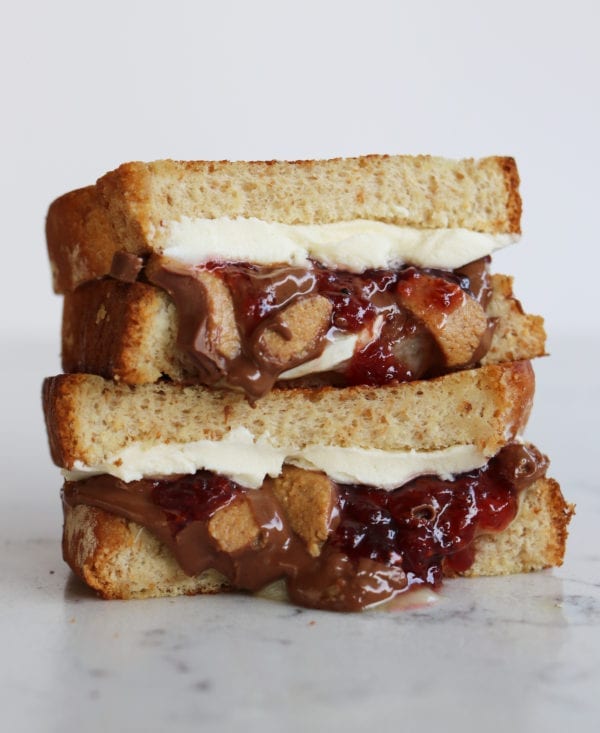 Chocolate Peanut Butter & Raspberry Jam Grilled Cheese
Happy almost Halloween friends! I still have no idea what I'm going to be tomorrow but I'm guessing it will be a mashup of all the random stuff in my closet. Maybe I'll tie some old costumes together and be a half Sailor Moon half Pikachu anime hybrid? Or maybe I'll take a creepier route and glue together my old Ronald Mcdonald and Guy Fieri costumes and zombie-fy them? Hmmmm... what shall I do? Decisions, decisions!
I guess I forgot about figuring out my own costume because I was too excited about Elo's first Halloween. And for those of you just now tuning in, Elo is my dachsund puppy and I'm freakin obsessed he's the cutest boy boy ever. See? I think we're going to go with this little fluffy sheep outfit because it's my favorite. We've got a few other options on the back burner but since we're having our very first cold front in Florida, I think the sheep outfit will keep him all warm and cozy.
OMG WAIT! Should I dress as Little Bo Peep?! Did i just figure it out!? lol.
Before I get into a four hour google sesh on how to make a homemade Little Bo Peep costume, let's get on with the recipe and the other fun thing I was going to tell you about - I'll be making this leftover halloween candy grilled cheese sandwich today (October 30th) at 12pm EST on Sara Lee's Facebook page so you should totally tune in!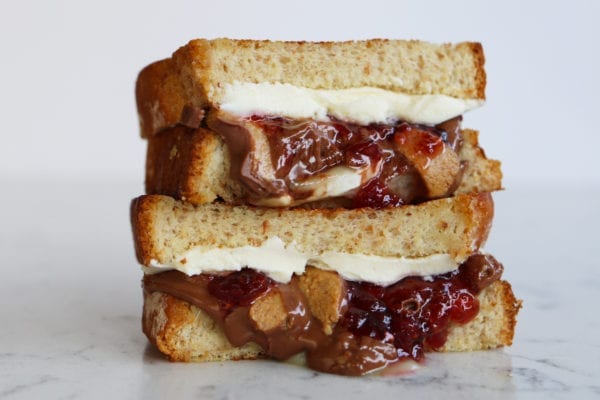 Recipe: Grilled Cheese with Brie, Mascarpone, Chocolate Peanut Butter Candy and

Raspberry

Jam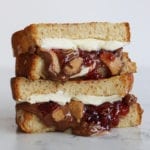 Print Recipe
Grilled Cheese with Brie, Mascarpone, Chocolate Peanut Butter Candy and Raspberry Jam
Ingredients
2

slices

of Sara Lee Artesano Golden Wheat Bread

3

slices

brie

2

tbsp

mascarpone cheese

¼

cup

chocolate peanut butter candy

roughly chopped

1

tbsp

raspberry jam

2

pats

salted butter

room temperature
Instructions
Begin by smearing the mascarpone onto one slice of Sara Lee Artesano Golden Wheat bread. Add chopped chocolate peanut butter candy and 1 tbsp of raspberry jam. Add the brie on top and then cover the sandwich with the remaining slice of bread. Evenly smear the butter onto both exteriors of the sandwich and set aside.

Grill the sandwich in either a panini press or a cast iron skillet until the bread is golden brown and the brie, mascarpone, and chocolate has softened and melted; about 5-10 minutes. Remove from heat and let sit for 1 minute before slicing in half.