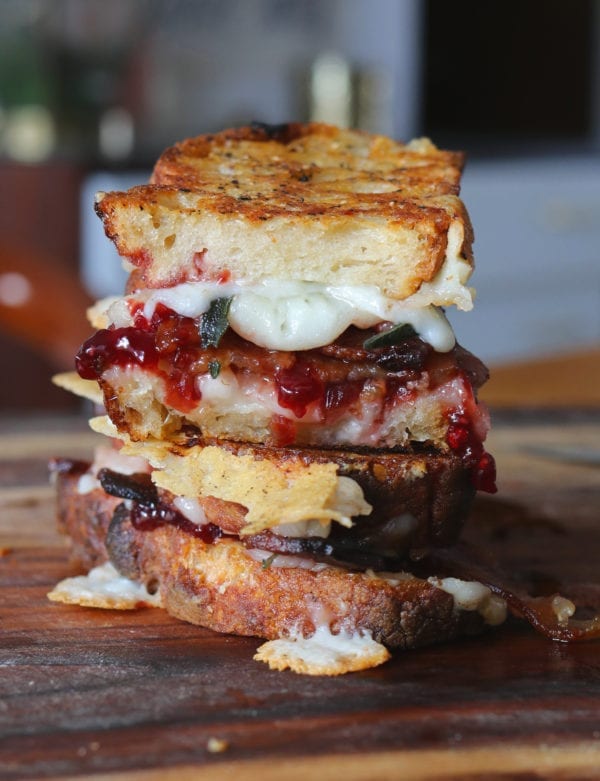 Baking and I do not get along. The idea of measuring a bunch of white stuff that all looks the same stresses me the eff out. I can never remember if I added a certain ingredient which then causes me to second guess myself and of course, ruin it. I've never been good at it and to tell you the truth, the idea of having to be all scientist-like gives me an automatic tension headache.
Last week when my friends from Brooklyn, Adina and Adam (my fav humans in the world/geniuses behind the skincare wonder-line S.W. Basics), brought me a sourdough starter, I internally panicked. I really wanted a sourdough starter, not because I knew what to do with it, but because it sounded awesome and I like to be optimistic about one day becoming a baking queen. Deep down, I knew that I would never use it, it would die, and I would have to apologetically tell them that I killed their 2 year old yeast baby.
What I didn't consider was that Jeremy, the boyffff, would actually be really, really into the idea of baking. He learned how to feed our new sourdough baby and got some of the baking basics down. A few nights into their trip, Adam and Jeremy surprised us and made fresh pita which was out of control amazing. Adina and I ate so much of it that we were literally full for 24 hours... which NEVER happens! #welovefood #jermthebaker
When they headed back to BK, Jerm decided try his hand at sourdough boule. He decided he'd try to eye it because he didn't realize that baking needs to be a super precise science, which made me lose my mind. I got so frustrated that I became a total bitch... which totally reinforced my negative feelings about baking -- love to eat it, hate to make it.
So after hours of watching him prep his little sourdough babes, I was being negative nancy and was 100% sure it was going to be a waste of time. At 10pm, I was still in a bad mood and he was beyond excited when he proved me wrong! His first loaves were fucking awesome and I'm pretty sure if I could have OD'd from bread, I would have happened that night. Sure, they weren't as puffy as the ones you see in the bakery, but they were perfectly salty and sour and it had just the right amount of nooks and crannies to make a perfect grilled cheese!
Because I put my foot in my mouth, I decided to make him a special grilled cheese to say "you're right, I was wrong, I'll never doubt you again, feed me more bread, me sorry!". And since this was such a sweet and sour experience, I decided to use some tangy goats milk cheddar, sweet and sour cherry jam, crispy fried sage leaves, crispy smokey bacon, black pepper spiked butter and of course - Jerm's sourdough!
RECIPE: Goats Milk Cheddar Grilled Cheese with Bacon, Sour Cherry Jam, Crispy Fried Sage Leaves + Black Pepper Butter on Sourdough
INGREDIENTS
2 slices of sourdough
3 slices of bacon
½ cup goats milk cheddar (by Montchevre Cheese)
1.5 tbsp sour cherry jam (by Dalmatia Fig Jam)
1 tbsp crispy fried sage leaves
2 pats salted butter
4 pinches freshly cracked pepper
So let's get to the INSTRUCTIONS part!
To begin, basically get your significant other to bake you some bread. It is very important that you don't lose your cool and get into a fight with them over this. Trust me, I learned the hard way. Jerm used The Kitchn's sourdough recipe and it is perfect for beginners! After a day or two of trials, errors, and mild arguing, you should have some really dope freshly baked bread. If not, no worries -- get some from the store! It will still be delicious no matter what.
Slice two pieces of bread and lay half the cheese onto one piece. Add a few dots of the sour cherry jam on top! If you don't have sour cherry jam, no worries, you could totally use raspberry or another tart flavor.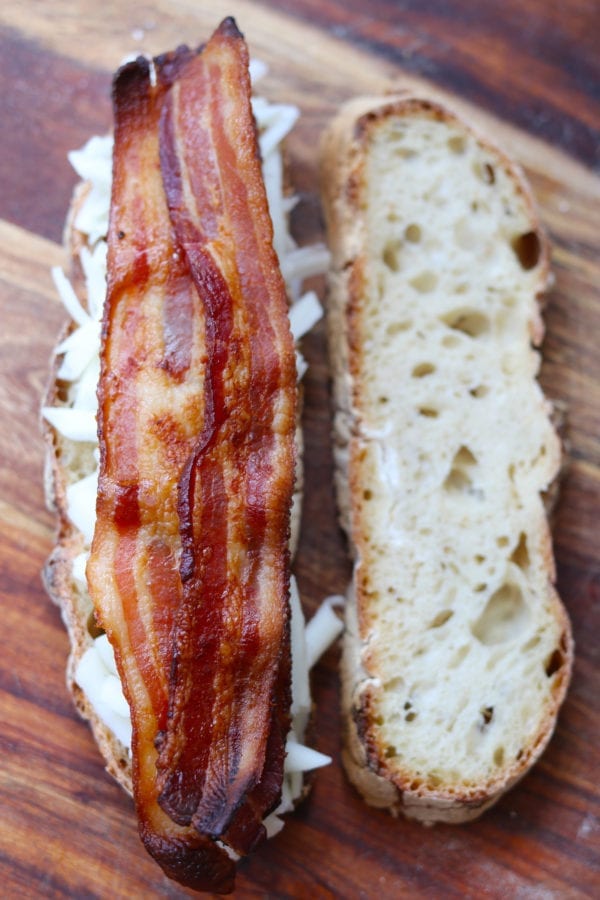 Then, add your bacon on top, stacking it high AF. As I always say, the bacon part is your call! Want more? Go for it! Don't want it at all? Feed it to someone who does!
Now it's time for the crispy sage leaves! These are super easy to make. Get some sort of neutral oil hot and basically just drop your sage leaves in there and let them bubble away. After a minute or two, carefully remove the leaves and place them on a paper towel. These are delicate so be careful not to break them. TBH, they'll still work but they're prettier when they're whole leaves.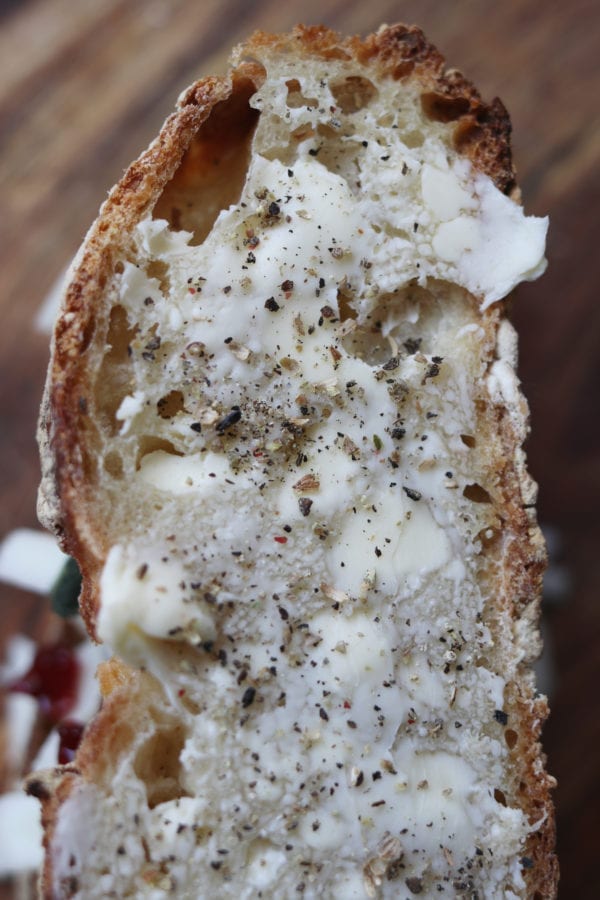 Next, place the rest of the cheese on top and then add the remaining piece of bread. Smear both sides with salty butter and add some freshly cracked pepper. If you think pepper sounds weird -- don't be afraid!!! Black pepper actually works really well with cherries AND goat cheese and it brings the perfect zing to this sandwich!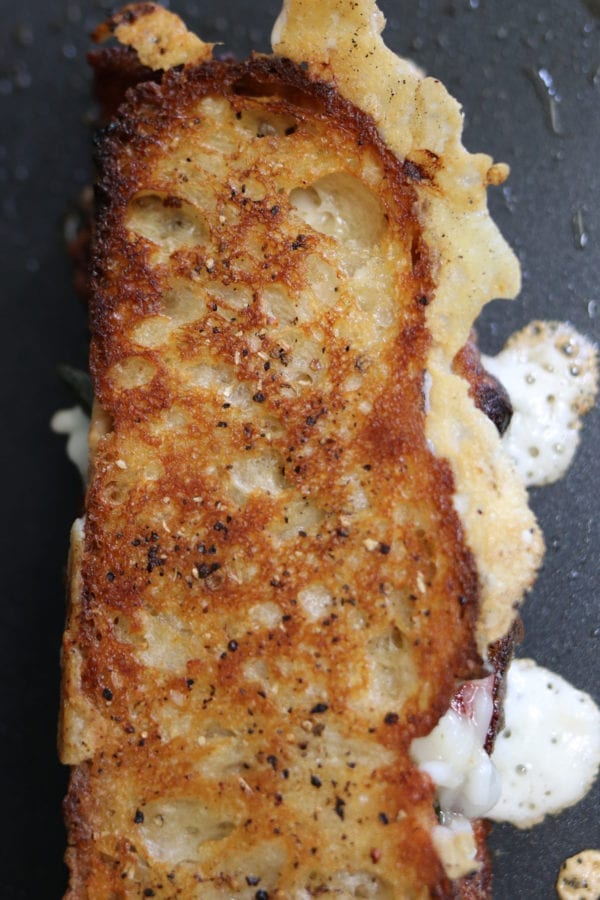 After that, either heat a panini press to medium-high or use a cast iron skillet and cook this sexy little grilled cheese until both sides are golden brown and all the cheese has melted into perfect gooey-ness. Let it rest for a few minutes to bind back up and then serve!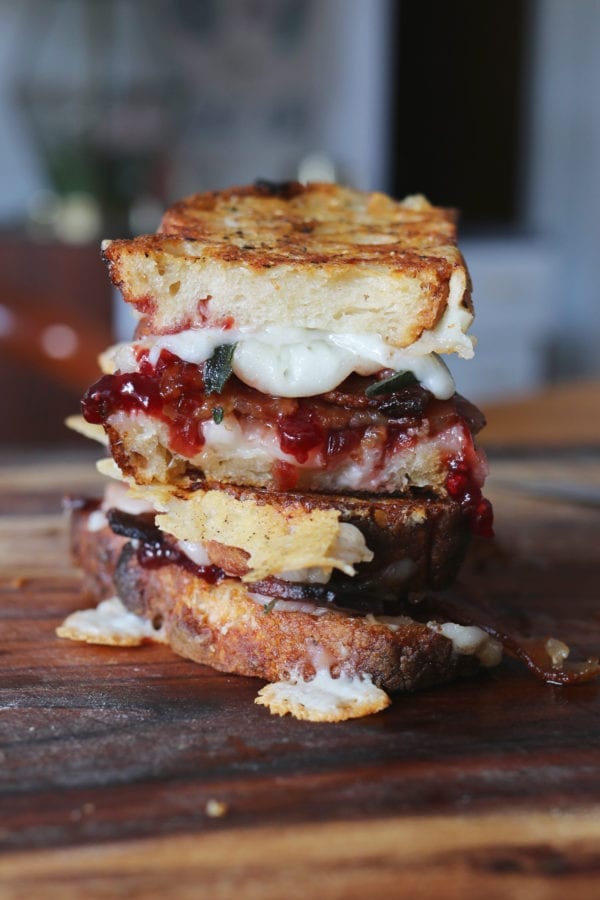 This is one sexy grilled cheese, ain't it? And if you want to see me making a certain type of cheesy recipe, comment below! Don't forget to check back in Thursday at 11am EST to watch me on The Food Network's Facebook Live!
xoxo,
GCS