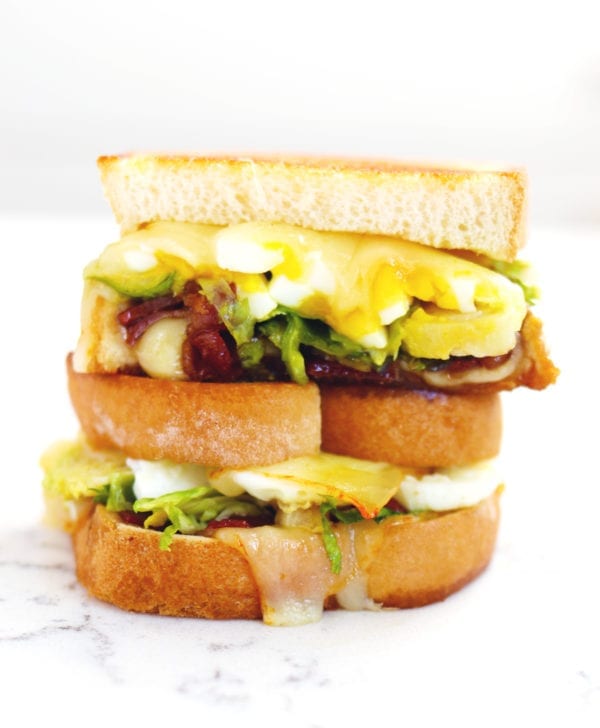 Omg can you believe that National Grilled Cheese Month is almost over! It's been such a busy month for me and I'm so sad to see it come to an end! I had such a spankin' good time working with Sara Lee Bread and Wisconsin Cheese and I am so thankful that we got to do such cool stuff! This morning when I woke up, I was actually bummed that NGCM is almost over until I realized that there's no reason to ever really "end" grilled cheese month -- especially since American's eat 2.2 BILLION GRILLED CHEESE SANDWICHES EVERY YEAR! Crazy, right??
But yeah, not sure if any of y'all saw me on your morning news this month, but Sara Lee conducted a grilled cheese study (yes, you read that correctly) to find out the ins and outs of everyone's favorite sandwich and I talked about the findings on almost 50 different morning shows! You bet your booty that there were some interesting discoveries... most importantly, some stats that I unapologetically identify with!
Of the 2,000 Americans that were surveyed, it turns out that us blondes really do have more fun! Over 82% of the surveyed blondes said they'd be super stoked to ditch the traditional bread, butter, and cheese combo and try unique ingredients in their grilled cheese sandwiches. As a blonde who's been writing a grilled cheese blog for almost 7 years now, I can totally identify with this. I love trying new sandwiches and I'm friggin' obsessed with getting creative in my grilled cheese life! Uh duh.
In addition to that, we also found out that there are two very distinct types of grilled cheese eaters - the traditionalists and the adventurists. With the traditionalists (aka the purists) clocking in at just over half of the study, they agree that there are only really two types of cheese for a GC -- American or Cheddar. I found this quite surprising considering that almost two thirds of the total people surveyed said they'd be willing to try a mystery grilled cheese.
I'm not too sure what gives, but since the purists don't really need me to craft them up a traditional grilled cheese, I put my energy into coming up with crazy concoctions that will please almost everyone! This candied bacon, 7 minute, and shaved brussels sprouts grilled cheese is next level and is pretty darn delicious at anytime of the day. So yes, let's get to it!
RECIPE: Brussels Sprouts, Candied Bacon, 7 minute Egg + Muenster Grilled Cheese
INGREDIENTS - Quick Candied Bacon
½ cup chopped bacon

⅓ cup brown sugar

1 tbsp red wine vinegar

¼ tsp chili powder

1 pinch cayenne pepper
INGREDIENTS - Sandwich
INSTRUCTIONS - Quick Candied Bacon
Begin by cooking the chopped bacon in a pot over medium, stirring consistently, for about 10-15 minutes or until the bacon begins to get crispy. Drain fat and add brown sugar, red wine vinegar, chili powder, and cayenne pepper and stir. Continuously stir until the mixture until liquid has reduced and the bacon has a thick, sticky coating. Set aside.
INSTRUCTIONS - Sandwich
Begin by boiling water. Add egg and cook for 7 minutes. Remove egg and shock in ice cold water. Peel, slice into coins, and set aside.

Add half of the muenster cheese to one slice of Artesano Bread. Add sautéed brussels sprouts, 7 minute egg, quick candied bacon and the rest of the Wisconsin cheese. Top with the remaining slice of Sara Lee Artesano bread and butter the exterior of the sandwich.
Grill the sandwich in either a panini press or a cast iron skillet over medium heat until both sides of the bread are golden brown and the cheese has melted; about 5-10 minutes. Let the sandwich rest for 30 seconds before serving.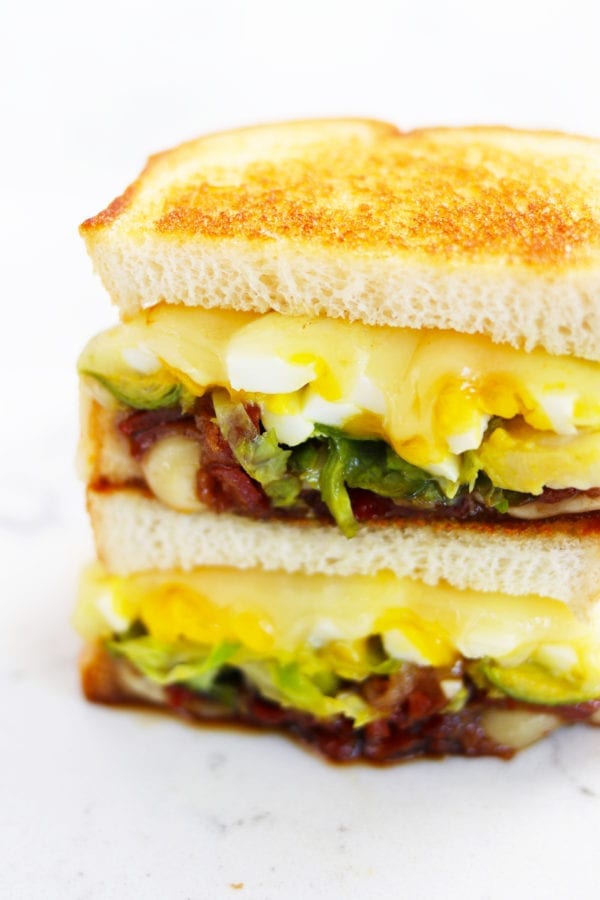 Thank you all for following along! I'll be back to post in a few days with a super tasty fish taco recipe!
xoxo,
GCS