Can y'all believe it? This young girl right here did her first Facebook live segment for the Food Network yesterday! In all honesty, it was super stressful but also really fucking awesome at the same time. Yesterday I experienced first hand that there's a huge difference between shooting a cooking video, editing it down to perfection, and then presenting it in tip top shape to your audience that makes it a breeze. This, on the other hand, was a different beast.
While hosting a Facebook live session, there's no re-do's or second tries, there's only right then, right at that exact moment. So yesterday, when a quarter million people watched me make one of my favorite grilled cheese sandwiches, stuffed full of avocado, quick candied bacon and a fried egg, they also saw me almost black out from anxiety.
Luckily I had my two best helpers (also known as my boyfriend Jeremy and my mama Sheila) there with me to make sure I didn't faint or slice off a finger or have any of the other ten million things happen that could go wrong. Jeremy was on the camera, and my mom was in the background, ready to spring into action in case something unexpected happened.
I should have known that something was up as my mom's facial expression went from a super stoked smile to more of an omfg i'm scared face. She automatically mouthed to me (at least what I thought she mouthed to me) "fix your hair" and did a little tuck the hair behind the ears motion. So I did. And I did again. And I kept doing it as my mom kept repeating her movements with an exaggerated stressed out motion. I still didn't get it. I was clueless.
I kept fixing my hair and became more and more sidetracked with what was happening with my mom's body language. Did I have butter in it? A bad fly away? I had no idea. I called a freaking avocado a vegetable for Christ's sake! It was only later did I find out that her simple "fix your hair thing" wasn't that at all. She was telling me, along with 200 other viewers, to STOP TOUCHING MY HAIR! No one likes hair in their food and I was breaking some major kitchen hygiene rules. Rules that I know by heart and abide by on the regular. But, that's the thing with going live. Rules don't matter, only your nerves do.
When the camera stopped rolling and i figured out what was happening, I lost it. And not like – lost it, went home and gave up on life kind of lost it – I lost it like a 15 year old hormonal girl that's mad at her mom for not letting her stay out on homecoming night. It was like an out of body experience. And even though my Mom and Jeremy told me I did a great job, I was shaking from the adrenalin, I was upset that so many people were hating on me, and my brain had practically turned to mush. I yelled at my mom, started crying, and did this all in front of one of my favorite dachshund-owning regular hotel guess. Pretty professional, right? Yikes.
**wipes tears from eyes and texts mom when thinking about it again**
But hey, luckily my mom's my best friend and she forgives me for pretty much anything. I realized that it wasn't her fault that I was nervous and not understanding what she was trying to help me with. It wasn't her fault that there were a million people on the internet saying that I'm not professional because I kept nervously playing with my hair or that they would never eat my food because of it.
In reality, those things are not important at all. What important is that I got the opportunity to do something really freaking cool and I did. Regardless of my mistakes, my overwhelming fear that I was hiding deep down inside, and my tongue-tied ness, I still did it. I went live for the Food Network and didn't die or slice of a body part. And not to brag, but the Food Network was pretty stoked on it, too.
But yes, lesson was definitely learned. Don't nervously touch your hair when you're cooking live. Don't hide the soap when you're making your kitchen look clean for the video – you might want to wash those hands! Don't get upset with yourself or your loved ones for making mistakes on your first try. And most importantly, always, always, ALWAYS, pay attention to what your Mama is trying to tell you!
So for those of you who'd like to make it yourself and are not totally grossed out by me, here's the recipe!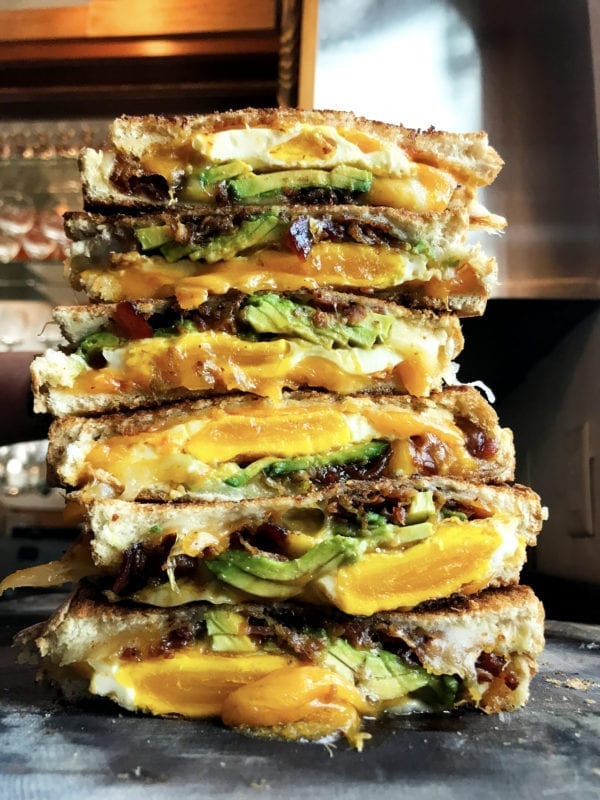 Fried

Egg

, Avocado + Quick Candied Bacon Grilled Cheese with Muenster + Goat Cheese

Ingredients – Quick Candied Bacon
1/2 cup chopped bacon
1/3 cup brown sugar
1-2 tbsp red wine vinegar
1/4 tsp chili powder
1 pinch cayenne pepper
Ingredients – Grilled Cheese Sandwich Sandwich
2 slices thick cut white bread
3 slices muenster cheese
1/3 fresh avocado, sliced
1

egg

, cooked over medium
2 tbsp quick candied bacon
1 tbsp goat cheese
2 tbsp salted butter
salt and pepper
Instructions for the Quick Candied Bacon
Begin by cooking the chopped bacon in a pot over medium, stirring consistently, for about 10-15 minutes or until the bacon begins to get crispy. Drain fat and add brown sugar, red wine vinegar, chili powder, and cayenne pepper and stir. Continuously stir until the mixture until liquid has reduced and the bacon has a thick, sticky coating. Set aside.
Instructions for the Grilled Cheese
1. Lay one slice of bread on a cutting board and add 2 slices muenster cheese. Add 1/3 of an avocado and hit it with a sprinkle of salt. Add an over medium

fried

egg

and the quick candied bacon. Sprinkle on the goat cheese and add the remaining slice of muenster cheese. Place the remaining piece of bread on top and butter the outside of the sandwich.
2. Grill the sandwich for 7-10 minutes or until both sides are golden brown and all the cheese has melted. Remove from heat and enjoy!
And I'll say it again in case she reads this, but I'm sorry Mama! I love you and Happy Birthday! <3
xoxo
GCS