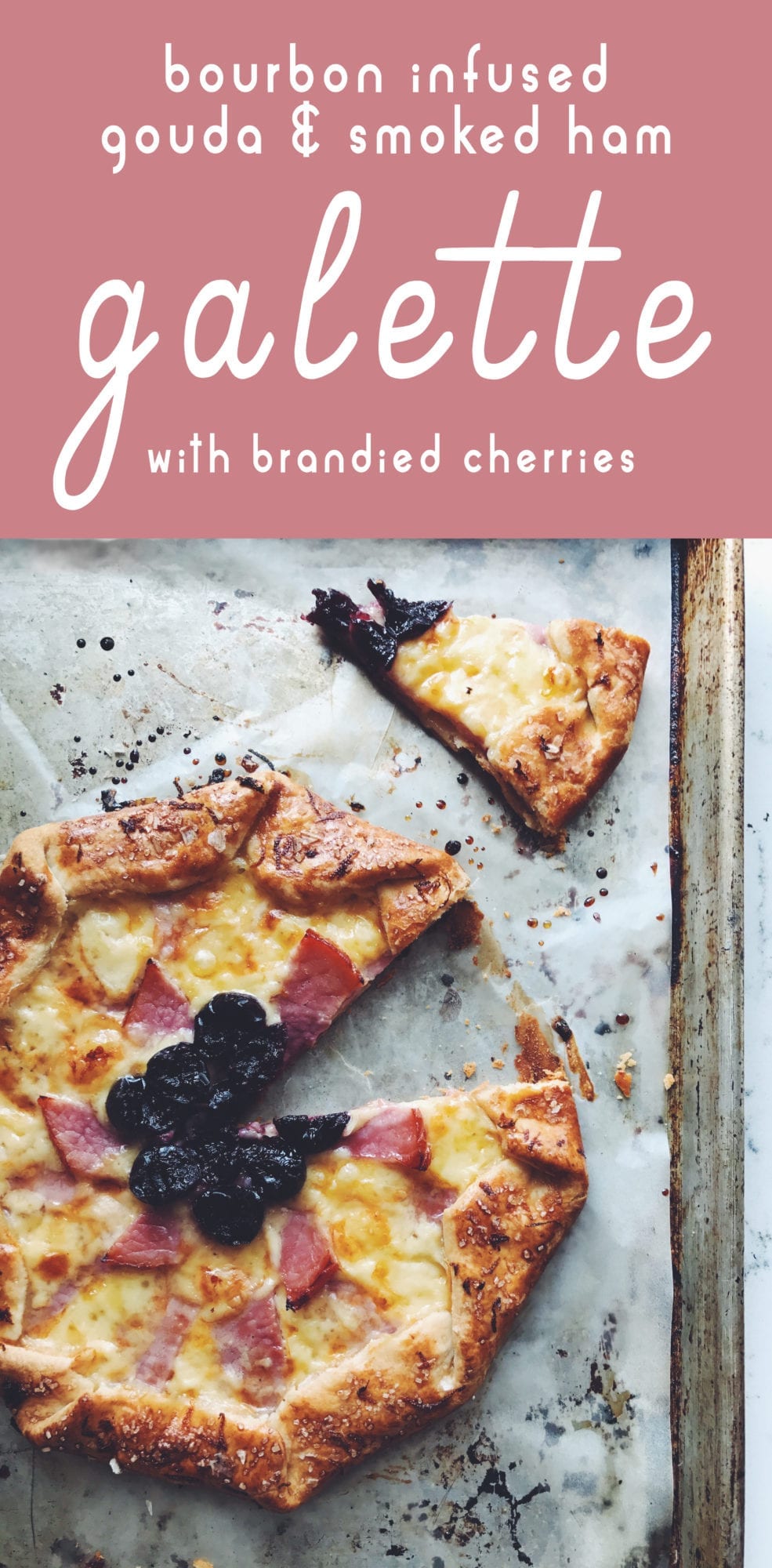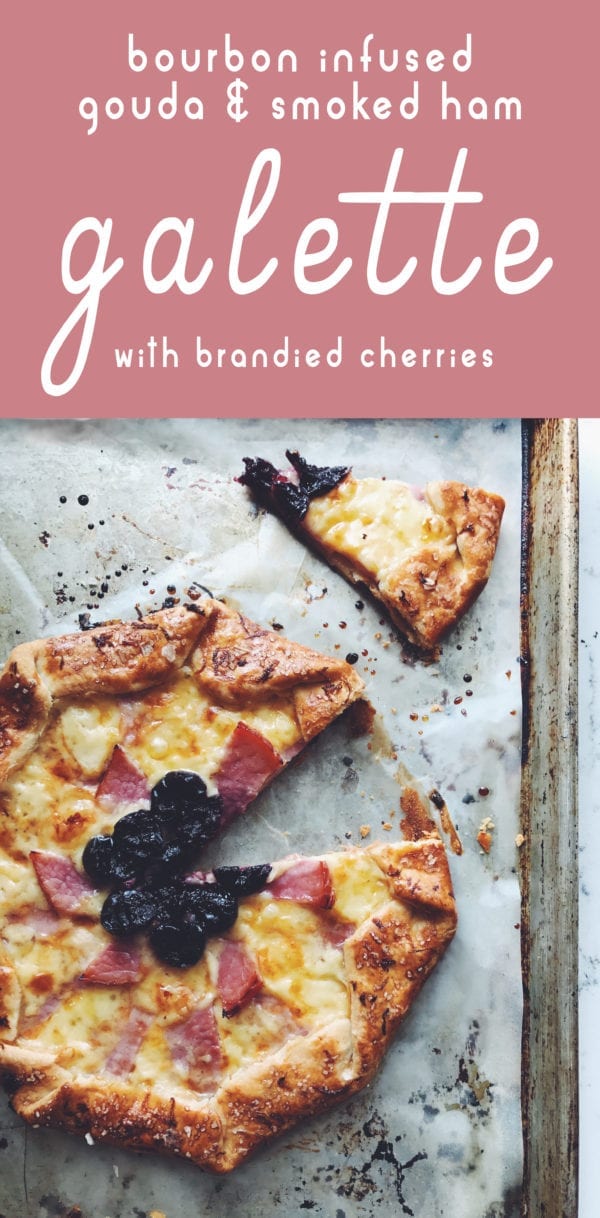 I think most of us can agree that there's truly nothing better than the combination of cheese, pork, and whiskey. When you combine those said ingredients into a delicious and gorgeous galette, the results are totally sinful and utterly magical.
During the holiday season, you're probably faced with the unavoidable responsibility of bringing a dish and/or drink to your friends holiday parties . "Come over" they say, "Bring something yummy" they say. As if it's that easy. I don't know about y'all but when I'm faced with so many options, it can be super hard to know where to start! 
When I hear this vague request, I automatically go into a tailspin of deliciousness. I could bring a cheese plate, people always love that. Or maybe bring chips and salsa, that'll give me time to wash my hair and maybe put on some makeup before the party. Or I could step the hell up and make this sexy galette that my friends will ooh and ahh over. So yes, let's go with the third option. It doesn't take long, there's basically no prep work and I can pair it with an old fashioned cocktail that will surely make everyone feel all warm and fuzzy.
And if you can't already tell, this galette is what happens when you transform this libation into a drool worthy dish.
So rather than roll your eyes at holiday cheer,  bake this bad boy! Hot and melty hickory smoked bourbon infused gouda by Wisconsin's Red Apple Cheese baked between thick chunks of salty smoked ham topped with strong brandied cherries, and set in a sweet and salty pie crust that's sprinkled with orange zest. And best of all, you can get the whole thing (shopping included!) done within an hour. So let's do the damn thing, right?!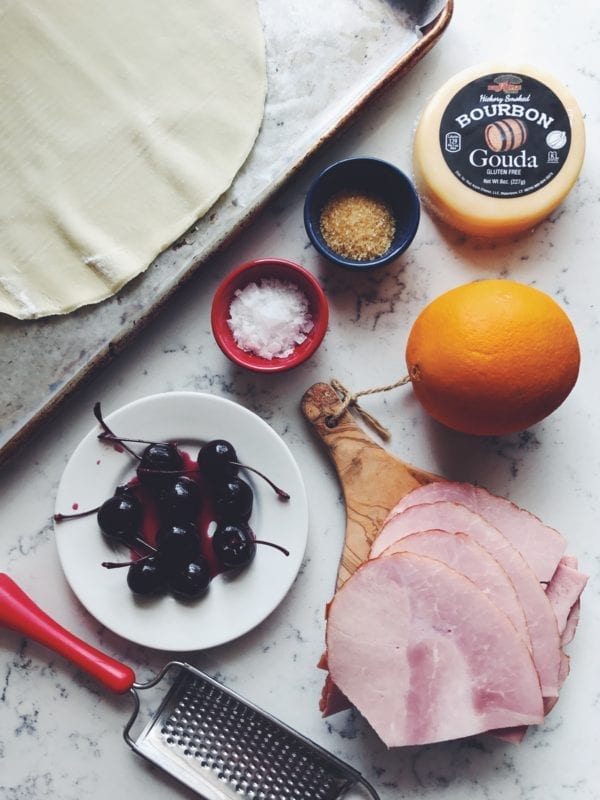 INGREDIENTS
1 store bought pie crust, thawed and pliable
½ lb thick cut smoked ham
⅔ a wheel of bourbon gouda by Red Apple Cheese
2 tablespoon brandied cherries
1 egg, beaten
½ tablespoon brown sugar
¼ teaspoon flake salt
zest from one orange
To begin, preheat your oven to 400 degrees fahrenheit. Next, chop your ingredients into little domino sized pieces. Then roll your pre-bought pie crust onto an un-greased baking sheet lined with wax paper. Starting about an inch from the outside, create your first ham and cheese ring. Place one piece of cheese followed by a piece of ham. Repeat the pattern in a circular rotation until the outer circle is complete. Next, repeat the process and create a smaller ham and cheese circle on the inside until it looks like the picture below. Finally, fill the center full of brandied cherries.
Then, using both hands, fold the pie crust over the outside of the larger ham and cheese ring, pinching it to stay put.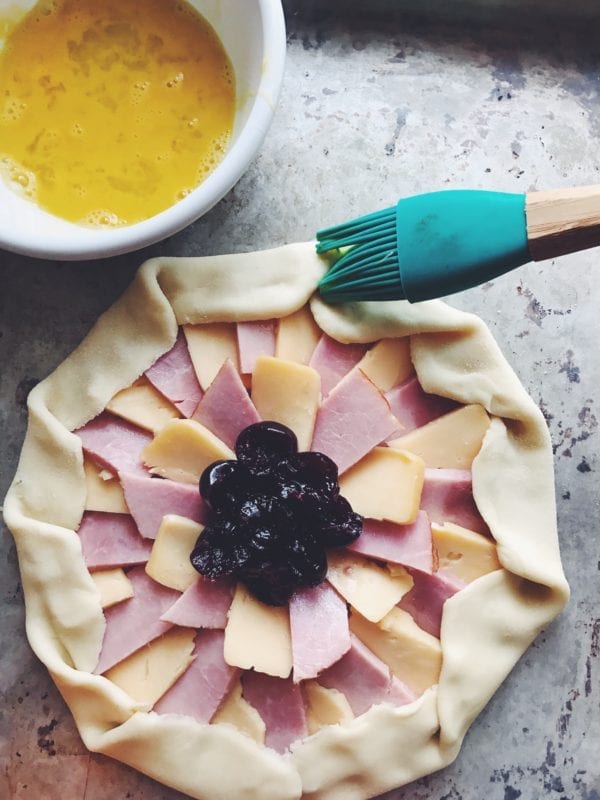 Using a brush, gently brush the pie crust with your egg wash and sprinkle with the salt, orange zest and half the sugar. Sprinkle the rest of the sugar onto the ham and cheese dominos.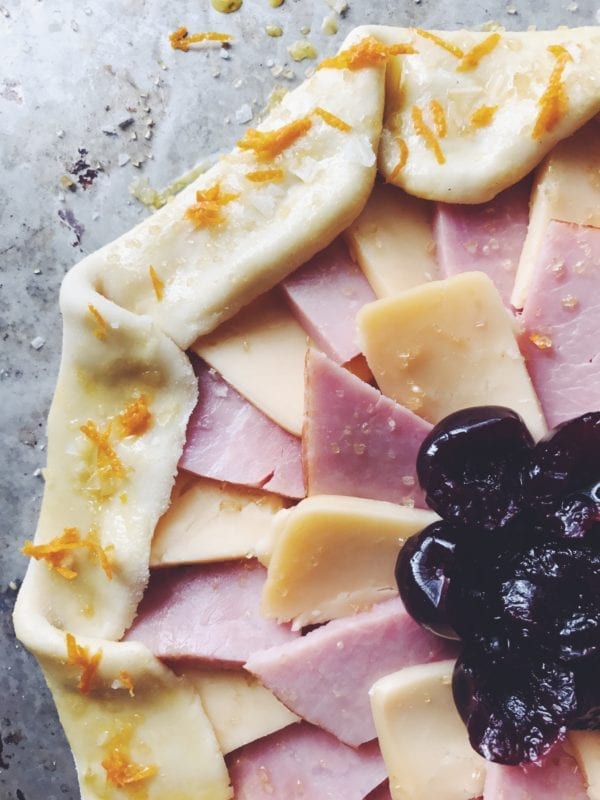 Then, put the prepared galette in the oven and let it cook for 30-40 minutes until all the cheese has melted and the pie crust is a beautiful flaky golden color. If your cheese or a part of the crust begins to burn, try tenting it with a sheet of tinfoil and pray to jeebus that it stops it from overcooking. Jk, it works. Don't sweat it, you'll be fine.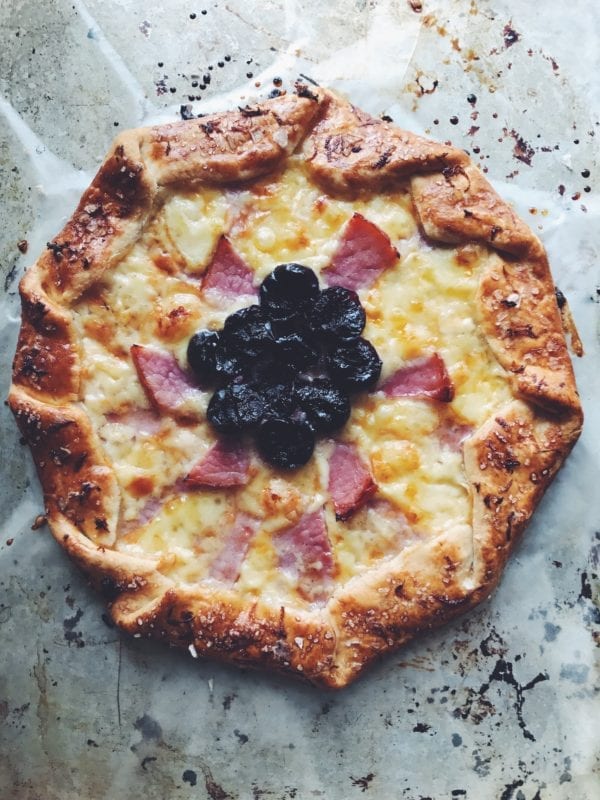 Lastly, let the galette rest for a moment so the cheese has a chance to thicken up. This way, when you cut it, it won't ooze out all over the place.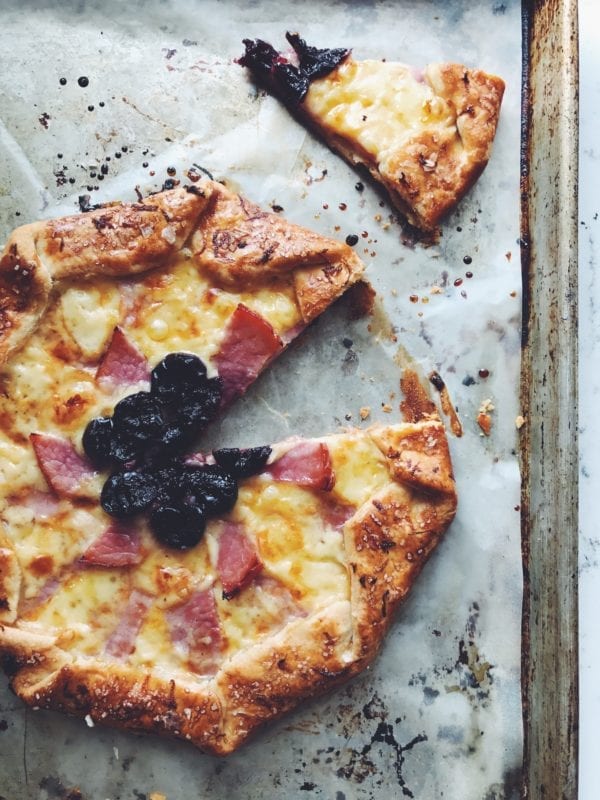 Oh and how could I forget to share a drink recipe to pair with this galette?!
Here's my spin on a classic old fashioned cocktail, except this version is made with rum... Rum that has been aged in bourbon barrels! Sounds fun, right?!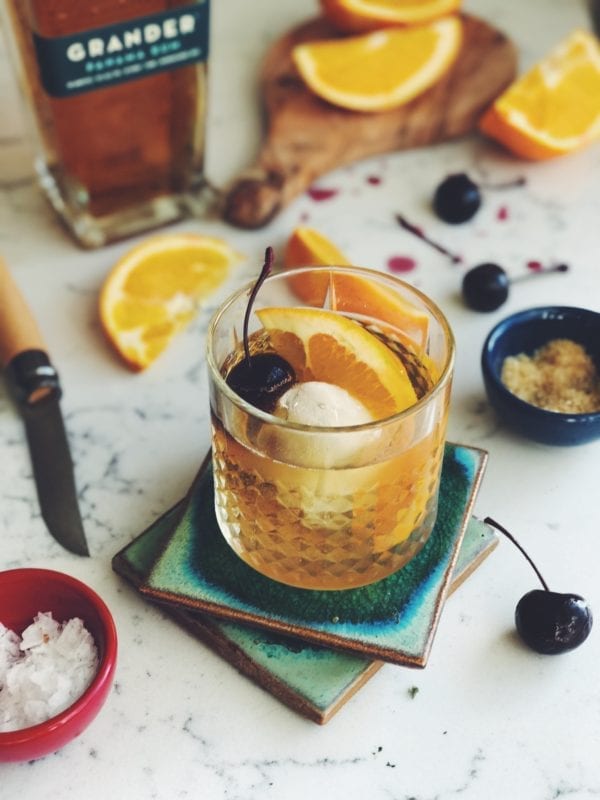 INGREDIENTS
2 ounces Grander Rum
¼ ounce Demerara Simple Syrup
2 dashes Angostura Bitters
Stir ingredients over ice and strain over a large ice cube in a glass. Garnish with an orange peel and a brandied cherry. Serve with this dank ass galette that magically has the same flavor profile. No duh.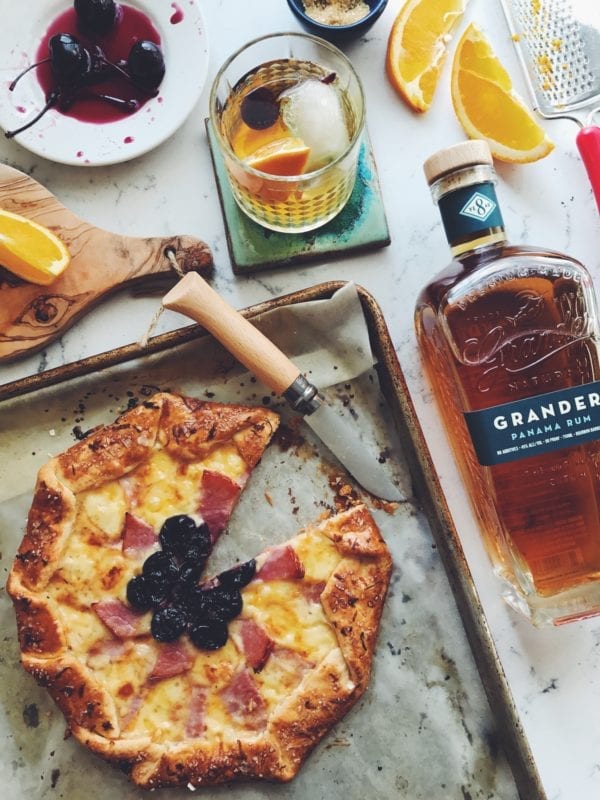 In conclusion, hell yes, bring this to your holiday party and you'll probably get kissed even without the mistletoe! Oh, what was that? You don't want to get kissed? Then quit being so damn hot already, ok? Jk, love you guys.  Byeeeeeeeeeee!
xoxo,
GCS