Ah man. So I just spent the last month outside of the US and let me tell you something - Damn, does Europe got it going on! I started my travels in Hamburg, Germany, where I ate all the food that could possibly fit in my body... and then some. And after eating to the point where all I could wear were my leggings, I decided to give back and do a pop-up at my friends super swank sandwich shop, Luncheonette, which as you can imagine, was super fucking fun.
You see the idea of a gourmet sandwich doesn't really exist over there so my friends started their shop to basically show them what they're missing. Most of Hamburg's sandwich creations are pre-made window displays that cost like 3 euros and consist of a small baguette, cheese, and some sort of ham product. Unlike here in the good ole US of A, there's not really a booming sandwich scene. No crazy innovations like putting potato chips on sandwiches (!!!) or swapping ramen for bread (ok, so I did have a ramenburger in Berlin... but still) or melting cheese over anything and everything that's imaginable. But they do have one local sandwich that's totally blowing up... and that is, you guessed it, THE HAMBURGER!
I don't know if I'm correct but I bet there's more speciality hamburger stores in Hamburg than anywhere else in the world. And ya know what, surprisingly, this trend is NEW! Who would have thunk it? I mean you'd guess that a city whose name resembles one of the best sandwiches in the world would have had the lead on this... but nope. It's a recent thing! So before I keep talking more about my time in Hamburg and ruin all the fun stuff for my Hamburg travel post, I'll get to the point. With a little help and inspiration from my hamburger homie, Dane DiLiegro, professional hottie/basketball star and creator of MidnightSnackBeast.com, We created an oozey, gooey, crispy, crunchy, sweet, and spicy grilled cheese burger that will make you cream your jeans. It's got chipotle and cranberry cheddar from Wisconsin, a grass fed beef patty, homemade pickled shishitos, Sir Kensington's ketchup, and crispy fried shallots on a buttery onion bun. Let's get it on.
Ingredients
1 onion roll
⅓ pound beef patty (I'll tell you how I made mine below)
3 ounces of cranberry chipotle cheddar
1 tbsp pickled shishitos (recipe below)
½ tbsp Sir Kensington's Ketchup
2 pats salted butter
2 tbsp crispy fried shallots
So to begin, you'll want to start by finding the biggest onion bun you can. Once you've got it in your hand, stare at it until you feel like a real weirdo. This will create an everlasting bond. Then take a serrated knife and basically shave off the top crust and the bottom crust. Now treat it real good and smear some of Sir Kensington's finest all over one side.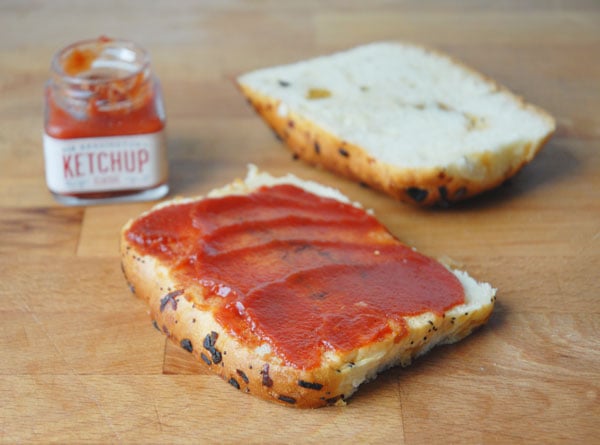 Now it's time to get serious and lay some of the cranberry chipotle cheddar. It's a rich and creamy Wisconsin Cheese, made by Carr Valley, that's got sweet dried cranberry chunks and spicy little veins of chipotle. It's basically amazeballs.
BURGER TIME. Ok, so I am one of the girls that like the men to do the grilling so learning how to make a burger took me a few tries but I really think I found the trick. After about a million disgusting mishaps, I discovered it's all about the smash method.
So, follow my lead and pack your burger into a perfect circle. I had really awesome beef so I only added salt and pepper to the outside. I heated up my cast iron skillet for a few minutes on high and basically just plopped my burger ball down right in the middle. I let it sizzle and fry for a few minutes until it developed a little crusty area. Then I flipped the burger and mashed it down to the size of the patty that I wanted. The little crispy zone helps the entire burger stay together and is vital to the process. Once the other side looked pretty, I flipped it back over and let the first side cook for a few minutes, until it passed the palm-of-the-hand doneness test. Then I plopped it on top of the bread, ketchup, and cheese.
Then I added some of my ho-made quick pickled shishitos. I don't know why you don't find more pickled shishitos because they're really effing good and super easy to make! I basically just got some shishitos at the farmers market, tossed them in sugar and a little bit of salt and then hit them with some ricewine vinegar, water, a juniper berry and 3 peppercorns. I let them sit for 2 hours because I was antsy but they could totally chill in the pickling liquid for a few weeks.... I think? Don't necessarily quote me on that.
Now add the rest of the cheese and the other piece of bread. Butter that bad boy and set it aside.
I cooked this on my Breville panini press (pick one up here) because it's the only thing that I use these days, but you could do it old school in a frying pan or cast iron skillet. Just turn your heat to medium, the perfect temp for grilled cheese, and let let your sandwich cook one side at a time until it's golden brown and the cheese is melting just like my heart after watching this video. Take it off the heat when it's crispy and after it sits for a minute, open it up and top it with some of the crispy fried shallots. To make these, just chop some shallots into rings, soak 'em in buttermilk and then coat them in seasoned flour. Fry for a few minutes at like 360 until they're the desired crispiness.
Close the sandwich back up and then invite your crush over to join you. I bet you guys will totally make out afterwards.
Burger Dreams.
Xoxo,
Grilled Cheese Social