Guys, I am so excited! It's finally cooling down. It feels as if the gates of hell have lifted from my kitchen. Because of this, I've been paying a lot of attention to my out-dated and temperamental lovely "vintage" appliances. I sure missed them. When the highs were hitting around a thousand degrees, making anything that required more than fifteen minutes in the kitchen was off-limits. I just couldn't do it, the heat was excruciating and exhausting. I even had a weak moment where I thought about taking a break from GCS. I'm not being a baby, either. Sure, i miss central AC and all the wonderful times we had together. But it got to the point that every time i whipped up a new sandwich for a post, my entire apartment ended up feeling like a gigantic blow-dryer with a heat-seeker had gotten out of control.
So yeah, now that it doesn't feel like an exhaust pipe from the L train (do they even have those?) is funneling into my house, I'm finally taking a stab at all the recipes I've been hoarding saving over summer. One of the first on the list – eggplant caponata. Oh yes.
Of course I ended up with way too much, so here's a teaser to what I did with those leftovers: Deep, rich, and sweet caponata jam balanced out by creamy and tart goat cheese. Fresh mint is hanging out in the mix™ as well, to give a nice pop of herbal brightness that refreshes and cleanses the palette. Oh and I can't forget the super nutty and hearty whole wheat bread that acts as a crispy buttery case that encapsulates all this warm goodness.
THE GOODS:
Ingredients
• about 2 heaping tbs of Sweet Grass Dairy Goat Chevre
• 2 pats of salted butter
• 5-10 fresh mint leaves
• 2 slices Balthazaar's multigrain bread
• 2 tbs of Caponata Jam
(combine 1 tbs of eggplant caponata
with 1 tbs fig butter or preserves
)
There are so many varieties of goat cheese. I really like this chevre from Sweet Grass Dairy (I mean, let's get real, I like EVERYTHING from them) though. Like a lot. It's creamy, tart, and smears on really well. It's not very chalky and I found that it works really well for grillin'.
Sooo anyways, back to the point, MacKenzie.
Smear on some of that good stuff. About a giant heaping tbs for each side.*
*obvs more or less depending on your bread size. You want just a nice thick and delicious layer and that's all that matters. Smear your heart out*
Now for the Caponata Jam. I had some of this delightfully sour and sweet eggplant dish left over and I thought it could be an interesting ingredient for a GC. As i was dreaming up some concoction, I began to think about the played out classic pairing of caponata and goat cheese. And although I feel like this combo is boringly delicious, it's been overdone. You probably even had the combo smeared on top of some dried out crostini at your little brother's basketball banquet. Or some other cutting edge event like that.
But ya know what? I couldn't let this routine pair make an appearance on one of my sandwiches. No way. Ick. So ya know what I did? I made a jam out of it. Not the fancy go-all-out-and-can-it-jam but rather a simple combination of sweet fig butter and tart, slightly tomato-y caponata spread.
So follow my lead and smear on about 2 tbs of this bright and sweet spread which will balance out the lip-puckering goat cheese.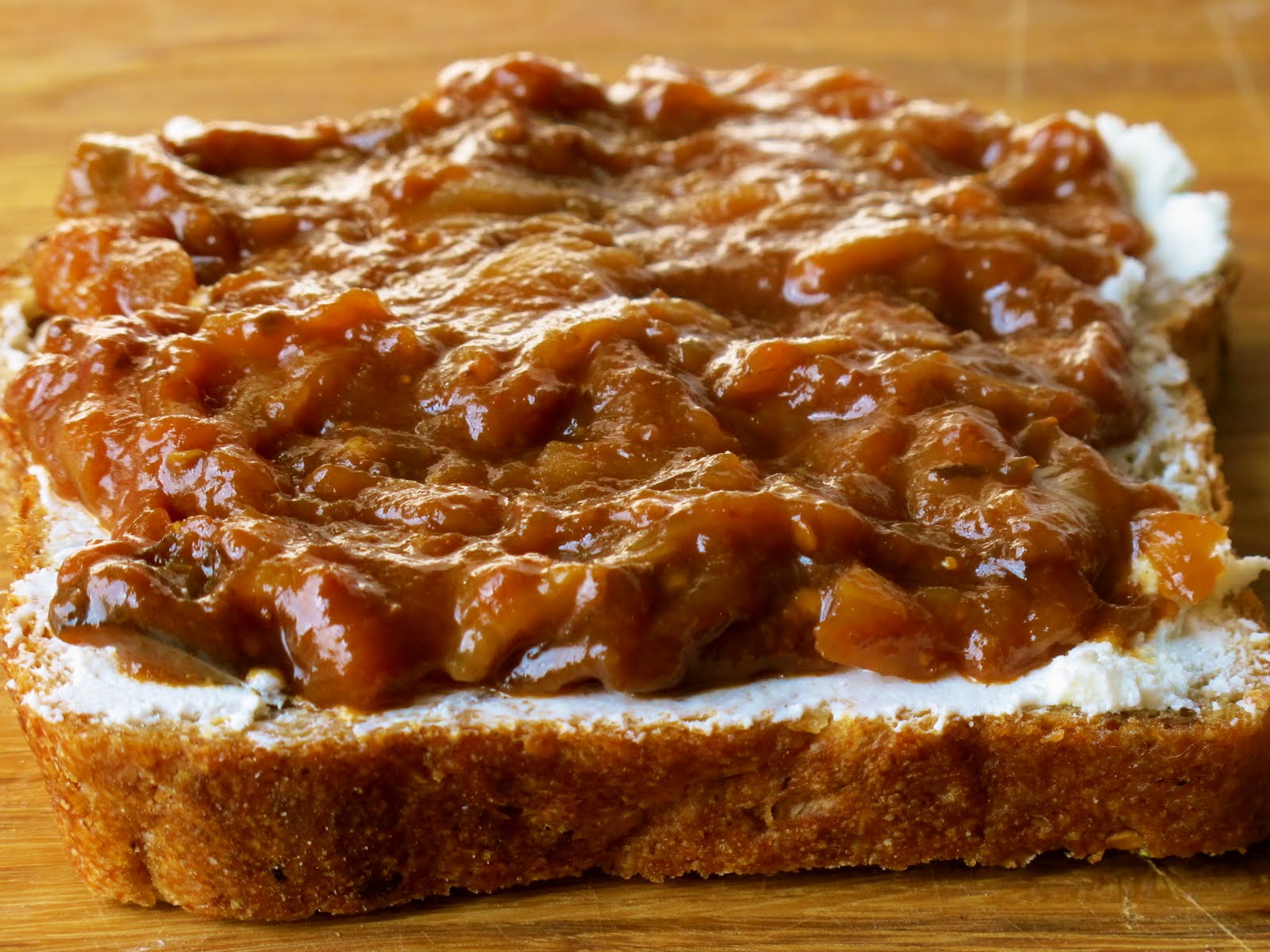 After that comes the mint leaves. There's nothing like fresh mint. It's bright, citrus-y, and has the ability to balance out rich dishes by leaving a cool and refreshing aftertaste.
You'll want to just place a couple of the little green leaves on top of the caponata. Or if you're like me and have a mild case of OCD, well then arrange them in beautiful little straight lines. Now do this four more times until they are absolutely perfect.
Then place the other piece of bread on top and smear some salted butter on it. I always use salted butter because…well…because i like it.
OK? Is that so wrong?
Unsalted butter is boring.
Now heat your skillet up to medium high and place your sandwich in. Butter the other side and grill for about 4 minutes (or until it gets that nice golden crust) and flip it. Repeat for the other side.
SEE? This is what's up. F'real.
After it's all beautiful and bronzed (Not bronze as in Snooki bronze, but yeah, the above kind of bronze) take it off the heat and let it sit for about a minute or at least until it's cool enough so that your fingers don't burn off when you are trying to feed your face.
Stay tuned for next week, because I'm beginning my AWESOME WAYS TO MAKE GRILLED CHEESE SERIES which will feature…well… awesome (and innovative!) ways to grill-up your all time favorite sandwich, the grilled cheese.
xoxo,
GCS