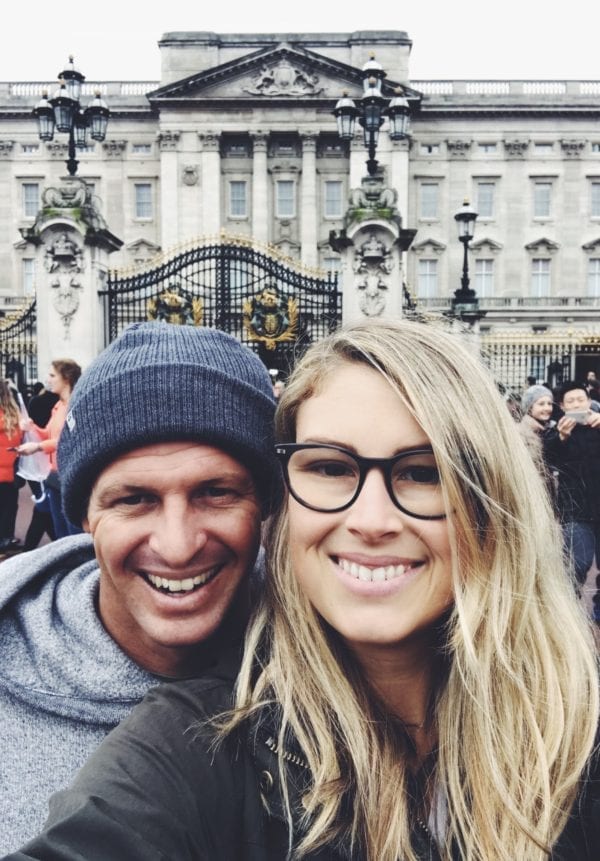 Traveling to London and want to know the best places to eat and the hippest street food markets to hit up? Check out our Foodie Guide to London below!
Alright, alright, alright!! Yo girl is almost done with the book (about ½ month of edits left!) so you know what that means?! The blog is about to be back in action! And since I've been neglecting it for so dang long, I figured my first post back would be alllll about our last trip to London!
Sure, you've probably heard that Brittish food is pretty bland, but I have to be totally real and say that shit totally bologne! This trip was packed full of insanely delicious meals, incredible street food vendors, and so much cultural diversity that it made NYC look vanilla AF. We ate so much good stuff, walked like 50,000 steps a day, and did our best at seeing all the sights. Before I blab on any longer, let's talk about our recommendations!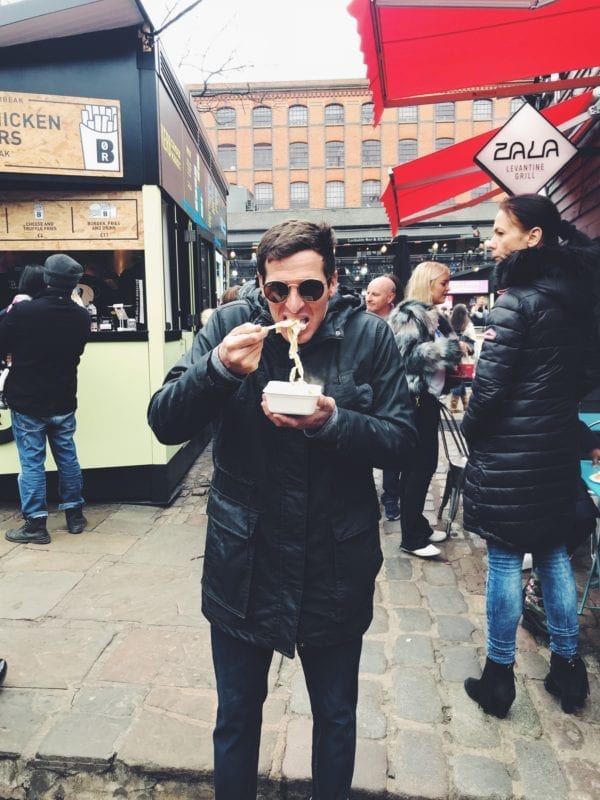 Street Food Markets, Food Halls & More!
After living in NYC for almost 6 years, I thought that they had the street food scene on lock. That, however, is not the case. If you're in London on the weekend, you better do yourself a favor and set the entire day aside for food market exploration. From stalls, to markets, to random warehouses filled with ALL THE FOODS(!!!), this beautiful cloudy city does not disappoint!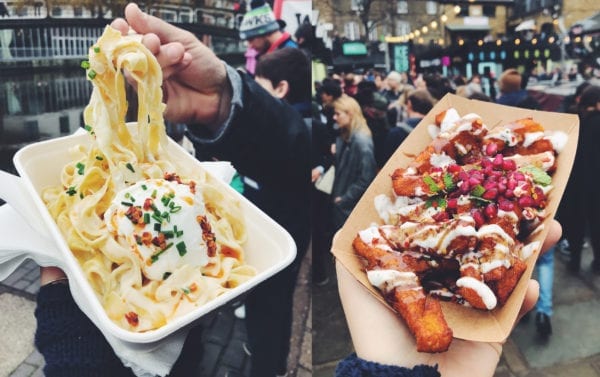 Kerb Camden Market - OUR NUMBER 1 FAVORITE MARKET! Omg, if you don't go to Kerb Camden, we are not friends anymore. Jk, jk, we'll always be friends, but seriously, you won't want to miss out on this place. They have so much good stuff from a million different amazing vendors! We came here a couple of times and tried a bunch of stuff but we definitely recommend getting Oli Baba's Halloumi Fries, Kolkati's Paneer Kati Roll, and The Wheel's Fettucini Alfredo. Oh, and don't just leave after you eat. You must explore all around the back of the market, downstairs, and everywhere in between. The third time we went, we found a 3 story rave store (CYBERDOG!!) that literally made me feel like I was rolling. It was hilarious and amazing at the same time. Oh and best of all, this market is opened 7 days a week so you can definitely fit it somewhere in your itinerary!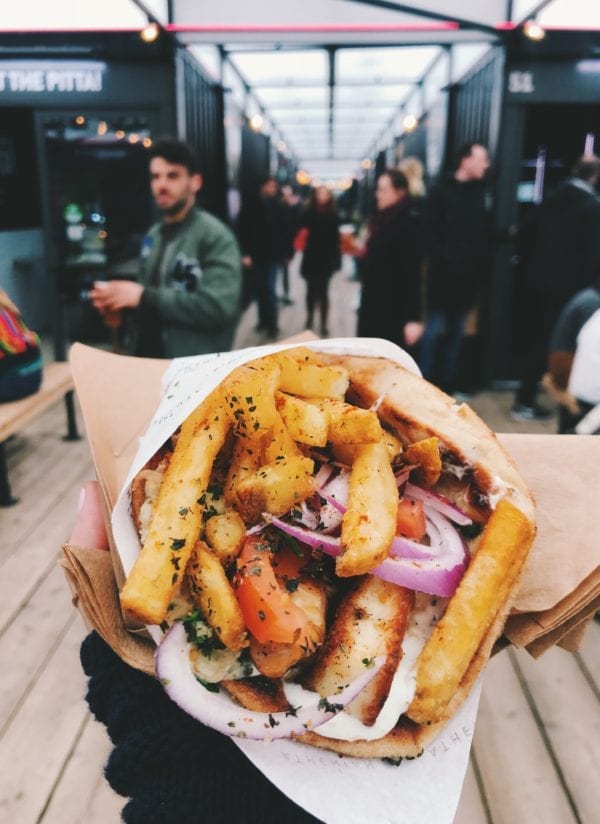 Boxpark Shoreditch - This was our second favorite market by far! This stacked shipping container turned food/bar/boutique building is awesome and it's located Shoreditch, which is a super hip area of town. The picture above is the Super Chicken Gyro from The Athenian. It's loaded with oregano fries, halloumi cheese, grilled chicken, tzatziki, spicy feta dip, fresh herbs, veg and a buttery toasted pita. Jeremy ate like 4 of these in one week and I am not exaggerating. And most importantly, if you're in the area on a Saturday or Sunday, you MUST walk down Brick Lane which is located directly behind it. Not only will you find the Brick Lane Food Market (don't miss Pigling Street!) but you'll also find like 5 more random food markets hidden down secret alleyways, abandoned warehouses, and the like. If you watched my instagram stories for London (you can still watch them on my london tab on my profile!) then you know how blown my mind was. It was cray cray!!!!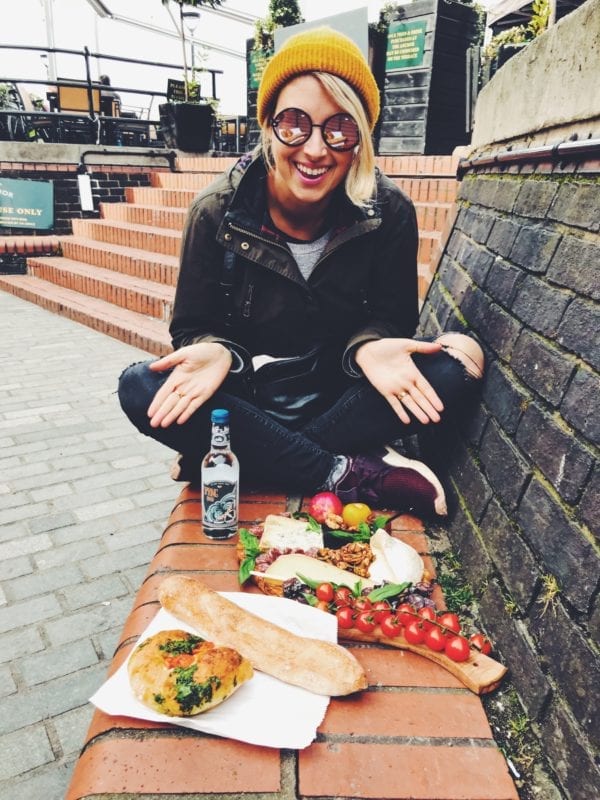 Borough Market - This is one of the oldest and coolest markets in London and for good reason! There are about 100 vendors selling everything from local heritage salamis and aged British cheeses, to Authentic British Pies (PieMinister!) and legit Ethiopian food. I even made the cheese plate you see above and sourced everything inside the market - including the beautiful wooden cheese board! Keep in mind that it's closed on Sundays though... we made that mistake and I almost cried! lolzzz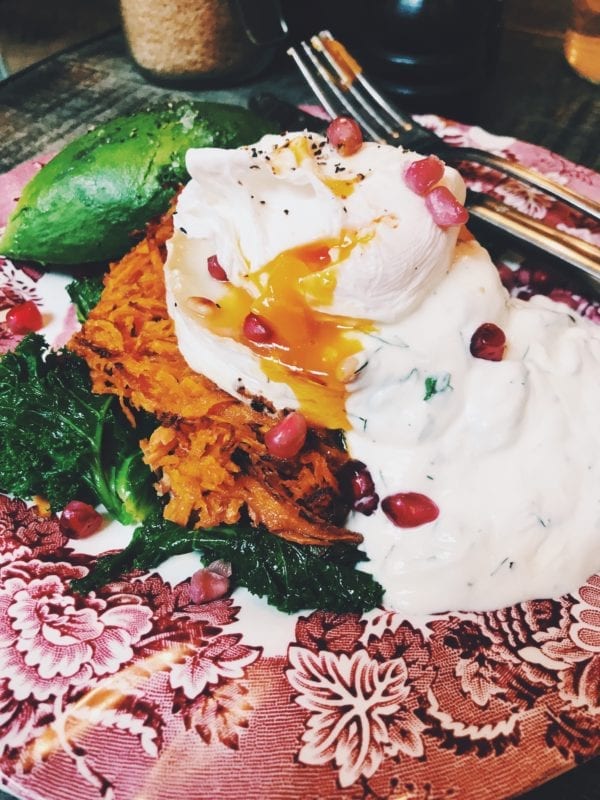 RESTAURANTS - WHERE TO EAT!
Breakfast - As a breakfast chef at my family's inn, I take great pride in finding the best breakfasts wherever I go. And luckily for us, we stumbled upon Eggbreak which is maybe my favorite place that I've ever been to. Their menu is filled with beautiful Turkish-inspired dishes like the one above. You gotta order this sweet potato rosti that's served over a bed a fresh kale, topped with goat cheese, poached eggs, turkish yogurt, pomegranate seeds and avocado. I felt super inspired after leaving this place and I know you'll adore it! You'll also want to check out Muriel's Kitchen, Gail's Bakery and Dishoom for their bacon naan sandwich + chai tea.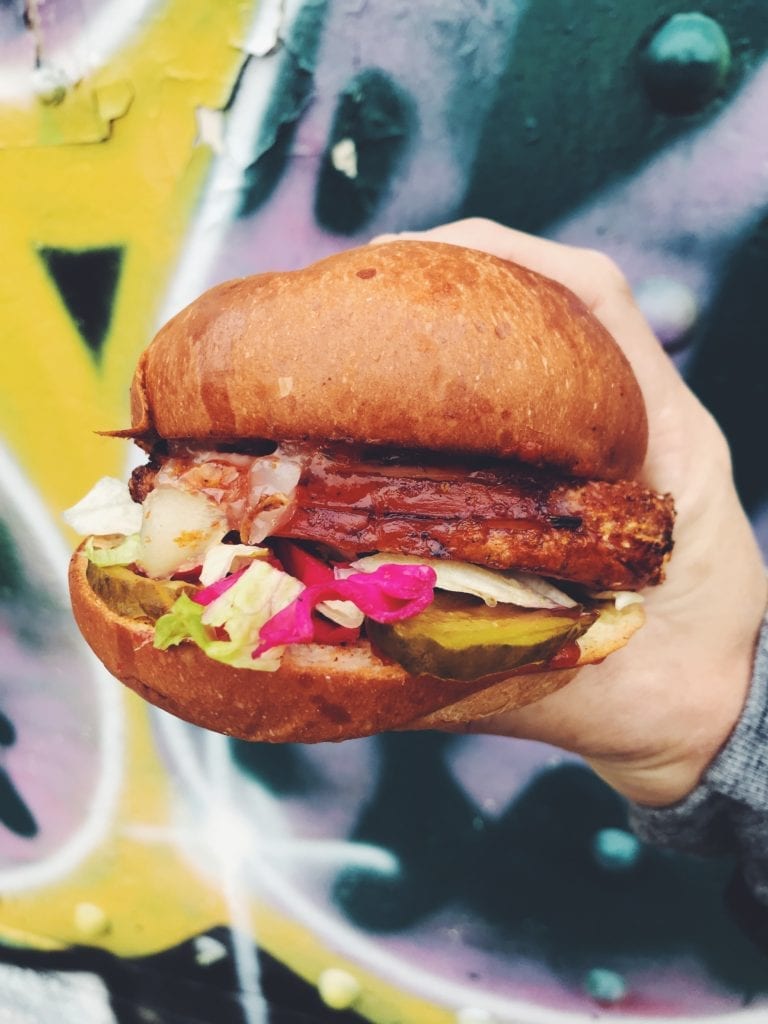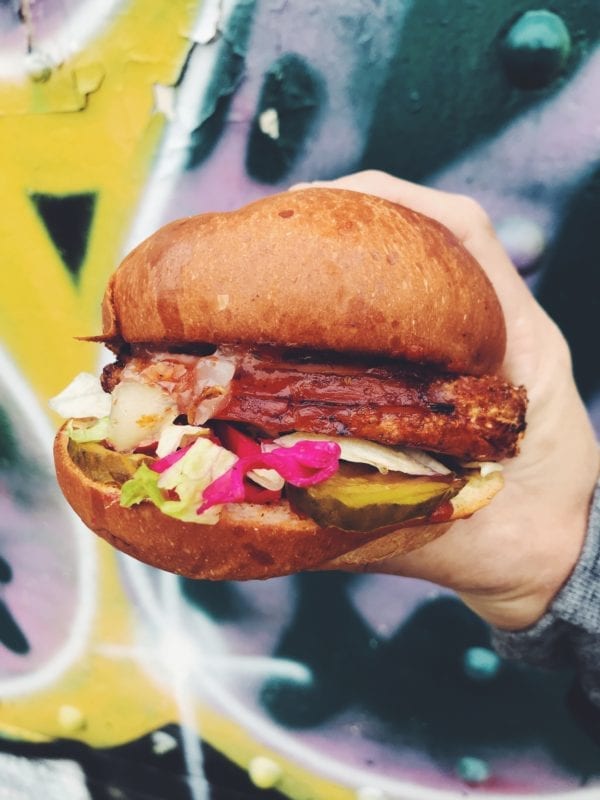 Lunch - To be honest, we didn't really go anywhere particular to eat lunch. We mostly hit up street food markets or cozied up at cheese shops so I'd recommend doing that! You'll find more info on that above and below this paragraph! And if you're curious as to this sandwich is above, then let me tell ya! This is a posh pork bap from the amazing dudes at Pigling Street. What the heck is a posh pork bap? It's basically the UK's version of porcetta except they serve it with a bunch of yummy pickles, apple sauce and an over the top spicy chili-ketchup type sauce all served between a toasted bun. And yes, it is heaven on a plate.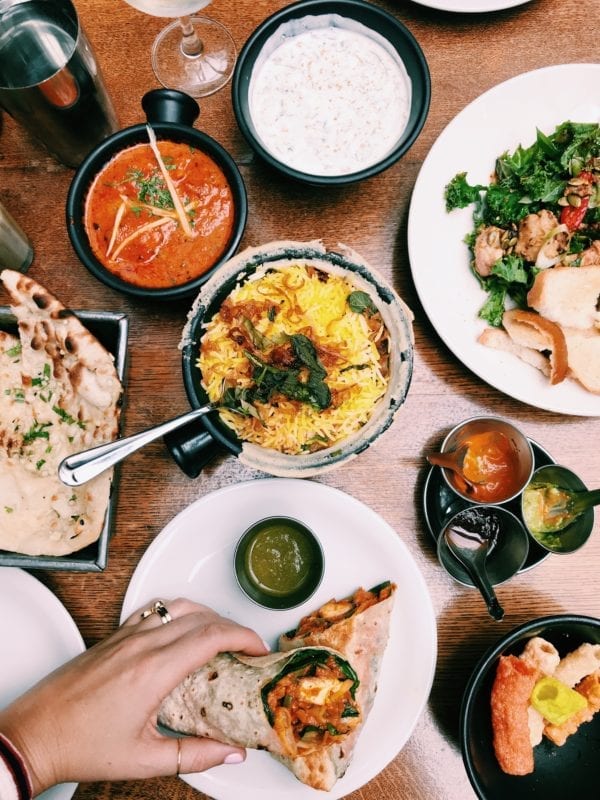 Dinner - After walking all day, you better believe we cleaned our plates when it came to dinnertime. We loved every single place we went but I'm not going to lie, I still dream about Dishoom. This bombay inspired Indian restaurant is a chain, but it's not like a chain in America... It was freakin' glorious! Everything we had was super tasty and I've been trying to recreate the kale, date, and pomelo salad since I've gotten home. You'll also want to hit one of Ottolenghi's restaurants for his amazing creations, Kanada-Ya for insane ramen that will warm your soul, and of course, any legit restaurant that is serving up a Traditional Sunday Roast.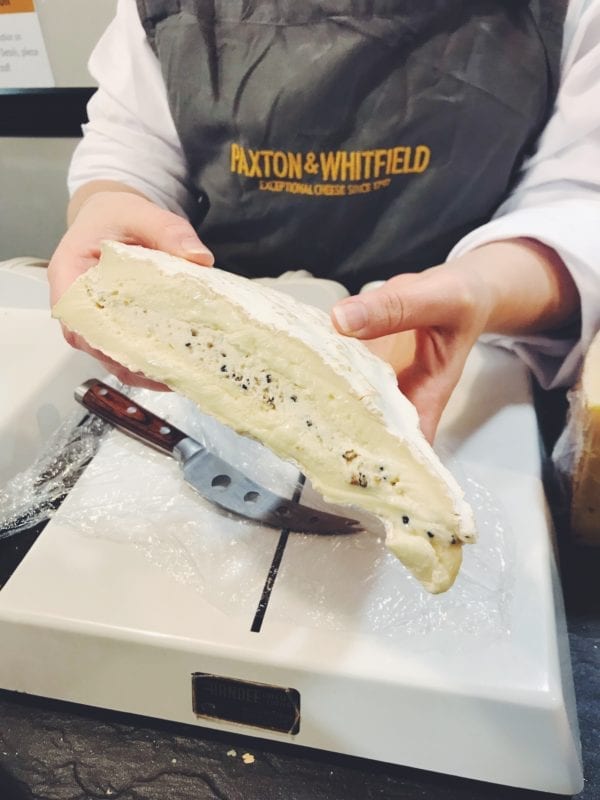 Other Important Places
Cheese Shops - You know I can't go to a city without going into every single cheese shop and/or grocoery market.... I mean, what kind of boring vacation would that be?! That being said, I'll name some of my favorite cheese shops so you can be sure to check it out if you're into that sort of thing. Paxton and Whitfield is the oldest cheese shop in London AND they're the royal family's official cheesemongers!! One of my best friends from my NYC days (Spasia!) works there now which made it even more amazing. Be sure to ask for her or Dan and buy a wedge of their truffled brie stuffed with fresh truffles and whipped Brillat-Savarin! Then there's The Fine Cheese Co of Bath & Belgravia which is the bomb. Randomly enough I ran into another Brooklynite, Nick, from Bedford Cheese Shop who now manages this place! Of course their cheese boards are the most important thing to get but you won't want to miss the toast with whipped Lardo... we are still talking about it! And last, but not least, you need to check out one of the many Neal's Yard Dairy for alll the most amazing British cheeses that are just sitting around like old friends. I fell in love with the cheese scene here so I know you will, too!!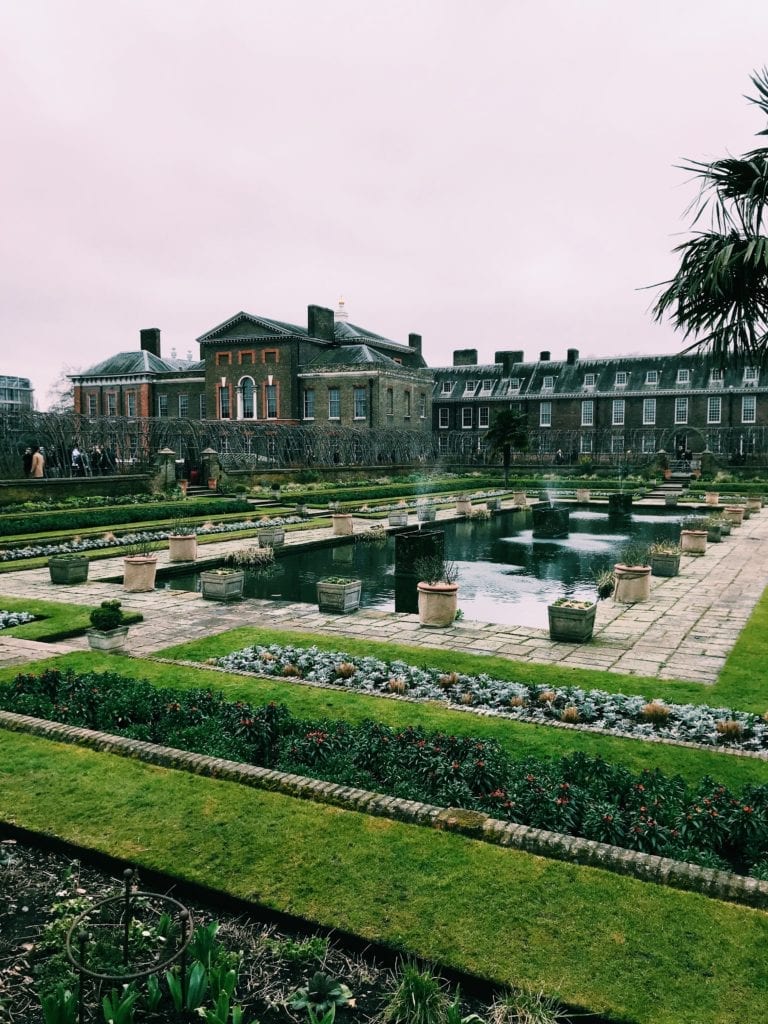 Other Must-See Spots
I'm not joking when I say we logged in some serious steps when we were cruising around London. Since we were eating and drinking every single thing under the (hidden) sun, we made an effort to walk rather than ride. And since I was traveling with Jeremy, we quickly figured out that it was actually cheaper to take an uber rather than ride the tube if we were on the verge of a full body breakdown.
As for places to go, if I go into too much detail on each one, this blog post might never end so i'll be brief. While wandering around, be sure to check out the places below or watch my saved travel guide to London on instagram:
Hyde Park - walk the entire thing for cute puppies and royal sightings!
Kensington Area - super cute pastel houses + the infamous Portobello Market
Soho - our favorite place to eat and party
Shoreditch - our other favorite neighborhood to eat and shop!
Chinatown - all the dimsum and amazing mini markets your heart can handle!
Little Venice - the names says it all - check it out on your way to Camden Market
Flat Iron Square - another tiny food market but still fun!
Old Spitalfields - a super cool HUGE market right next to Ottolenghi's
Devonshire Arms Kensington - MY FAVORITE PUB - best music ever!!
South Bank - A beautiful walk along the Thames River with lots of food trucks
Carnaby Street - where brittish rock originated... now full of cute shops and restos
Harrod's Food Markets - because omg this is a great place to go when it rains!
Harry Potter Musical - we didn't get to go but I hope you do!
Sketch - Instagram heaven but pricey AF so just take yourself on a tour because a single cocktail will run you up about $45 dollars! Yikes.
And of course, all the historic spots like Big Ben, National Gallery, Tate Modern, London Bridge, Westminster, The Needle, etc...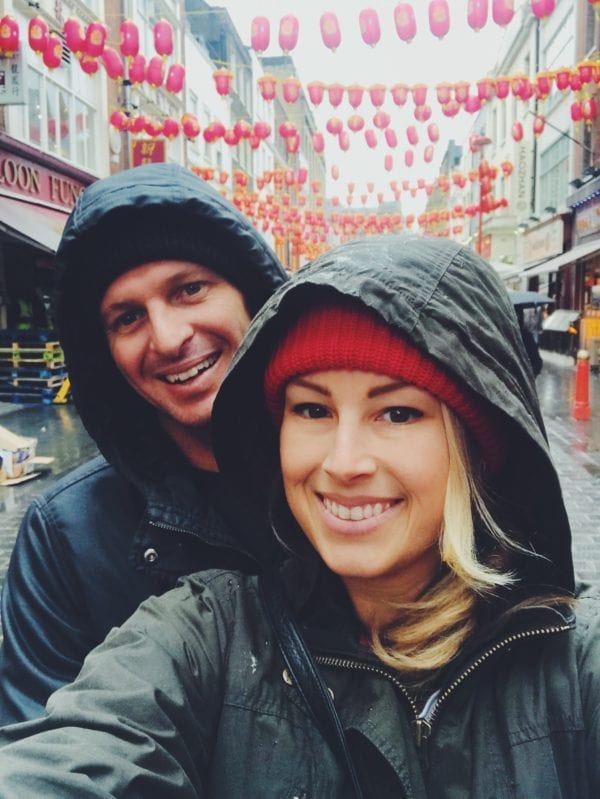 So that's all I've got folks! We were only there about a week so I'm sure I missed a ton of stuff. That being said, please feel free to comment below on the other stuff we should do next time we go!
xoxo,
GCS