If you're looking for the perfect way to use your thanksgiving leftovers, your search is over! Say hello to the Gooey Gobbler! This fat-tastic grilled cheese is loaded with gouda, turkey, and cranberry jam! On top is a super delicious sage butter crust that ties the whole thing together!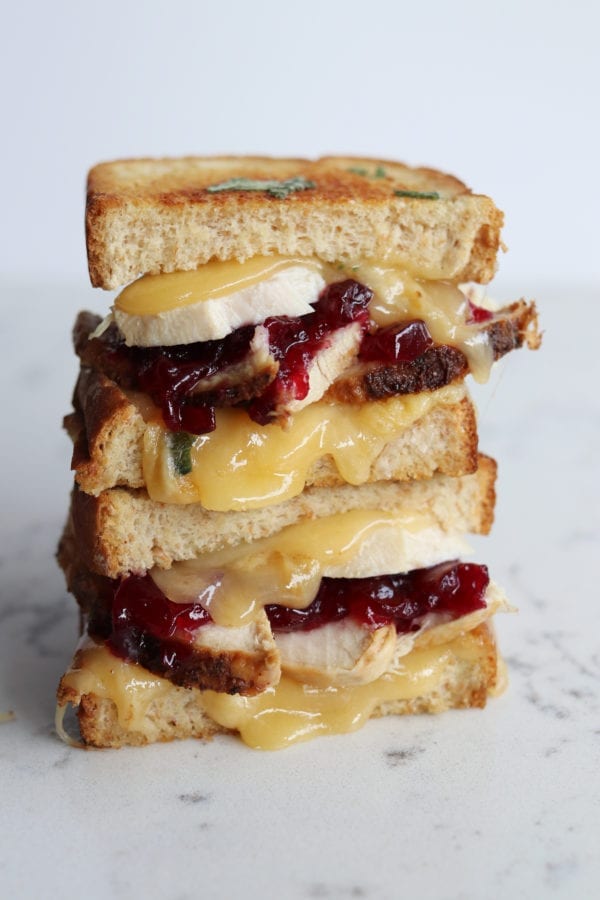 Thanksgiving Leftovers Grilled Cheese
And so the most jam-packed week of my life is underway and I've got to say -- so far, so good!
After just getting back from a fun-filled wedding weekend in Tallahassee with all of my best friends, to coming home for 24 hours and cooking at Black Dolphin Inn, to then quickly jetting to NYC, it seems as if Thanksgiving is the light (somewhat) at the end of the tunnel.
What's not to love? Friends, family, and delicious food is right around the corner and for that, I'm super, SUPER grateful!
Oh and total humble brag here but I need to mention it since I won't be posting next week.
I'm also grateful that my entire family is heading to Italy on Saturday for our first family trip in almost 7 years since we opened BDI... but that's another story which you will be seeing a lot of if you follow me on instagram!
Now back to the subject - Of course, I'm also thankful for the whole leftovers part which just might be my favorite part of all.
And since I know I'm not the only one that gets excited about it, I figured I'd share a few of the recipes that I'll be making that are not only quick and easy but also extremely tasty!
HOW TO MAKE THIS GRILLED CHEESE
Making this leftovers grilled cheese is super easy!
To begin, start by mixing room temp salty butter with chopped sage and set aside.
Now, add a slice and a half of smoked gouda cheese to one piece of bread.
Top with sliced turkey and cranberry sauce and another slice and a half of smoked gouda.
Add the other slice of bread on top and smear the sage butter on the outside of the sandwich.
Cook the sandwich over medium heat until the cheese has melted and the bread is crispy and golden brown!
Then enjoy!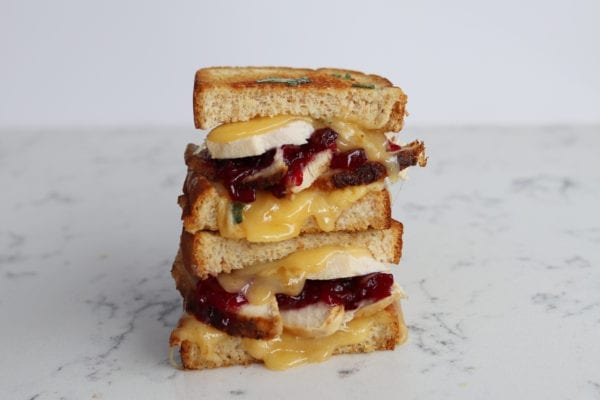 RECIPE: Thanksgiving Leftovers Grilled Cheese
Print Recipe
Thanksgiving Leftovers Grilled Cheese
This Thanksgiving Grilled Cheese is loaded with all the holiday goodness!
Ingredients
2

slices

of Sara Lee Artesano Golden Wheat Bread

3

slices

smoked gouda

¼

cup

leftover Thanksgiving Turkey

1

tbsp

cranberry jam

1

tsp

fresh sage

roughly chopped

2

pats

salted butter

room temperature
Instructions
Begin by mixing the fresh sage with the room temperature butter and set aside.

Add 1.5 slices of gouda to one slice of Sara Lee Artesano Golden Wheat Bread. Next, add the leftover thanksgiving turkey and a tbsp of cranberry jelly. Place the remaining 1.5 slices of smoked gouda on top and add the remaining piece of bread. Evenly smear the sage butter onto both exteriors of the sandwich and set aside.

Grill the sandwich in either a panini press or a cast iron skillet until the bread is golden brown and the smoked gouda has melted; about 5-10 minutes. Remove from heat and let sit for 1 minute before slicing in half.
And if you'd like some more thanksgiving recipes, check out these sandwiches!!
Click [HERE] to get the recipe for my Thanksgiving Cuban!
Click [HERE] to get the recipe for my Thanksgiving Breakfast Sandwich!
Or click [HERE] to get even more tasty Thanksgiving Leftover Sandwich Ideas by yours truly.
Hope everyone has an awesome holiday!
xoxo,
GCS