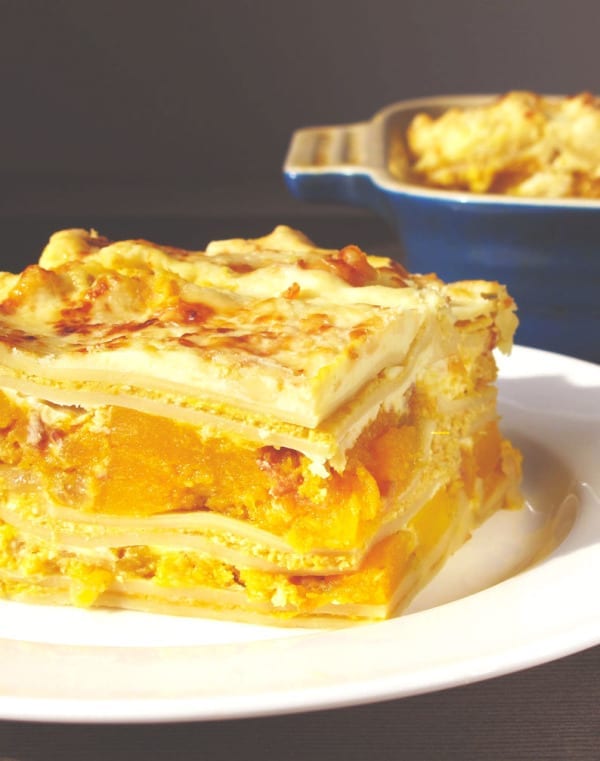 Want to make a not-so-basic Thanksgiving side this year? Then you've gotta try this sweet and savory pumpkin and squash lasagna recipe that will blow all other squash, pumpkin, and sweet potato recipes out of the water… or umm gravy boat I should say? I developed this recipe for my homies at Wisconsin Cheese a few years back and since then it has been a staple among my Thanksgiving spreads. You're gonna be so happy when you try it. Just like these cute little babies. I swear.
Recipe Serves 10-12
Ingredients
24 oz Wisconsin Ricotta cheese
15 oz (1 can) pumpkin puree
1 tsp nutmeg
1 tsp cinnamon
1 1/2 tbsp raw sugar
2 cups pancetta, minced
1 medium onion, finely chopped
6 cups butternut squash chopped into 1/2 inch cubes
7 tbsp butter
1 medium shallot, minced
2 bay leaves
4 tbsp flour
1 quart of heavy cream
5 1/2 oz grated Wisconsin Parmesan cheese
4 oz grated Wisconsin Gouda cheese (black pepper)
1 lb lasagna noodles, cooked according to directions
Salt & pepper
Instructions
Ricotta Mixture: Combine Ricotta, pumpkin puree, nutmeg, cinnamon, raw sugar, and salt to taste.
Butternut Squash Mixture: over medium heat, cook pancetta until crispy and fat is rendered, about 10 minutes; remove from heat and set aside. Add onions and a pinch of salt into remaining grease and cook until softened, stirring occasionally, about 6 minutes. Add chopped butternut squash, 2 tbsp of butter, 1 tbsp salt and stir; cover and cook until butternut squash is soft when pierced with fork; about 10-15 minutes. Add in cooked pancetta, removed from heat and set aside.
Cream Sauce: Over medium heat, melt 5 tbsp of butter and add shallots and bay leaves, stirring occasionally until soft; about 5 minutes. Whisk in flour; cook for two minutes. Slowly add heavy cream, whisking often, and bring to a boil. Reduce heat to medium low and let simmer until thickened and sauce coats the back of the spoon; about twelve minutes. Remove bay leaves. Gradually whisk in Parmesan (reserve 1 cup for later) and all of the Gouda (black pepper bellavitano) and stir until smooth. Salt and pepper to taste.
Heat oven to 375 degrees F. Add 1/4 cup of cream sauce to a greased 9×13 baking dish. Cover with a layer of noodles. Spread on 1/3 of the Ricotta mixture and cover with another layer of noodles. Add half of the butternut squash mixture and cover with 1/4 of the cream sauce. Add another layer of noodles and top with 1/3 of the Ricotta mixture. Repeat layering one more time. Finish with a layer of noodles, remaining cream sauce, and sprinkle with the reserved Parmesan cheese. Cover with tinfoil and bake for 45 minutes. Remove tinfoil and broil until the top is golden and crispy. Let rest for 15 minutes before serving.