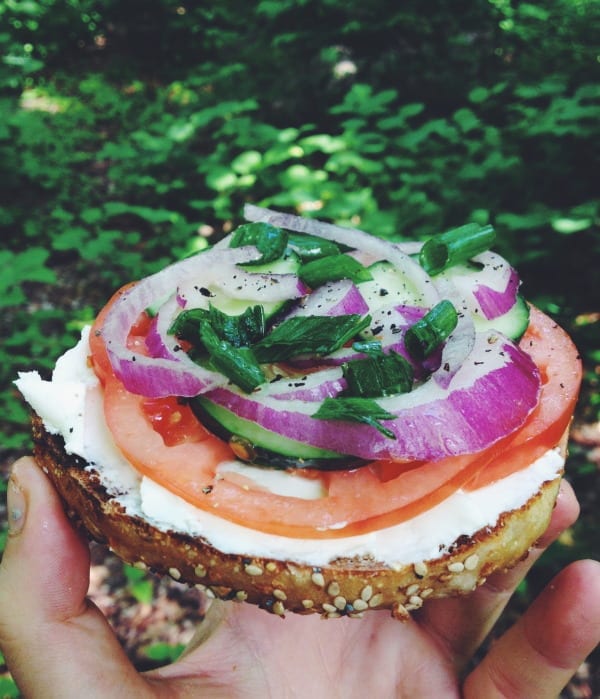 This open-faced breakfast sandwich was originally created to cure a nasty hangover while camping in upstate New York… but that really has nothing to do with anything because this recipe is totally doable anywhere in the world – but only if they sell (or you can make) bagels of course! Half of an everything bagel is smeared with cream cheese and topped with tomatoes, cucumbers, red onions, scallions, salt and freshly cracked pepper. It's a great way to start the day and because it's open-faced it will help prevent you from starting your day by inhaling a bunch of carbs in the morning. And if you don't have a campfire, just toss your bagel half in the toaster and let it crisp up in there. It doesn't matter as long as you get a nice texture on the outside of the bread.
And although this sandwich is perfect as-is, it should also serve as a starting point to create even more tricked-out breakfast sandwiches. For example, try adding on smoked salmon and a few capers for some added spunk. Or get a little more creative and add a few thin slices of prosciutto with some baby arugula and balsamic glaze. The possibilities are endless here people! Oh, and please don't pay any attention at all to how dirty my fingernails were… I was camping… foraging for food… keeping my dog away from the bears, remember?!
Get the recipe from my Sandwich Expert page on About.com [HERE].