Want to host a dinner party but don't want to deal with all the stress that comes along with it? Then host a DIY Grilled Cheese Party!
There's nothing better than having all of your loved ones around the table, but hosting can be stressful; timing everything just right, and preparing something that everyone likes is just not an easy feat. That's why throwing one of these parties is so great. All you have to do is buy the proper ingredients and tools and invite your friends over for a super fun night. Having them assemble their own sandwiches from the spread that you create is not only fun and interactive but it will also have your guests battling over who made the best sandwich – and that can be pretty entertaining to watch.
So whether your crew would rather stick to the classics and eat a gooey grilled cheese made with Wisconsin Muenster and baby heirloom tomatoes, or prefer something more sophisticated like a Wisconsin Blue grilled cheese with fig preserves and rosemary butter, you can specialize your smorgasbord to suit them. Here are three themes for DIY grilled cheese parties that will surely give your guests a delicious and memorable culinary experience.
Theme 1: The Classic Feast
Cheese: Wisconsin Cheddar, Swiss, Muenster
Bread: Classic White Bread, Wheat Bread, Potato Bread
Fillings: Tomato, Bacon, Avocado, Pickles
Butter: Salted Butter, Garlic Butter, Mayonnaise
Suggested Recipe: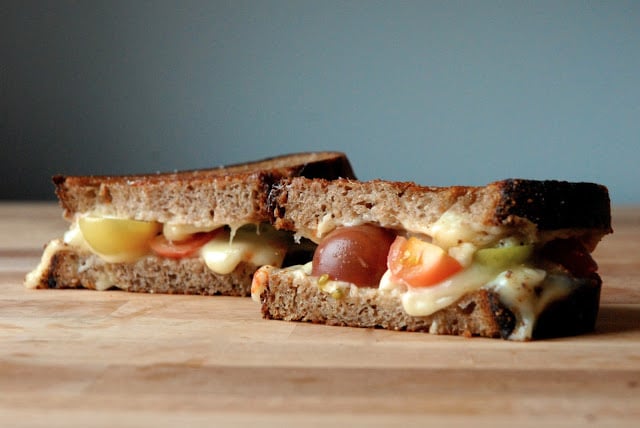 Theme 2: The Gourmet Get-Together
Cheese: Wisconsin Blue Cheese, Gruyere, Limburger
Bread: Cranberry Walnut, Sourdough, Garlic Loaf
Fillings: Quince paste, Onion Jam, Fig Preserves, Prosciutto
Butter: Rosemary Butter, Cultured Butter, Truffle Butter
Suggested Recipe: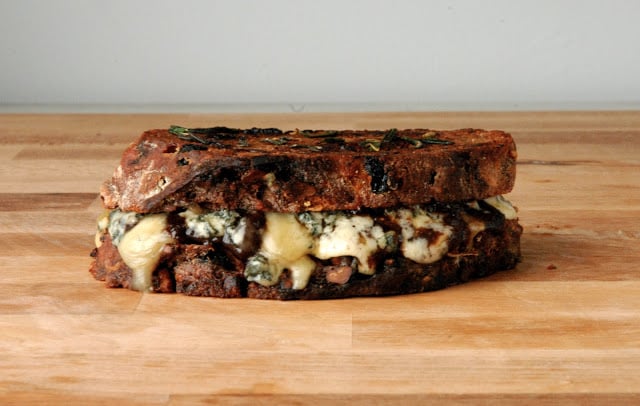 Theme 3: The Sweet Tooth Soirée
Cheese: Wisconsin Mascarpone, Brie, Ricotta
Bread: Croissants, English Muffins, Pound Cake
Fillings: Fig Jam, Strawberries, Nutella®, Honey
Butter: Cinnamon Sugar Butter, Maple Butter, Bacon Butter
Suggested Recipe: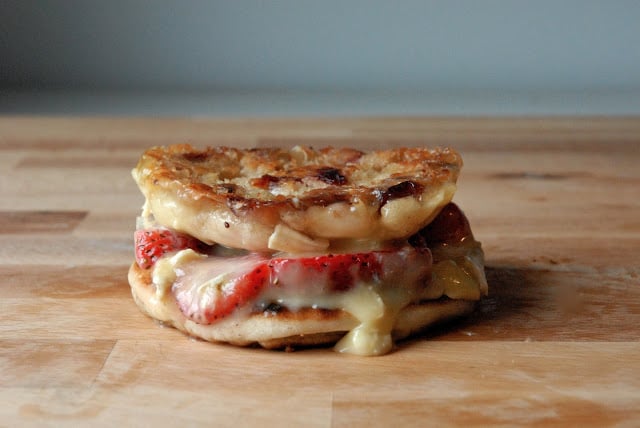 Party Tips
BEER
If you're cooking for a large bunch, buy two large double burner griddle pans to make the most out of your space. This way, you can cook 16 sandwiches at once.
Having a variety of tools will inspire your guests to experiment with their sandwiches. I like to put out presses, spatulas, and cookie cutters. If you don't have any heavy metal presses, then wrap bricks in tinfoil for a cheap alternative.
If you want even more variety for fillings, dig through your fridge for items like sundried tomatoes, roasted red peppers, sauces and herbs. The more offerings, the better.
Plastic spatulas make great, inexpensive party favors. Guests can use them at the party and take them home to remember the experience.
Because there are so many possibilities in a DIY grilled cheese party, it's best to stick to the same thing when it comes to beverages. Be sure to have a variety of wine, beer, and alcohol-free drinks to keep everyone happy.
Check out the original feature on Wisconsin Cheese's site [HERE].