Minus having a broken meat thermometer and one too many morning mimosas, I'm happy to report that yesterday was a total success. As you can imagine, because of our blood alcohol concentration and the absence of a certain kitchen tool, our bird ended up sort of dry. But whatever, it was still edible and that's all we seemed to care about after what seemed like an eternity of cooking.Proudly, we even managed to not eat ourselves into a coma and got all pretty and went to hit the strip on Bedford. To our dismay, we discovered that not a lot of people actually go out on Thanksgiving here in the grand old neighborhood of Williamsburg, but we did! And after about five drinks at a bar where we were the only patrons, we all decided that it was the perfect time for Thanksgiving round II. So we went back to my apartment to destroy
my perfectly clean kitchen
what was left of our feast.One of our creations consisted of a grilled holiday citrus roll with cranberry mustard, leftover turkey, mashed potatoes, and some nutty, gooey gruyère. So I decided to share that with you all, only a prettier, less-sloppy version, of course.
Here's how we made use of our leftovers.
Ingredients:
- mashed potatoes
- gruyère
- turkey
- Inglehoffer cranberry mustard
- 2 pats of butter
- leftover roll (we had some weird citrus-y
ones that had nuts in them)
GET THE EXACT (printable!) RECIPE FROM MY ABOUT.COM SANDWICH EXPERT PAGE [HERE].
So any leftover roll will work, but the trick to getting a nice, evenly grilled cheese is all about making sure your bread is level. If your roll has a huge, ridiculous top like this one, simply cut it off and eat it right away. Consider it your appetizer. Then make sure the other end of the roll, aka the butt, is used as the inside of the GC.
I have absolutely no idea what kind of rolls these were besides that they contained chunks of nuts and orange zest. My roommate's brother, who forgot the meat thermometer and the yeast rolls, managed to somehow get his hands on these citrus-y babies, so of course, we utilized them.
Then pile on whatever cheese you have on hand. I always have some sort of fancy fromage in my fridge and last night I just happened to have some leftover gruyère from our sweet potato gratin*.
Gruyère's a semi-hard, nutty, and caramel-y cheese from Switzerland. It's one of my favorites and it melts really beautifully but sort of takes a long time.
*The sweet potato gratin was voted as the majority favorite, so one of
these days when I start a non-grilled cheese blog, I'll share the recipe.
Then you'll just want to slap on some mustard.
I got really lucky and was handed a bottle of cranberry mustard before I left work last week so I used that. I think you could totally mix some of your homemade cranberry jelly with some honey mustard and it would probably be the same thing.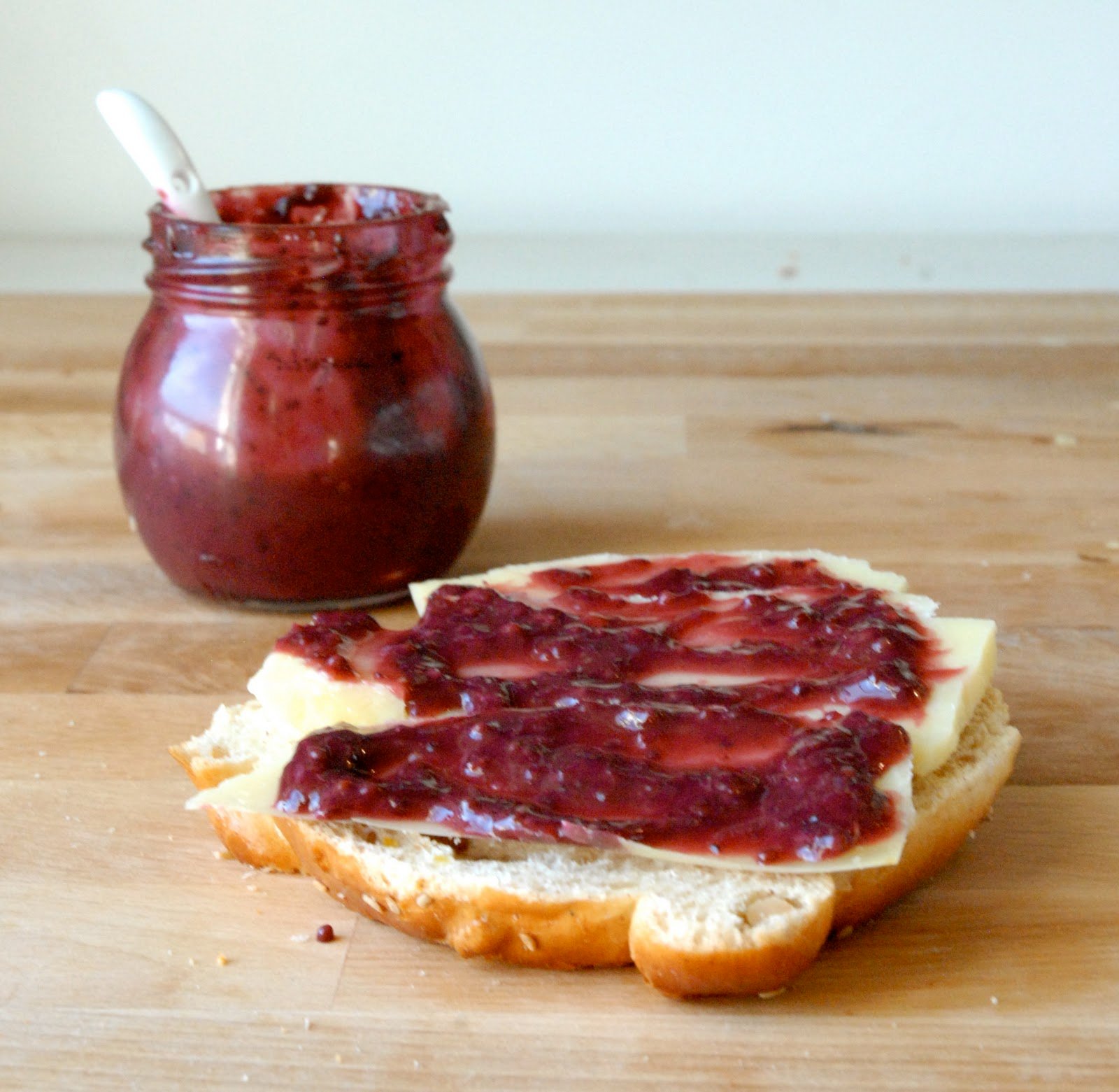 Now it's tater time! Just put a dollop right in the middle and don't worry about spreading it out. Once you add the turkey, it'll naturally squish out everywhere.
Then add some turkey...
... and another layer of gruyère...
... and the other piece of bread and then do a little dance because your sandwich is done being built! Smear on some butter and turn your flame to low and place this Thanksgiving treat in your pan.
Cook for about 10 minutes on each side or until everything gets warmed up and the cheese starts to melt.
Then pull the GC off the grill and you know the drill - let it sit for a minute to firm up, and dig in!
I want to give you all a virtual high five for making it through Thanksgiving without cutting off any fingers or drunkenly yelling at any family members. If you didn't make it through without any disasters, then i want to give yo
u a hug and say it'll be better next year, as long as you give me your booze, promise.
And as for a booze pairing, I'd follow my lead go with a bright and crisp brut champagne to play off of the citrus flavors in the mustard and bread.
xoxo,
GCS