Well guys it's official, I'm super sort of old. I'm turning 25 this weekend *gulp* and I'm doing what any mature and responsible adult would do - dragging all of my friends to a water park in Long Island. Sounds fun right? I hope so. I really haven't been to one since I was in high school and I remember the lazy river being full of bandaids so I sort of swore it off for a while. However, since it's about a gazillion degrees here in the city, I'm willing to overlook it.
But that's not all I wanted to tell you. Even though it's my birthday and I should be receiving the presents, I'm going to switch it up and give my loyal readers some super awesome gifts! That's right, I've got 5 copies of Laura Werlin's new grilled cheese, please! book and one might just have your name on it. All you have to do is make one of my sandwiches and either post a pic to to my Facebook or Twitter page or link it down below in the comments section by next week (7/21/2011). Oh and feel free to get creative with it! From there, I'll randomly pick some winners and ship you the book!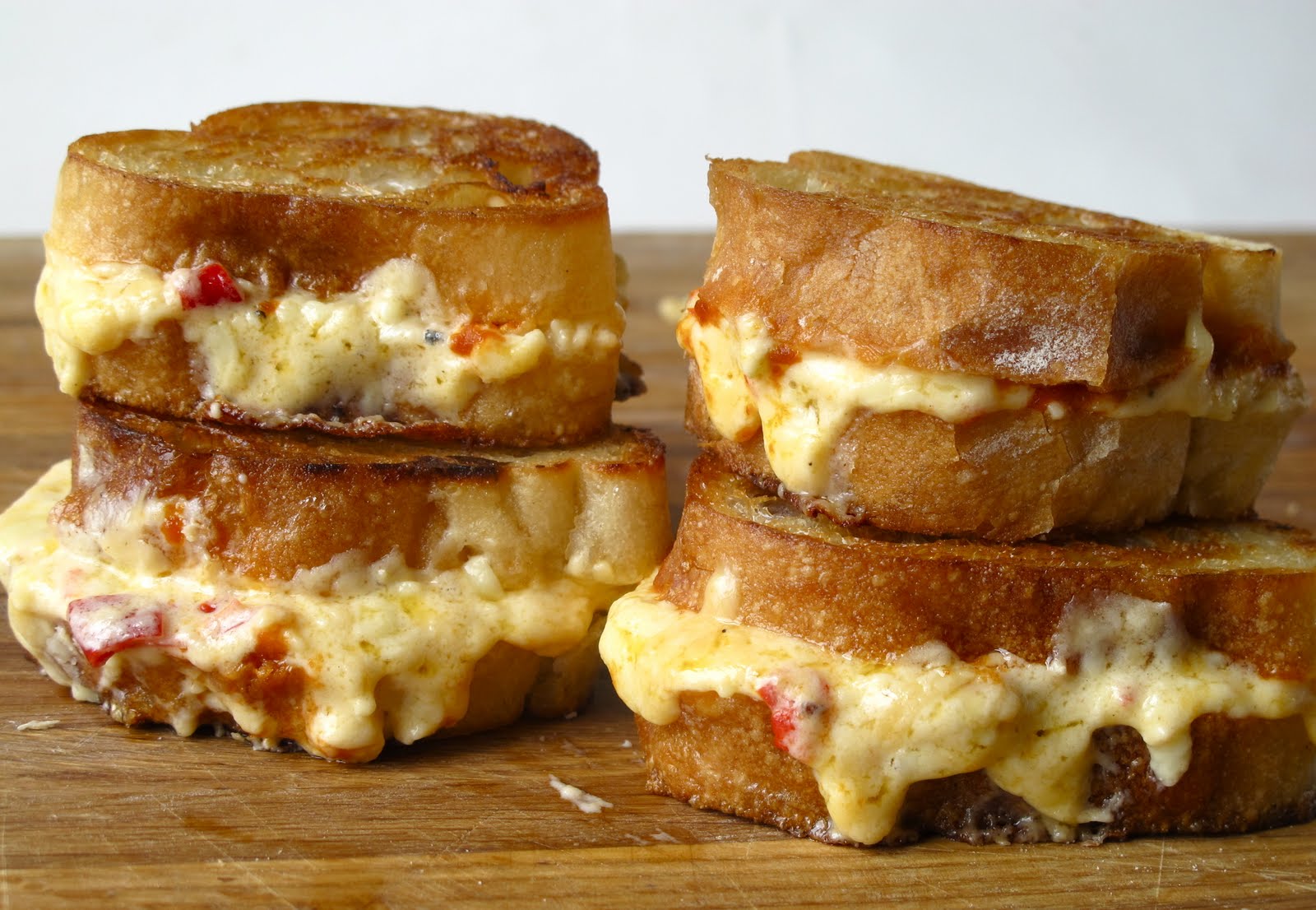 So to pay some homage to the original GC gal, Laura Werlin, I'm adapting one of my favorite recipes from her book - the Pimento Cheese grilled cheese.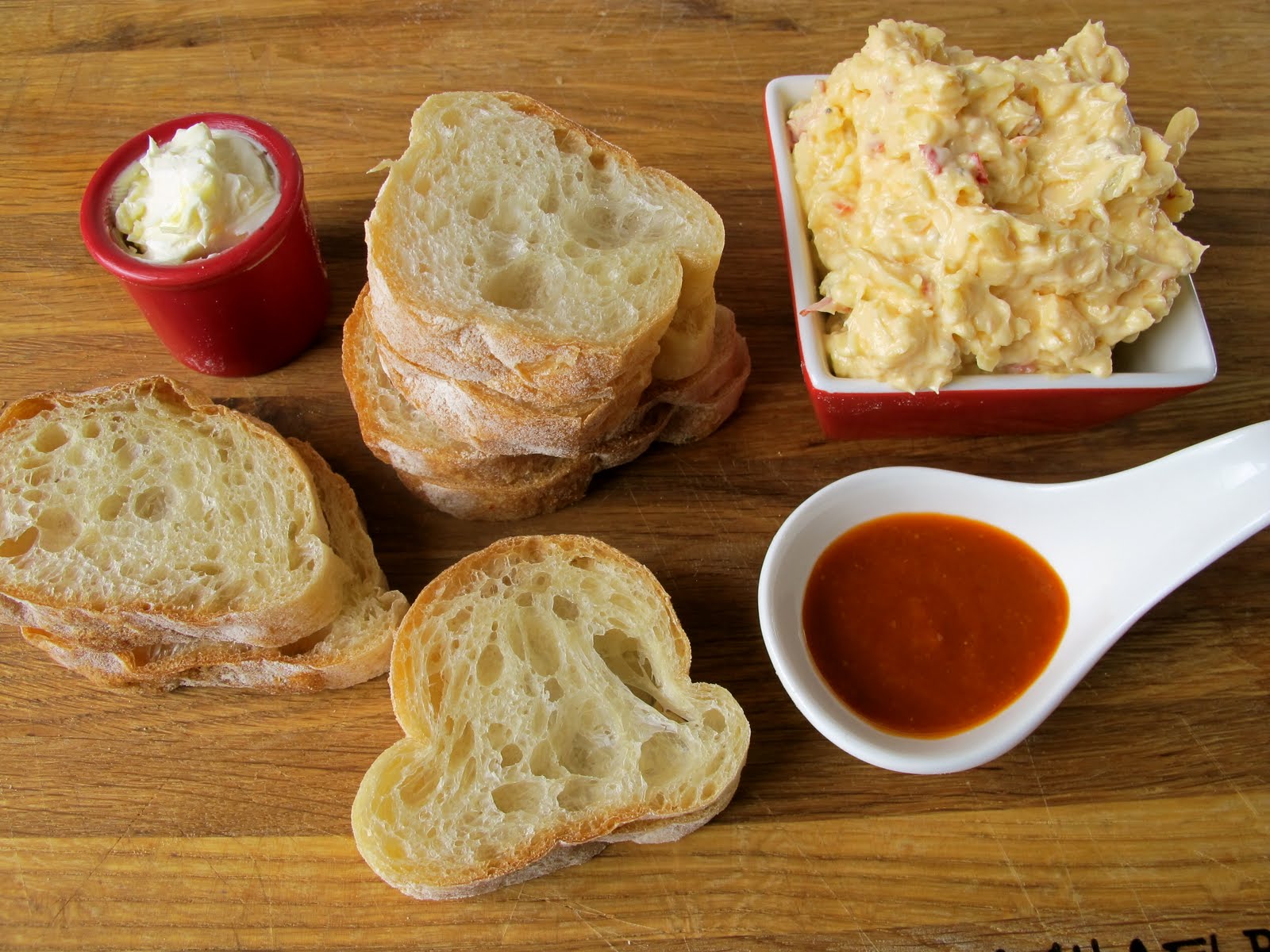 Adapted from grilled cheese, please! by Laura Werlin
Ingredients:
- 2 pats of salted butter
- 8 slices of a small baguette
- sriracha
- 4 heaping tbs of pimento cheese
-combine ½ cup shredded aged gouda, ½ cup
shredded cheddar, 2 tbs whipped cream cheese,
1 tbs mayo, 3 spicy peppers finely chopped,
salt pepper
Now I know you're supposed to use mostly mayo in pimento cheese but I couldn't bring myself to it. I don't know why, but I have this stupid fear of the stuff. So because of this, I ended up substituting cream cheese and I actually LOVED it. It reminds me of my absolute favorite GC in Brooklyn - The Adult Grilled Cheese from The Commodore.
So once you've got your pimento cheese mixed up, plop one huge tablespoon of the mixture onto 4 slices of bread.
I don't think I've ever used sriracha
in one of my grilled cheeses, and what a mistake that was! I eat this stuff on everything I possibly can. Red rooster sauce, I love you. Anyways, depending on your spiciness threshold, squirt on as much as you like.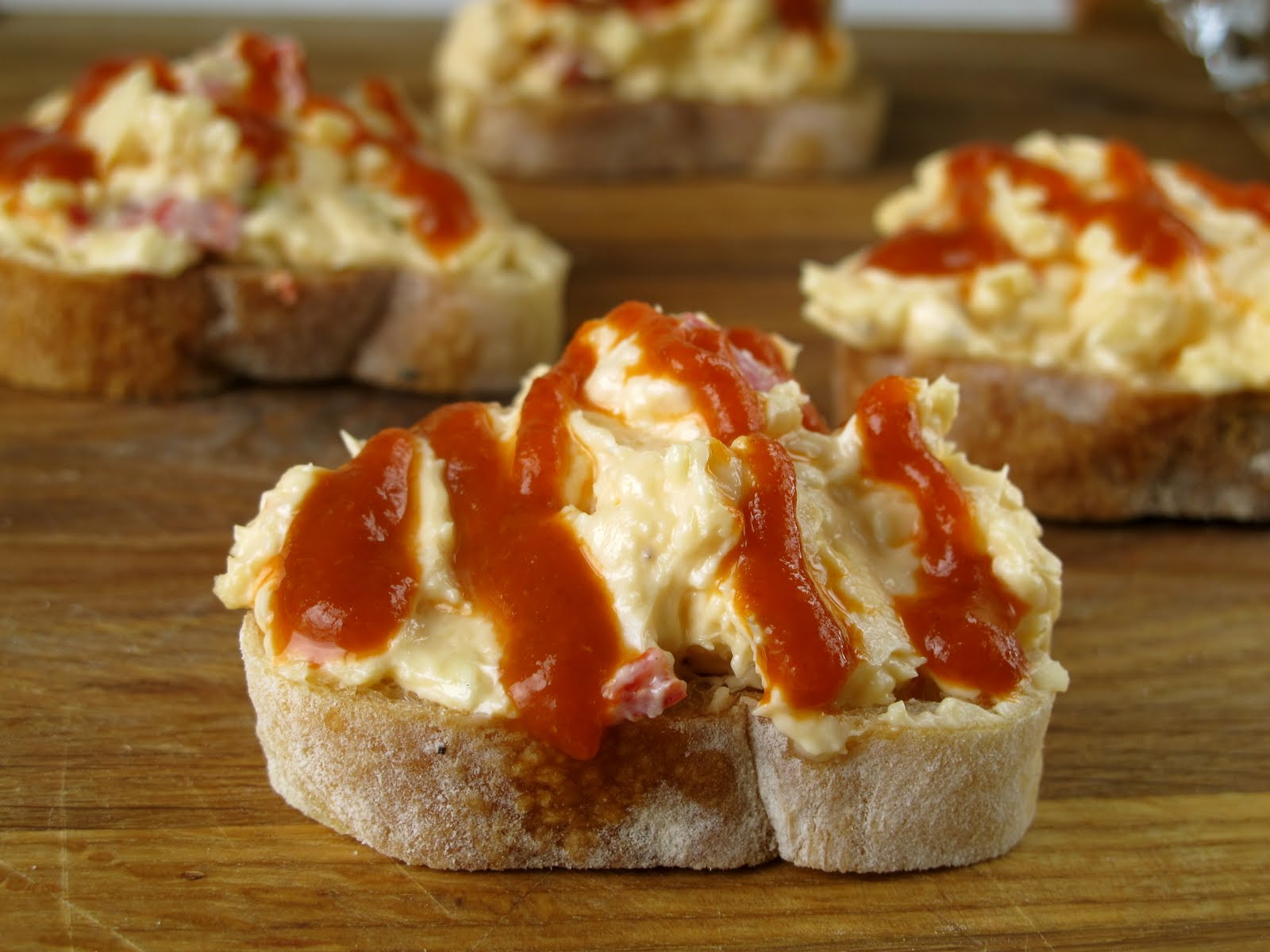 Now put the top piece of bread on each cheesed up piece and smear some butter on the outside.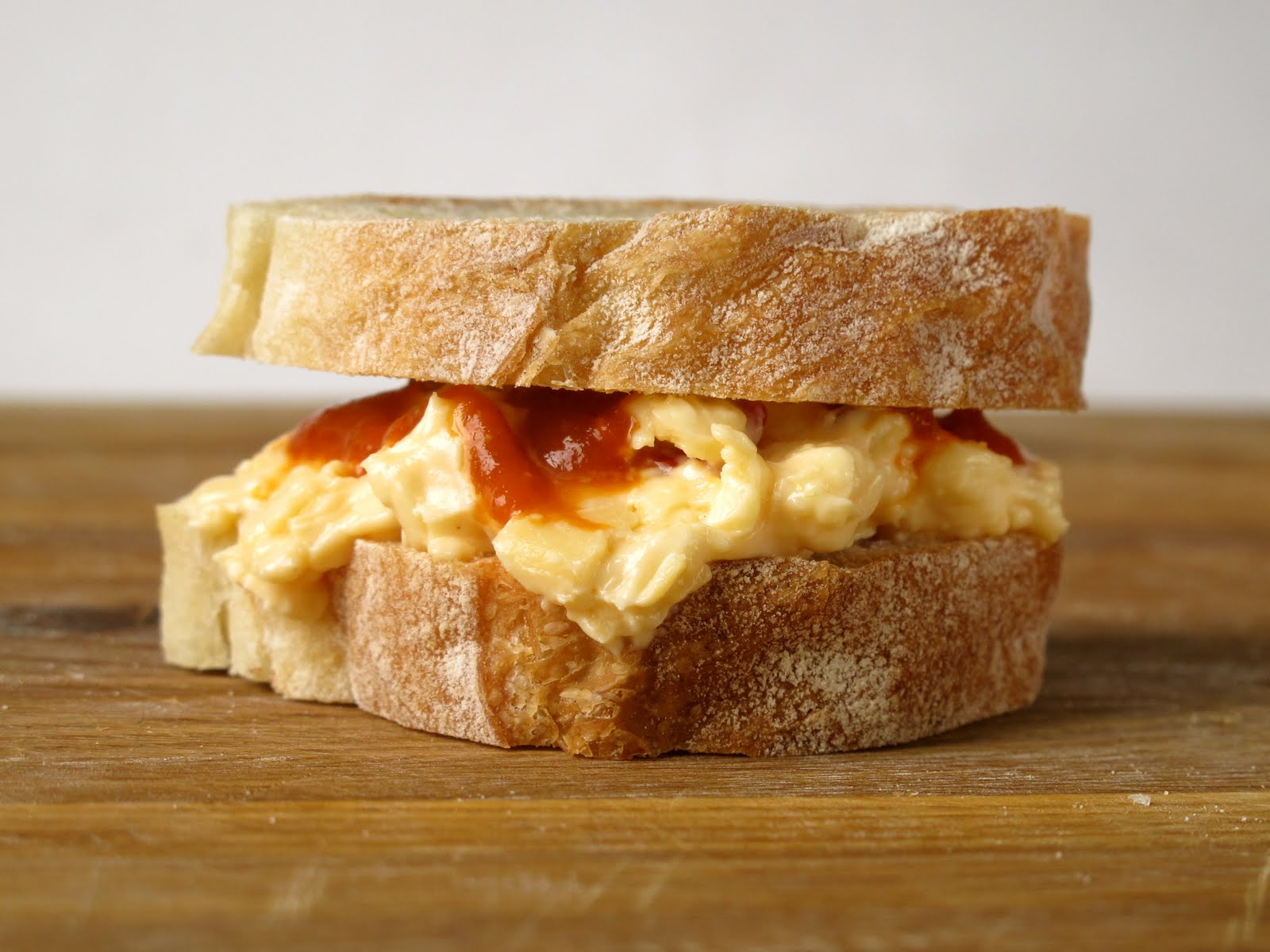 At this point it's important that you crank up your heat super high. Pimento cheese takes about .2 seconds to melt so you'll want to brown the bread as quickly as possible.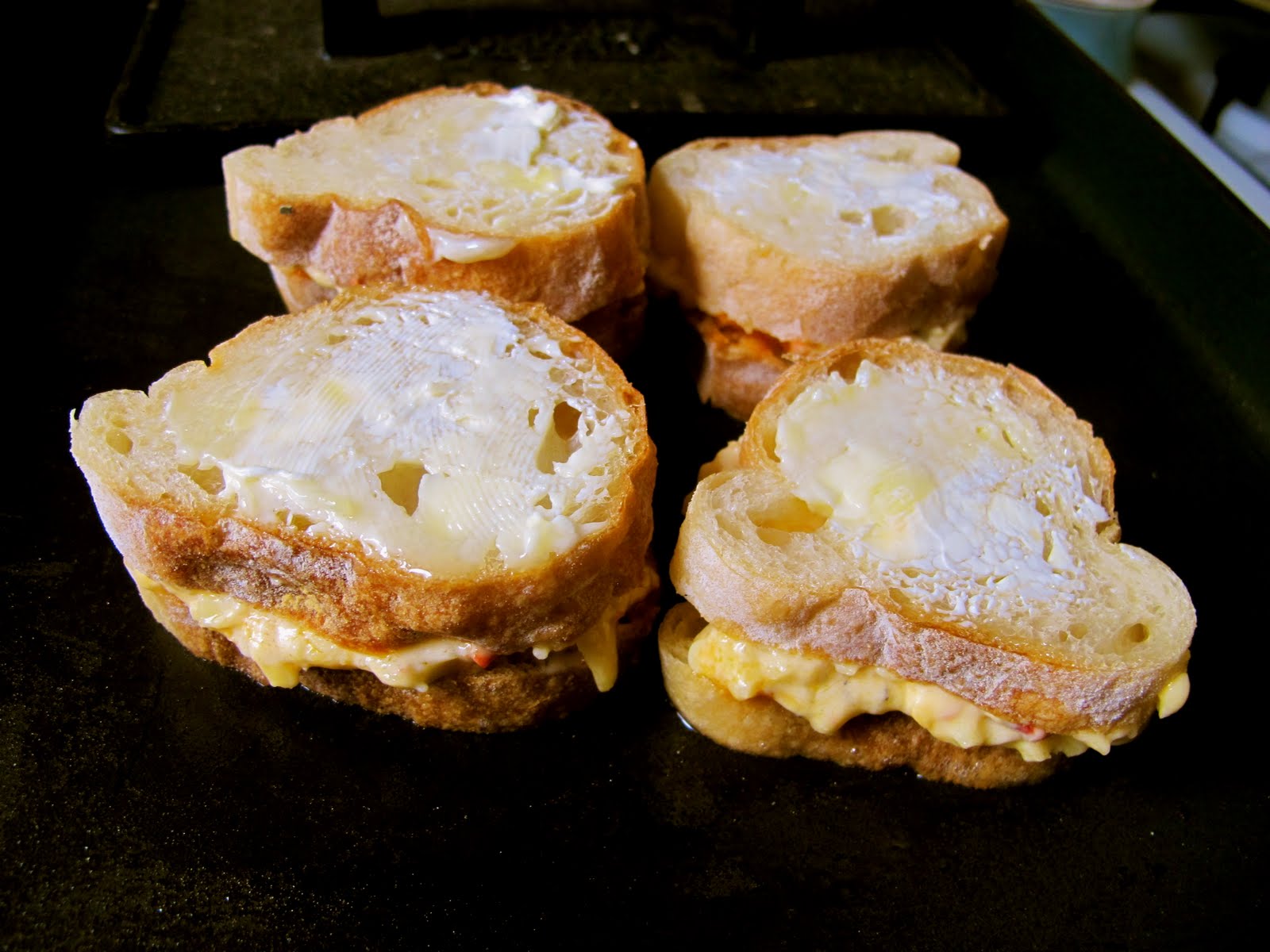 Mine were only in the pan for about a minute or two until the bread started to sear and develop a nice crispy golden crust. As soon as the cheese starts to ooze out the sides, it should be done.
Now just remove them from heat and let them sit for a minute or two so the cheese can get a chance to firm up a bit. Then go for it (and sing me happy birthday)!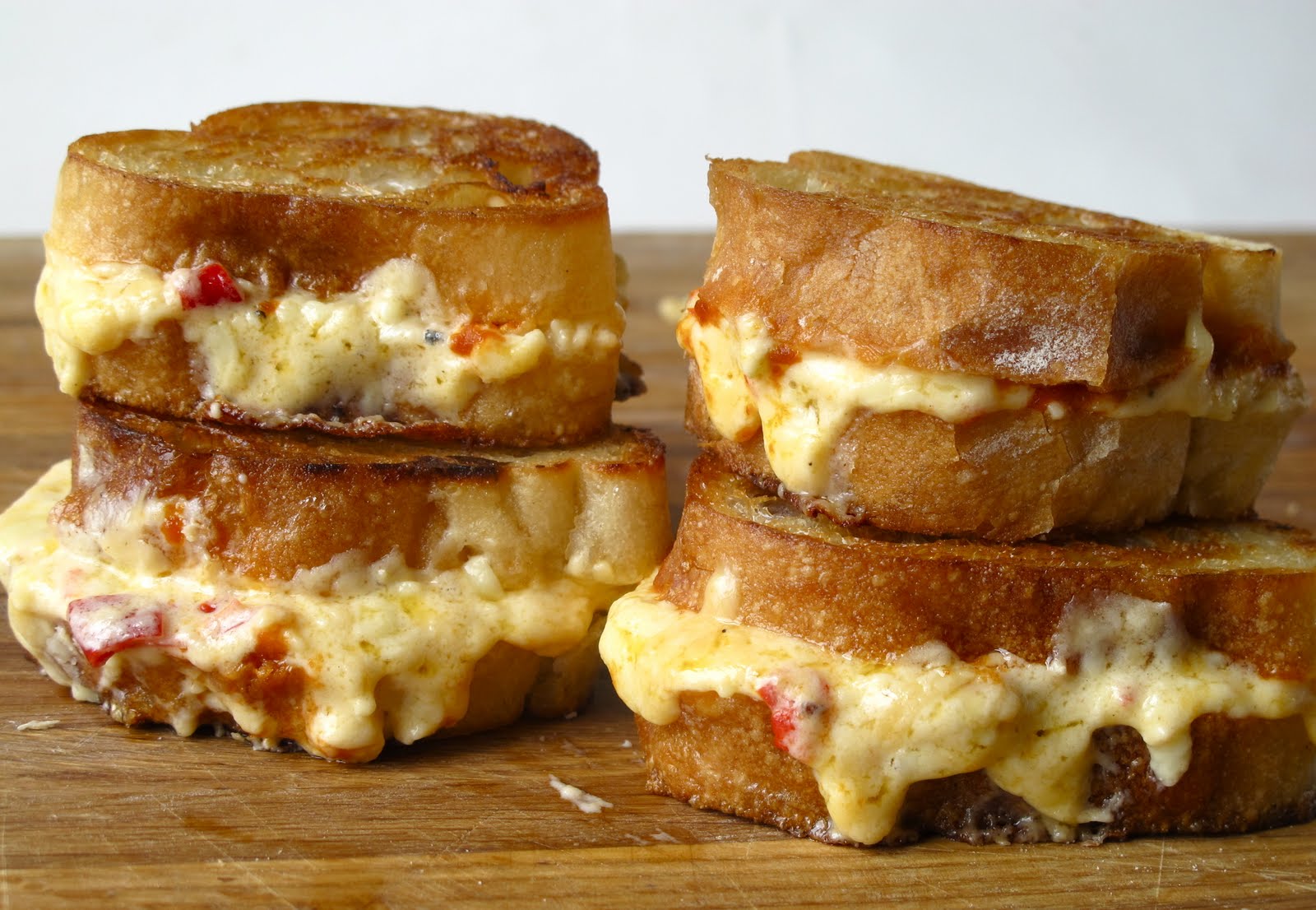 This post would have been so much better if I had a candle in the sandwiches. I think that would be appropriate, right? Happy Birthday to me.
But before I go, good luck on the contest and I can't wait to see what you guys come up with!
xoxo,
GCS