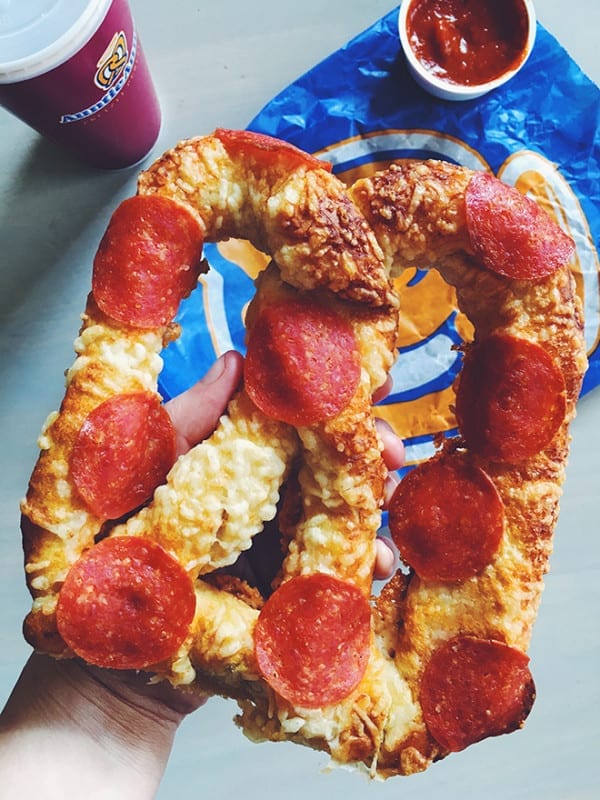 When you move to NYC, malls quickly become a thing of the past. But as soon as you have finally had enough of the big city, and move back to the real world, the mall becomes what it once was – a sacred social temple from which you can eat, shop, and people watch. And as much as wasting my money on buzz fashion and staring at weirdos excites me, I've always had the strongest affinity for the mall food itself.
Some of my fondest memories involve walking around the food court, delightfully and unapologetically accepting little plastic cups filled with smoothie samples or tooth pics jabbed with teriyaki chicken. I always made sure to just get a little taste, never committing myself to one food court temptation, while always trying my best to save my appetite for my one true freshly baked love.
You see, it's impossible for me to resist the smell of a fresh baked pretzel, so it's no surprise that I'd always give in and indulge at Auntie Anne's every single time I crossed its path… Even after having the epiphany that I probably need to cut down on the carbs so I can pull off that skimpy little brazilian cut two piece that I just looked like a slug in. And just recently, this temptation got even more enticing when i discovered that AA now combines two of my favorite things into one delicious pretzel.
Made with a bunch of awesome cheeses (win!) and loads of spicy pepperonis (win!) baked into their warm and chewy fresh baked pretzel dough (double win) this mall time treat has quickly become me and my boyfriend's new obsession. We literally have to get one and since we're basically cheese pairing geniuses, we highly recommend pairing it with a bubbly Sprite and their delicious shaved ice. So yeah, that is why I'm sharing this pep pizza pretzel porn – because if you haven't had one yet, you're doing yourself a disservice!
And luckily for you, I've teamed up with Auntie Anne's to give away TEN FREE PEPPERONI PRETZEL CARDS! To enter, click [HERE] to visit my Instagram page and comment with who you'd like to eat one of these tasty pep pizza pretzels and sprites with.
I was financially compensated for this post and received a sample for review purposes. The opinions arecompletely based on my own experiences.